Former Congregation Etz Chayim Synagogue building to become Eritrean Orthodox Church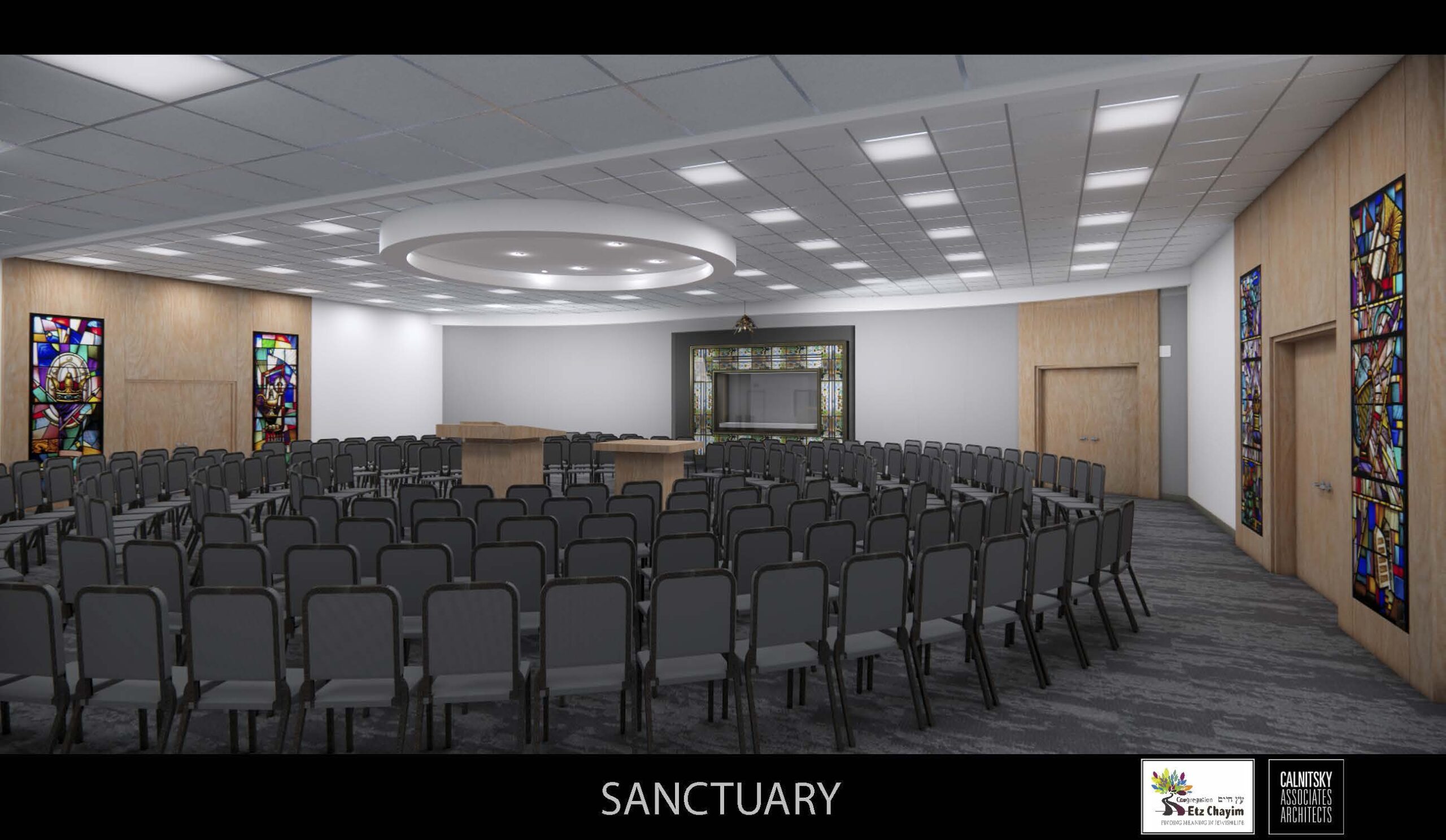 By MYRON LOVE (posted Nov., 8/23, amended Nov. 13) With its move south imminent, members of Congregation Etz Chayim are most likely breathing a sigh of relief knowing that a buyer for the more than 70-year-old building has come forward. As of December 1, 123 Matheson Avenue E. will be the new home of the fast-growing Debre Sahl St. Michael Eritrean Orthodox Tewahdo Church. The church is currently located at 357 Dufferin Avenue, just east of Salter.  
For readers unfamiliar with the Eritrean People, their homeland is located in the Horn of Africa on the Red Sea Coast.  The Eritreans, one of the first communities to become Christian, liberated themselves from Ethiopia in 1993 – after a 30 year war of liberation.  Since then, the country has been ruled by a ruthless dictator and is plagued by drought and poverty.
(Ed. note: According to information provided by a source the Eritrean congregation paid $2.75 million for the building and property at 123 Matheson Avenue. The City of Winnipeg assessed the value of the building and property at $2,901,000 in 2023. In an email received from Etz Chayim Congregation President Avrom Charach, with respect to the Eritrean Church, Avrom had this to say: "I can not officially speak to how the church obtained its financing but I can confirm that we are to be paid on December 1 with no conditions or takeback so they will have all of the necessary funds.")
The new 'Eritrean congregation at 123 Matheson was founded in 1940 and currently has a membership of more than 500 and growing.

As for Congregation Etz Chayim – which was formed from the merger of the former Rosh Pina, Bnay Abraham and Beth Israel  synagogues jin 2002 – the new era will be starting in a matter of weeks, although plans to move into the new building have been continually pushed back.
The plan, prior to announcing the sale of the Matheson Avenue building, was to move into the new Etz Chayim  – at 1155 Wilkes Avenue – the former Shriners headquarters near the IKEA store – some time in November after renovations were completed. 
As had been reported earlier in The Jewish Post and News, the Etz Chayim board had been looking into moving south for at least a decade.  Etz Chayim president Avrom Charach, in an earlier interview with the JP&N, noted  that the great majority of the congregation now lives south  and –more importantly -after more than 70 years, the former Rosh Pina/Etz Chayim building needed a lot of work.
"We thought it made more sense to spend the money where most of our members are living instead of where we were until now,"  Charach observed.
The plan, he said, was to purchase and renovate an existing building – or rent temporarily – until a suitable building could be found. The goal was to find a location within a 10-minute drive of most of the shul members.  That would be a location accessible to River Heights, Tuxedo, Lindenwoods and Charleswood.

The congregation's transition team is being co-chaired by Kim Hirt and Myron Schultz.
In an update emailed to synagogue members just before Yom Tov, the pair provided an update for shul members on the progress of the move.
"Work is progressing at a quick pace," they reported.  "Spaces continue to be cleared out. The final shelves of the library have been emptied as well as boxes of old machzorim and other sacred books and have been sent for burial.
"Thank you to Gord Steindel, Murray Hyman, Carla Rubenfeld, Jodi Gilmore, Kevin McIntyre and Jerry Rubin for their hard work in packing and shlepping.
"The dismantling of the Arks will happen in November. "
One major difference between the two buildings is that the new Etz Chayim is considerably smaller than the Matheson building.  As the Shriners building is about the same size as the former synagogue's sanctuary, Charach noted, the new synagogue will follow the former Beth Israel building model wherein the sanctuary doubled as the social hall. In such a case, after services on Shabbat morning, the daveners would go out into hall while the chairs inside the sanctuary would be rearranged around tables and food stations for the kiddush. 
Charach reports that enlarging the space by pushing back the building's western wall is under consideration.
He reports that some of the memorial boards as well as other objects from the former building that don't fit into the new location will be put into storage until the board can determine what to do with them.  
"One of our members has a  warehouse in which he can store them," Charach says.
The transition team co-chairs added that  "we are also working on the best way to release plaques to members if that should become the next step."  
For North End members who are concerned about how they are going to get to the new synagogue,  Schultz and Hirt report that "we are still committed to developing a team that will oversee ride sharing to Wilkes. Not only will this be important to help bring our North End members south, but it will also strengthen our community".

(Ed. note: According to the Province of Manitoba Land Title, Etz Chayim Congregation paid $4,750,000 for the building and property at 1155 Wilkes Avenue. According to the City of Winnipeg property assessment, the building and land were assessed at $2,276,000. In an email received from Avrom Charach, he wrote: "The city is rarely right on assessed values and… our purchase price was in some way a bargain.   They had priced the building higher than what we paid and for good reason, it was worth what we paid or maybe even more.
"The cost of construction for new buildings is in the $400+ range per foot.  This building is 12,079 square feet.  New construction, ignoring the garage outside and paving the parking lot would have cost about $4.8 million.  Paved parking can cost up to $10,000 per stall.  This lot is likely a bit less, let's say $7,000, to be very conservative.  At 173 stalls that adds just over $1.2 million to the value of the property (ignores the front drive and side drive areas). 
"That site is just over 4 Acres in size.  If you look at bare land costs in that area they can be as high at $950,000 per acre… conservatively they are closer to $750,000/acre.  That makes the land alone worth about $3 million.
"IF we started from scratch we would have had to spend about $9 million to get what we bought.   You can also see that the city's assessment was low.  My guess is that they will bump it now that we bought it." 

In a post on the Etz Chayim website dated October 11, Avrom also noted that there will be further fundraising required for the congregation. He wrote: 
"In round numbers, we purchased Wilkes for $4.75 million and the final sale price for 123 Matheson was $2.75 million.  As such, when factoring in certain items like taxes, commissions, and legal fees, we require $2 – 2.5 million to be mortgage-free.
That same post also noted that "On Kol Nidre, many of you saw the case for support brochures for our building campaign on your seats. It spoke of a $3.8 million campaign … You may ask 'why do we need another $1.3 million?' I will not address all of the details of that today, but this does include funds for renovations to the new building, financing costs on the mortgage, moving costs and other administrative costs. I remind you that we are working hard to move to Wilkes within our means; that is to say that we have not approved many hundreds of thousands of dollars of renovations that would have been nice to do but are not essential to the move."
However, according to the Province of Manitoba Land Title for 123 Matheson Avenue, in June of this year, Congregation Etz Chayim had taken out a $6 million mortgage on 123 Matheson Avenue, financed by the Canadian Western Bank. We asked Avrom Charach to explain why the congregation took out a mortgage for $6 million in June – and how that jives with what was written in the October 11 bulletin, i.e., "we require $2 – 2.5 million to be mortgage-free."
On November 15 Avrom wrote, in response to my query : "I am checking into that with our legal counsel.  I know that we attached 123 Matheson to the mortgage for Wilkes and that we definitely never received anything close to $6 million in cash/loaned funds from anyone for either or both, I wish we did.  There is  no way that 123 Matheson by itself is worth that much".
Congregation Etz Chayim says good bye to 123 Matheson Ave.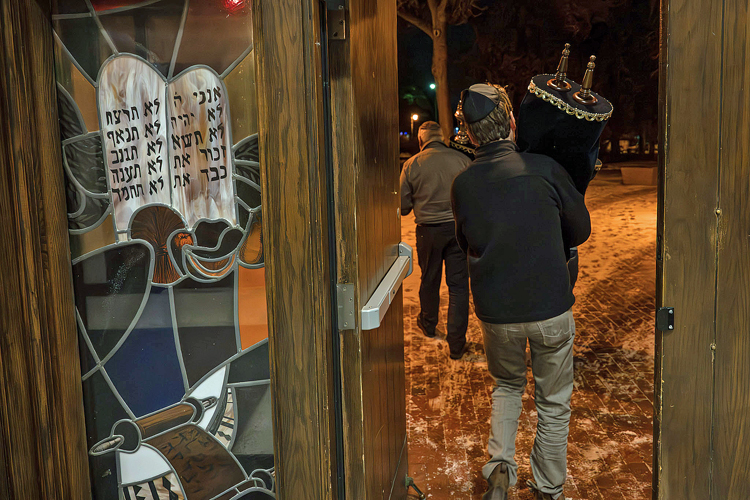 By BERNIE BELLAN After 71 years of serving as the home for first the Rosh Pina Synagogue, then for the past 21 years as the home for what was the merger of three different congregations – Rosh Pina's, along with the Bnay Abraham and Beth Israel, the Etz Chayim Congregation held its final service on Wednesday, November 29.
You can read the story by CJN writer John Longhurst elsewhere on this site (https://jewishpostandnews.ca/rss/congregation-etz-chayim-in-winnipeg-says-a-bittersweet-farewell-to-their-old-building-as-they-prepare-to-move/) along with our earlier story about the sale of the building to an Eritrean Church (https://jewishpostandnews.ca/faqs/rokmicronews-fp-1/former-congregation-etz-chayim-synagogue-building-to-become-eritrean-orthodox-church/), but here are some pictures from the final service.
(Photos courtesy of Keith Levit)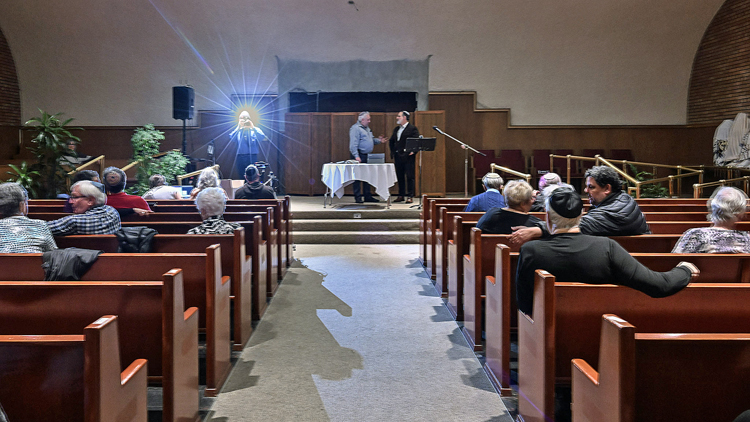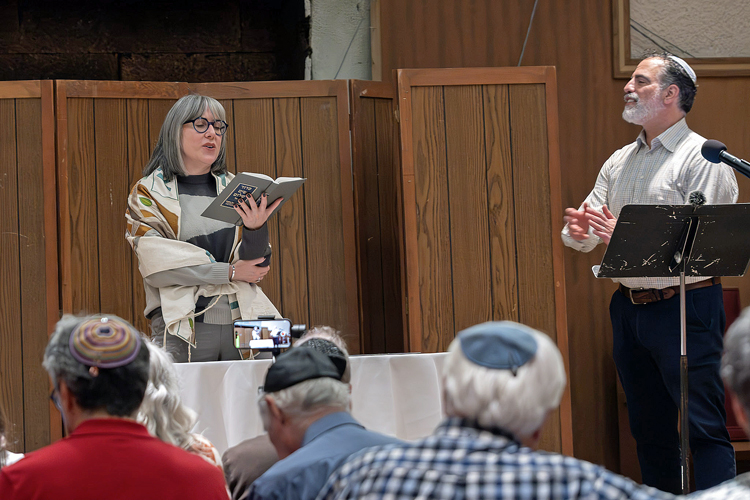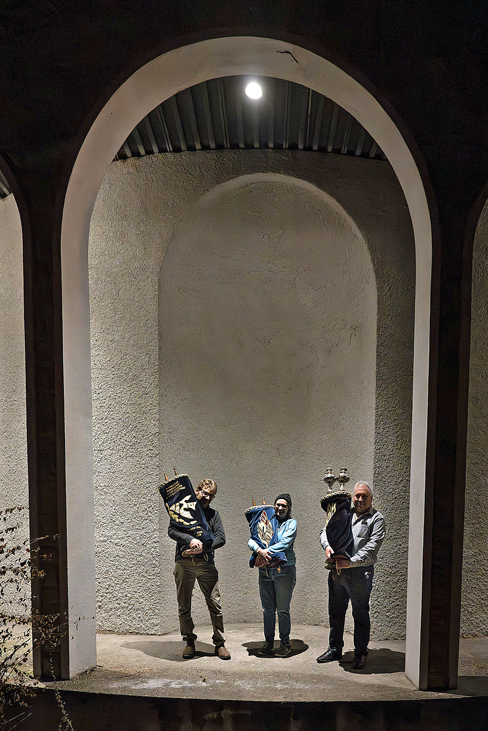 Israel report by former Winnipegger Bruce Brown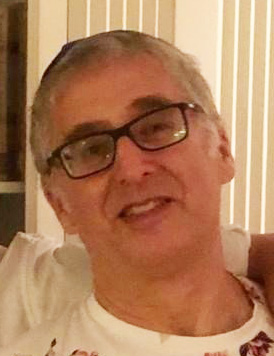 By BRUCE BROWN (posted Nov. 28/23) Was driving home from work the other day.  Pre-ceasefire.  Left the office early to reduce driving time in the evening hours.  Hamas likes their 6PM missile barrage and I'm honing my missile-avoidance routine.
 
Was listening to talk-radio… but kind of had enough of the news.  Too much war talk and its getting a bit overwhelming.  So switched to Spotify and up popped Supertramp – the Logical Song.  For sure how 'wonderful, beautiful, magical' life once felt.  Before Oct 7th.  Before Hamas. 
 
Then, as if on cue.  I gaze towards the sky.  And saw missiles flying overhead.  At first it didn't really click. And then.  Yikes!  I quickly switched back to the news.  Where, in a very calming voice, they were announcing areas under missile attack.  Which is another reason to listen to the radio while driving during war – real-time information.  Lesson learned.
 
Suddenly my smartphone's flashlight started flashing.  Which was pretty darn cool!  And there I was, on Star Trek.  Standing on the bridge.  Even recalled the vessel number – NCC-1701. There I was with Captain Kirk.  No!  I was Captain Kirk.  Dr. McCoy by my side.  Sulu and Chekov at the controls.  The Klingons were attacking.  And Mr. Spock -standing to the side- was calmy advising the attack coordinates.  No Wait!  That was the radio announcer.  Seriously.  This all took place within a split second in my over-active imagination.
 
The flashing continued.  Then I realized my cellphone was communicating with me.  Warning of danger.  I have the Home Front Command application which sounds an amazingly loud alarm during a missile attack in my area.  But changing between the radio and Spotify prevented the siren from going off.  So instead, the phone activated my flashlight.  Sending out an S.O.S.  Now how neat is that!  In a geeky sort of way.  Like for someone who imagines himself on Star Trek during a real-life missile attack.
 
Then.  Reality set in.  There were Home Front Command instructions to follow.  Momentary-panic set in.  Where was my wife.  To tell me what to do.  Like she always does…but that's another story.  This time I wanted her there, instructing me. 
 
All these thoughts racing through my mind in milliseconds.  As I calmly slowed the car and veered to the shoulder.  Like other cars around me.  I put on the blinkers.  More flashing lights but the bridge of the U.S.S. Enterprise now a distant thought.  Looking both ways I left the car and hopped over the road- barrier.  Moving away from the car.  Although probably not far enough.  Because there was a steep decline just below.  It was getting dark and, suffering from poor night vision, I didn't want to trip and hurt myself.  I heard my son laughing at me. "Nerd!" he called out.  But that was just my imagination.
 
I should have laid flat.  Prostrating myself for maximum protection.  But it rained earlier that day, the ground was wet and I didn't want to get muddy.  '"Nerd!"  This time it was my daughter in my mind's eye.  "Okay," I said to no one in particular.  "I'll squat."  Good enough…but not really.
 
The family in the car ahead were huddling together but too close to their vehicle.  I shouted for them to move further away.  But they didn't react.  Probably didn't understand me, especially given my still heavily accented Canadian Hebrew.  This time I heard both my kids.  Teasing me – thirty years and still talk like an immigrant!  "Hey, they just don't hear me."  I said to the darkness.  Otherwise it was very moving seeing the father crouching down on top of his brood, in a protective sort of way.  "Isn't that touching." I said to my wife.  "For sure." She said somewhat sarcastically in the back of my mind, "I know you'd do the same."  
 
Then it was over.  The sky went quiet.  People returned to their cars.  The nestled family broke apart and entered theirs.  We should have stayed in place several more minutes.  Ten minutes is the recommended time.  But it was dark.  Getting late.  Also a bit cold.  I just wanted to get home.  Back to the real chiding of my kids and to my wife… somehow longing for her ordering me about.
 
A few minutes later my wife called.  Making sure I was safe.  And then routine set in.  "Don't forget to pick up some milk and bread from the corner store."  She instructed me.
 
Um Israel Chai
 
Bruce Brown.  A Canadian. And an Israeli.  Bruce made Aliyah…a long time ago.  He works in Israel's hi-tech sector by day and, in spurts, is a somewhat inspired writer by night.  Bruce is the winner of the 2019 American Jewish Press Association Simon Rockower Award for excellence in writing.  And wrote the 1998 satire, An Israeli is….  Bruce's reflects on life in Israel – political, social, economic and personal.  With lots of biting, contrarian, sardonic and irreverent insight.
 
Jewish community holds solidarity rally November 25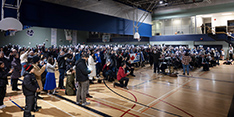 The Jewish Federation of Winnipeg held a rally in support of Israel on Saturday evening, November 25.
A number of speakers addressed the crowd of 800, including Rabbi Yosef Benarroch of Adas Yeshurun-Herzlia Congregation; Members of Parliament Ben Carr & Marty Morantz; Yolanda Papini-Pollock of Winnipeg Friends of Israel; Paula McPherson, former Brock Corydon teacher; and Gustavo Zentner, President of the Jewish Federation.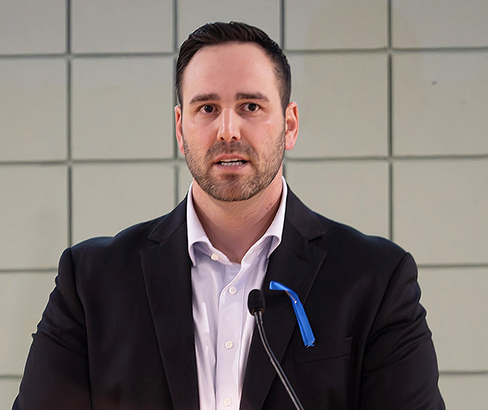 Click here to watch Ben Carr's remarks: https://www.youtube.com/watch?v=crfREGNRKfg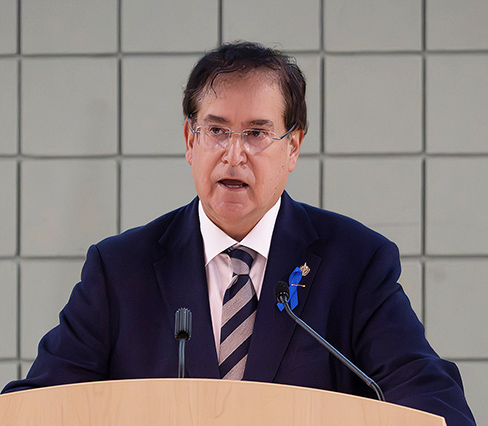 Click here to watch a video of Marty Morantz's remarks: https://studio.youtube.com/video/zHzC-iaqivg/ed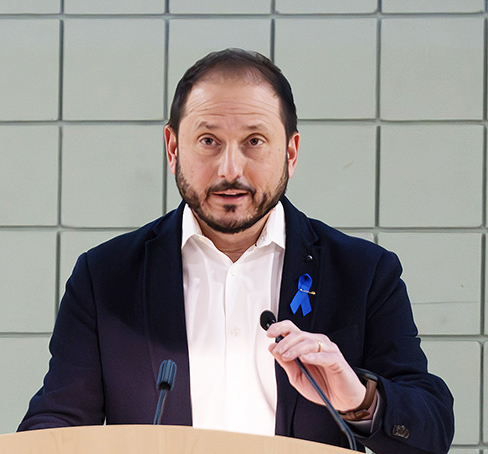 Click here to watch a video of Gustavo Zentner's remarks: https://www.youtube.com/watch?v=L3M_cCYuLgs