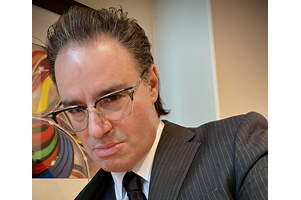 By MYRON LOVE As with most craftsmen, Stephen Segal takes a lot of pride in his work. "We have done so many projects in Winnipeg over the years," says the President and CEO of Polar Windows of Canada. "It's a great feeling whenever I drive around the city and pass homes and businesses with our windows knowing that we were involved in the construction."
And despite the negative effects on the economy brought about by pandemic restrictions these past two years, it has been a time of opportunity for Segal from a business perspective. Over that time period, he has added four other long-established window manufacturers to his stable of companies and also formed a partnership with long time friend Dan Rosenblat to bring the latter's National Interiors into the fold – a move which allows Segal's conglomerate to offer customers flooring, tiles and window coverings in addition to different window styles.
Stephen Segal is a scion of Jewish pioneers to this region. His mother, the former Miriam Maslovsky grew up on a farm at Birds Hill. His father, Preston Segal, is also from a family that came here in the early 1900s. (As it happens, his wife, Mara Zimmerman, can trace her roots back even farther – to the original wave of Jewish immigration here in the 1880s and Nissim Zimmerman, an uncle of the great writer, Shalom Aleichem.) Segal, the middle child in a family of three sons, grew up in Tuxedo and attended Ramah for elementary school and Joseph Wolinsky Collegiate for Grades 7-9. He chose to go to St. Paul's High School for high school.
"Attending St. Paul's was an eye-opening experience for me," he recalls. "There weren't a lot of Jewish students at the (Catholic boy's) school when I was there but the attitude to Judaism was really positive. There were a lot of open discussions." While most of his Jewish contemporaries were looking to careers in law, medicine, accounting or science, Segal found himself drawn to architecture. "I heard an architect speaking about the profession at a career day at St. Paul's," he recalls. "I was attracted to design."
After graduating from the University of Manitoba in 1993 with a degree in Environmental Design, Segal started his first business venture – a digital advertising company that incorporated his design background. That led in 1998 to a role with Price Industries as Vice-President and Chief Information Officer. Price Industries was established in 1949 and, by 1998, had become a world wide supplier of air distribution products. During his five years working for Gerry Price, Segal co-ordinated the upgrading of the company's IT and corporate communications systems, oversaw plant expansion and implemented a business development program that helped to boost sales to the U.S. by 25% over five years, "I learned so much from Gerry Price about manufacturing, sales and marketing," Segal says.
The next stop in Segal's career journey – and his introduction to window manufacturing – was with Loewen Windows where he served for three years as Vice-president of Sales and Marketing and CIO. At Loewen, which was founded in 1905, Segal worked on the redesign of the company's distribution network and helped to boost sales by 50% over a two year period. After Loewen, he moved on to a similar role with Wardrop Engineering, another long-established Winnipeg company. He stayed with the firm after it was bought out by consulting, engineering and technical services multinational Tetra Tech. The experience of being part of that transition, he says, taught him the basics about buying and selling companies – lessons he has put to good use over the last two years.
Following a two-and-a-half year stint with plastics giant Acrylon – where he also served as Vice President of Sales and Marketing – he pursued a "window of opportunity", so to speak, joining Polar Windows of Canada in 2014 and, soon after, assuming the position of President and CEO. Polar Windows, he explains, manufactures and installs high-performance windows that are built to perform in Canada's extreme climates. The company's market area encompasses Saskatchewan, Alberta and Manitoba. "Through our unwavering commitment to quality and customer needs, we are proud to remain a leader in the design and manufacture of one of the highest quality Solar Energy Rated windows on the market," Segal says.
Now, it may seem counterintuitive to be expanding during a time of lockdowns – but the reality is that times like these are when older company leaders – without children to take over the business – who may have been planning to retire anyway, decide to pull the ripcord. And for a savvy businessman such as Segal, those situations present him with opportunities to expand his product lines and extend market reach. The first such opportunity presented itself when Accurate Dorwin put up the "for sale" sign. The now 70-year-old company became the first of Segal's acquisitions early in 2020. Accurate Dorwin, Segal points out, was a pioneer in the production of fiberglass windows that are used in modern aircraft, turbine windmills and bridges. The company provides customers with a variety of products, including fiberglass windows and doors, as well as commercial aluminum windows, storefront doors, curtain walls, mirrors and glass. "With Accurate Dorwin, we have been able to expand our capabilities and offer more choice," Segal says.
Just six months later, Segal was able to add Glass 8 Inc. to his growing business empire. The 5-year-old glass and glazing contractor serves customers from Northwestern Ontario to British Columbia, and from the Canada / US border to Nunavut. Looking in a different direction, last year, Segal acquired two long-standing window and door manufacturers – Alweather Windows and Doors, and Allsco Windows and Doors – both of which serve the Maritime provinces. Thus far, he notes, due to the Covid travel restrictions, he has only been able to fly out to the Maritimes once to see his new companies. "We have been meeting on Zoom," he says of his new team of employees.
The deal with Dan Rosenblat was also finalized in April of 2021. Rosenblat remains President of National Interiors while Segal is Chairman. My partnership with Dan has changed our business quite a bit," Segal comments. "We can now offer contractors a choice of windows, doors, flooring, blinds and more." He points out that where, two years ago, Polar Windows had a workforce of 80, Segal now has over 500 working on the team over his various enterprises. He reports that consumer demand for his products has been particularly strong throughout the last two Covid years as a lot of people who have been stuck at home have used the time to renovate their homes. And, while the competition remains fierce, there has also been a lot of consolidation within the last few years. Businesses manufacturing and selling windows and flooring are dealing with the same challenges as every other industry – fast-rising prices and supply-chain delays. "It makes pricing estimates very difficult," Segal notes. "For example, we have to order glass eight weeks in advance. Should the price of glass go up while in transit, we can't necessarily go back to the customer and ask for more money. "I hope the situation stabilizes soon."
Then, there are the employment issues. "At any given time, we have around 30 job openings," Segal reports. "I would love to see more immigration. I am proud to report that we have many newer Canadians working for us." He adds that among those new Canadians are a number of Russian- and Ukrainian-born Jews who have come here after living in Israel for a few years. He also points out that his companies have recently hired four Ukrainian refugees. In years past, Segal notes, he was much more involved in Jewish communal activity.
A lifelong member of Congregation Shaarey Zedek, he says that he has served on the boards of the Jewish Child and Family Service, the Jewish Heritage Centre of Western Canada and the Jewish Federation. Obviously, he hasn't had much time lately for activities outside of business. "I hope to get reinvolved in community after we have digested our expanded business enterprise," he says. He notes that he does enjoy relaxing at the lake with the family. Stephen and Mara are the parents of Karlie – who will be going into Grade 12 at SJR next month – and Samuel, who is going into second year at the Asper School of Business.