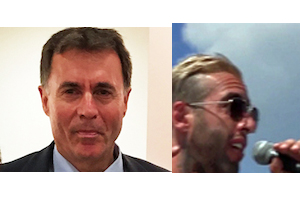 By BERNIE BELLAN The Covid pandemic has often led to the convergence of several wacky conspiracy theories into one larger massive conspiracy theory, promulgated by right wing conspiracy theorists. As I noted in another article elsewhere on this site (http://jewishpostandnews.ca/local/798-notorious-anti-masker-and-holocaust-denier-slated-to-speak-at-teh-forks-on-sunday), I had been alerted by a caller to the dangerous conspiracy theories being promulgated by a notorious anti-vaxxer (and virulent antisemite) who goes by the name of "Chris Sky".
 As it was, Sky did appear in Winnipeg at a rally of anti-maskers held at the Forks on Sunday, April 25.
The person who called me in advance of that rally had sent me several screenshots of Facebook posts taken from Sky's Facebook page.
As I noted in that  earlier article, I had been told that  "Chris Sky" (whose real name is Chris Saccoccia, and whose father is a very rich Toronto real estate developer), is not only avidly anti-masking and anti-vaccination, he is also a Holocaust denier who doesn't even pretend to cloak his antisemitic views in a veneer of respectability – unlike many other antisemites, who pretend that their hatred of Jews such as George Soros has nothing to do with his being Jewish.
So what? you might say. We have loads of conspiracy theorists all over the place; you don't have to look further than your typical Facebook feed to find them.
What scares me about this Chris Sky individual though is that he seems interested in helping to coalesce right wing conspiracy theories about Jews and big government into a larger conspiracy about vaccinations and being forced to wear a mask. The fact that distrust of government has brought together various right wing elements that might otherwise have remained disparate is quite worrisome.
Ordinarily, I would have said: "Just ignore this Chris Sky nutcase", but when I was sent various screenshots of Facebook posts to which Sky was quite willing to attach his name in the past, well – they're quite unnerving.
When I heard about the planned rally I contacted various individuals and organizations to ask them whether they were aware of what was being planned and, if so, did they plan on taking any action in advance of the rally?
I contacted, in no particular order: David Matas; Elaine Goldstine and Adam Levy of the Jewish Federation; Marty York and Michael Mostyn of B'nai Brith Canada; Paul Jordan (Forks CEO); and the Winnipeg Police Service.
When I heard back from Paul Jordan I was told that the rally that was planned was without the permission of the Forks (no surprise there), and that the Forks had informed the WPS of that fact. But, when I spoke with a representative of the WPS, that person at first claimed that the WPS had not been contacted by the Forks and that the WPS would not act unless it received a complaint from the Forks.
I said to that representative of the WPS that I had been told the WPS had indeed been contacted by the Forks. I asked whether the WPS would do anything to prevent the rally from taking place (after all, anyone participating in the rally would be illegally trespassing on Forks land) – although I was concerned that was exactly what the rally organizers were looking for: another example of free speech being repressed by governments. I was never told whether the WPS planned to do anything at all to prevent the rally from taking place, being told instead that the WPS never discussed its plans for dealing with illegal assemblies in advance of those events.
The issue of this rally – and whether it should have been allowed to go ahead, illustrates the quandary in which governments, the police, and indeed, I would venture to argue, most fair-minded individuals, find themselves: Do you try to prevent a rally or gathering from taking place in the first place – when it is being held illegally, and with the participation of an individual who is presumably in defiance of provincial regulations by not quarantining for 14 days when he crossed into Manitoba?
That inevitably leads to the question: If you do try to stop a rally from taking place are you not playing directly into the hands of the people who are behind that rally by reinforcing their conspiracy theories about governments not wanting to let them have their voices heard?
Also, organizers of rallies of this sort crave media coverage – especially visuals of rally participants being confronted by representatives of government – either police or, in the case of Public Health Manitoba, representatives handing out tickets.
Still, the fact this particular rally was allowed to proceed totally unhindered either by Winnipeg Police or representatives of Manitoba Health is only bound to give encouragement to conspiracy theorists of the sort who are leading the anti-vaxxer movement – and to the extent that individuals such as Chris Sky mix antisemitic tropes in with their anti-vaccination rants, it's scary.