Former high profile "White Supremacist" to speak at Limmud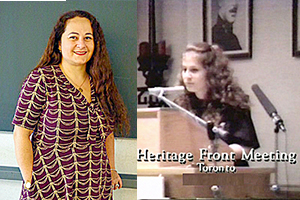 By MYRON LOVE
Once upon a time, Elisa Hategan was a protégé of noted Holocaust denier Ernst Zundel and White Supremacist leader and Canadian Heritage Front founder Wolfgang Droege.
Today, she is a member in good standing of Canada's Jewish community and a frequent voice against the very concepts with which she was formerly identified.
On the weekend of February 29-March 1, Hategan will be in Winnipeg – for the first time – at Limmud (at the Asper Jewish Community Centre) speaking about her journey from the dark to the light and her path to Judaism.
Hategan's life began in Communist Romania. She came to Toronto at age 11.
Two years after coming to Canada, her parents split up and her father returned to Romania where he died a short time later.
"My mother was abusive," she recalls. "I ran away from home. I ended up in a group home where I was the only White girl. I was subjected to a lot of bullying which I thought was because I was White. I realize now that I just didn't fit in."
Hategan dropped out of school in Grade 9. She recalls that she didn't have any friends, no prospects, no hope and was filled with anger. At age 16, while back with her mother, she saw a TV show about "European pride".
"It made sense to me," she says. "There was contact information for this new group – the Canadian Heritage Front. I got up my nerve and sent a letter to Wolfgang Droege.
"I met Wolfgang. He was nice, attentive. He asked about what I saw for my future. I was naive. He became a father figure for me."
Droege introduced her to Ernst Zundel, who welcomed her into his home whenever she needed a place to stay. "I started helping out where I could," she says. "I was introduced to Zundel's supporters.
"I had no problem with Jews before but I started learning Holocaust denial. Whenever I asked Zundel about war time photos, he had explanations.
"I became a youth recruiter, a writer for their magazine and a speaker at the rallies.
The young new recruit wasn't involved for long before she began to have doubts about her new friends and associates. "After about a year, I began noticing a huge discrepancy between what the people around me were saying and what they were doing," she recalls. "The Heritage Front members were getting increasingly more violent. They were stalking people and harassing them.
"I had thought that we were the good guys but I was becoming increasingly aware that we weren't.
"I also began to realize that I was gay – which would have made me a target."
Searching for a way out, she attempted suicide. Waking up in hospital, she remembers that she had no one to call. She decided to reach out to a woman who had been targeted by the Heritage Front. The woman took her in and helped to re-educate her.
For the next few months, she spied on the organization, collected incriminating information and eventually testified against her former colleagues.
"After Wolfgang and several other Heritage Front members went to jail, the Toronto Sun, in an exposé, reported that the Front's second in command was actually a CSIS agent."
After going into hiding for a couple of months, she enrolled in university –graduating with degrees in Criminology and Psychology. It was while in university that she was drawn to Judaism. She notes that she was inspired, in particular, by Canadian Jewish poet and writer Seymour Mayne, who was her creative writing teacher at university.
On a trip back to Romania when she was 25, Hategan found out that her paternal grandmother was Jewish. She herself underwent a Conservative conversion in 2013.
Today, she is a speaker, writer and consultant. She is also the co-director of the Changemaker Arts Project – a charitable not-for-profit organization founded in 2017 that aims to use art and the creative spirit as a platform for social change.
As well, she is the Regional Coordinator of Central Canada and the United States for the Against Violent Extremism (AVE), a global network of former extremists and survivors of extremist violence working in partnership with ISDGlobal.
At Limmud, she will be doing two presentations, one about her own journey from hate to hope and a second on ethnogenetics – inherited trauma.
For more information about Limmud, phone 204 557-6260 or go online at coordinator@limmud Winnipeg.org.
Winnipeg Jewish Theatre to open season with world premiere of "Pals"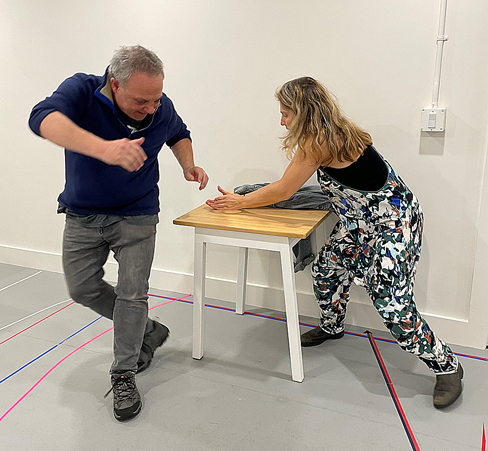 By BERNIE BELLAN The opening show of Winnipeg Jewish Theatre's 2023-24 season promises to be a clever and poignant take on relationships between men and women, when "Pals" makes its world premiere on November 9 in the Berney Theatre, running until November 19.
"Pals" is the third two-person show created by the team of Diane Flacks and Richard Greenblatt. Interestingly, when I spoke with Flacks and Greenblatt while they took a break from rehearsing the play in Toronto, they told me that their previous two two-person plays also had one word titles – with four letters in both: "Sibs" and "Care."
"Pals" is the story of two friends, told over a 25-year time period. Their friendship survives many tribulations, including both characters entering and exiting many other relationships. The play uncovers the underlying tensions that permeate all friendships.
"Pals" opens with the two characters meeting for the first time. I asked Diane and Richard whether the notion of their having sex ever enters into the plot, but Richard was quick to exclaim, "We don't have sex."
Diane also noted that, in the case of her character, she is married to another woman. (Diane is a lesbian in real life.)
The fact that the characters maintain a friendship though becomes a source of friction within their respective relationships. It raises the question: Can you have an intimate, albeit platonic, relationship, with a member of the opposite sex all the while you're in a physical relationship with someone else?
I asked whether the characters in "Pals" are Jewish (which both Diane and Richard are), and the answer was "yes."
Both Diane and Richard have had past associations with the Winnipeg Jewish Theatre. Richard's goes back a very long time – when he directed the critically acclaimed "League of Nathans" in 1995.
Diane Flacks appeared in a one-night performance of a show in 2021 called "25 Questions for a Jewish Mother," which was a part of that year's Tarbut festival. There were no in-person events that year, due to Covid, but "Jewish Mother" was available on Zoom and had a huge audience.
In addition to writing for the stage, Diane Flacks has written for TV, including Working the Engels, Baroness Von Sketch Show, Young Drunk Punk, PR, and The Broad Side.
Richard Greenblatt has performed in theatres across Canada and abroad, as well as in feature films, television and radio. He co-wrote 2 Pianos 4 Hands, which played on five continents and in over 150 cities since it opened in 1996.
Pals is directed by the internationally acclaimed director Jillian Keiley. More information, tickets and 5-show subscriptions can be found at: www.wjt.ca. You can also reach WJT by phone at (204) 477-7478.
To watch a preview video from Pals, click here: https://www.youtube.com/watch?v=z2W0VmHHFbA
Simkin Centre introduces Friday afternoon Shabbat services – open to all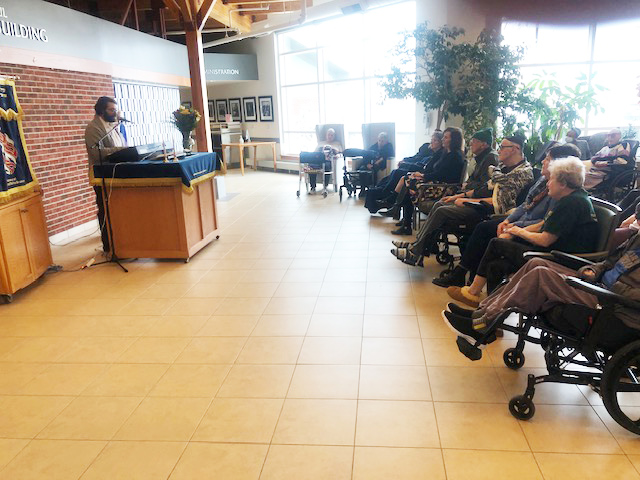 By BERNIE BELLAN (Posted Oct. 31) The Simkin Centre held its first ever Friday afternoon Erev Shabbat service this past Friday (Oct. 27), led by Rabbi Matthew Leibl.
There were more than 30 residents in attendance, along with various other outside guests. The service was approximately 45 minutes long and was filled with stories and songs associated with Friday evening Shabbats – some from Rabbi Leibl's own childhood and some from more recent years.
The Friday afternoon Erev Shabbat services are now to become a regular features at the Simkin Centre and are open to anyone to attend.
To watch a short clip of Rabbi Leibl introducing his first Friday afternoon service click https://youtu.be/hLSrV18K58o
The complete text of MP Marty Morantz's speech at the community vigil for Israel on October 10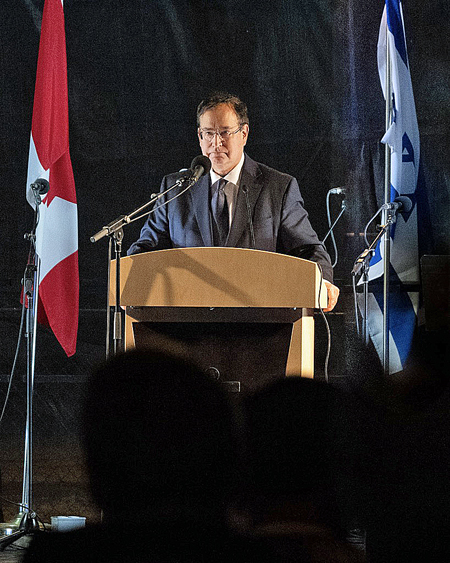 Tonight we are all Israelis!
Conservatives stand with Israel.
Pierre Poilievre stands with Israel.
On Saturday we woke up to unspeakable images.
We must stand shoulder to shoulder with Israel as it defends itself from these criminal and barbarous acts.
On Shabbat, Hamas brutally invaded Israel, invaded homes, killing hundreds, taking hostage hundreds.
More Jews were killed in Saturday's attack than in any single day since the Holocaust.
Some 1500 human beings killed in a single day would be like 6000 Canadians being murdered in a single attack.
They were children, babies, men, women.
They were young people just out listening to music at a dance party.
This was an unprecedented brutal attack.
As we speak Hamas is threatening to execute innocent hostages.
This outrage cannot, must not stand.
Don't let anyone tell you Hamas is the legitimate voice of the Palestinian people. It is not a government.
They are a genocidal murderous and evil death cult and they must be defeated.
But friends, we have seen evil before.
Jews have been persecuted for millennia, but we have survived.
Conservatives unequivocally condemn the invasion of Israel by Hamas terrorists and the sadistic violence that Hamas has carried out against innocent civilians.
Now is the time for moral clarity. There is no moral equivalency between democratic Israel and the butchers of Hamas.
There is no response, no matter how strong, that would be disproportionate to the crimes Hamas has committed.
Israel has the right to defend itself against these attacks and respond against the attackers – as any other country would.
Theodore Herzl, the father of modern Zionism, said, "If you will it, it is no dream."
In 1948 that dream became a reality – a homeland in Israel, the promised land.
Working together Israelis turned a desert into an oasis.
An island of democracy surrounded by a sea of autocracy.
A Jewish state where Jews could live in peace free from fear and persecution.
Let there be no doubt. Israel is the ancient and indigenous homeland of the Jewish people.
We will not let the butchers of Hamas take that dream, long realized, away from us.
Many politicians will stand with Israel when it is easy.
But listen to what they say when it is hard.
They will talk about "both sides."
I'm here to tell you that there is only one side.
The side of morality.
The side of democracy.
The side of Israel.
We see too often politicians at the United Nations unfairly singling out Israel for criticism.
I will always stand against the unfair singling out of the Middle East's only democracy.
Already there are calls for Israel to deescalate.
I ask you.
Would any country deescalate after having its people slaughtered in cold blood?
I wish the people of Israel and its brave soldiers Godspeed on their mission to defend the promised land from pure evil.
As Prime Minister Stephen Harper said:
Through fire and water Canada will stand with you.
Am Yisrael Chai!