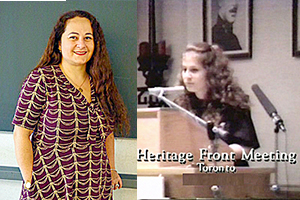 By MYRON LOVE
Once upon a time, Elisa Hategan was a protégé of noted Holocaust denier Ernst Zundel and White Supremacist leader and Canadian Heritage Front founder Wolfgang Droege.
Today, she is a member in good standing of Canada's Jewish community and a frequent voice against the very concepts with which she was formerly identified.
On the weekend of February 29-March 1, Hategan will be in Winnipeg – for the first time – at Limmud (at the Asper Jewish Community Centre) speaking about her journey from the dark to the light and her path to Judaism.
Hategan's life began in Communist Romania. She came to Toronto at age 11.
Two years after coming to Canada, her parents split up and her father returned to Romania where he died a short time later.
"My mother was abusive," she recalls. "I ran away from home. I ended up in a group home where I was the only White girl. I was subjected to a lot of bullying which I thought was because I was White. I realize now that I just didn't fit in."
Hategan dropped out of school in Grade 9. She recalls that she didn't have any friends, no prospects, no hope and was filled with anger. At age 16, while back with her mother, she saw a TV show about "European pride".
"It made sense to me," she says. "There was contact information for this new group – the Canadian Heritage Front. I got up my nerve and sent a letter to Wolfgang Droege.
"I met Wolfgang. He was nice, attentive. He asked about what I saw for my future. I was naive. He became a father figure for me."
Droege introduced her to Ernst Zundel, who welcomed her into his home whenever she needed a place to stay. "I started helping out where I could," she says. "I was introduced to Zundel's supporters.
"I had no problem with Jews before but I started learning Holocaust denial. Whenever I asked Zundel about war time photos, he had explanations.
"I became a youth recruiter, a writer for their magazine and a speaker at the rallies.
The young new recruit wasn't involved for long before she began to have doubts about her new friends and associates. "After about a year, I began noticing a huge discrepancy between what the people around me were saying and what they were doing," she recalls. "The Heritage Front members were getting increasingly more violent. They were stalking people and harassing them.
"I had thought that we were the good guys but I was becoming increasingly aware that we weren't.
"I also began to realize that I was gay – which would have made me a target."
Searching for a way out, she attempted suicide. Waking up in hospital, she remembers that she had no one to call. She decided to reach out to a woman who had been targeted by the Heritage Front. The woman took her in and helped to re-educate her.
For the next few months, she spied on the organization, collected incriminating information and eventually testified against her former colleagues.
"After Wolfgang and several other Heritage Front members went to jail, the Toronto Sun, in an exposé, reported that the Front's second in command was actually a CSIS agent."
After going into hiding for a couple of months, she enrolled in university –graduating with degrees in Criminology and Psychology. It was while in university that she was drawn to Judaism. She notes that she was inspired, in particular, by Canadian Jewish poet and writer Seymour Mayne, who was her creative writing teacher at university.
On a trip back to Romania when she was 25, Hategan found out that her paternal grandmother was Jewish. She herself underwent a Conservative conversion in 2013.
Today, she is a speaker, writer and consultant. She is also the co-director of the Changemaker Arts Project – a charitable not-for-profit organization founded in 2017 that aims to use art and the creative spirit as a platform for social change.
As well, she is the Regional Coordinator of Central Canada and the United States for the Against Violent Extremism (AVE), a global network of former extremists and survivors of extremist violence working in partnership with ISDGlobal.
At Limmud, she will be doing two presentations, one about her own journey from hate to hope and a second on ethnogenetics – inherited trauma.
For more information about Limmud, phone 204 557-6260 or go online at coordinator@limmud Winnipeg.org.