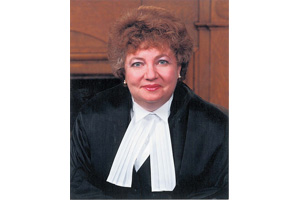 By GERRY POSNER
Perhaps one of the most remarkable stories about a child of Holocaust survivors who began with humble origins and then rose to a level even she could never have dreamed, is that of Freda Steel, or more properly Madam Justice Freda Steel.
This is not a rags to riches story, but it is a true account of a family that came to Canada with so little and then created a life for themselves, enriched by a daughter who now sits as a Justice on the Court of Appeal for the Province of Manitoba.
The parents, Morris and Sonia Steel, arrived in Canada after managing to survive the Holocaust (a whole other story) and landed in Stonewall, Manitoba, where Morris' older brother, Sam Steele, father to none other than former Senator Mira Spivak, had settled. (There must be some explanation for the extra "e" for one family and not the other). But, it was not long before the Steel family, then consisting of the parents and their young son Sam, moved into the north end of Winnipeg on Flora Avenue, where Freda was born.
After a few years, Morris and Sonia were able to buy a grocery store at Redwood and Andrews. The fact that Morris could speak seven languages was a key factor in the success of the store. Freda attended Talmud Torah followed by Garden City Collegiate. (By then the family lived on Forest Park Drive). It was her late brother Sam who instilled in Freda the ambition to enter into law and we all ought to be grateful to him for that advice. That advice, taken together with the lesson learned from her parents that the rule of law could easily be destroyed, took Freda to law school at the University of Manitoba and indeed, may have propelled her later to a Masters of Law from Harvard. How many Harvard alumni are sitting judges on the Courts of Appeal across Canada? Maybe Freda knows that answer.
Freda did practice for a few years in Winnipeg but after her Harvard time, she became a professor of law at the University of Ottawa in the Common Law section – and she loved it. In fact, her teaching career added up to a total of 18 years between Ottawa and the law school at the University of Manitoba, where she became Associate Dean. As well, Freda worked for the Law Society of Manitoba as the Director of Legal Education, also did some legal arbitration work in human rights and labour law.
In 1995, Freda was appointed to the Court of Queen's Bench of Manitoba and that must have been quite a moment for her and indeed her whole family (which, by then, included her husband, David Gisser, QC, and her children, Jason and Meira) when she put on her judicial robes. Move forward five more years and in 2000, Freda Steel was appointed to the Manitoba Court of Appeal, becoming just the second woman appointed to that court, following Madame Justice Bonnie Helper.
Freda offers an interesting perspective of her role on the bench: "I have had many years of legal education and practice time, but for my work on the Bench, the most important part of my education were the years growing up in the back of a grocery store in the north end. The stories of the people who came in daily to buy their milk and bread and chat with my father left an indelible impression."
Since her appointment, Freda has been very involved in legal and judicial education through the Law Society, the Canadian Bar Association and the National Judicial Institute. Her resumé goes long and deep, but what stands out is that, in 2012, Freda Steel received the prestigious Cecilia I. Johnstone Award acknowledging her professional excellence in her field and her influence on other women in their quest to pursue a legal career.
Now, with all that said, surely one of Freda's greatest joys would be the fact that both her children, Jason and Meira, have followed her path and indeed the path of their father into the legal profession with Jason working as counsel to the University of Manitoba Faculty Association and Meira for the Professional Institute of the Public Service of Canada. I wonder what the conversation is about when the four of them get together for dinner?
It has been quite a trail that Freda Steel has created for herself and the trail keeps on going and in many directions. What is certain is that the Jewish community of Winnipeg, the City of Winnipeg and the Province of Manitoba have much to be proud of in Freda Steel.