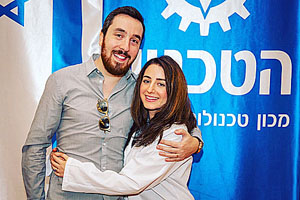 This story was first published in the Nov. 27, 2019 issue of The Jewish Post & News: The departure of Avi Posen and his wife, the former Illana Minuk, right after yom tov, can be best summed up as "Winnipeg's loss is Israel's gain".
More than in most cases of Winnipeggers making aliyah (which should undoubtedly be celebrated), the son of Kinzey Posen and Shayla Fink leaves a real void in our community.
Over the past eight years as a teacher at Gray Academy, Posen has taught Tanach, Hebrew, Shoa, Jewish history, current events in the Jewish world, Israel Advocacy and Yiddish. He has been in charge of Chaggim (Jewish holiday) activities for the last few years. He and Gray Academy high school Science Teacher Sheppy Coodin founded the annual Shabbat Unplugged Shabbaton for Jewish University students. He has been an integral part of the P2G program that unites Gray Academy high school students and teachers with their counterparts at Danciger High School in Kiryat Shemonah in northern Israel.
And, in addition to his many duties at Gray Academy, Posen has served as Chazan at Yom Tov for both the Chevra Mishnayes (six years) and Chavurat Tefilah (two years) congregations in the north end. (The two congregations are just a few blocks apart.) At the latter shul, he has been blessed to be able to lead Yom Tov services in partnership with his zaida, Sol Fink, who has been leading Yom Tov services for 30 years.
"Every job I have ever had since I was 15 has been in the Jewish community," Posen says. "I have always been involved in Jewish education either through the summer camps or Hillel or Gray Academy."
A long time Camp Massad camper, he graduated to counselor in high school and later served as the assistant director. In 2011, he was program director at BB Camp.
Although his initial career choice was psychology (he graduated from the University of Winnipeg in 2009 with a BA in psychology), it was the year that he spent at the Rothberg International School at the Hebrew University in 2008-2009, he says, that changed his focus to Zionism and "all things Israel". On his return home, he went to work for the Jewish Federation of Winnipeg.
"I became the Federation's Jewish Engagement Co-ordinator," he says. Avi helped coordinate Winnipeg's first ever Limmud and helped coordinate the PJ Library program, two very successful programs in our community.
In 2011, he enrolled in the Masters program in Jewish Education at Yeshiva University. The next year, back in Winnipeg, he served as Hillel director before joining the staff of Gray Academy for the 2012-2013 year.
He relates that he and Illana met in 2013 when both were dancers with the Sarah Sommer Chai Folk Ensemble. Illana served as dance director as well as one of the dancers. "The cool thing is that my Zaida, Sol Fink, and her Zaida, Morris Intrater, are from the same town in Poland, knew each other from school and both ended up in Winnipeg after the Shoa," Posen points out.
"Making aliyah is definitely a dream," Avi says of himself and Illana.
The impetus to go now is that Illana has been accepted into a four-year Medical program at the Technion in Haifa which started this fall.
He adds that quite a number of his students from Gray Academy who participated in the P2G program have also made aliyah. He says that he is looking forward to reuniting with them.
From Israel, Posen reports that he and Illana have settled in comfortably in Haifa and he is about to start his new position as the Assistant Director of Education for Jerusalem U, a Jewish/Israel education digital media company based out of the old city of Jerusalem.
Posen adds that he plans on returning to Winnipeg in January for the Shabbat Unplugged Shabbaton as well as the Gray Academy Jewish Awareness Retreat and next fall to once again lead yom tov services at the Chevra Mishnayes and Chavurat Tefila.