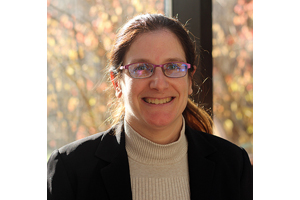 By MYRON LOVE In 1993, then University of Manitoba physics student Melanie Schachter had the honour of being one of just two Canadian students chosen by an organization called the Youth Science Foundation to represent our country at the Nobel Prize ceremonies and the 18th annual Stockholm International Youth Science Seminar that year. 
Her selection was based on her academic achievements – including a $37,000 National Research Council Canada Women in Engineering and Sciences Scholarship and a Natural Sciences and Engineering Research Council of Canada undergraduate student research award – as well as her efforts to encourage girls in high school to consider careers in science.
Now, 25 years later after graduating from the University of Manitoba (1995) with a B.Sc. Honours in Physics, Dr. Melanie Martin – in her position as a professor of physics at the University of Winnipeg – 
remains a trailblazer for women in science.
The daughter of the former editor of The Western Jewish News, the late Cheryl Fogel, Melanie is a graduate of Grant Park High school. 
In an interview she did with the University of Manitoba's Sherry Kaniuga in 2017 – coinciding with her being presented with the University Faculty of Science Honoured Alumni Award, Martin revealed how she became interested in pursuing a career in physics.
"I actually started thinking about this career before I started university," she said in that earlier interview, "but it was still related to the U of M.  When I was in Grade 11, I found out that SHAD – then Shad Valley – had what I called 'summer camp for geeks'." (Shad Canada is an annual Canadian summer enrichment program for high-achieving high school students held in July.)

"I lived on the U of M campus for all of July," she continued, "going through university classes. I was a shy kid going into an unfamiliar situation and my fellow SHADs were welcoming and I fit right in. There
 were 40 or 50 of us – students and professors that had the same academic interest as me. Those four weeks completely changed my life."
Following graduation at the University of Manitoba, Martin was accepted into Yale, where she has earned two masters degrees and a PhD in Applied Physics and Biomedical Engineering. 
"I enjoyed my five years 
at Yale," she says.  While New Haven (the home of Yale) is a small town, it is close to Hartford, Boston and New York.  I spent a lot of time in New York.  I saw the Letterman Show live several times."

After Yale, she continued her studies at Caltech – in Pasadena – where she was a postdoctoral scholar and associate scientist in Biology. She returned to Winnipeg – and the University of Winnipeg to join the
 Science Faculty of the University of Winnipeg in 2004.  She is currently a full professor as well as Director of Magnetic Resonance Microscopy Centre and Co-Director, The University of Winnipeg Brain Imaging and Metabolic Research.

"While I was away, I always returned to Winnipeg a couple of times a year to see family and friends," she says.  "At Caltech, I was a staff scientist responsible for maintaining equipment while I also helped
 others with their research.  The University of Winnipeg offered me the opportunity to have my own lab and do my own research. It is also nice to be close to my family again."

One feature that she appreciates about being at the U of W is the ability to collaborate with many talented researchers at Winnipeg's universities, the National Research Council Canada, and local industries. Her research students have gone on to great jobs with her industry partners, so she can see firsthand her research making a difference in the world.
In her research, Martin focuses on the uses of magnetic resonance imaging (MRI) to study anatomical changes in living tissues.
"We are working at the microscopic level," she explains.  "We have been able 
to detect structures in images of the brain that no one has ever seen before.  We can detect axons (nerve fibers) that are smaller than the width of a spider's web.  We are looking to determine whether 
individuals with schizophrenia have fewer brain axons than people without this disorder and whether people with autism have more. 
"The question we really want to answer is whether people are born with the condition or whether the increase or decrease in axons happens just before the symptoms of the disorder appear.  We are still developing our base lines. Once we understand the timing, we can learn how best to assist these individuals."

Martin reports that her research team generally consists of undergraduate students, graduate students, post-doctoral scientists and a technician. 
"It has been challenging managing my personnel in light of the pandemic restrictions," she notes.  "We are only allowed four people in the lab at the same time, yet everyone wants to come in."

In addition to her responsibilities at the University of Winnipeg, she is also an adjunct faculty member in the University of Manitoba Departments of Pharmacology and Therapeutics, also Physics and Astronomy, and a Core Member of the Biomedical Engineering program.

As well, she continues to encourage young women to consider careers in science.  "There are two women this year in our Honours Physics class," she notes.  "As it happens, they are the only students in the class this year.  I am also seeing more women in my larger classes."
In the past, she has also served of co-conceiver and co-organizer of an event for the International Day of the Girl. In conjunction with the provincial government the program brought to the Manitoba Legislature female high school students from across the province together with female scientists from the three main universities in Manitoba to celebrate science and encourage the students to pursue science careers.
Another program in which she is playing a leadership role is in the Winnipeg chapter of the Canada Indigenous Science and Engineering Society (CAISES). 
"Ours was one of the most active chapters last
 year and we received the Stelvio J. Zanin Chapter of the Year award," she reports.   "I am amazed at what our students have accomplished."

In recent years, Martin has been in demand worldwide as a speaker. These days, obviously, the presentations are all virtual, she notes.

And it looks like another generation of Martins will be following in the field of science.  Martin's 12-year-old son, Nate, is showing an interest in plant science.  "He is doing a junior high project measuring 
changing moisture levels in the soil," she says with pride. "He has turned our entire house into a farm," she says jokingly.
She adds that will be representing Manitoba at the 2021 Canada Wide Science Fair.