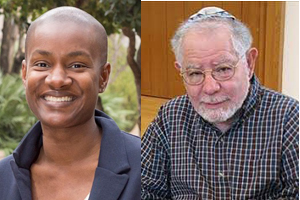 By GERRY POSNER
Imagine my surprise when I picked up a very recent edition of the JP&N and I saw an article on the very woman, Annamie Paul, I had just been asked to interview by Bernie Bellan. (Bernie's reason for his wanting me to interview Annamie – even though the paper had just published an article about her, had to do with a Winnipeg connection – about which Annamie was probably unaware.)
With this second article, you might think that the JP&N was " pulling" for her – but, rest assured, it's only because something in that first article about Annamie certainly caught my attention – and it wasn't just that Annamie is both Black and Jewish!
This fall there will be an election for a new leader of the Federal Green Party. That election might not stir up much interest yet in Manitoba and beyond, but for Winnipeggers, there are two candidates who have a real connection to the city.
Firstly, most Winnipeggers will recall former mayor Glen Murray. Well, take note that Glen is indeed running hard to be elected to be the new leader.
But secondly, Annamie Paul has a Winnipeg connection through the rabbi who converted her to Judaism: the late Rabbi Jim Diamond. (Read on to find out how Annamie came to be associated with Rabbi Diamond.)
Annamie Paul is likely setting an historical record just by running. First of all, even though there have been other females in Canada run and indeed get elected to Parliament, none of these candidates was at the same time, Black and Jewish. The voter will recognize the Black part, but the Jewish aspect of Annamie is perhaps not as well known as it should be, though Annamie is far from shy about disclosing her Jewishness. In short, Annamie represents diversity, which is a policy for which she ardently advocates.
Let me be clear from the outset that Annamie is not just entering this race to be the political version of Drake or Sammy Davis Jr. This woman has, as they say in the musical world, the 'chops" to be the leader. Take a look at her background and you have to be amazed. She is to start off a lawyer, having graduated from the University of Ottawa with a Bachelor of Laws and who has since dedicated her career for the most part to public affairs. Her work background includes time spent working for the Canadian Mission to the European Union, providing advice to the International Criminal Court and later acting as the Executive Director of the Barcelona Policy Action Plan. Moreover, she has served as a Director for a leading conflict prevention NGO in Brussels. It ought not therefore be a surprise that this woman speaks fluent English, French, Catalan and is an intermediate speaker of Spanish (also a smattering of Hebrew).
Aside from all that, Paul ran in the 2019 election as a Green candidate – against none other than the Finance Minister, Bill Morneau. She finished fourth out of a group of eight. But, she resisted the pleas of many of her supporters to pick an easier riding. The fact is that Paul is not one who is easily fazed by difficult challenges.
One of those difficult challenges was her becoming Jewish. This was not something that just happened. Annamie had long been interested in Judaism and had an early exposure to Jewish families, growing up in Toronto. She even attended Bar and Bat Mitzvah parties as a youngster. Thus, her connection to Judaism was real. When she studied at Princeton University to obtain a Master's Degree in Public Affairs over 20 years ago, she made the decision to convert to Judaism.
It was at Princeton, over a two-year period, that Paul made a connection with a rabbi whose roots were genuine north end Winnipeg – as in Boyd, Luxton and Rupertsland Avenues. This rabbi was none other than the late Rabbi James Diamond – a man whom, I might add, was my first cousin – and a beloved cousin to be sure. Oddly, over the year of Paul's studying under Rabbi Diamond, the fact that he was a Canadian never came up in conversation, she told me.
Rabbi Diamond was the head of the Center for Jewish Life at Princeton for close to 10 years after a career in the rabbinate with Hillel, first at Indiana University, then later at Washington University in St. Louis. Diamond had done other conversions, but this conversion was likely his first and only Black Canadian woman.
And, he did not go easy on Annamie. Even though Jim used to describe himself as a Conservative rabbi with an Orthodox bent, he tried to give to Annamie, as she wanted, a more complete Orthodox instruction which would allow her entry into the Orthodox world if she required it.
She had to appear of course in front of a Beit Din, a panel of three learned men, who quizzed her on aspects of Judaism. Of course, she completed her conversion process with her immersion in a Mikveh. Annamie did it all and she gives Rabbi Diamond total credit for instilling in her this love for Judaism. She says he was responsible for her ability to read Hebrew, her desire to keep a kosher home, and ensuring that her sons had a Jewish education.
In fact one of her sons, Malachi, now 20, was born in Princeton. Both boys celebrated their Bar Mitzvahs – Malachi in Barcelona, and Jonas, in Toronto. Her husband of 24 years, Mark Freeman, a lawyer specializing in human rights, and Annamie, have carved out a real Jewish life for themselves. For Annamie Paul, Judaism speaks to her of values that she holds dear to her, particularly the humanism of the faith and its concern for the welfare of others.
Now, the Green Party has had its share of critics, as do all political parties. One area of concern for Jews is the attitude of the party re Israel. Annamie was clear to me that the Green Party in no way is a supporter of the BDS movement. Where the Green Party stands with respect to the settlements is uncertain, but clearly Paul is cognizant of the issues involved. What Paul is not afraid to do is to be a critic even of her own party if she thinks it has strayed off its platform. She is trying to push both her own party and indeed the whole country to reflect a more diverse and inclusive character.
On the one hand you would have to say that Annamie Paul is a long shot to be elected leader and yet, when you consider her path from nowhere to the present, her determination to embrace her Judaism and the causes that she has pursued with passion, I suggest that Canada would be well served with Annamie Paul as the head of the Green Party. My cousin Jim Diamond would be behind her all the way.