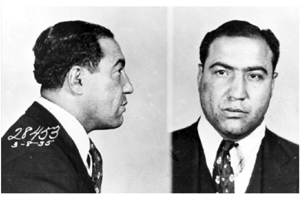 Elsewhere on this website you can read a story about the children of Jewish mobsters (https://jewishpostandnews.ca/20-features/3169-these-children-of-jewish-mobsters-were-kept-well-shielded-from-their-fathers-affairs).
That story elicited a fascinating response from reader Jim Manishen – who revealed to me that I have my own connection to a mobster who was originally from Winnipeg.
We present Jim's letter here, along with some of the clippings Jim sent.
If you have some skeletons in your closet that you'd also like to share with the community, please let me know. I could at least publish them to our website. And remember, just because someone may have been a lawyer or a politician doesn't necessarily make them a crook! (I can get away with that now because who knows whether we'll be back?)
Hi Bernie,
Was interested to read of your interest in Jewish mobsters with a Winnipeg connection. Did you know that there was a famous one connected to your and my wife families on the Altman side?
Sue Green, Miriam's mother, and Bessie Lichter, my wife's mother were sisters as you know. They had a brother Harry Altman (1900-1950) that was one of the original Detroit Purple Gang members – a founding one no less. This all-Jewish gang was one of the most famous and most vicious of its time, equal to the Capone gang with whom they worked on a number of "projects" that allegedly included the St Valentine's Day massacre.
Harry went to Detroit around 1918 to be with his older brother, both seeking employment opportunities. Harry got involved with a bad element and stayed with it, dying in prison in 1950.
He gets six mentions in "Off Color: The Violent History of Detroit's Notorious Purple Gang" by Daniel Waugh:
We have been trying to find out more about Harry. There are more stories in the Detroit paper archives I don't subscribe to (Nathan Wiseman sent me a few in the email that follows this one).
Any help you could give me via your resources would be really appreciated, like where he might be buried, other info etc.
So a fascinating story here that hits close to home.
Jim