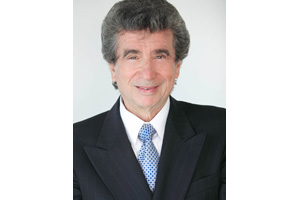 By MYRON LOVE Many readers of a certain age will no doubt have fond memories of Herschel Fox. In the 55-plus years since he left Winnipeg, he has built a notable career as both a chazzan and an entertainer – and he says that he has loved every minute of it.
On February 2, the former Winnipegger was recognized with a most fitting tribute to his role in Jewish congregational life in the form of an honorary Doctor of Music Degree from the Jewish Theological Seminary. The presentation was supposed to have taken place in New York itself, he notes, but, because of ongoing Covid restrictions, the award ceremony took place virtually.
For the ebullient Fox, his life has been a ball. In addition to his cantorial duties, the long time Valley Beth Shalom Synagogue chazzan has been able to pursue a second career – building on his experience as a performer in live Yiddish theatre – entertaining in live shows with his wife, Judy – a cantor in her own right at the Synagogue for the Performing Arts in L.A. – as well as making recordings in Yiddish and Hebrew.
Fox points out that there only two cantors in North America who have been at it longer than he has. The son of Holocaust survivors, he was drawn to the Jewish liturgy at the age of 7 when the Talmud Torah bocher was accepted into the illustrious Cantor Benjamin Brownstone's choir.
"I loved the synagogue and I loved Yiddishkeit," he recalls.
For five years, post bar-mitzvah, he helped lead Yom Tov services at the Talmud Torah and, at the age of 19, was hired for his first cantorial gig, leading Yom Tov services in North Battleford.
He was studying social work at the University of Manitoba when – in 1970 – he received the opportunity of a lifetime in the form of an invitation to study with David Kusevitsky, one of the world's leading chazzans, in New York.
I learned a lot from Cantor Kusevitsky," Fox notes. "He was one of the finest people I have ever met. He never had a bad word to say about anybody."
In 1971, he began a seven-year run as the chazzan at a shul in Greenwich, Connecticut.
In 1978, he opted for a career change, throwing himself into performing. He was hired to be the MC for Yiddish shows at an outdoor co-op theatre in the Bronx.
"We were getting 10,000-12,000 people per show," he recalls. "There were a lot of apartment blocks in the neighbourhood and up to 90% of the people were Jewish."
Fox's great strengths as a chazzan and entertainer are his strong memory and amazing ability to mimic the voices and singing style of other chazzanim and Yiddish performers – past and present – as he demonstrated repeatedly during the course of our interview.
During one of the shows, the well-known (at that time) Yiddish comedian Shimen Dzigan was in the audience. Dzigan and his comedy partner, Yisroel Shumacher, were the Yiddish world's equivalent of Abbot and Costello, Fox explains.
Dzigan was so impressed with the young Fox's stage presence that he offered him a starring role in an upcoming Yiddish theatre production – opposite noted Yiddish stage star Miriam Kressyn. Over the next couple of years, he appeared – on and off Broadway – with many great entertainers such as Jan Peerce (another former Winnipegger with whom he became good friend), Molly Picon and Mickey Katz, the father of Joel Gray. He also had his own Yiddish radio show.
Throughout this period, Fox served as a chazzan during Yom Tov for a congregation in Great Neck. New York.
In 1980, he married Judy, a professional singer n her own right and aspiring Chazan. The next year, they followed the path of many New York-based performers before them and made the move to Los Angeles.
"We wanted to settle down and start a family," he recalls. "We were fortunate to both be offered positions and have been at our respective synagogues ever since."
Over the years, Herschel and Judy have returned to Winnipeg from time to time to perform at community functions, see family and reconnect with some of Herschel's old friends.
Now 76, Herschel Fox has been semi-retired for the past five years or so. "I still lead services maybe once a month," he says. "I do the occasional funeral and make shivah calls.
"These last two years have been tough with all of the Covid rules," he adds.
"Looking back, I feel that I have been very lucky to be able to get up every morning and do what I love to do," concludes. "I have enjoyed every second of it."
Herschel and Judy have been blessed with two daughters, Shira and Shayna. Older daughter Shira is carrying on the family trade as a cantorial soloist at The Open Temple – Re-enchanting Judaism in Venice, California.