By GERRY POSNER What is the connection between a Jewish girl originally from Fort Garry and an internationally recognized artist and soferet, who has made a career in creating different forms of media? The answer lies in one Laya Crust. This woman, raised in an area of Winnipeg where searching for a minyan would have required months of work, has in her lifetime so far made Ketubahs, artist books, ceremonial objects, and produced works for large corporations, British royalty, government officials and major philanthropists. Her output is both voluminous and valuable.
Some readers might recall a couple named Dr. Joseph and Dorothy Crust, (formerly Greenstone), who lived in Fort Garry – not exactly a Jewish area at the time. It was Laya's mother who created Laya's deep relationship with her Judaism. That connection has only grown over the years and is present in her art to this day. The intriguing aspect of the Laya Crust story is the merger of her love of art with her passion for Judaism.
It started innocently enough. Laya always loved synagogue, even as a child (one of five Crust children), and she says that she experienced music in the shul as colour. She talks about stained glass music as a way she experienced Hallel. That connection between synagogue musical liturgy and art was the force that took Laya into the world of creating Jewish art.
Laya started at the University of Manitoba in general arts, but later drifted to Red River College to take drafting. She returned to the U of M for interior design, following in the footsteps of her sister, Gail. When that did not pan out, Laya changed course and cities – moving to Toronto. In pursuit of her passion, Laya avoided traditional art school classes. She enrolled in a programme that would allow her to follow her instincts, interests and talent. She studied drawing, etching and lithography at The Three Schools of Art, a tiny informal art school. She also took up Hebrew calligraphy. As if by chance (if you believe everything is by chance) she was asked to do a Ketubah (the Jewish marriage document). One Ketubah led to another and another. Laya seized the opportunity to delve into Jewish history and reflect it in her art.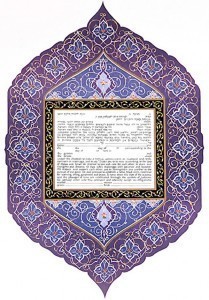 As Laya says, "I realized that the Ketubah took all the things I had learned and loved and even the things I didn't love and put them into the most perfect package." What this union of her two loves revealed was the mix of art, design, drafting, history and Jewish learning all together. Her first 17 Ketubot were what might be called, in sport terms, her minor league experience, although they were very well done. It was number 18 that really shot Laya into another stratosphere in her work. She titled her 18th Ketubah her "Medieval Arch Ketubah". Designing that particular Ketubah is what led Laya to a much deeper dive into Jewish art and history.
It is not surprising to learn that Crust has done many, many Ketubot. In fact, she has created over 600 of them. She describes her work this way, "The eclectic mix of art, design, drafting, history and Jewish learning that I had pursued on my own is the perfect preparation for Ketubah design. Because of my background, I view themes, text, technique and images as separate elements to be integrated into a unique composition. I deepen the meaning of the piece by weaving in elements of design, art and history from different parts of the world and even different parts of Jewish history."
She has developed and expanded her range well beyond Ketubot. Her work has been delivered, presented and hung in places ranging from the Herzliya Adas Yeshurun Synagogue in Winnipeg to several synagogues in Toronto, also the Toronto General & Western Hospital, as well as locations in Jerusalem and New York. In addition, Laya has produced over 500 documents for organizations and private clients. Suffice to say, she is a very well known and recognized artist.
Not that long ago, Laya was commissioned by a family in Toronto to scribe and illustrate a kosher Megillat Esther on animal parchment. You can go on Youtube to see the story of that creation and her explanation of the 32 panels that accompany the printed words. It is truly remarkable to see the Purim story unravel in front of your eyes both in script and art.
Laya has recently published an exquisite art book titled "ILLUMINATIONS, An Exploration of Haftarah through Art and History." Just released in October 2022, this book is the result of a request by the Beth David Synagogue in Toronto. Laya created an original miniature for each of the 82 Haftarot and printed them into the synagogue's formal Haftarah scroll. It is likely the first time this kind of undertaking has ever occurred. In her introduction to the book, Laya writes, " I studied each Haftarah reading about political intrigue, illness, family dynamics. exile and longing. As the project grew, so did my aspirations. I wanted to link the ancient text with Jewish cultural history and today's world. I wanted to convey the universal truths that span time and are recorded in the Bible."
The book "IllUMINATIONS" includes reproductions of each of the paintings. A commentary accompanies the painting, outlining its connection to the Torah portion and the historical inspiration of the art. After studying her book, I can state, without hesitation, that Laya Crust has succeeded splendidly in her quest to link the words with the art. This book is indeed a treasure for anyone interested in Jewish history, art and the study of Haftarot. Images from the book can be seen at haftarah-illuminations.ca
Laya and her husband, Les Lightstone, are the parents of six children (some of whom reside now in Israel) and many grandchildren. That all of the work Laya Crust has produced over a lifetime (and she's still going strong), representing the efforts of a woman whose origins were in a very non -Jewish area of Winnipeg, proves that you just never know what is possible anywhere.