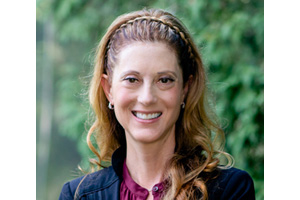 By GERRY POSNER It may be a long way from Winnipeg to Cincinnati, but I suggest the distance from the Ramah Hebrew School in 1985 to published author and renowned surgeon and medical researcher – not to mention also a passionate chef, is even longer. Rachel Pauls has covered all that distance and more.
Yes, she graduated Ramah and then went off to Joseph Wolinsky Collegiate and later the University of Manitoba for her medical degree in 1998, when she became Dr. Rachel Pauls. Rachel, by the way, is the daughter of Brian and Jeanne Pauls (the Brian Pauls of Bridge fame in case you wondered).
Married to former Winnipegger Cory Pollock and mother to three children: Hannah, Jack and Zev, Rachel's career has been on the ascendency over the past 30 years. She completed her residency training in Obstetrics and Gynecology at Washington University School Medicine in St. Louis and later her fellowship training at the Good Samaritan Hospital in Cincinnati. Since 2006, Rachel has been on the Faculty for Obstetrics and Gynecology at TriHealth in Cincinnati where Rachel and her family still reside. After that, the titles are plentiful and overwhelming as Rachel has clearly made a big name for herself in the care of women in a field with an even longer name – Urogynecology. She is called on as a lecturer and researcher and, hard as it is to believe, she has published over 100 journal articles, so she is on the way to catching her father for his Bridge articles. She has presented her research all over the world and in 2012 she was a recipient of an award from the American College of Obstetrics and Gynecologists as Mentor of the Year. (Who knew?)
Yet with all of that, and there is a lot of that, Rachel Pauls has entered into a new territory and indeed a new business. Have you ever heard of FODMAPs? Well, maybe you know that acronym for the real title which is Fermantable Oligo Di,- Monosaccarides And Polyols. Ok, that is not likely familiar to you. What will be familiar is IBS or Irritable Bowel Syndrome, an affliction which affects a large part of the North American population and beyond that as well. A low- Fodmap diet is the most effective treatment for IBS and Rachel Pauls is an expert in this area. Moreover, she is also an avid FODMAP blogger. She became involved in this area owing to her own bout with IBS. Because of these issues, she took it upon herself to become educated in the field and became a follower of the low- FODMAP diet which successfully cleared up her symptoms.
But Rachel was not willing to just help herself. She decided to help others who suffered from IBS and other digestive difficulties and created a business in 2016 known as Rachel Pauls Food, which can be found at www.rachelpaulsfood.com. What her company does, among other things, is to create (courtesy of Rachel) certified low- FODMAP food – and it's not just bland food, but legitimately delicious, according to third party reports. To appreciate what she has done, one really has to go on line and digest (if you can excuse the pun) the many recipes set out there. Just Google "low Fodmap recipes" and she will be one of the top results. Of course, you might also look at her blogs which, according to my sources, reach over 100,000 visitors a month. Check out her Happy Bars – energy rich and gluten free.
Just recently, Rachel finished her first cookbook, to be published next month by Fair Winds Press and aimed in particular at the people who suffer from IBS. The book's goal is to help you "heal your IBS with more than 100 low- Fodmap recipes" and other expert advice. I suggest that this book has the makings of a big hit. It will be extensively marketed in the USA, Canada, the UK, and Australia. Rachel is clear that this book is the realization of a dream inspired by her love of the many cookbooks by the late former Winnipegger, Noreen Gilletz. In fact, Rachel did reach out to Noreen prior to her death and Rachel was honoured that Noreen made time to provide her with guidance.
Rachel's book will be available through all the major book sellers in Canada. So, move over Brian Pauls. Your daughter Rachel has made a real name for herself and possibly her menus might even have added benefits for Bridge players.