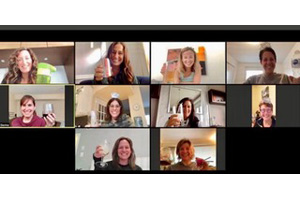 By GERRY POSNER I have always thought I was privileged to have grown up when and where I did, but I have learned that my children's generation has also been imbued with this same feeling. In particular, I refer to 10 girls, now women, all born in 1970, who are all now just past 50, and who share this same sentiment. Their story almost makes one cry for a time gone by.
The ladies are: Jill (Margolis) Atnikov, Allison (Hyman) Axelrod, Davina ( Muchnik) Golden, Michelle Golfman, Jodi Hyman, Lisa (Golfman) Kroft, Marni (Fingold) Miller, Jackie (Rosen) Nash, Lisa (Hamburg) Weidman, and Samantha ( Zimberg) Adelman.
These are names known to many readers of the Jewish Post & News and beyond. They are women who have made a conscious effort to be connected ever since their earliest days together. There is what seems to be an unshakeable bond between all of them and their feelings of " closeness" shine through and in all of them.
The reality of this deep friendship is best summed up in something Jill Margolis Atnikov wrote. Even though the girls were never at the same school together, "We have been friends for at least forty-nine years." Organizations like Kadima, BB Camp, BBYO cemented the ten girls together in ways they could not have imagined. Whatever it was that tied these women together, it worked. Jackie Rosen Nash says, "We were all in close proximity to where we lived so we were able to be together. I could walk to everyone's house. I can picture everyone's house as they were." That is a remarkable statement and I bet each of the group could describe all of their respective homes to one another.
Not all the women live in Winnipeg now. Out of the 10, there are five remaining in Winnipeg, with Michelle Golfman in Toronto, Marni Fingold Miller in San Diego, Jackie Rosen Nash and Lisa Hamburg Weidman in Vancouver, and Davina Muchnik Golden in Chicago. Included in this group are two sets of first cousins, as in Lisa Golfman Kroft and Michelle Golfman; and Jodi Hyman and Allison Hyman Axelrod. Between the 10 of them, they have added 14 more Winnipeg descendants (of a kind – since some of them are first Winnipeg removed). And, although they have gone on separate paths, what links them still is their desire to stay connected.
Davina Muchnik Golden works today as an educational assistant with two teenage daughters. Jodi Hyman is a Nurse Educator at Cancer Care Manitoba. Jackie Rosen Nash is a personal shopper (I sure could use someone like that). Marni Fingold Miller, mother of two children – both over 20, is an interior designer. Lisa Golfman, with two sons both over 20, is a small business owner in Winnipeg. Jill Margolis Atnikov is a Pharmaceutical Representative, a small business owner in Winnipeg and is mother to a 21- year-old daughter. Allison Hyman Axelrod, mother of two sons – both close to 20, also works in Winnipeg as a Senior Customer Success Manager in the Human Resource and Wellbeing Industry (you have to love that title). Michelle Golfman has another title I love, as she is a Director of Philanthropy. Lisa Hamburg Weidman works as an Education Intervention Specialist (I bet you never heard that term when you were growing up) and she has three kids – two over 20 and one just under 20. Samantha Zim-berg Adelman lives in Winnipeg and works as an Educational Assistant with two kids, also in the 20-year-old range.
Based on the ages of the children of these women, I suggest there is a further opportunity to tie some of them even more tightly together. Maybe it has already happened.
One theme that seemed to emerge after reading emails from several women was a really strong feeling for the Winnipeg Jets. As Lisa Golfman Kroft put it, "We used to stalk the hockey players from the Winnipeg Jets."That thought was echoed by her cousin Michelle, who wrote that " no matter where we are in the world the " Winnipeg Jets" were and always will be our " home team." I think the group better plan a session together soon to help the Jets, who seem to be floundering right at this moment and need all the help they can get.
Lisa Hamburg Weidman reflected on the way the ten of them came together. She says "There were so many facets of community that connected us and brought us together. We were never all in the same school at the same time, but we were always connected. There were so many different circumstances that always brought us together." Golfman Kroft adds, "We don't see each other as often or speak to each other often but when we do, it's like no time has passed." Samantha Zimberg Adelman commented that "Sharing our love of music and concerts from when we were kids until now" was a common thread. Hyman Axelrod put a different slant on it when she wrote, " I love how we have instilled in our kids the importance of these friendships. My kids always report back to me when they bump into one of the girls or their families. They know saying hello is important." What was crucial to Muchnik Golden was "the time spent at the beach at Gimli for us to be together." You would have thought that over the years, ten women (men too) would have had many disputes and arguments which might have affected their relationships, but Marni Fingold Miller's take on it is "We recognize how unique this friendship is. We know each other's shtick, but we continue to love each other." I identified well with the comments of Jodi Hyman who suggested "There is something to be said for true friendship. We were bound together through growing up and participating in Jewish community youth programmes, to sharing many laughs as well as tears as we move through life's joy and losses. Although we may be geographically spread out, we will always be united through our Winnipeg routes and true friendship."
Now these lovely ladies have made the point of meeting together at reunions in different locations over the passing years. The accompanying photos give a glimpse of the genuine joy of the women as they met together on several occasions. Sadly, the plans in 2020 for the big 50th birthday reunion were shelved due to Covid. What they did instead was to initiate birthday Zoom calls as each woman hit the magic 50 and they did a catch up.
It is not an easy thing to do, that is, to retain life-long friendships. Life sends one off in different reactions and yet these women remain attached to this date. Was it the Winnipeg weather, the close knit community, the lack of cell phones and internet access, the fact that the parents knew each other? Who knows for sure? What is known is this: These women savour the memories. Not that long ago, at a reunion in Scottsdale, Arizona, they played a game called the "Voting Game". This game tries to uncover the truth about your friendships. The players in the game vote anonymously for the particular player who is described by a particular question. As Jill Margolis Atnikov wrote, " No doubt there were screams of laughter as we were taken back to our childhoods. One question in particular brought out the laughter as in 'Who had the worst high school photo?' On this question, there was unanimity though they never told me who that was, nor did they send me the photo."
I think most of us would agree there is great merit in sharing memories of what each did for their childhood birthday parties, what they wore to Sweet 16 parties, who their first crush wa,s and on and on. What one forgets, another remembers.
I get it. While you do not have to be from Winnipeg to feel this way, it is likely that most of us who were privileged to have grown up at the time when we did and where we did, have experienced in some small or larger way, these same feelings. I am doubtful whether my grandchildren and the children of the group of ten will have these same kinds of relationships and memories. But that is another story.