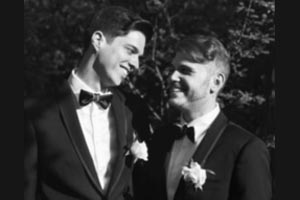 By MYRON LOVE Life is about community. Community brings together people of shared interests, values and beliefs and provides a sense of belonging. The bottom line is that – ideally – members of a community support each other.
A few months back, partners Samuel Braemer and Keith Tennant perceived a need within their 2SLGBTQIA+ community to provide styling assistance for individuals new to that community to bolster their self-image and newly-unveiled identity with an appropriate wardrobe reflecting their change in life.
To that end, the couple, who have been together for the past six years, founded Transforming Style, an initiative that is providing support, beauty and styling services and wardrobe to 2SLGBTQIA+ community members in Canada who face barriers to access.
"Someone who is transitioning may not feel comfortably at first shopping for clothing in a mall or big box store," says Braemer. "Through Transforming Style, we can help newer members of our community to assemble a new wardrobe – in a judgment-free manner – that is suited specifically to the individual.
Braemer, the son of Joel and Leah Braemer, points out that Transforming Style combines his experience managing non-profit organizations with his passion for fashion. He quotes the fashion maven Rachel Zoe, describing style as the way you reflect who are inside from the outside.
He adds that Tennant, his spouse of three years, brings his experience in retail to the endeavour.
Braemer reports that the official launch date for Transforming Style was August 26. "Initially, our focus was on our community in Winnipeg and Manitoba," he says, "but very quickly, the demand for our services grew right across Canada and even south of the border.
"We didn't realize at first how badly needed our services are. There is nothing else in Canada like this."
For the first few weeks after the launch, Tennant and Braemer did a lot of travelling across the country to introduce their services and fashion lines and sign up new clients. He explains that typically, Transforming Style appointments begin with an online consultation.
"We meet once or twice to start defining your style and gathering ideas for your wardrobe," he says. "Then we schedule an in-person session to try on clothing and accessories. Occasionally, we need one more session to ensure you have a complete wardrobe – we'll find and fill any gaps in the selection of items you'll be bringing home with you."
In addition to fashion advice, Transforming Style provides beauty and make-up tips and therapists – and all of the enterprise's services are free. "Our team of experts all work for our organization on a volunteer basis," he notes.
Braemer's "day job" is executive director of Dance Manitoba – while Tennant manages a Starbucks location.
"We are looking at grants to help fund Transforming Style and would encourage private donors," Braemer says.
He further reports that a physical location is high on the list of priorities and a second location is planned for Calgary in the near future.
Readers who may want to contact Transforming Style for further information can email info@transformingstyle.ca.