Former Winnipegger Aharon Harlap one of three winners of $200,000 prize to be awarded by Azrieli Foundation in October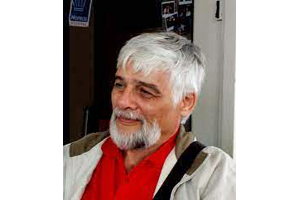 The Azrieli Foundation recently announced the three laureates of their 2022 Azrieli Music Prizes (AMP) – the Azrieli Commission for Jewish Music, which will be given in a ceremony to be held in Montreal this coming October.
Each Laureate receives a total prize package valued at over $200,000 CAD, including a cash award of $50,000 CAD; a world-premiere performance of their prize-winning work in Montréal by the Orchestre Métropolitain at the AMP Gala Concert on October 20, 2022, where the Laureates will be publicly honoured; two subsequent international performances; and a professional recording of their prize-winning work released on the Analekta label.
The selected the winning submissions for the Azrieli Prize for Jewish Music and the Azrieli Commission for Jewish Music, and the selected the Azrieli Commission for Canadian Music. Both juries are comprised of leading experts assembled from the fields of music creation, culture, presentation and performance.
Two of the three prizes recognize excellence in new Jewish music – the and the . The first is awarded to a composer who has written the best new undiscovered work of Jewish music. Canadian-born Israeli composer is the recipient of the 2022 Prize for his astounding Out of the Depths have I cried unto Thee O' Lord, a setting of five psalms for soprano and orchestra. The work moves through an emotional journey, starting from a state of despair and passing on to one of hope and eventually a state of celebration and complete confidence in God's power and strength.
In selecting Aharon for the 2022 Prize, the Jury described his Out of the Depths have I cried unto Thee O' Lord as, "a beautiful, sophisticated, moving and sincere piece of music, written by a fantastic musician. It is a major work that reflects well on the state of Jewish Music."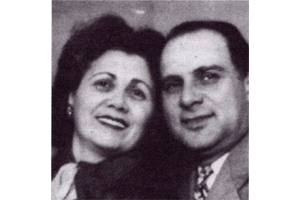 Aharon Harlap, born Aaron Charloff, is the son of the late Mordecai and Etta Charloff. (Mordecai Charloff is perhaps best known as the longtime mohel for Winnipeg's Jewish community.)
The following information about Aharon Harlap is taken from "A Century of Jewish Musicians and Music in Winnipeg", by Sharon Chisvin, which was published by the Jewish Heritage Centre of Western Canada in 2000:
"Pesach was the one holiday really when the whole family got together on Selkirk Avenue at my Zaida's house …and we all used to sing, we used to sing in four part harmony, not just sing. The whole family was very musical."
Aharon Harlap
While Aharon Harlap – formerly known as Aaron Charloff – has made music in Israel for decades now, his passion for his art began right here in his hometown of Winnipeg. Acknowledging the piano lessons he began taking at age five and his early exposure to performing at the Manitoba Music Festival as sparking and then cementing in him a desire to cre­ate and perform music, it was, he maintains, his Winnipeg family and his mother Etta Charloff in particular, who was his primary influence. Etta, who came from a musical family that included sisters Chana Freedman and Cecilia Asper, was a talented vocalist and long time soloist with the Winnipeg Jewish Community Choir and later with the Winnipeg Yiddish Choir.
Aharon actually began medical school at the University of Manitoba before deciding at age 22 to leave Winnipeg to study conducting and composing at the Royal College of Music in London. From there he continued his studies at the Vienna Academy of Music and the Rubin Academy of Music in Tel Aviv, Israel, where he then settled. In Israel Aharon has coached and conducted the Israeli National Opera, the Symphony Youth Orchestra and the Jerusalem Chamber Opera Theater. He has also composed several highly regarded pieces, among them a composition based on five poems written by Bergen Belsen survivor Yaakov Barzila. In 1999 Aharon was awarded the prestigious Prime Minister's Prize for Musical Composition. Aharon has returned to Winnipeg for many musical occasions over the years, among them the premiere of his Psalm 26, set to a poem by A.M. Klein and commissioned for Jewish Music Month by the Canadian Jewish Congress Music committee.
While sisters Etta Charloff and Chana Freedman were renowned throughout the community for their beautiful singing voices, their older sister Cecilia Asper was best known for her skill as a classical pianist. When Cecilia first married Leon Asper, a classical violinist who studied at the Odessa Music Conservatory, he was the conductor of the orchestra at the Palliser Hotel in Calgary and she was the pianist. The couple later moved to Minnedosa, Manitoba where Leon became owner of the Lyric Theatre and conductor of the Minnedosa Little Symphony Orchestra. Both Leon and Cecilia also played with the precursor to the Winnipeg Symphony Orchestra and held regular Sunday musicales in their home with their many talented musical family members.
In a March 31, 1999 article by Myron Love, Myron wrote about Harlap being in Winnipeg to visit his mother, Etta, who was a resident at the Sharon Home at that time. Harlap visited the Sharon Home and entertained the residents – something that he had also done on previous visits to the Home:
As Myron noted, "As a conductor, he has led all of Israel's most important orchestras – as a guest conductor – and has conducted orchestras and opera throughout the Western World. His compositions for chorus, chamber ensembles and symphony have also been performed worldwide. He has won numerous awards for his work."
Israeli show satirizing students in the US who give blind support to Hamas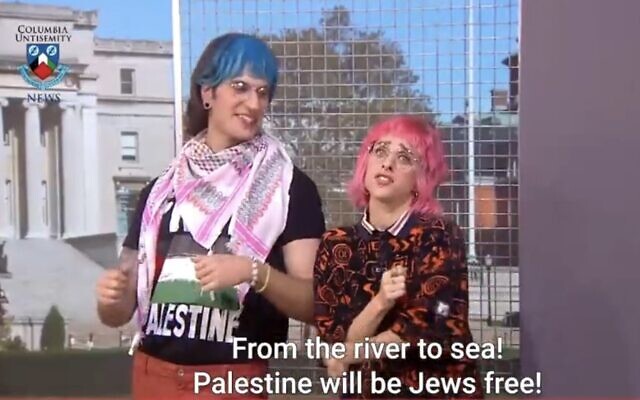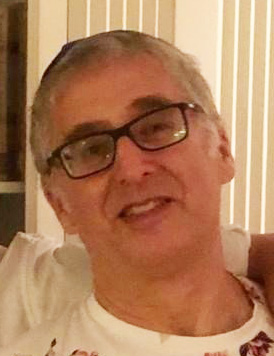 By BRUCE BROWN (Posted Nov. 4) Rehovot, Israel
Banality
 
What was once considered relatively banal is no longer routine.  With Israel at war and all.
Last Friday we decided to go out for dinner, a quick bite in Tel Aviv.  At our Favorite hamburger joint – Prozdor and highly recommended next time you, dear reader, visit Israel.  Whether even to go was driven by unusual considerations.   Do we really want to leave the relative safety of our abode, where our den-cum-saferoom is only a few steps away.  And enter Tel Aviv, which seems to absorb the brunt of evening missile barrages.  And what about the twenty minute drive – need to refresh the Homefront command instructions on how best to respond should missiles fly overhead while driving.
 
Once agreed that we need the distraction.  A break from the routine of another evening at home, watching the news and waiting for missiles to fall.  We then argued about who should drive, the determining factor being who would be calmest at the wheel should we encounter a missile on the way.  My daughter, an ex-combat soldier, was voted designated driver.  Although I still think I'm pretty cool under fire.  During the drive, we nervously exchanged scenarios about where best to pull over -there are some stretches of highway without a shoulder-  and how far from the car we should scramble.  If the situation should occur.
 
Then once we arrived at Prozdor.  The first thing we did was stake out the nearest bomb shelter.  The kindly restaurateur pointed out the shelter across the road, next to a parking lot and beneath a hotel.  In Tel Aviv you have ninety seconds to reach safety.  Seems doable.  Better be doable!
 
And while usually a bustling place, the restaurant was barely a third full.  People just not venturing out these days.  Because of safety considerations, who wants to get blown up while eating a hamburger.  How banal is that?!  And anyway the nation is really not in the mood for enjoying a good burger.  Well except for us and a few others looking for a diversion from the monotony of another evening at home in war time. 
 
Our meal arrived.  As did the missiles.  Was enjoying my first bite with a couple french fries when the siren sounded.  And in a surprisingly orderly fashion, after all we are Israelis, together with forty other diners we cautiously walked round the tables, out the door, down the steps and across the street into the bomb shelter.  Strangers.  Huddled together.  Texting family and friends with an 'all safe' message.  Ten minutes later we walked back across the street, up the steps, into Prozdor, around the tables and to our waiting meals.  A bid colder but still tasty.  Amazing how a bit of existential excitement can trigger the taste buds.
 
On the way home we stopped at Dizengoff Square.  To view a very haunting war display which literally took my breath away and brought tears to my eyes.  It pays tribute to the victims of the October 7th Black Shabbath-Simcha Torah massacre.  Including for the more than 240 hostages.  Most jarring was the bloodied and blindfolded stuffed teddy bear display.  Around thirty of them.  One for each of the child hostages held by the brutal and cowardly Hamas.  Painful.  Sickening.
 
Driving home in silence, each with our own thoughts of the tragedy behind us.  And the long haul ahead of us.  On the radio melancholy songs played in the background.  As if a score to a sad movie.  Two songs in particular struck a chord.  Played back-to-back.  Their meaning and associations forever changed.  George Harrison's My Guitar Gently Weeps: "I look at the world / And I notice, It's turning / While my guitar gently weeps / With every mistake / We must surely be learning / Still my guitar gently weeps…"  Followed by Paul McCartney's Blackbird: "Blackbird singing in the dead of night / Take these broken wings and learn to fly / You were only waiting for this moment to be free / Blackbird fly, blackbird fly / Into the light of a dark black night…"
 
Arriving home.  Drained of all energy.  From the not-so relaxing hamburger dinner.  From the emotionally exhausting war exhibit. From the background music accompanying the evening's tempo.  I went straight to bed for another fitful and sleepless night.  Desperately hoping to awake to just an ordinary day….
Now walking the dog should for sure be very routine.  But it too can become a memorable war experience.  Turning into a 'run-against-the-clock for simple safety' event.  The other evening my wife was out walking Poncho.  She just collected his poop when a missile alert went off.  Incoming!  Ninety seconds to find a safe spot.  She decided to pick up our pooch and make a mad dash to our saferoom.  Through the lobby and up four flights of stairs (no elevator at such times).  Making it just in time.  We all stumbled into our shelter.  My daughter.  And I.  My wife.  The pooch.  And the poo.  In her extreme focus to reach safety, the wife forgot to throw the doggy doo into the garbage bin.  Gave us a moment's respite.  Some laughter.  At the banality of it all!
With the pool at the country club still closed due to Homefront command considerations.  You can't hear a siren while swimming the breaststroke.  I've since started a new routine of very early morning walks.  But even walking is different these days.  Jumpy every time a white pick-up truck drives by (vehicle of choice for the despicable Hamas terrorists).  To the uplifting sight of our blue & white flags hanging from balconies and windows along my route.  Like an early Independence Day.  Barely blowing in the barely non-existent wind of our too dry and too warm winter.  The weather possibly another victim of this war.  Late to arrive due to the billowing clouds of smoke arising from Hamas missile fails and targeted IAF missile strikes inside Gaza.
Blackbird singing in dead of night while my guitar gently weeps. 
 
Bruce Brown.  A Canadian. And an Israeli.  Bruce made Aliyah…a long time ago.  He works in Israel's hi-tech sector by day and, in spurts, is a somewhat inspired writer by night.  Bruce is the winner of the 2019 American Jewish Press Association Simon Rockower Award for excellence in writing.  And wrote the 1998 satire, An Israeli is….  Bruce's reflects on life in Israel – political, social, economic and personal.  With lots of biting, contrarian, sardonic and irreverent insight.
An appeal for help for under-supplied Israeli soldiers from former Winnipegger Jared Ackerman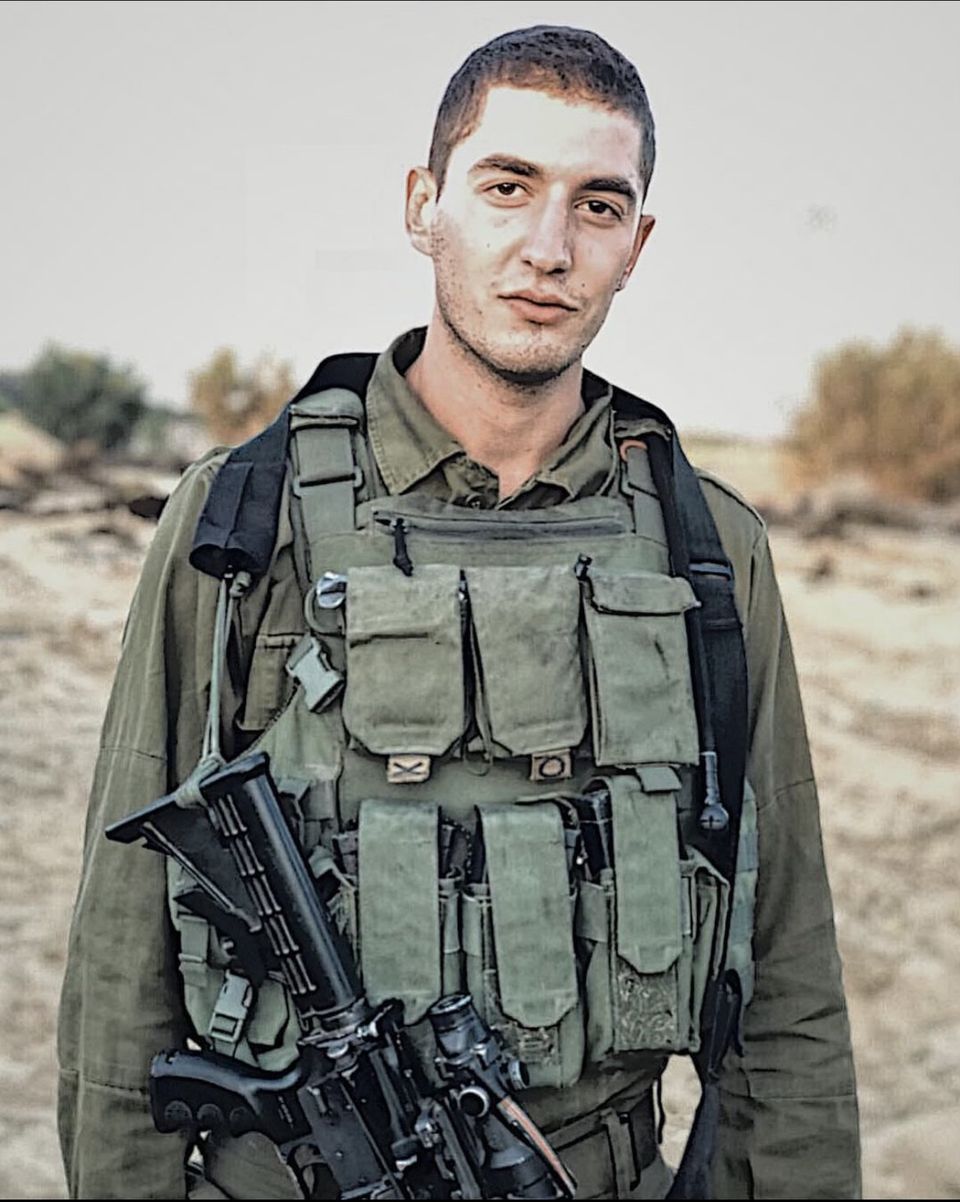 By BERNIE BELLAN (Posted Oct. 18) first met Jared Ackerman in 2013 when I had the good fortune to interview Jared, along with 4 other students from Winnipeg, when they were all studying at the Hebrew University of Jerusalem. (You can still see that interview at https://www.youtube.com/watch?v=P6k8svB2j-0.)
Jared had gone on to serve in the Israeli army. He just posted this impassioned plea for help for Israeli soldiers:
My name is Jared Ackerman and I'm an IDF veteran that served in the Paratroopers (Tzanchanim). I live in Atlanta and have come together with a group of Israelis from across the US, Canada, and Israel to provide an emergency shipment of urgent supplies to the front lines in Israel.
As of right now over 3.5 tons of purely defensive gear (ceramic plates, vests, helmets, medical kits) have been sourced and paid for. We have everything in a warehouse in Toronto, Canada ready to ship to Israel and are continuing to purchase more.
The first units to respond on October 7th have since been totally ransacked of equipment. They were the first ones to arrive at the kibbutzim and Nova on the Gaza border and they are actually withholding extra reserves from joining the warfront because they do not have enough equipment. This is particularly problematic as they lost soldiers in the battle, and many more were injured.
Our next step is to secure additional funding to fly the gear over to Israel via cargo jet.
As of today, no commercial flights are allowing any tactical gear to be shipped and the only option is private cargo planes. We are also working to secure more equipment to justify the high cost of chartering the plane.
I have attached photos and a video here of the equipment that has been sourced and ready to ship from the warehouse.
We have all relevant approvals in Israel with the Ministry of Defense and a logistics hub ready to go to distribute the protective and medical goods.
Timing is of the essence as units are already in the field with below par equipment.
100% of the funds raised are going towards the purchase of equipment and shipment to Israel and not to operational costs as everything is voluntary.
Please use the link below if you are able to donate anything and help get this gear to the front lines. Please also feel free to DM if you can help source any additional equipment or have any connections with securing a cargo plane or have any questions!
https://collect.crowded.me/…/1ba52638-f7a9-4fba-a369…
Am Yisrael Chai