Former Winnipegger Vivian Silver, at first thought to have been taken hostage, has now been confirmed dead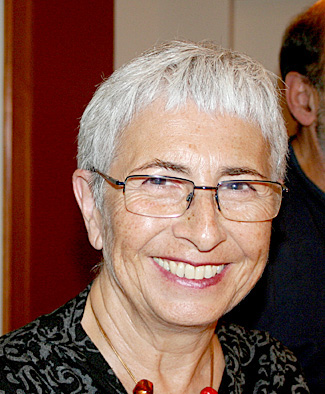 Former Winnipegger and well-known Israeli peace activist Vivian Silver has now been confirmed as having been killed during the massacre of Israelis and foreign nationals perpetrated by Hamas terrorists on October 7. Vivian, a resident of Kibbutz Be'eri was originally thought to be among the more than 1200 individuals who were taken hostage by Hamas.
To read the full story on the CBC website, go to https://www.cbc.ca/news/canada/israel-gaza-vivian-silver-1.7027333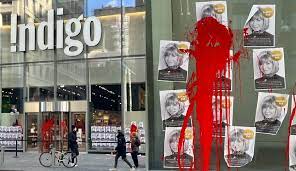 By HENRY SREBRNIK Since Oct. 7, we Jews have been witnessing an ongoing political and psychological pogrom. True, there have been no deaths (so far), but we've seen the very real threat of mobs advocating violence and extensive property damage of Jewish-owned businesses, and all this with little forceful reaction from the authorities.
The very day after the carnage, Canadians awoke to the news that the deadliest day for Jews since the Holocaust had inspired sustained celebrations in its major cities. And they have continued ever since. I'd go so far as to say the Trudeau government has, objectively, been more interested in preventing harm to Gazans than caring about the atrocities against Israelis and their state.
For diaspora Jews, the attacks of Oct. 7 were not distant overseas events and in this country since then they have inspired anti-Semitism, pure and simple, which any Jew can recognize. Even though it happened in Israel, it brought back the centuries-old memories of defenseless Jews being slaughtered in a vicious pogrom by wild anti-Semites.
I think this has shocked, deeply, most Jews, even those completely "secular" and not all that interested in Judaism, Israel or "Zionism." Jewish parents, especially, now fear for their children in schools and universities. The statements universities are making to Jewish students across the country could not be clearer: We will not protect you, they all but scream. You're on your own.
But all this has happened before, as we know from Jewish history. Long before Alfred Dreyfus and Theodor Herzl, the 1881 pogroms in tsarist Russia led to an awakening of proto-Zionist activity there, with an emphasis on the land of Israel. There were soon new Jewish settlements in Palestine.
The average Jew in Canada now knows that his or her friend at a university, his co-worker in an office, and the people he or she socializes with, may in fact approve, or at least not disapprove, of what happened that day in Israel. Acquaintances or even close friends may care far more about Israel killing Palestinians in Gaza. Such people may even believe what we may call "Hamas pogrom denial," already being spread. Many people have now gone so far in accepting the demonization of Israel and Jews that they see no penalty attached to public expressions of Jew-hatred. Indeed, many academics scream their hatred of Israel and Jews as loud as possible.
One example: On Nov. 10, Toronto officers responded to a call at an Indigo bookstore located in the downtown. It had been defaced with red paint splashed on its windows and the sidewalk, and posters plastered to its windows.
The eleven suspects later arrested claimed that Indigo founder Heather Reisman (who is Jewish) was "funding genocide" because of her financial support of the HESEG Foundation for Lone Soldiers, which provides scholarships to foreign nationals who study in Israel after serving in the Israeli armed forces. By this logic, then, most Jewish properties and organizations could be targeted, since the vast majority of Jews are solidly on Israel's side.
Were these vandals right-wing thugs or people recently arrived from the Middle East? No, those charged were mostly white middle-class professionals. Among them are figures from academia, the legal community, and the public education sector. Four are academics connected to York University (one of them a former chair of the Sociology Department) and a fifth at the University of Toronto; two are elementary school teachers; another a paralegal at a law firm.
Were their students and colleagues dismayed by this behaviour? On the contrary. Some faculty members, staff and students at the university staged a rally in their support. These revelations have triggered discussions about the role and responsibilities of educators, given their influential positions in society.
You've heard the term "quiet quitting." I think many Jews will withdraw from various clubs and organizations and we will begin to see, in a sense like in the 1930s, a reversal of assimilation, at least in the social sphere. (Of course none of this applies to Orthodox Jews, who already live this way.)
Women in various feminist organizations may form their own groups or join already existing Jewish women's groups. There may be an increase in attendance in K-12 Jewish schools. In universities, "progressive" Jewish students will have to opt out of organizations whose members, including people they considered friends, have been marching to the slogan "From the river to the sea, Palestine will be free" and similar eliminationist rhetoric, while waving Palestinian flags.
This will mostly affect Jews on the left, who may be supporters of organizations which have become carriers of anti-Semitism, though ostensibly dealing with "human rights," "social justice," and even "climate change."
Swedish climate activist Greta Thunberg took part in a demonstration outside the Israeli Embassy in Stockholm on Oct. 22 in which she chanted "crush Zionism" along with hundreds of other anti-Israel protesters. Israel is now unthinkingly condemned as a genocidal apartheid settler-colonialist state, indeed, the single most malevolent country in the world and the root of all evil.
New York Times Columnist Bret Stephens expressed it well in his Nov. 7 article. "Knowing who our friends aren't isn't pleasant, particularly after so many Jews have sought to be personal friends and political allies to people and movements that, as we grieved, turned their backs on us. But it's also clarifying."
Henry Srebrnik is a professor of political science at the University of Prince Edward Island in Charlottetown.
Israeli show satirizing students in the US who give blind support to Hamas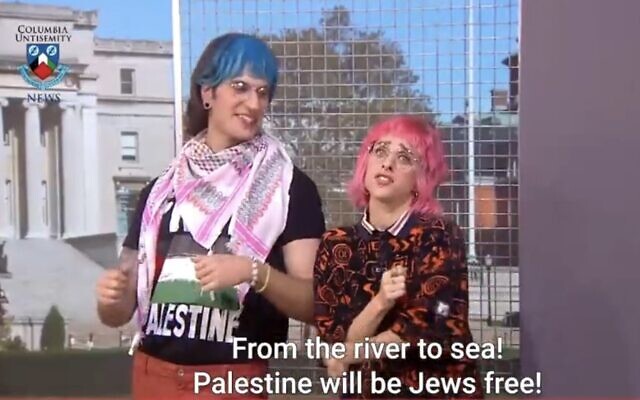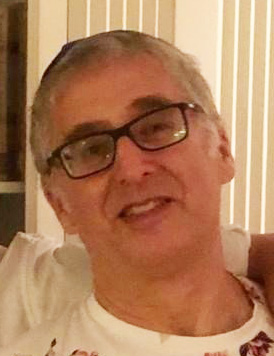 By BRUCE BROWN (Posted Nov. 4) Rehovot, Israel
Banality
 
What was once considered relatively banal is no longer routine.  With Israel at war and all.
Last Friday we decided to go out for dinner, a quick bite in Tel Aviv.  At our Favorite hamburger joint – Prozdor and highly recommended next time you, dear reader, visit Israel.  Whether even to go was driven by unusual considerations.   Do we really want to leave the relative safety of our abode, where our den-cum-saferoom is only a few steps away.  And enter Tel Aviv, which seems to absorb the brunt of evening missile barrages.  And what about the twenty minute drive – need to refresh the Homefront command instructions on how best to respond should missiles fly overhead while driving.
 
Once agreed that we need the distraction.  A break from the routine of another evening at home, watching the news and waiting for missiles to fall.  We then argued about who should drive, the determining factor being who would be calmest at the wheel should we encounter a missile on the way.  My daughter, an ex-combat soldier, was voted designated driver.  Although I still think I'm pretty cool under fire.  During the drive, we nervously exchanged scenarios about where best to pull over -there are some stretches of highway without a shoulder-  and how far from the car we should scramble.  If the situation should occur.
 
Then once we arrived at Prozdor.  The first thing we did was stake out the nearest bomb shelter.  The kindly restaurateur pointed out the shelter across the road, next to a parking lot and beneath a hotel.  In Tel Aviv you have ninety seconds to reach safety.  Seems doable.  Better be doable!
 
And while usually a bustling place, the restaurant was barely a third full.  People just not venturing out these days.  Because of safety considerations, who wants to get blown up while eating a hamburger.  How banal is that?!  And anyway the nation is really not in the mood for enjoying a good burger.  Well except for us and a few others looking for a diversion from the monotony of another evening at home in war time. 
 
Our meal arrived.  As did the missiles.  Was enjoying my first bite with a couple french fries when the siren sounded.  And in a surprisingly orderly fashion, after all we are Israelis, together with forty other diners we cautiously walked round the tables, out the door, down the steps and across the street into the bomb shelter.  Strangers.  Huddled together.  Texting family and friends with an 'all safe' message.  Ten minutes later we walked back across the street, up the steps, into Prozdor, around the tables and to our waiting meals.  A bid colder but still tasty.  Amazing how a bit of existential excitement can trigger the taste buds.
 
On the way home we stopped at Dizengoff Square.  To view a very haunting war display which literally took my breath away and brought tears to my eyes.  It pays tribute to the victims of the October 7th Black Shabbath-Simcha Torah massacre.  Including for the more than 240 hostages.  Most jarring was the bloodied and blindfolded stuffed teddy bear display.  Around thirty of them.  One for each of the child hostages held by the brutal and cowardly Hamas.  Painful.  Sickening.
 
Driving home in silence, each with our own thoughts of the tragedy behind us.  And the long haul ahead of us.  On the radio melancholy songs played in the background.  As if a score to a sad movie.  Two songs in particular struck a chord.  Played back-to-back.  Their meaning and associations forever changed.  George Harrison's My Guitar Gently Weeps: "I look at the world / And I notice, It's turning / While my guitar gently weeps / With every mistake / We must surely be learning / Still my guitar gently weeps…"  Followed by Paul McCartney's Blackbird: "Blackbird singing in the dead of night / Take these broken wings and learn to fly / You were only waiting for this moment to be free / Blackbird fly, blackbird fly / Into the light of a dark black night…"
 
Arriving home.  Drained of all energy.  From the not-so relaxing hamburger dinner.  From the emotionally exhausting war exhibit. From the background music accompanying the evening's tempo.  I went straight to bed for another fitful and sleepless night.  Desperately hoping to awake to just an ordinary day….
Now walking the dog should for sure be very routine.  But it too can become a memorable war experience.  Turning into a 'run-against-the-clock for simple safety' event.  The other evening my wife was out walking Poncho.  She just collected his poop when a missile alert went off.  Incoming!  Ninety seconds to find a safe spot.  She decided to pick up our pooch and make a mad dash to our saferoom.  Through the lobby and up four flights of stairs (no elevator at such times).  Making it just in time.  We all stumbled into our shelter.  My daughter.  And I.  My wife.  The pooch.  And the poo.  In her extreme focus to reach safety, the wife forgot to throw the doggy doo into the garbage bin.  Gave us a moment's respite.  Some laughter.  At the banality of it all!
With the pool at the country club still closed due to Homefront command considerations.  You can't hear a siren while swimming the breaststroke.  I've since started a new routine of very early morning walks.  But even walking is different these days.  Jumpy every time a white pick-up truck drives by (vehicle of choice for the despicable Hamas terrorists).  To the uplifting sight of our blue & white flags hanging from balconies and windows along my route.  Like an early Independence Day.  Barely blowing in the barely non-existent wind of our too dry and too warm winter.  The weather possibly another victim of this war.  Late to arrive due to the billowing clouds of smoke arising from Hamas missile fails and targeted IAF missile strikes inside Gaza.
Blackbird singing in dead of night while my guitar gently weeps. 
 
Bruce Brown.  A Canadian. And an Israeli.  Bruce made Aliyah…a long time ago.  He works in Israel's hi-tech sector by day and, in spurts, is a somewhat inspired writer by night.  Bruce is the winner of the 2019 American Jewish Press Association Simon Rockower Award for excellence in writing.  And wrote the 1998 satire, An Israeli is….  Bruce's reflects on life in Israel – political, social, economic and personal.  With lots of biting, contrarian, sardonic and irreverent insight.