Irvin (Ozzy) Plosker (b Jan 10, 1931) passed away at Riverview Hospital May 10, 2017 at age 86.

Ozzy was "A special student of Life and Learning", always wanting to "taste the fruit of every tree." He was a bright student, but a university education was not in the cards due to the dire financial needs of his family, so Ozzy made printing his trade.
One Friday night at a hangout called The Good Earth in the North End, he met a giggling girl named Sandra and knew she was it! They married, and moved to Kenora, Ontario in 1958 to run a motel which they eventually bought and expanded. They stayed in Kenora for 41 years where they raised two children and enjoyed small town life. During that time Ozzy became a long distance runner, biker, photographer, and cook. As a senior, he biked from Winnipeg to Gimli and back for 11 consecutive years in support of the Multiple Sclerosis society. The great love of his life was yoga, which he practiced all over the world. We was an outstanding yoga teacher, mostly to senior ladies who loved his classes.
In 1999, Ozzy and Sandra sold their motel and moved back to Winnipeg for an active retirement which included adult education classes at the University of Winnipeg, and travel to the four corners of the globe. Antarctica, the Galapagos, Israel, Australia, an African Safari, the Far East, Russia, Europe, and the polar bears in Churchill all captured in beautiful photographs and memory. From hot air balloons to white water rafting, a frightened but willing Sandra was at his side!
Ozzy was a gentle, kind, peaceful man. He loved animals, always had cats and dogs, and did not believe in hunting. He hand fed one of his sick dogs for a year. He was very observant, embraced and found strength in his Faith, and attended Etz Chayim Synagogue actively and regularly.
If success in life is measured by spreading love, devotion, kindness, motivation, and direction, then Irvin (Ozzy) achieved great success in life. He is survived by his wife of 59 years Sandra, Son and Daughter-in-law Shayne and Michele Plosker, Daughter and Son-in-Law Rhea Plosker and Michael Carter, and Grand-Daughter Sayde.
Many thanks for Dr. Ray Singer, Dr. Marnie Wiseman, Dr. Jim Johnson, and all of their support teams for caring for Irvin over the years. And special thank you to Ozzy's nieces and nephews Norman and Deborah Mayer and Barton and Michelle Faiman who were vigilant at his bedside during his final weeks, and to Sandra's sister Carol Faiman for her support. Donations can be made to the Charity of One's Choice.
As long as I live, you will live.
As long as I live, you will be remembered.
As long as I live, you will be loved.
Good night! As we have so oft said beneath this roof at midnight,
in the days that are no more, and shall no more return. Thou has
but taken up thy lamp and gone to bed; I stay a little longer, as one
stays to cover up embers that still burn. – Longfellow
SIDNEY FLEISHER July 2, 1928 – November 4, 2023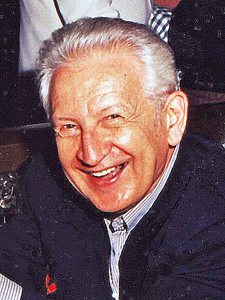 Dr. Sidney Fleisher died peacefully at his home on November 4th. He was a loving and adored husband, father, father-in-law, zaida, and great-zaida. He is missed and will always be remembered by his daughters and sons-in-law, Marcia and Kelly, Rhonda and Bob, Susan and Larry, and Sara and Benjamin. Also mourning Sidney are his sister, Arlene Rusk, brother-in-law and sister-in-law, Larry and Faye Litman, and his grandchildren, Alexander, Georgia, Loren, Ethan, Lily, Mira, Leah, Jeremy, Alexa (Aaron), and Brendan, and great-grandson, Arthur. Sidney Fleisher was predeceased by Beverly, his loving wife of 53 years, his sisters, Bessie Zelickson and Miriam Fleisher, his brothers-in-law, Jerry Litman, Cyril Zelickson, and Michael Rusk, and his nephew, Kenny Zelickson.
Sidney was born in north end Winnipeg to Jewish immigrant parents on the eve of the Great Depression and grew to maturity during the Second World War. He was the eldest of four children and the only son. As a child he worked in the family grocery store early mornings before school and after school. In 1944, while still in grade 11, Sidney dropped out of school and joined the 2nd (R) Battalion of the Winnipeg Light Infantry while continuing to work with his father. He remained in the grocery business until his mid to late 20s. At that point he became a travelling salesman with Success Wax and excelled at this work. When a large international corporation purchased Success Wax, he was one of the few employees who were fired. And when he was subsequently refused employment at a job with another large company he learned (from a friend who worked there) that they simply did not hire Jews. He said that when he heard this he vowed that he would never again allow himself to be in a position where he could be fired – that he needed to be his own boss and he needed to work at something that would comfortably support his family. To fulfill this promise to himself, even though he was married with three children and 33 years old, he returned to high school (there was no Adult Education program at the time) with the intention of going on to dentistry.
In 1968, at age 40, Sidney had one of the proudest moments of his life when he graduated as a dentist. The quality of his work was recognized by his peers. Frequently, patients who had seen another dentist, upon their return to Sidney, would report that the other dentist had commented on the work being 'beautiful' and would ask who the dentist had been. He was a caring dentist who was moved and concerned by patients' pain. He strove to relieve it, doing free dental work if patients could not afford to pay. In the latter part of his career he focussed on temporomandibular joint (TMJ) dysfunction. He became aware that there were large numbers of patients with unrecognized, untreated and/or poorly treated pain from TMJ disorder, many of whom had been suffering for years. With further study and practice in this field, Sidney developed such expertise that he was successful in relieving pain in patients who had been unsuccessfully treated by other health care professionals. Ultimately, he had patients who came from many other countries specifically to be treated for TMJ dysfunction.
The greatest passion of Sidney's life was his wife Beverly, whom he met at a party in 1947 when he was 18 and she was 15 years old. Within a year they were engaged and were married two years later during the Red River flood of 1950. In spite of this inauspicious beginning, the stress of having a family while they were very young, financial worries, and the pressure of returning to school and studying dentistry and knowing that this was his 'best last chance' to give his Beverly and children the lives that he felt they deserved, he and Beverly maintained an unwavering passion for each other. His children cannot recall a single occasion when he was critical of Bev or when they argued. Every day upon his return from work they met at the door and (at times very embarrassingly for his children) would share a passionate kiss and embrace.
As a father he was loving and affectionate. He would involve his daughters and later his grandchildren in all sorts of projects. He took great pleasure in teaching them many practical life skills – how to polish shoes, how to mow a lawn – and, being perfectionistic, he taught them how to perform these skills in his special way. By the time he was a grandfather, he had more time, so the nature and breadth of the skills changed. He taught them the making and bottling of wine, how to polish a Mercedes (his first and most loved luxury car), and the care involved in storing, cutting, and enjoying a Cuban cigar. He was a wonderful grandfather and great-grandfather. His grandchildren, now scattered over the continent, took much comfort and delight in coming together at the time of his passing and sharing many anecdotes involving their time with Zaida Sid.
Sidney was a complex mixture of virtue and foibles and, very often, apparent contradictions. At his core there were two related but distinct forces driving much of what he did and he was at his best when these two forces worked together. The first was a compelling need to 'make things better, to improve upon' and the second was profound compassion for those who were disadvantaged in some way. The 'improvements' applied to both the trivial and the life-altering. For example, he excitedly added strawberry Jello powder to his rugalach recipe, thinking it would enhance both flavour and texture (hint: it wasn't an improvement). And the same force was at play when he provided the necessary money for someone to improve their lives and/or the lives of their families by funding a new business, paying for years of university, or providing support for a family which allowed a parent to begin a new venture, etc. Sometimes he did this for family and at other times he did this for patients or even strangers. But they all became his friends. His generosity was untrumpeted; there is no building or faculty bearing his name. There are only people whose lives and whose children's lives have been positively transformed as a result of knowing Sid.
Sidney had a 'larger than life' personality. He was a tall, attractive man with a 'big', positive energetic presence. He was extraordinarily extraverted and upbeat and he spoke boisterously and laughed frequently. Sidney had a terrific sense of humour and, most importantly, never took himself too seriously. He easily shared laughs at his own expense and, with his abundance of quirks, there were many such laughs. Sidney had an astounding amount of resilience and tenacity and an iron will, and this carried him through life's difficult times. He did not have an easy early life and his return to school was very tough. But surely his most painful trials were the loss of his Beverly in 2004 and his lengthy final illness with its painfully slow series of cumulative losses. He faced all of this with ineffable good cheer and expressions of love for those who loved him. What a guy.
The family would like to thank Edna Johnson, Sidney's dental assistant of 30 years, without whom he could not have practised dentistry well into his 80s. We also thank the marvellous caregivers who have felt like members of our extended family – some for over ten years. These remarkable people treated Sidney lovingly, gently, and with great care and enabled him to remain at home until the end. They are: Eliny Santiago, Theresita Barillos, Gizelle Arevelo, Eduardo Arevelo, Connie Agbayani, Ruth Sunico, and Anita Obfintuyi.
Sidney received superb medical care from his rheumatologist, Dr. Carol Hitchon, and his family physician, Dr. Grant Goldberg. Both of these doctors provided care that reflected that rare combination of medical excellence and genuine compassion, respect, and concern. Even when leaving his home was a struggle, an appointment with Dr. Hitchon brightened Sidney's day. And we cannot count the number of times Dr. Goldberg called us to check on Sidney's health during what were supposed to be his 'off hours'. We also want to thank the nurses at the Rheumatology Clinic, Tom Hartlieb and Laurie Radke. Dr. Goldberg's physician assistant, Matthew Christian, was knowledgeable and very helpful on countless occasions, as were the wonderful nurses at Fort Garry Access. Finally, thank you to the Palliative Care Team, who were incredibly helpful, a pleasure to deal with, and were always available when we needed them. We just couldn't have asked for more.
Sidney's funeral was held at the Chesed Shel Emes. Interment took place at the Bnay Abraham Cemetery on November 7th. Pallbearers were: Alexander MacDonald, Ethan Landy, Loren MacDonald, Jeremy Hecht, Leah Cornblum, and Brendan Hecht. The family wishes to thank Cantor Tracy Kasner, who performed an absolutely beautiful service. A gathering to remember and honour Sidney will take place at a later date.
People who wish to make a donation may donate to The Beverly and Sidney Fleisher Fund at the Jewish Foundation of Manitoba (204) 477 7520, the Wildlife Haven Rehabilitation Centre (204) 878 3740, or a charity of your choice.
RUTH CLAMAN (RUSEN) June 22, 1925 – November 21, 2023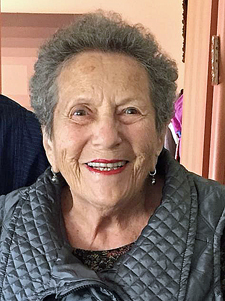 On November 21, 2023, 8 Kislev 5784, Ruth Claman, beloved mother, grandmother, great grandmother, sister, daughter, aunt, and mother-in-law, passed away peacefully at her home in Zichron Yaacov, Israel, surrounded by her children, at the age of 98 years. Ruth will be deeply missed by her children, Aba (Pamela), Beatrice, Marsha (James), Yael, David (Brenda), Debbie (Talor), Aaron (Tova), Barbara, Adele (Drew), Keterina and her 19 grandchildren (Zol, Gil, Barr, Lee, Alex, Baruch, Amanda, Amit, Barry, Samuel, Benjamin, Louie, Zach, Josh, Noa, Daniel, Sarrah, Gabriel, Talia) and 13 great grandchildren (Nathan, Caleb, Hannah, Coby, Mika, Noa, Adam, Max, David, Eli, Aspen, Yehonaton, Daniella), and her many nieces, nephews and in-laws. Ruth was predeceased by her loving husband, Zalman Barry Claman; her brother, Aubrey Rusen (Shelley), her sister, Beatrice Short (Harvey); and her parents, Eva and Louis Rusen.
Ruth was predeceased by her loving husband, Zalman Barry Claman; her brother, Aubrey Rusen (Shelley), her sister, Beatrice Short (Harvey); and her parents, Eva and Louis Rusen. Ruth grew up in Winnipeg, where she excelled in music and developed lifelong friendships. Her love of all music began at an early age. While attending St. John's High School in Winnipeg, she sang the leading role in several Gilbert & Sullivan Operas and distinguished herself at many musical festivals. At 18 years of age, she was the first contestant from Winnipeg selected to sing in the "The Singing Stars of Tomorrow" in Toronto. Moving to Swift Current in 1949, she was the soloist in Swift Current Philharmonic Society's production of the Messiah and was a soloist for almost every organization in the city, including band concerts, and Mrs. Towns Melody Maids. Ruth loved fishing, hunting, babies and travelling the world. She took pride in her Jewish heritage and was an active member of her Synagogue and the Israeli Philharmonic Choir. A strong believer in tzedakah, Ruth volunteered throughout her life at the Jewish Homes For the Aged in both Los Angeles and Israel. She always opened her home to those who needed a home, and taught English to IDF Officers and assisted immigrants in Israel. Above all, Ruth was a devoted wife and mother. In 1945, she married Zalman Claman, which marked the beginning of a love affair and partnership that lasted only 21 years due to his untimely death. They had ten children together and Ruth's love for all of her children was limitless and unconditional; there was absolutely nothing she wouldn't do for them. Ruth was also fortunate to have numerous lifelong friends with whom she shared many special times. Her love of Israel motivated her to move there in 1976, where she remained. She was buried next to her husband in Har ha-Zetim, Mount of Olives, Jerusalem, Israel.
Expressions of condolence can be sent to Barbara Claman: bclaman@hotmail.com.
Passed away November 12 in his home in Tampa.
Barry (as he was known) Klapman was a business leader in Winnipeg. After law school he went to work for his father, Meyer, who started Peerless Garments manufacturing company and grew the family business into one of the largest employers in Winnipeg. Barry loved boating and trips to Las Vegas with his family.
He is survived by his: wife Monique Landry; two children, Arla Klapman Green and Jason Klapman; daughter-in-law Sarah Klapman, and son-in law Stephen Green; sister Maxine Brownstone; niece and nephew, Lorrie and Danny Brownstone; as well as his four grandchildren, Charli, Myles, Miller, and Gabrielle. .
He lived his life to its fullest. Donations in Barry's memory can be made to Brothers For Life https://www.brothersforlife.com/donate/