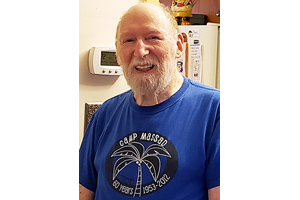 It is with great sadness that we announce the passing of Israel (Soody) Kleiman at the age of 88.
Son of the late David and Rose Kleiman. Beloved and loyal spouse of Helen (Orah) Kleiman for 66 years. Cherished father of Simcha (Pearl) and Rafael (Natalie). Adored Saba of Ariella, Jacob, David, Moriyah, and Yonina. Dear brother and brother-in-law of Sam and Shirley Kleiman, and the late Riva and Louis Sotolov. He also leaves to mourn and will be sadly missed by his many nieces and nephews as well as other extended family and friends.
Born and raised in Winnipeg, as a young man Soody was a member of the Zionist youth group, Habonim. In 1951-2 he spent a year in Israel on the "Habonim Workshop" a program designed for young people interested in learning Hebrew and moving to Israel. On his return to Winnipeg, he helped found Camp Massad, a Hebrew speaking overnight camp located near Winnipeg Beach, also serving as its first Head Counsellor.
In 1952 Soody met Orah, who also had Zionist interests. They married and moved to Israel where they spent 3 years. On their return to Winnipeg, Soody continued his contributions to Jewish education, serving on the Board of the Joseph Wolinsky Collegiate, the Winnipeg Board of Jewish Education, and the Committee for Judaic Studies at the U. of Manitoba. Soody was one of the founders and organizers of the "Saturday Night Discussion Group" whose members listened to and interacted with some of the most interesting and informed speakers in Winnipeg. When the Group "closed shop" after 50 years, Soody was honoured with a full-page article in the Winnipeg Free Press.
Soody worked for over 50 years as an electrician. After apprenticing with his Uncle Sam, he earned his Master Electrician's license and started his own electrical contracting firm, I. S. Kleiman Electric. Later, in parallel, he operated Red Devil Heater Mfg. Co. which he took over from his Uncle Bill. Soody took great pride in his workmanship as a tradesman and received much satisfaction from serving the Winnipeg community.
Soody was a friendly person, a friend to all; happy, humorous, intelligent, and a kind humanitarian. He volunteered his time and skills to Habitat for Humanity and Rossbrook House for many years. Soody partook in and made many friends through his activities; softball and lawn bowling in summer, curling and bowling in winter.
We love Soody, our husband, our father, our grandfather. We will never forget him. His family wishes to thank the staff of the Heritage Lodge who were kind and gentle, making Soody's last days easier.
A private graveside funeral was held at the Shaarey Zedek Cemetery on January 3, 2021. The eulogy was given by Rabbi Kliel Rose.
Donations may be made to the "Orah and Soody Kleiman Educational Fund" of the Jewish Foundation of Manitoba, the Jewish Child and Family Service, or a charity of your choice.