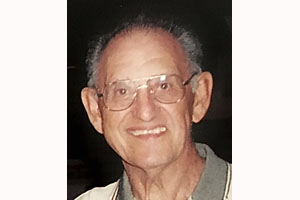 Mike was born in Winnipeg on May 14, 1924 and passed away peacefully February 20, 2020. He was predeceased by wife Sadie, mother Mary Glass, father Sam Wolfson, brother Arnold and sister Rose Sarbit.
Dad was an All Star football player with the St. John's Tigers. He served in the Royal Canadian Air Force, and later took his Vaudeville act on the road. A knack for entertaining never left Dad. He was a real character, always ready with a joke or a story. Dad met Mom, the love of his life for over 62 years, in Vancouver. His children, grandchildren and great grandchildren filled his life with overwhelming love and precious memories.
Dad was a great provider and had a long career in furniture sales with celebrity spots on the radio telling all to come and see "Uncle Mike" for a great deal! This trait carried over to our household, where Dad was always on the lookout for the best deals for all of us. Dad's success in sales took him on many exotic trips with Mom. They later continued to enjoy many winters in Hawaii and Florida.
We were blessed to converse with Dad and listen to him reminisce right up until his passing as his mind stayed sharp to the end. One memory that Dad created for us is the cottage at Winnipeg Beach. Dad loved the cottage, the closeness of family and of course fishing. This will live within us forever as we continue to enjoy this tradition with our own families.
Dad is survived by his children Rick (Debbie), Elaine (John), Merril MacKay (Rick), and Shari (Ron). Grandchildren, Michelle (John), Carly (Geoff), Ben, Sarah, Matthew (Madison), Crystal (Nick), Kyle (Laura), Lauren (Rob), & Kelli. Great-Grandchildren, Lincoln, Olivia, Mackenzie, Charlie, Fletcher, William and Grace. Dad will be fondly remembered by many close nieces, nephews, cousins and family friends. For the last 12 years Dad lived at Portsmouth and we would like to thank everyone for their care and friendship.
Funeral was held at Temple Shalom on Sunday, February 22nd, burial at Shaarey Zedek Cemetery. Donations can be made in memory of Dad to Temple Shalom.
Dad we find comfort you are reunited with Mom and that you will continue to guide us as we carry on your traditions with love.