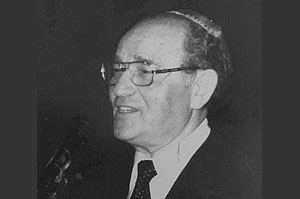 Rabbi Joseph Peretz Weizman, devoted husband, father, grandfather, great-grandfather, and pillar of the Winnipeg Jewish community for over 50 years, died on April 21, 2020, Yom Hashoah. He was 99 years old.
He was predeceased by his parents, 5 siblings all of whom were murdered in the Holocaust and by his wife Riva. He is survived by his children Sam (Agi) Weizman and Tzila (Yacov) Schneid, 6 grandchildren; David (Debra), Amy (Micah), Adam (Joanna), Aliza (Mark), Adina (Ryan), Elana (Shane), and 15 great-grandchildren.
Peretz was born in Lodz, Poland in November 1920. He had a happy childhood with a tight knit extended family, successful family business in pharmaceutical wholesale, and a strong faith as followers of the Ger Rabbi. However, this life was destroyed in 1939 and his entire family was murdered by the Nazis during the Holocaust. He was the sole survivor. He returned to Lodz after the war and rebuilt a new life. He met Riva and they married in 1946. They had their first child, Sam, in 1947 in Poland. They moved to Israel and in 1952 had Tzila. Following the advice of his wife's cousin, the family immigrated to Winnipeg, Manitoba in 1953. Arriving with nothing but his family, brilliant mind, and excellent oratory and people skills, he initially worked as a teacher at the local Jewish day school and then completed his rabbinical studies. In 1960 he became the Rabbi of Bnai Abraham Synagogue. This would be his pulpit for over 50 years as the synagogue grew to become one of Western Canada's largest congregations. He participated in the life events of most of Winnipeg's Jewish Community and became a prominent figure not only among Canada's Jewish community but also among clergy of other Faiths as well as government leaders. He was a published author and the subject an exhibit at the Marion and Ed Vickar Jewish Museum of Western Canada. He also served briefly as the Rabbi at Beth Emeth Bais Yehuda Synagogue in Toronto. In 2009, he relocated to Toronto, Ontario to be closer to his children. Although he no longer had a congregation of his own, he continued his rabbinical duties to the end, providing support and wisdom to his new community. He was a devoted husband to his beloved wife Riva, particularly in her last years when she was ill. He was a doting grandfather and great-grandfather and his close relationship with his great grandchildren brought him tremendous joy. Despite all the hardships he endured in life, his sense of humor and quick wit never left him and there was not a scenario for which Peretz could not apply a joke or anecdote. He touched countless lives and his memory will live on forever.
The family would like to express its thanks to the staff of Kensington Place, the staff of Sunnybrook Health Sciences Centre, and to Rabbi Morrison of Beth Emeth Bais Yehuda Synagogue. Funeral services were held at Pardes Shalom Cemetery on April 23, 2020. Memorial donations can be made to the Neuberger Holocaust Education Centre, the Jewish Heritage Centre of Western Canada, or a charity of your choice.