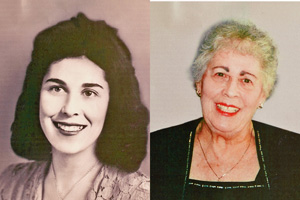 With love and sadness in our hearts we announce the peaceful passing of our mother, grandmother, great-grandmother and aunt, Sara Hochman. Sara passed away at the Saul and Claribel Simkin Centre in the early morning hours of Saturday, April 16, 2022 just 2 days after reaching her 100th birthday on April 14.
She was born during Passover and passed away during Passover 100 years later. For 58 years Sara was happily married to her husband Sam Hochman who predeceased her in 2008. Sara was the daughter of Celia and Sam Davis who predeceased her. She is also predeceased by her brother Louis Davis and sisters Annette Gordon and Rosetta Isenstein all of Calgary, Alberta. She is survived by her children Marcy and Barry Schwartz and Susan and Arnold Permut; cherished grandchildren Cara and Danny Stoller, Jill and Geoffrey Abraham, Hart Schwartz and Mandy Valin, Janie and Jeff Gilbert; beloved great-grandchildren Jacob, Josh and Alex Stoller; Joey and Sam Abraham; Zoe and Sam Gilbert. She is also survived by many dear nieces and nephews and great-nieces and great-nephews.
Funeral services were held Tuesday, April 19 graveside at the Shaarey Zedek Cemetery, officiated by Rabbi Matthew Leibl, whom we wish to thank for his guidance and painting a beautiful picture of Sara with his eulogy. Thank you to the pallbearers, Cara, Danny, Jacob, Josh Alex Stoller and Jeff Gilbert. Honourary pallbearers were Butch Hochman, Marna Ramsey, Gerald Rosenby and Syd Halprin.
Sara was born in Rowley, Alberta on April 14,1922. She spent the first 15 years of her life in the small Alberta town of Rockyford. At the age of 8 she showed an interest and talent in playing the piano. The Davis family did not have a piano but the convent located near by did. The nuns offered to give Sara piano lessons. She excelled and the nuns eventually asked her to play the piano at Sunday services, which she did every Sunday until the age of 15 when the family moved to Calgary.
After high school and business college Sara worked as a medical secretary at The Colonel Belcher Convalescent Hospital. She enjoyed playing music to the patients and staff. In 1949 Sara moved to Winnipeg and met and married Sam Hochman. They enjoyed 58 years together. Sara always loved music. She maintains that she was born with the "Gift Of Music". She felt that this blessing should be shared with others, particularly hospitals and nursing homes. She dedicated her life to a full volunteer musical career for over 60 years. She was providing music therapy before the term music therapy was recognized.
Sara was honoured with several awards during her volunteer career. Those included are the B'nai Brith Women's Charlotte Meyers Memorial Service Tribute Award 1973; twice inscribed in the "Book of Life" at the B'nai Brith Children's Home in Bat Vagan, Israel; Shem Tov Community Volunteer Award Jewish Federation. Sara felt very honoured to receive these awards. She always said "Her greatest reward was the positive response of the residents to her music" She loved and was loved by the Sharon Home/Simkin Centre residents. She made many lasting, loving relationships as well with the staff of the recreation department. Many other organizations were the recipients of Sara's music-to name a few Gwen Secter Creative Living, Rady Centre, Deer Lodge Centre, many hospitals and nursing homes.
Music was not Sara's only talent. She was a wonderful cook, baker and hostess. Many new arrivals to Winnipeg and many from other countries were invited to join our family at Friday dinner or other holidays.
Sara wanted a thank you to go out Dr Nadar Roman for great care and treating Sara so respectfully and to Dr Alan Finkleman for taking such good dental care. Thank you to the Simkin Centre staff for the care and respect given Sara. Many thanks to Dr. Louis Chung for his compassionate care to Sara and her family. A thank you is also extended to the caring staff of the Shaftesbury Retirement Residence where Sara lived for 8 years. Thank yous would not be complete without a thank you to the group of people whom our family relied on. The people we are referring to are Sara's companions. A heartfelt thank you to Marie De LaCruz, Marian Candelaria and Maria Labao. Thank you for providing so much care, love and respect to Sara. Our family will always remember the three of you.
In 1999 Sara was honoured for 40 years of volunteer music therapy at the Simkin Centre. At that time The Sara Hochman Music Therapy Endowment Fund was established. We would appreciate donations to be directed to that fund at the Simkin Centre or to a charity of your choice.