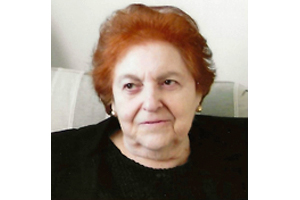 Sylvia Posner (née Shaw) was born on August 29th, 1926 to Dorthea and Morris Shaw in Edmonton, Alberta. They moved to Montreal a few years after that. She had 2 brothers: Marcus Shaw (z"l) and Harvey, who resides in Toronto. Sylvia Shaw Posner was a remarkable woman and had a full and long life, ending at age 95.
Sylvia was predeceased by her husband of 52 years, Edward Neil Posner. Eddie and Sylvia met in Montreal and fell in love at first site. They quickly got engaged and moved to Winnipeg where Sylvia was immediately embraced by the Posner family.
The first thing you would notice about Sylvia was her true beauty. In her youth she was a woman that you would pick out of a crowd. Part of that might have been her flaming red hair. She was eye catching. But beyond her exterior appeal, she had genuine inner beauty. Anyone who knew her would agree with that statement. She had the best sense of humour and would laugh so hard that it was contagious. She used that humour to deal with many difficult situations in her life. This ability to laugh, even at herself, was just so much a part of who Sylvia was.
Of course, who could forget Sylvia the baker? She was a legend in her time! In today's world, she certainly would have been an "influencer". Sylvia must have served thousands of Winnipeggers.
Warm, kind, jovial, cheerful, but most of all – generous of soul. Those qualities sum up Sylvia. I know she had not been well for the last few years and yet my memories are of a fun-loving woman, down to earth and genuinely interested in her family's welfare and life.
Sylvia was a wonderful homemaker while raising her 5 children. She had the heart of an artist and expressed herself through her many hobbies, including painting, reading, crosswords puzzles, cards, and any and all games.
Sylvia supported Eddie though many business endeavors, including: the Sildor Banquet Hall, Pal Joeys Deli, Lords Furniture, Posner Furniture & Refinishing, PM Scientific Fur Dying and Cleaning – just to name a few.
After Eddie's passing, Sylvia moved to The Portsmouth Retirement Centre, where she lived for many years – and continued to bake her famous poppyseed cinnamon cake for the residents and staff. As time went on and her dementia progressed, she moved to the Simkin Centre.
Sylvia will be sorrily missed by her 5 children: Miles Posner and his partner Cynthia Schindler of Toronto, Cynthia Posner and partner Greg Rusk of Winnipeg,, Stephen Posner of California, Alex Posner and partner Michelle of Winnipeg, and Matthew Posner and his wife Brenlee of Michigan.
Sylvia's 9 grandchildren are: Jonathan Meltzer (Sean) of North Carolina, Megan Meltzer of Winnipeg, Melissa Posner (Mitchell) of Toronto, Jordan Posner of Toronto, Zachary Posner of Calif., Jacob Posner, of Calif, Jonah Posner of Winnipeg, Caleb Posner of Michigan and Sarah Posner of Minneapolis. She also had many nieces and nephews.
Sylvia taught all of us what true love is. She loved unconditionally. Her house provided a safe place for her kids and all their friends, nieces nephews, cousins, and anyone else who just needed a hug, some cheesecake and acceptance.
A private funeral was held at the Rosh Pina Memorial Park on Monday March 28th. Pallbearers were: Jonathan Meltzer, Benji Carroll, Jonah Posner, Greg Rusk, Les Rykiss, and Brian Segal.
Thank you to the caring and wonderful staff at the Simkin Centre and a very special thank you to Conception (Shawna) Laoag. Conception looked after Sylvia for years, made her feel loved and cared for, and loved her like she was her own mother.
Donations in her honour can be sent to the Simkin Centre.