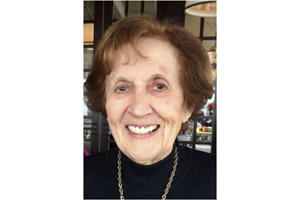 Our beloved Yvonne passed away on October 24th with her family at her side.
Born in 1931, she grew up in Vermillion Bay, Ontario. Yvonne went to college and trained as a psychiatric nurse both in Winnipeg and Brandon where she met her husband Harry Prosen. Harry and Yvonne raised four children in Winnipeg. They were heavily involved in the Jewish community, helping to build a new synagogue – Temple Shalom. In the 70s, Yvonne attended the University of Manitoba to achieve an honours degree in Fine Arts. She was a prolific painter thoughout her life. She loved nature and had great empathy for animals. Her greatest happiness was spending time with her family.
Yvonne is survived by her adoring husband, Harry, their four children, Patricia, Jory, Deidre and David as well as four grandchildren – Benjamin, Mathilde, Leo and Jaevin. Yvonne is survived by her sisters Sigi Schroeder, Vera Austen and brother Ernie Shussler, all are in Canada.
In Yvonne's memory and name and in lieu of flowers, tribute donations can be made to the Wisconsin Alzheimer's & Dementia Alliance (https://www.alzwisc.org/) and the Alzheimer Society of Canada (https://alzheimer.ca/en).