A California county calls off 'American Christian Heritage Month' after fierce backlash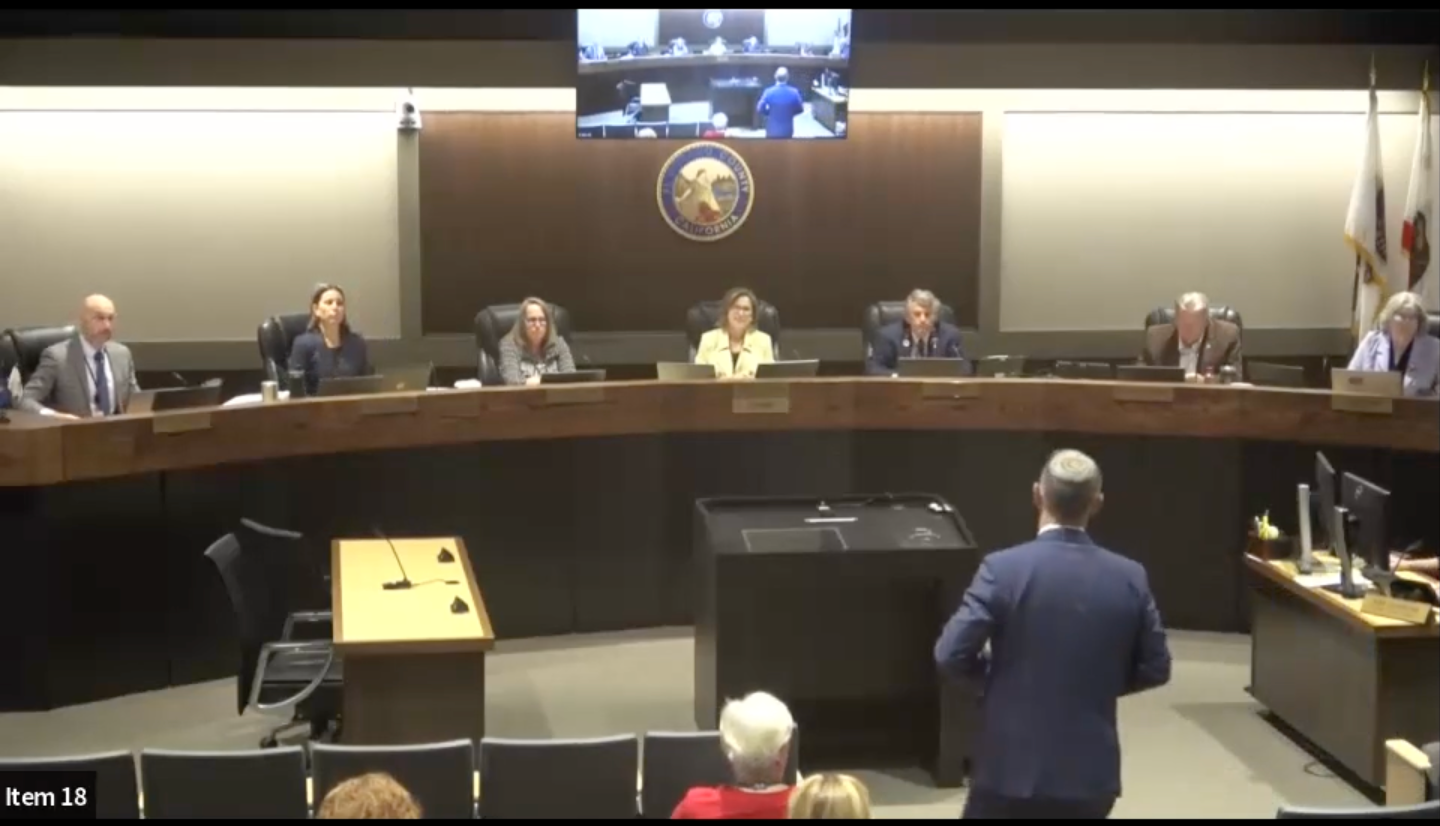 (J. Jewish News of Northern California via JTA) — Two months after proclaiming that July would henceforth be known locally as "American Christian Heritage Month," the board of supervisors in El Dorado County, California has reversed course.
The county's elected governing body unanimously rescinded the proclamation Tuesday following backlash from local Jews, the American Civil Liberties Union and others who said it inappropriately advanced the idea that the United States is a Christian nation.
"I commend the board for reflecting on and revisiting the proclamation, and I applaud them for rescinding it," Rabbi Evon Yakar of Temple Bat Yam in South Lake Tahoe said after the vote. Yakar was one of several local residents who spoke out against the proclamation at the board meeting where the proclamation was rescinded. "I believe they did a good thing in reflecting on the divisiveness this caused."
Marla Saunders, a massage therapist in South Lake Tahoe, said she was "verklempt" after the decision, using the Yiddish term meaning "overcome by emotion." Saunders, who is Jewish, had started an online petition calling on the board to rescind the proclamation. The petition had more than 1,000 signatures as of Sept. 19.
"I am definitely teary with joy," she said.
The five supervisors in El Dorado County, a rural area with 200,000 residents south of Lake Tahoe, voted on July 18 to mark every July as American Christian Heritage Month. The vote passed 4-1, though one supervisor maintains that she actually abstained but was recorded as an "aye."
The language of the proclamation is taken from the platform of the Constitution Party, a conservative political party formed in the 1990s that advocates for hands-off governance and Christian values. Coming at a time of rising Christian nationalist sentiment across the United States, the proclamation stated that there have been "attempts to change and distort our history."
The purpose of the proclamation is "to recognize the impact of religious beliefs on America's history," according to the text approved at the July meeting. The proclamation cites several prominent references to God inscribed in the country's national institutions, monuments and founding documents, and states "that the rich spiritual and diverse religious history of our nation, from its founding to the current day be affirmed."
"Be it further proclaimed, that any effort to remove, obscure, or purposely omit such history from our nation's public buildings and
educational resources be rejected in the strongest manner," the document says.
The proclamation was introduced by Supervisor John Hidahl, who said before the vote, "This great nation was founded not by religionists but by Christians. Not on religions but on a foundation of Christian principles and values," according to the Sacramento Bee. The proclamation, he continued, is "clearly stating: don't forget our history."
The proclamation's critics said it violated the principle of the separation of church and state and promoted one religion over others.  In an Aug. 25 letter to the board of supervisors, the ACLU of Northern California said the proclamation "conveys that the County supports, promotes and endorses specific religious beliefs and, as such, violates the California Constitution."
The state constitution contains even more stringent requirements regarding the separation of church and state than the establishment clause of the U.S. Constitution, which prohibits federal laws "respecting an establishment of religion." The California Constitution states that "Free exercise and enjoyment of religion without discrimination or preference are guaranteed."
After Tuesday's vote rescinding the proclamation, Angelica Salceda, the ACLU of Northern California's director of democracy and civic engagement, said her organization is "happy" about the new vote.
"The resolution suffered from constitutional infirmities," she said in a statement. "The county has no business supporting, promoting, or endorsing specific religious beliefs. We think this decision is good for all residents of El Dorado County."
El Dorado Supervisor Brooke Laine, who said that her abstention in the July vote was incorrectly recorded as an "aye" and that she also "regretted" her indecision, put the matter on the board's agenda for Tuesday's meeting. After 45 minutes of public discussion, the board rescinded it, 5-0.
"I very much regretted the initial vote and my participation in it," Laine said again on Tuesday, noting that community members used their public comment time to both oppose and support the resolution.
"At the end of the day, it was agreed by the board that there was a reason the Founding Fathers created a separation between church and state, and that we had blurred that line, although it was not our intention," she said. "It felt like we got it right this second time. I commend my colleagues for recognizing and correcting" the mistake.
Public pressure and media coverage contributed to the board's eventual decision, Laine said, as did the "threat of litigation" from the ACLU. "We couldn't afford that," she said.
In a caveat to his praise of the board's new decision, Yakar added that the supervisors didn't correct their fundamental error, which was promoting the idea of America as a Christian nation.
"This was not about celebrating one group's heritage" in the vein of Pride Month or American Jewish Heritage Month, he said. "This is about the clear use of language in the proclamation that our country was founded as a Christian country, and that is what we are celebrating."
That important nuance should have been explicitly discussed by the board on Tuesday, Yakar said, adding, "I don't feel the supervisors went far enough to address that."
Saunders added a cautionary note too, saying that some opponents of the proclamation wouldn't have come to Tuesday's board meeting if law enforcement hadn't been there. "They wouldn't feel safe," she said.
But still, she said, she's pleased with the result of Tuesday's vote.
"We beat back hate and division," she said. "The way the community came together made me more optimistic about our country and the county I live in."
A version of this story originally appeared in J. Jewish News of Northern California and is reprinted with permission.
—
The post A California county calls off 'American Christian Heritage Month' after fierce backlash appeared first on Jewish Telegraphic Agency.
Israeli and Jewish activists take campaign for greater concern about Oct. 7 sex crimes to UN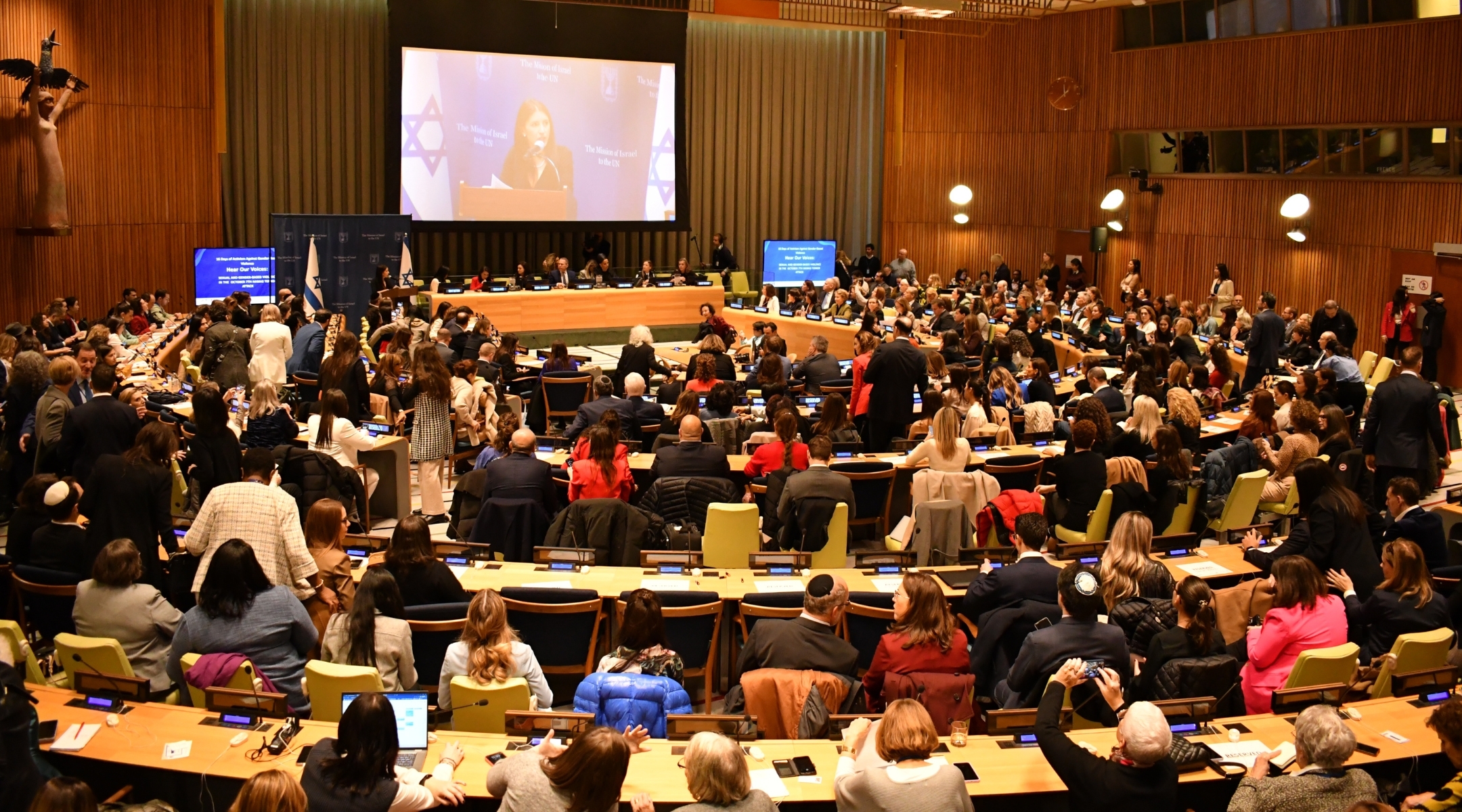 (JTA) — Less than a week after the United Nations secretary general urged an investigation into reported sexual violence by Hamas, the Israeli U.N. mission held a conference on the allegations and pressed the international community to speak out more forcefully against them.
"We have come so far in believing survivors of sexual assault in so many situations. That's why the silence on these war crimes is dangerous," said former Meta COO Sheryl Sandberg, the event's keynote speaker. "The world has to decide who to believe. Do we believe the Hamas spokesperson who said that rape is forbidden, therefore it couldn't have possibly happened on October 7th? Or do we believe the women whose bodies tell us how they spent the last few minutes of their lives?"
A CNN op-ed by Sandberg, and an accompanying Instagram post, have been at the center of a growing protest by Israeli and Jewish women who charge that the U.N. and other international bodies have dismissed or downplayed reports of sexual violence during Hamas' Oct. 7 attack on Israel. The protest has spread via the hashtag #Me_Too_UNless_UR_a_Jew and found its real-life expression in Monday's event, which drew 700 people to U.N. headquarters on Manhattan's East Side.
Israeli U.N. Ambassador Gilad Erdan took aim in particular at U.N. Women — the organization's arm for promoting gender equality and women's empowerment — which caught flak for posting and then deleting a statement condemning the Hamas attack.
"Sadly, the very international bodies that are supposedly the defenders of all women show that when it comes to Israelis, indifference is acceptable," Erdan said in his opening remarks.
"U.N. Women ignored all of the proof and were blind to all the evidence, including video footage of testimonies of sexual crimes," he said. "Instead of immediately supporting the victims, U.N. Women brazenly suggested that Hamas' gender-based violence be investigated by a blatantly antisemitic U.N. body."
The condemnation of the U.N. is the latest in a long line of complaints Israel has had about the body both before and during its ongoing war with Hamas. In late October, Erdan called on Secretary-General Antonio Guterres to resign after he said the Oct. 7 attack "did not happen in a vacuum."
The United Nations General Assembly has yet to condemn Hamas and has called for a cessation of the conflict, which restarted last week after a seven-day pause in which Hamas released more than 100 hostages and Israel released hundreds of Palestinian security prisoners..
Last week, Guterres called for an investigation into sexual violence by Hamas. But speakers at Monday's event pushed for more from world leaders. Sandberg called for "the entire U.N. to formally condemn, investigate, hold the terrorists accountable." Erdan, to loud applause, called for an "investigation of U.N. Women's indifference to the heinous crimes against Israeli women"
In the nearly two months since the Hamas attack in Israel on Oct. 7, Israeli law enforcement, search and rescue groups, and the country's recently formed Civil Commission on October 7 Crimes by Hamas against Women and Children have collected evidence and testimony regarding Hamas' sexual violence on Oct. 7. Over the weekend, The Sunday Times reported testimony from survivors of the Nova music festival recalling women being gang raped and beheaded.
Sheila Katz, the CEO of the National Council of Jewish Women, which organized the event along with other women's rights groups, drew a parallel between last week's Torah portion, which includes the Biblical story of the rape of Dinah, and the experiences of the victims of Oct. 7. Katz noted that Dinah's voice is notably missing from the Biblical narrative.
"For generations, survivors of sexual assaults have looked to Dina's story because it speaks so powerfully to the secondary trauma of being unheard, ignored and reduced to mere objects for debate," said Katz, who invited people to step out of the room if they felt the need, given the graphic nature of the event. "And we heard this with new significance this year, because Israeli women and girls were recently tortured, raped, and killed, forever silenced by Hamas."
Several actors attended the event, including Tovah Feldshuh, Julianna Margulies, Emmy Rossum and Debra Messing, all of whom have spoken out against antisemitism or Hamas' attack. (Margulies was also fresh off an apology after making disparaging comments about Black Americans who have not supported Jews after Oct. 7.)
The event also featured people who tended to victims of the event, including representatives from ZAKA, the Orthodox Israeli first-responder organization, and the Israeli police, who have been collecting and documenting evidence from victims of sexual violence and people who witnessed the violence. They recounted graphic stories, to which the crowd responded vocally with murmurs, gasps and tears. Some in the audience exchanged tissues, hugs and pats on the back for extra support.
Sen. Kirsten Gillibrand of New York, a Democrat, also came and discussed seeing a compilation of footage of the attack that a group of senators recently viewed.
"I've seen much of the raw footage. It takes your breath away," she said. "You can't unsee it."
Speaking to the Jewish Telegraphic Agency after the event, Sandberg said silence surrounding sexual violence is connected to a dearth of female representation on the world stage.
"You look in that hall at those flags — those are countries run by men, very few are run by women. I really wanted that to change in my lifetime. It's not going to happen, not going to be close," she said. "But that means the progress we fought for to get women's women's rights and protection of our bodies, protection of who we are, protection against systematic, sexualized violence — can't be lost. And that is why anyone can speak out. And when they speak out, we have to all unite together as quickly as possible."
—
The post Israeli and Jewish activists take campaign for greater concern about Oct. 7 sex crimes to UN appeared first on Jewish Telegraphic Agency.
Canada's Rally for the Jewish People brought thousands to Ottawa calling for the return of the hostages in Gaza—while delivering a loud rebuke to the recent waves of antisemitism
Despite bus driver boycott, thousands attend pro-Israel rally in Ottawa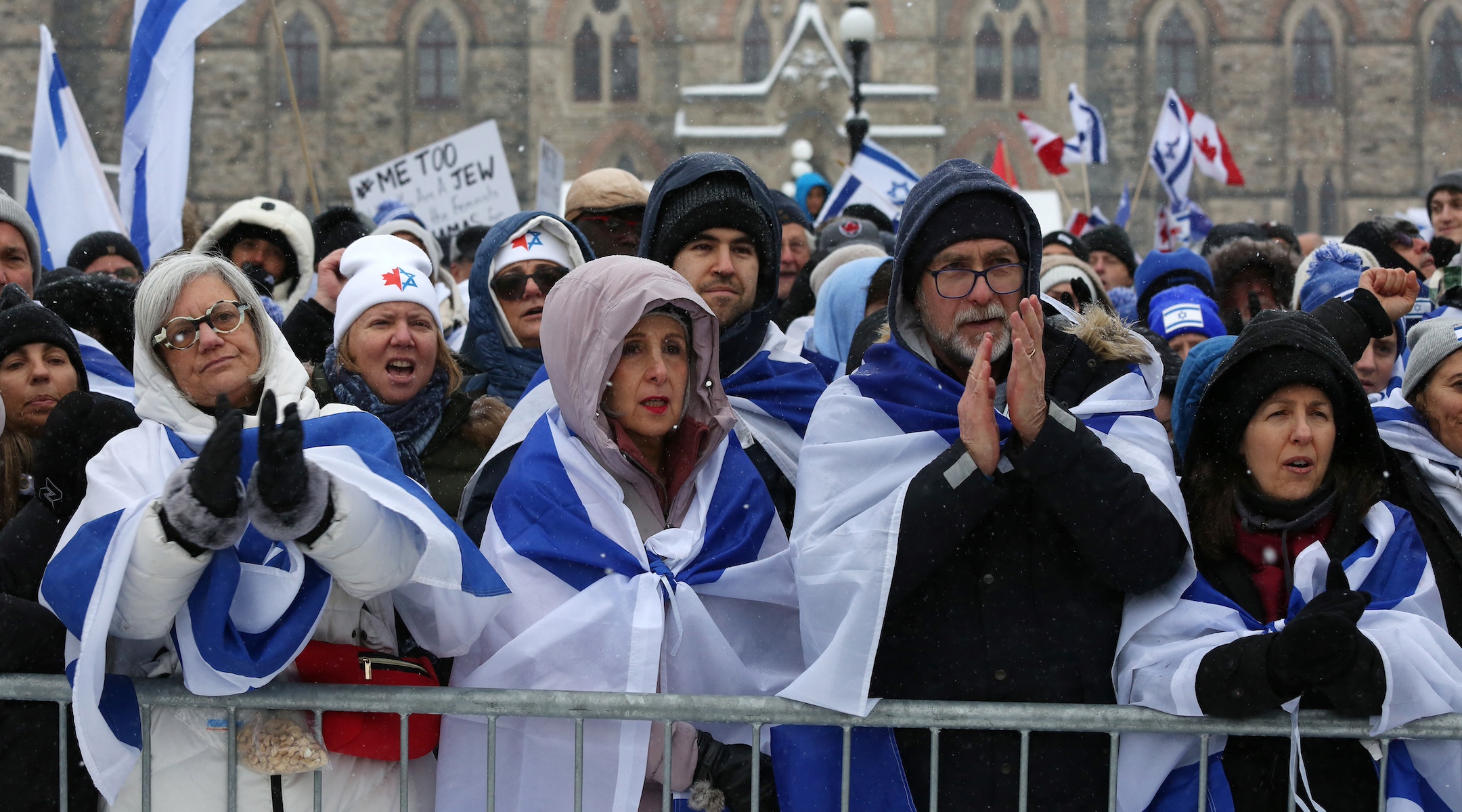 MONTREAL (JTA) — Despite a foot of snow in Montreal and chartered buses that never showed up in Toronto, thousands of Canadian Jews assembled on Parliament Hill in Ottawa on Monday to voice solidarity with Israel and decry a rise in antisemitism.
Despite concerns over overall security in Canada's capital city, which was tight, the rally's speakers included several prominent Canadian politicians, Jewish leaders, college students who feel unsafe on campus and family members of Israelis taken hostage or killed by Hamas on Oct. 7.
Local Jewish leaders called the event, organized by Jewish federations across Canada and the Centre for Israel and Jewish Affairs, a historic gathering. But just weeks after a similar incident in Detroit before a massive pro-Israel rally in Washington, 17 of 70 chartered buses did not show up to pick up rally-goers in Toronto.
Organizers called the no-show bus company antisemitic.
"Despite charging in full in advance and confirming its participation, the [unidentified] company did not send a single bus and has declined all communications while refusing to provide any explanations," said Adam Minsky, president and CEO of United Jewish Appeal Federations in Toronto.
"We are driven to the view that this shameful decision is intended to disrupt our peaceful rally out of hatred toward Jews," he added. "What happened today is sickening and outrageous. We will respond aggressively with every legal and public affairs tool at our disposal."
Israel's ambassador to Canada Iddo Moed, Liberal Party member of parliament Anthony Housefather and deputy Conservative Party leader Melissa Lantsman all spoke on Monday.
"This is not 1943. I'm grateful that Israel exists and has an army to fight back against those who launched this pogrom," said Housefather, who is Jewish and represents Montreal's heavily Jewish Mount Royal district.
Raquel Look, whose son Alexandre was murdered at the music festival in southern Israel attacked by Hamas on Oct. 7, called on Canadian politicians to take more action against antisemitism. Hate crimes against Jews — including multiple incidents that have involved Molotov cocktails thrown at Montreal-area synagogues — have spiked across Canada.
"Our sorrow is deep and immeasurable but today we want to channel this immense pain into a call for action," Look said. "Please let us honour his memory by standing up against the forces that seek to destroy Jewish and Canadians values we hold so dear."
—
The post Despite bus driver boycott, thousands attend pro-Israel rally in Ottawa appeared first on Jewish Telegraphic Agency.