A suburban NJ megamall is offering gender-segregated swimming to accommodate its Orthodox clientele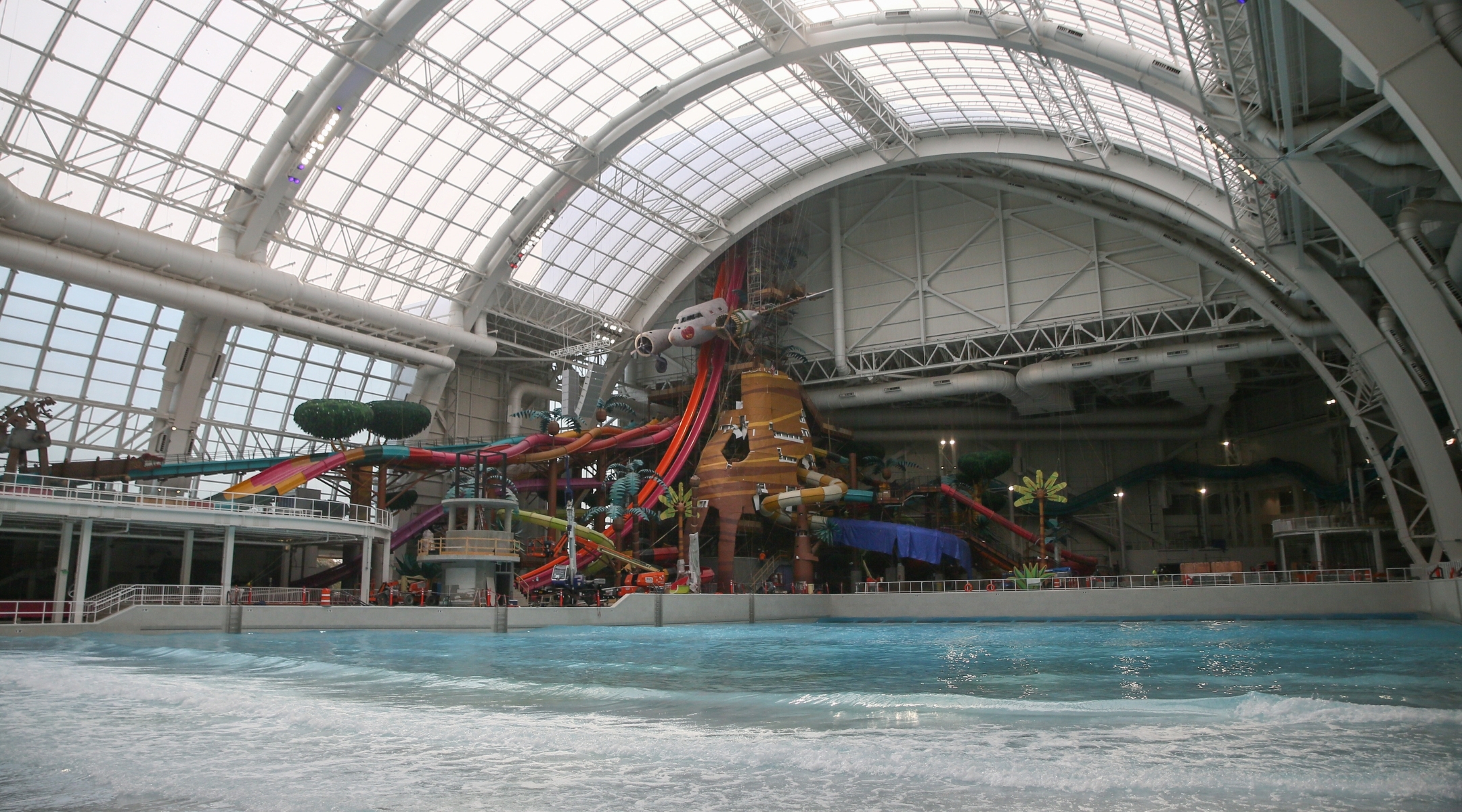 (JTA) — Featuring 15 water slides, cabanas and an enormous wave pool, the largest indoor water park in the United States is open to all customers almost every day of the year.
Almost.
The calendar for the DreamWorks Water Park at American Dream Mall in East Rutherford, New Jersey, features blackout dates a couple weeks from now, corresponding to two weekdays in the middle of the upcoming Jewish holiday of Sukkot. But while the park's website says "No Tickets available," that isn't actually the case.
Patrons can head over to an Instagram page affiliated with the mall and aimed at Jewish visitors, called "L'chaim American Dream," where they will see water park tickets being sold at $79 a pop for those very dates — Oct. 2 and 4.
But there's a twist: The tickets are technically for a private event at the water park, hosted by a separate company that will segregate attendees by gender. On Oct. 2, the park is open to women only and two days later, is open only to men.
The gender-segregated hours are meant to serve haredi Orthodox Jews who abide by strict modesty laws prohibiting men and women from wearing revealing clothing — such as bathing suits — in public. Having separate times for men and women would enable customers to use the waterpark without running afoul of their Jewish observance.
It's one of the many ways the mall, which opened in 2020, caters to an Orthodox clientele — along with a food court with 13 kosher restaurants and a department store with clothes that adhere to Orthodox standards of modest dress. Accessible to Orthodox communities in Brooklyn, New Jersey and upstate New York and housing a host of activities appropriate for young children, American Dream has made itself into a top destination for Orthodox families. Families are expected to flood to its attractions — including miniature golf courses, ice skating, a theme park and more — during the intermediate days of Sukkot, when haredi yeshivas are typically closed and outings are de rigueur.
In its outdoor spaces, the mall will house multiple sukkahs, the temporary huts erected during the holiday where many Jews eat their meals during the holiday. But the water park's gender-segregated hours represent the most substantive change planned for the holiday — and to some potential visitors, they are welcome.
"Most women to the right of left-wing Modern Orthodox would seek out this kind of arrangement in order to swim," said Rifka Wein Harris, a haredi attorney who has advocated for changes in the way Orthodox Jews are portrayed in the media. Otherwise, she said, "I would only swim in a women's-only environment that was not subject to public view," such as one that was "gated or enclosed or indoors, around other women."
Yet for those who advocate for Orthodox women's inclusion, gender segregation on a weekday afternoon at a large suburban mall has set off alarm bells.
"Individuals can make their own decisions as to how they want to conduct their religious practice," said Daphne Lazar Price, executive director of the Jewish Orthodox Feminist Alliance and an adjunct professor at Georgetown University Law Center. "But to have a large corporate entity make these kinds of decisions for everyone is problematic."
The waterpark has offered men- and women-only hours in the past, geared toward Orthodox customers on Sukkot, as well as on Hanukkah and the intermediate days of Passover. On those holidays, as on the intermediate days of Sukkot, observant Jews aren't prohibited from engaging in commerce or swimming, and their children are generally off of school.
But in the past, those opportunities have been offered at night, after the park's normal hours of business. This is the first time when it will be gender-segregated during the day.
"This is really the first time we're doing something during daytime hours, which is usually open for the public," said a representative of American Dream who responded to a JTA inquiry but declined to give their name or title. "You're expecting that most of the public or the kids are in school and not coming during that time. "We're able to close it, close up for gender-separated hours, during these specific days."
The mall is operated by Triple Five Group, a Canadian conglomerate owned by the Ghermezian family, who are Jewish and also own the Mall of America. In this case, the gender-segregated days are being run under the auspices of a private company that rented the water park for those hours, according to the American Dream representative, who declined to disclose the company's name.
For some haredi customers, the accommodation is welcome. "This is our [only] chance to go swimming at all, other than the bungalow colony," Wein Harris said, referring to summer vacation complexes in upstate New York that often offer separate swimming hours to accommodate Orthodox guests. "And for people like me who don't have a bungalow, we never swim."
But Lazar Price says the gender-segregated hours are of a piece with "alarming growing trends" she has witnessed — and she isn't alone. Elana Sztokman, a feminist activist and sociologist, has watched with concern as Orthodox magazines and advertisements have declined to show women's faces. Now, it seems to her that American Dream is encouraging a communal impulse to separate genders in a way that, she says, will abet the exclusion of women.
"Suddenly what it means to be religious for a man means to be in a completely woman-free world. You can't have women on the streets, you can't have women near you," she added. "These dynamics tell you that this has nothing to do with protecting women. It has to do with creating women free-zones so that men don't have to deal with the fact that women exist."
Gender segregation in public spaces has long been hotly debated in Israel, which has a large haredi community with political representation that sits in the current right-wing government. Some public buses in Israel have enforced gender separation, and there has been a proposal to have some publicly maintained natural springs do so at times.
Sztokman, who lives in Israel, sees a common thread between the policy at American Dream mall and the separation of men and women in her country.
"I feel like what's happening in America is an extension of this because the haredi communities are connected; the religious communities are connected. If one practice becomes a norm then in one place, then the other communities have to 'keep up with the Cohens' kind of thing," Sztokman said. "You can't be less religious than your religious cousin across the ocean. You have to keep up."
In the United States, institutions that attempt to enforce gender segregation in order to appeal to haredi customers have, in the past, run afoul of the law. In 2018, a federal appeals court ruled that an over-55 condominium complex in the heavily Orthodox city of Lakewood, New Jersey, was in violation of the Fair Housing Act because it offered separate swimming hours for men and women. Three non-Orthodox residents, including a married couple, filed a lawsuit against the complex after they were fined for refusing to get out of the pool when coed swimming hours had finished.
But when it comes to public accommodations such as publicly accessible swimming pools, the law appears to be different, said Michael Helfand, a scholar of religious law and religious liberty at Pepperdine University who is also a legal adviser to a branch of the Orthodox Union.
"Generally you can't do this," Helfand said. "But New Jersey has an exception that allows this kind of gender separation, gender exclusion under some circumstances."
The federal Civil Rights Act does not bar discrimination in public accommodations on the basis of sex. The New Jersey law that Helfand cited permits a number of establishments to restrict entry by sex if they are places that could be "reasonably restricted exclusively to individuals of one sex." The list includes summer and day camps, resorts, dressing rooms, bathhouses, gyms, schools and swimming pools.
"There's strong reason to think that having separate hours at a private New Jersey swimming pool would not subject the swimming pool to liability under New Jersey's anti-discrimination law," Helfand said. "There's likely intuition that under some circumstances, that kind of gender separation, given a particular clientele, given a particular business might, quote-unquote, make sense."
Wein Harris is excited by the prospect of enjoying an environment that accords with her religious requirements at an attraction that bills itself as the "largest indoor water park in North America."
"I am overwhelmingly happy that our needs are being seen in a world where they're not otherwise being seen," she said.
—
The post A suburban NJ megamall is offering gender-segregated swimming to accommodate its Orthodox clientele appeared first on Jewish Telegraphic Agency.
Man charged with hate crime in alleged robbery and assault on Jews in Beverly Hills on Shabbat
This is a developing story.
(JTA) — A man was arrested on multiple charges including a hate crime after allegedly striking a Jewish man on his way to synagogue in the Los Angeles enclave of Beverly Hills on Saturday.
The man, Jarris Silagi, 44, allegedly hit Raphael Nissel, 75, on the head and said, "Jew, give me your jewelry," according to a report on the incident published by the L.A. Times. Nissel was treated for a laceration at the scene and continued on to his Orthodox synagogue, where he read Torah as planned, according to the report and a tweet by his rabbi, Pini Dunner.
Raphy Nissel, a member of my shul and the Baal Koreh, was attacked in Beverly Hills on his way to shul yesterday. After his bleeding headwound was stitched, he went home, changed his shirt, and came back to shul and did Kriat Hatorah. Him and his wife are true heroes!… https://t.co/vsoJqnnHRH
— Pini Dunner (@pinidunner) December 10, 2023
Silagi was previously convicted of robbery in Beverly Hills and also has a record of psychiatric issues, according to records from previous cases against him.
The incident comes amid a surge in reported antisemitic incidents fueled by Israel's war against Hamas in Gaza. A number of high-profile incidents have taken place in the Los Angeles area, including a home invasion by a man who allegedly shouted antisemitic comments and the death of a pro-Israel protester who was struck at a rally. A man has been charged with involuntary manslaughter in that case.
"This is appalling. Antisemitism has no place in this state," California Gov. Gavin Newsom tweeted in response to a picture of a bloody shirt posted by Nissel's son, Alan. Newsom added, "Alan, our hearts goes out to your family tonight. Glad to hear the person responsible for this is in custody. They must be held to full account."
—
The post Man charged with hate crime in alleged robbery and assault on Jews in Beverly Hills on Shabbat appeared first on Jewish Telegraphic Agency.
The War Within: Rabbi Avi Finegold contemplates the contemporary resonances of Hanukkah
Javier Milei cites Hanukkah story, gives menorah to Zelensky during inauguration as Argentina's president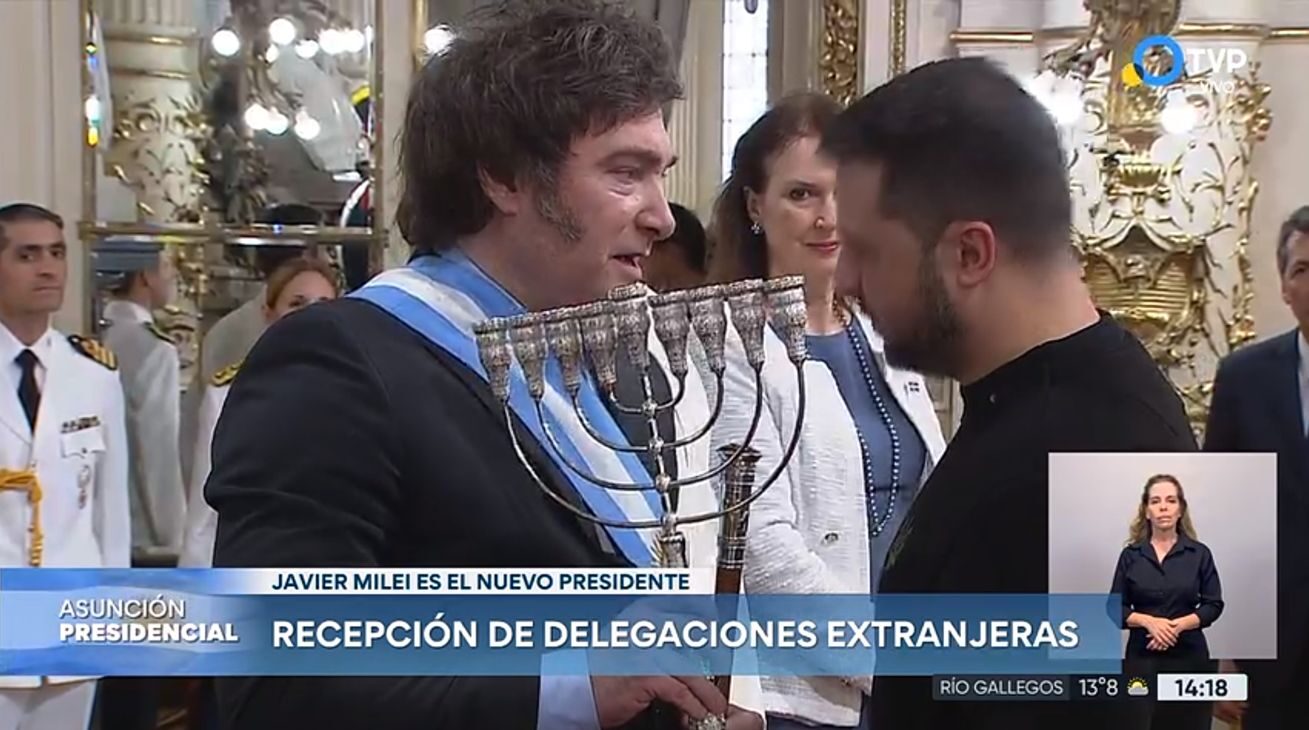 (JTA) — Javier Milei invoked the story of the Maccabees in his inaugural address as Argentina's president on Sunday, extending the right-wing populist's prominent fascination with Judaism as he celebrated his own improbable victory.
"It is not by chance that this assumption takes place in the holiday of Hanukkah, the festival of light, and that the same celebrates the true essence of freedom," Milei said during his speech on the steps of the parliament building in Buenos Aires. "The war of the Maccabees is the symbol of the victory of the weak over the powerful, of the few over the many, of the light over darkness and overall of the truth over untruth."
Milei, 53, defied expectations when he was elected last month. A self-declared "anarcho-capitalist" who was the most right-wing of the five candidates, he ascended rapidly over the last year as he assailed the outgoing government, saying that its policies had fueled unemployment and inflation.
He delivered his speech with his back to the country's lawmakers, in a break with tradition allowing him to face a large rally outside the parliament building.
Toward the tail of his speech warning Argentineans to prepare for a difficult economic reforms, he said he recalled how he and his now-vice president, Victoria Villaruel, had initially been told that their two-year-old political party, Freedom Advances, would have little influence.
"We were told we couldn't do anything because we were only two in 257 congressmen," he said. "And I also remember that my answer that day was a quote from the Book of Maccabees, 3:19, that goes: It is not the size of the army that victory in battle depends on, but strength comes from heaven."
The speech was in keeping with Milei's unusual relationship with Judaism. The non-Jewish economist has been studying with an Argentinean rabbi and has said he is interested in converting, though he says he does not see the role of president as compatible with Jewish observance. He visited the grave of the Chabad-Lubavitch rabbi in New York City in his first trip abroad after being elected and has vowed to make Israel — where he promised to move Argentina's embassy from Tel Aviv to Jerusalem — his first foreign destination as president.
At campaign rallies, Milei has often walked on stage to the sound of a shofar, and in one of his final public appearances before the election, Milei was seen waving an Israeli flag among a large crowd in Rosario.
One Israeli flag was visible amid the sea of Argentinean flags at his speech in footage of the inaugural event broadcast to Argentineans.
Milei, whose term will last four years, was flanked by world leaders, including the king of Spain; Chilean President Gabriel Boric, a left-wing critic of Israel; Hungarian Prime Minister Viktor Orban, a populist who cruised to a fourth term last year; and Ukraine's president, Volodymr Zelensky, who was making his first trip to Latin America since Russia attacked his country in February 2022. Jair Bolsonaro, the populist leader recently unseated in Brazil, also attended.
Milei handed a menorah to Zelensky, who is Jewish, after the two leaders greeted each other warmly outside Casa Rosada, the country's government headquarters, in a handoff captured on the live TV broadcast of the ceremony. Zelensky has embraced Milei as he has sought to build support for Ukraine in Latin America.
On Saturday night, on the eve of his inauguration, Milei met with a group of relatives of Israeli hostages kidnapped in Gaza since Oct. 7, lighting the Hanukkah candles with them and Israeli Foreign Minister Eli Cohen, who was in the country for the inauguration.
—
The post Javier Milei cites Hanukkah story, gives menorah to Zelensky during inauguration as Argentina's president appeared first on Jewish Telegraphic Agency.