A Yiddish musical about life in Jewish ghettos during WWII carries new resonance since Oct. 7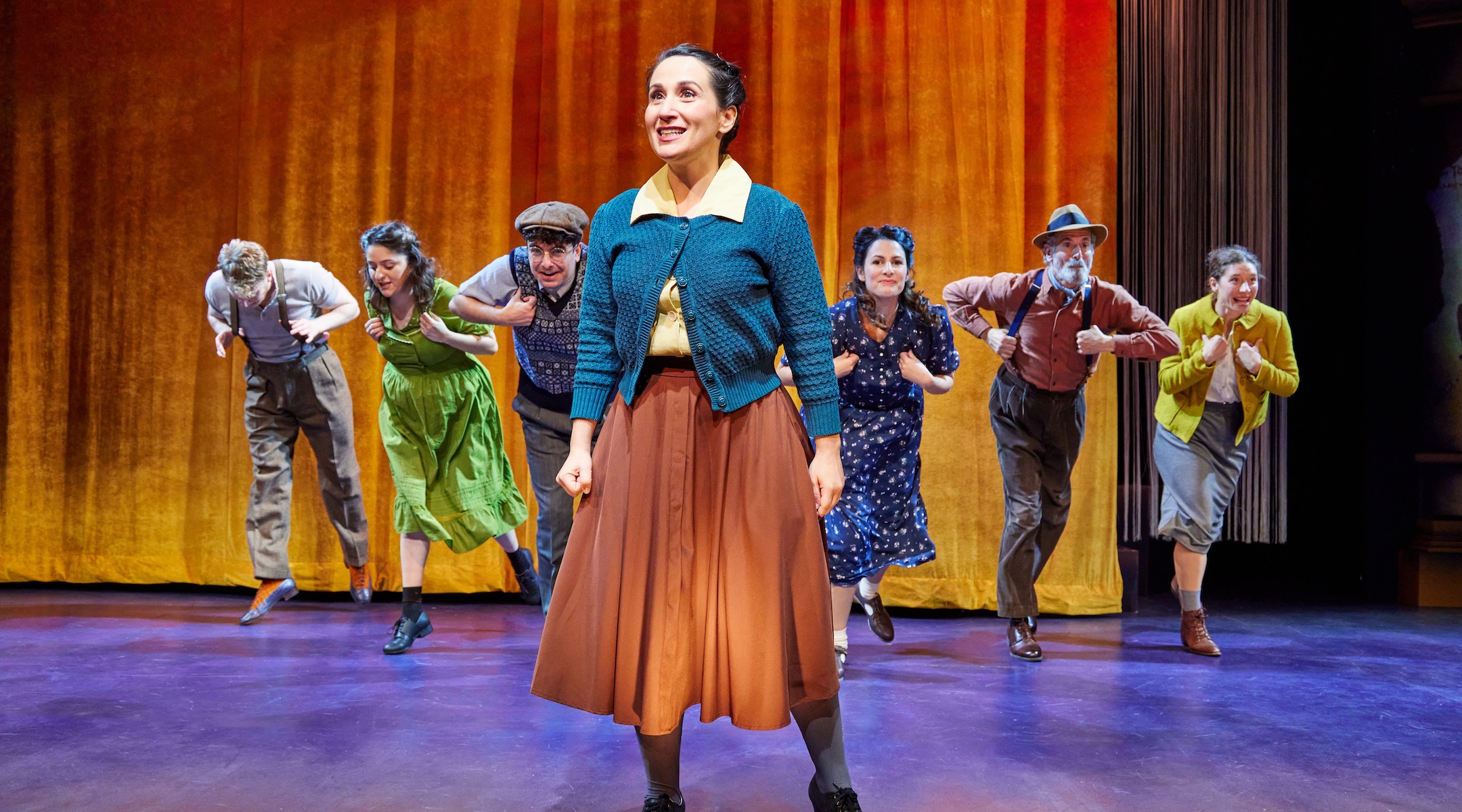 (New York Jewish Week) – "Humanity's most true history is written only in blood. How Jews died, the entire world already knows." So says Broadway star Steven Skybell at the beginning of "Amid Falling Walls," a new musical from the National Yiddish Theater Folksbiene. "But how Jews resisted against and fought the murderers, we know far, far less." 
The musical, which opened Monday at the Museum of Jewish Heritage and runs through Dec. 10, aims to portray "the indomitable Jewish spirit during the Holocaust through Yiddish song." Drawing upon the poetry, diaries and songs created by Jews who were confined to ghettos during the Nazi era, the musical weaves together 30 vignettes that detail everyday life in the Jewish ghettos of Lodz, Warsaw, Vilna and elsewhere.
Created by Yiddishist father-son duo Zalmen Mlotek and Avram Mlotek and drawing upon works created in the 1940s, "Amid Falling Walls" has been two years in the making. But after Hamas' attack on Israel Oct. 7, given the violence, the ensuing war and rising antisemitism across the globe, the production's messaging has become all the more relevant.
"Obviously, we could never have anticipated such a horrific episode transpiring," Avram Mlotek, who is also a rabbi, a cantor and a social worker, told the New York Jewish Week. "It just puts the work into a whole different kind of perspective; the idea that the arts and music and song can be these means of spiritual resistance and of nourishing the soul." 
In one scene, a child asks her mother why Jews are barred from certain streets, parks and areas of town. "The mother gently responds, saying, 'the Jew haters wish that we don't have any humanity,'" said Mlotek, 36. "The mere idea that an 11-year-old was able to put that into words is already boggling for me, but of course takes on a special kind of light given the undermining of the Jewish people's humanity in the wake of this assault."
"It's a reminder that that type of undermining hatred is unfortunately nothing new," he added.  "Every moment is unique, and every human life is infinitely precious, but we have spiritual tools in our people's toolkit to face these types of traumas. Song and music are at the forefront of that."
Mlotek, who is credited as a writer and curator, pulled many of the songs and poems that appear in the show from the anthology "Songs of the Ghettos and Camps" collected by Lithuanian poet and partisan Shmerke Kaczerginski after World War II. (Skybell's opening line is a translation from a Yiddish recording of Kaczerginski speaking about his work.) Another source was the archives curated by his grandparents, Yosl and Chana Mlotek, whose work was digitized by the Workers Circle earlier this year. 
Avram's father, Zalmen — Yosl and Chana's son — arranged the music and is also credited as a curator. He has been the artistic director of the Folksbiene for more than two decades and has also produced three albums of Yiddish wartime music.  
The musical weaves together vignettes that portray how life for Europe's Jews is getting worse — first they are forced to live in ghettos, then sent to work camps. Then, as rumors abound about the war and the Holocaust, resistance groups are formed. The songs' lyrics address ghetto cabaret performances, of parents leaving their child with a gentile family, of dreams that the world would return to normal. Like every Folksbiene production, English and Russian translations are projected above the stage.
Despite that, the story isn't necessarily a depressing one — the Jewish people of the ghettos, as portrayed by a cast of eight, fall in love, dance, write poetry and celebrate as much as they mourn. They also built resistance movements, most famously resulting in the Warsaw Ghetto Uprising in April 1943, from which the famous "Partisans' Hymn" emerged — the show gets its name, "Amid Falling Walls," from a line in the poem.
"Every song is a world; every song is a window, not just into the authors and the composers but into that experience that it reflects of the Jews and other people who sang those songs," Avram Mlotek said. "There's an idea that we are part of 'the golden chain' that connects us with our ancestors and with future generations. I'm humbly aware of that connection, not just in my own family, but with a lot of the creators of this material whose shoulders this work is built upon." 
At a preview production on Thursday night, the atmosphere in the theater was one of delight and hope. "This is something that every Jew should see, especially now," said Paul Jeser, a Los Angeles resident who came with his wife, Fay. "First of all, the timing of the show, with what's going on in the world, couldn't be more relevant. But the show itself is beyond belief — the history, the music, the acting was outstanding, the voices were outstanding."
Other audience members had similar reactions. "It's very powerful," said Judy Gottlieb, a cousin of the Mloteks who came to support the family. "I would have had the same reaction prior [to Oct. 7] because I've grown up with a lot of this material, but the recent events makes this even more important."
"I hope people will see this piece and ultimately derive some chizuk — some strength — from it," Mlotek said. "Obviously the subject matter is heavy and intense, but there's real hope in these writers and artists' words and in the idea that the Jewish people have been here before."
—
The post A Yiddish musical about life in Jewish ghettos during WWII carries new resonance since Oct. 7 appeared first on Jewish Telegraphic Agency.
Protester Sets Self on Fire Outside Israeli Consulate in Atlanta
i24 News – A protester was in critical condition on Friday after setting themself on fire outside the Israeli consulate in Atlanta, Georgia, U.S. authorities said. A security guard who tried to intervene was also wounded.
A Palestinian flag found at the scene was part of the protest, Atlanta Police Chief Darin Schierbaum said at a news conference. He added that investigators did not believe there was any connection to terrorism and none of the consular staff was ever in danger.
JUST IN: A pro-Palestine protester is in critical condition after they set themselves on fire in "political protest" outside of the Israeli Consulate office in Atlanta.
The protester was reportedly draped in a Palestine flag.
The protester has severe burns and unfortunately, a… pic.twitter.com/B8nUQAj2nU
— Collin Rugg (@CollinRugg) December 1, 2023
"We do not see any threat here," he said. "We believe it was an act of extreme political protest that occurred." Everyone inside the consulate building was said to be safe.
Anat Sultan-Dadon, Consul General of Israel to the southeastern U.S., said: "We are saddened to learn of the self-immolation at the entrance to the office building. It is tragic to see the hate and incitement toward Israel expressed in such a horrific way."
"The sanctity of life is our highest value. Our prayers are with the security officer who was injured while trying to prevent this tragic act. We are grateful to the city of Atlanta's law enforcement and first responders for all they do to ensure safety."
The post Protester Sets Self on Fire Outside Israeli Consulate in Atlanta first appeared on Algemeiner.com.
Released Israeli Hostages Call for Captives to Be Freed
Israeli hostages released in the past week by Hamas in Gaza called on Saturday for the immediate release of fellow captives left behind, a day after a temporary truce that had allowed scores to come home broke down.
Tens of thousands gathered at a rally in Tel Aviv outside Israel's defense headquarters, where they cheered Yelena Trupanov, 50, standing on a stage just two days after being freed.
"I came to thank you because without you I wouldn't be here. Now we must bring back my (son) Sasha, and everyone. Now."
Similar pleas from other released hostages were shown on video.
A seven-day truce, during which Hamas had released more than 100 hostages, collapsed on Friday after Hamas breached the ceasefire.
Israel said on Saturday it had recalled a Mossad intelligence agency team from Qatar, host of indirect negotiations with Hamas, accusing the Palestinian faction of reneging on a deal that would have freed all children and women held hostage.
More than 240 people – Israelis and foreign nationals – were abducted to Gaza on Oct 7. by Hamas terrorists who burst through the border with Israel and killed 1,200 people.
The post Released Israeli Hostages Call for Captives to Be Freed first appeared on Algemeiner.com.
IDF Foils Stabbing Attack Near Nablus in West Bank, Eliminates Terrorist
i24 News – The Israel Defense Forces (IDF) reported thwarting a stabbing attack on Saturday afternoon against reserve Battalion 7037 at the X junction near Nablus in the West Bank.
According to the IDF spokesperson, the event unfolded when the forces at the roadblock became suspicious of an individual approaching the barricade.
During the questioning process, the suspect suddenly drew a knife and advanced towards the IDF personnel.
ניסיון פיגוע דקירה אירע לפני זמן קצר לעבר כוח צה"ל במילואים מגדוד 7037 שפעל בחסם בצומת האיקס סמוך לעיר שכם שבמרחב חטיבת שומרון.
הכוח חשד במחבל שהגיע לחסם והחל לתחקר אותו, המחבל שלף סכין והחל להתקדם לעבר הכוח.
הלוחמים חתרו למגע והגיבו בירי לעבר המחבל שחוסל. אין נפגעים לכוחותינו. pic.twitter.com/mEaJs58hpE
— דובר צה״ל דניאל הגרי – Daniel Hagari (@IDFSpokesperson) December 2, 2023
The soldiers, faced with the threat, engaged in contact procedures and ultimately responded by opening fire on the assailant. The spokesperson confirmed that the attacker was neutralized due to the IDF's action.
It was also noted that there were no casualties among the IDF forces involved in the incident. According to the spokesperson, the situation at the X junction has stabilized, and IDF continues to maintain vigilance in the area to prevent further attacks.
The post IDF Foils Stabbing Attack Near Nablus in West Bank, Eliminates Terrorist first appeared on Algemeiner.com.