Abe Lebewohl Park honors murdered 2nd Ave Deli founder and East Village 'mensch'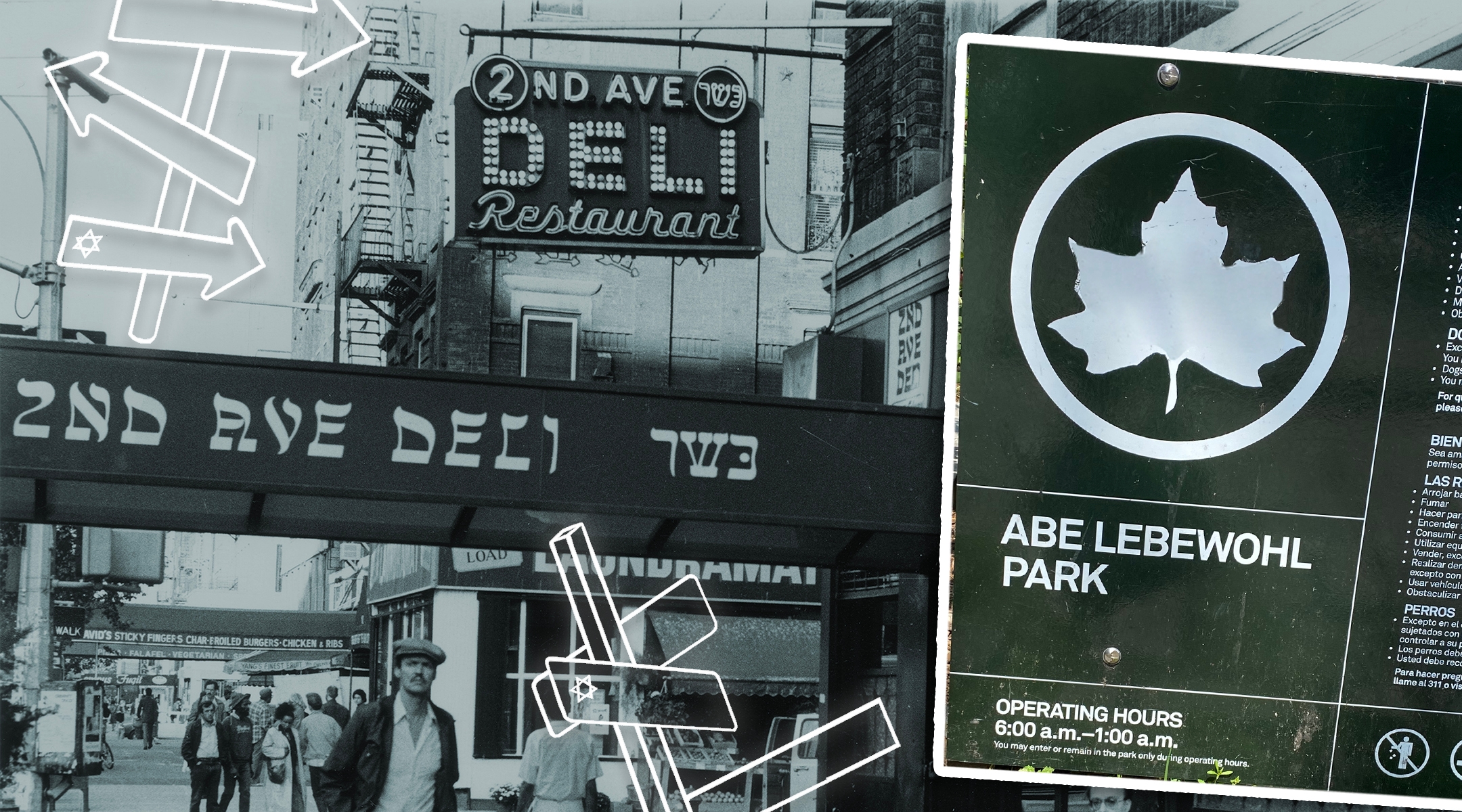 (New York Jewish Week) — "I need two matzah ball soups!" a deli clerk yells into the microphone during the lunch rush at 2nd Ave Deli — which, since 2006, is no longer located on Second Avenue but on East 33rd Street between Lexington and Third Avenue.
While the original deli building is now a bank, the Midtown location boasts the same old-school vibe: The menu is packed with Ashkenazi treats such as knishes, stuffed cabbage and, of course, pastrami; the gregarious waiters are full of personality; the logo's Hebraic-styled lettering remains unchanged.
But one fundamental part of the restaurant's DNA didn't make the move: its founder, Abe Lebewohl. He was robbed and killed on his way to the bank on March 4, 1996, in a crime that transfixed New York City and has yet to be solved.
Back at East 10th Street and Second Avenue, across from where the deli sat for over 50 years, is a triangular, tree-lined plaza named Abe Lebewohl Park. "They called him the mayor of Second Avenue," Steve Cohen, the longtime manager of the deli, told the New York Jewish Week of his former boss.
The decision to name the park after Lebewohl was a "no-brainer," as Cohen called it. It was "neighborhood people" who initiated the naming of the plaza, which is located in front of St. Mark's Church in-the-Bowery and dates to 1799. As it happens, in 1980, Lebewohl had joined forces with Marilyn Appleberg, who was president of the 10th and Stuyvesant Streets Block Association, in an effort to clean up the plaza and make it more welcoming.
"That was his neighborhood," Cohen said. "He was ubiquitous and all-encompassing. When you were around him he blanketed you."
That Lebewohl would make his mark in Manhattan wasn't preordained. Lebewohl was born in Kulykiv, Ukraine, in 1931. When World War II broke out, his father was sent to Siberia and Abe and his mother went to Kazakhstan. The family ultimately reunited and ended up at a refugee camp in Italy, where Abe's brother Jack was born. In 1950, when Abe was 19, the Lebewohls emigrated to Williamsburg, Brooklyn. Eager to help his family, Abe went to work as a soda jerk at a deli in Coney Island.
In 1954, Abe opened 2nd Ave Deli with two partners. A few years later, he bought out his partners, and the deli would remain on that corner for decades to come.
Cohen first met Lebewohl while he was working for an electrician, and Lebewohl was looking for a bookkeeper for the deli. Cohen took that job and has now worked at the 2nd Ave Deli in various roles for 40 years. He said Lebewohl was always urging people to "do better" and "would bother you until you did the right thing."
"He was a world-class noodge but he did it with such warmth," Cohen said, adding, using a word referring to the Jewish way of life, "He believed very strongly in Yiddishkeit."
Cohen said Lebewohl was always helping people. One, he recalled, Lebewohl personally drove a 100-year-old customer to the tailor from the deli because he couldn't get a cab. Another time, he went out of his way to deliver a Shabbat meal to an elderly woman every week. And there was a time he flew to England to cater a wedding so the family of the groom didn't have to pack deli food in their suitcases. Cohen added that there were several instances when Lebewohl told customers who came up short on their checks, "You'll pay me next time."
Cohen said Lebewohl's kindness extended to his staff, too "I broke my back and I was in the hospital for six weeks and he visited me every day and brought me food every single day," he recalled. "I would give out the food — I had doctors coming to my room and I would say, 'You were here yesterday, give it to another doctor.'"
Lebewohl was known for his faith and optimism in people: "He gave them his best and he expected the same in return," Cohen said in a speech on "Abe Lebewohl Night" in 1998 at the Museum of Jewish Heritage.
The deli is now under ownership of Lebewohl's nephews, Josh and Jeremy Lebewohl. Following the move uptown, they opened a second location on the Upper East Side. It's been 27 years since his murder and, on 33rd Street, there is still a sign in the deli's window offering a $150,000 reward for information that will help solve the crime.
In addition to the park, Lebewohl left another lasting mark on Second Avenue: the Yiddish Theatre Walk of Fame, which he installed on the sidewalk in 1984 to honor Yiddish theater actors, playwrights and composers, including Fyvush Finkel and the Barry Sisters.
"One of the great things Abie has taught me was that you could be a success in business and still be a mensch," Cohen said. "I attended Talmud Torah [school] for 10 years and learned more about being a good Jew and a good human being working for Abie. It certainly was more palatable."
Lebewohl was known for sitting down with his customers and enjoying half a sandwich with them. "You thought, and rightly so, you were coming to his home to eat," Cohen said.
That same sort of hospitality is kept alive to this day: When I arrived at the 33rd Street at the midtown location to interview Cohen, he immediately asked if I wanted a sandwich, some matzah ball soup, the works. When I declined, he turned to the deli clerk behind him and said, "Let me get some pieces of sliced pastrami and corned beef."
Cohen said he consciously carries on Lebewohl's way of interacting with customers. "I tell people when they start to work here; you can either be entertained by people all day or assaulted by people all day, now which one are you gonna have a better day with?" he said. "Abe always felt he was entertained by people and he wanted to entertain people."
During our conversation, every time someone walked into the deli, Cohen greeted them like an old friend. "When people leave here and they say to me, 'It's exactly like I remember it,' to me that's the greatest compliment," he said. That's the way I want it. I want people to say it's like when Abie was here. I want to carry out his legacy."
—
The post Abe Lebewohl Park honors murdered 2nd Ave Deli founder and East Village 'mensch' appeared first on Jewish Telegraphic Agency.
A Jewish cemetery in Belarus was destroyed by Nazis. Now its headstones are being made into a memorial.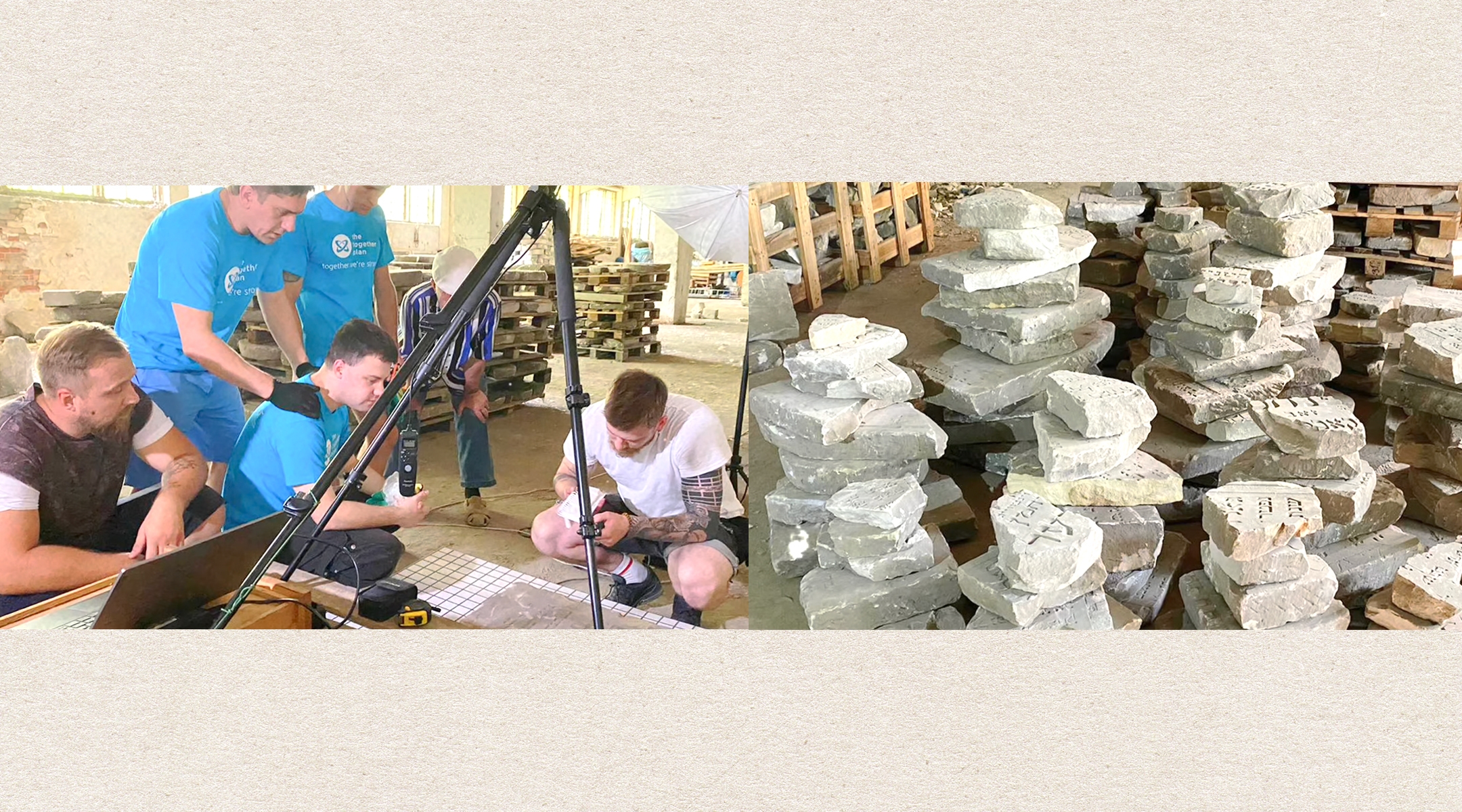 (JTA) — Earlier this year, a British Jewish nonprofit received a call from a young couple in the city of Brest, Belarus, who had just purchased a fixer-upper house and needed some help with a difficult situation: Their basement was built from old Jewish gravestones.
Jewish groups — including the nonprofit The Together Plan and its American arm, the Jewish Tapestry Project, founded to aid Belarusian Jewry — have been receiving such calls for nearly two decades from residents of Brest who have collectively discovered thousands of Jewish headstones in their city's construction. All of the headstones come from a historic cemetery that was destroyed during and after the Holocaust.
Today, an athletic complex sits on the site of the cemetery, which once contained tens of thousands of graves. But by the end of next year, The Together Plan expects to complete a memorial to the cemetery. It is also in the process of organizing and cataloging more than 3,200 remnants of the cemetery's headstones, which were used after World War II in construction projects throughout the city.
"Currently there's nothing there to say it's a cemetery," Debra Brunner, CEO and co-founder of The Together Plan, the group leading the project, told CNN.
Before World War II, Brest — also known as Brest-Litovsk, or Brisk to the Jewish community that lived there — was home to more than 20,000 Jews and was a center of Jewish culture and study. But when the city was liberated after the Holocaust, only about 10 Jews remained there. Today, it has a total population of more than 300,000.
The Nazis also destroyed the city's Jewish cemetery in part by selling half of its headstones. In the decades following the war, when Belarus was part of the Soviet Union and construction materials were hard to find, the gravestones became the foundations of homes, supermarkets, garden walks and cellars. In some cases, the Hebrew lettering on the stones was chiseled away.
The memorial will be erected on what was once a corner of the cemetery, some distance away from the sports complex. It will be made from broken pieces of the headstones that have been recovered over the past two decades and will feature a black granite plaque with text in Russian, Hebrew and English. The area surrounding the memorial will be covered with trees, grass and wildflowers.
Jewish cemetery preservation has been at times a contentious issue in Belarus. As recently as 2017, a Belarusian court approved a plan to construct a luxury apartment building on top of a Jewish cemetery in the city of Gomel, near the country's borders with Ukraine and Russia. The Brest municipality has pledged to maintain the upkeep of its city's memorial but did not provide any funds directly to the project. It is being led by the Together Plan and the Jewish Tapestry Project and supported by the Religious Jewish Union of Belarus, the Illuminate Foundation and the charitable Belarus-based organization Dialog.
"Jews have always honored the memory of their ancestors," Boris Bruk, chairman of the Orthodox Jewish community of Brest, said in a campaign video for the project. "And as there is no cemetery, we wanted to have a memorial sign, or a memorial place which would tell our descendants that their ancestors lie at this place, the people who lived, worked and prayed in this city."
In 2004, residents, construction companies and homeowners with properties paved with headstones began making phone calls to Regina Simonenko, the head of the Brest Holocaust Foundation and museum, wanting to return them. In 2011, the municipality of Brest approved the construction of a memorial using the headstones. The Together Plan joined the project in 2014 and has been fielding the calls since then.
Apart from 1,287 remnants with writing, another 2,000 to 2,500 headstone fragments without any writing have been collected and stored in a warehouse, where they have been photographed, cataloged and added to a searchable database.
The memorial is being designed by Dallas-based artist Brad Goldberg, who plans to build two arcs opposite each other that each feature some of the headstones. According to his website, Goldberg "sees his work as a fusion between sculpture, landscape, and the built environment."
"It isn't a cemetery," he told CNN. "They are all facing in different directions as if they are having a conversation with each other."
He added, "One rabbi that we have consulted has described it as being about life rather than about death."
Goldberg has a connection to Brest, too, which led to his work on the memorial. His family had taken in a Holocaust survivor, the late Jack Grynberg, when Grynberg came to the United States following the war. Somewhere between 70 and 100 of Grynberg's relatives were killed by the Nazis during the Holocaust. Grynberg was one of only a few Jewish residents of Brest to survive.
In 1997, Grynberg and his son Stephen traveled to Brest together. Stephen Grynberg is a filmmaker who has done work for the Shoah Foundation and was the one who recommended Goldberg as the memorial's designer. The younger Grynberg is also donating a third of the memorial's estimated $325,000 cost.
"In 1997 there were no signs of the cemetery," Stephen Grynberg told CNN. "We were taken there and our guide said, 'This is where the cemetery was.' Like so many things with the Holocaust, you can't really understand them, you just have these complicated visceral feelings."
He added, "I was just trying to compute the idea of them bulldozing a cemetery and building on it. That was the empty feeling I had."
—
The post A Jewish cemetery in Belarus was destroyed by Nazis. Now its headstones are being made into a memorial. appeared first on Jewish Telegraphic Agency.
Man in Peru charged with making recent bomb threats to US synagogues, FBI says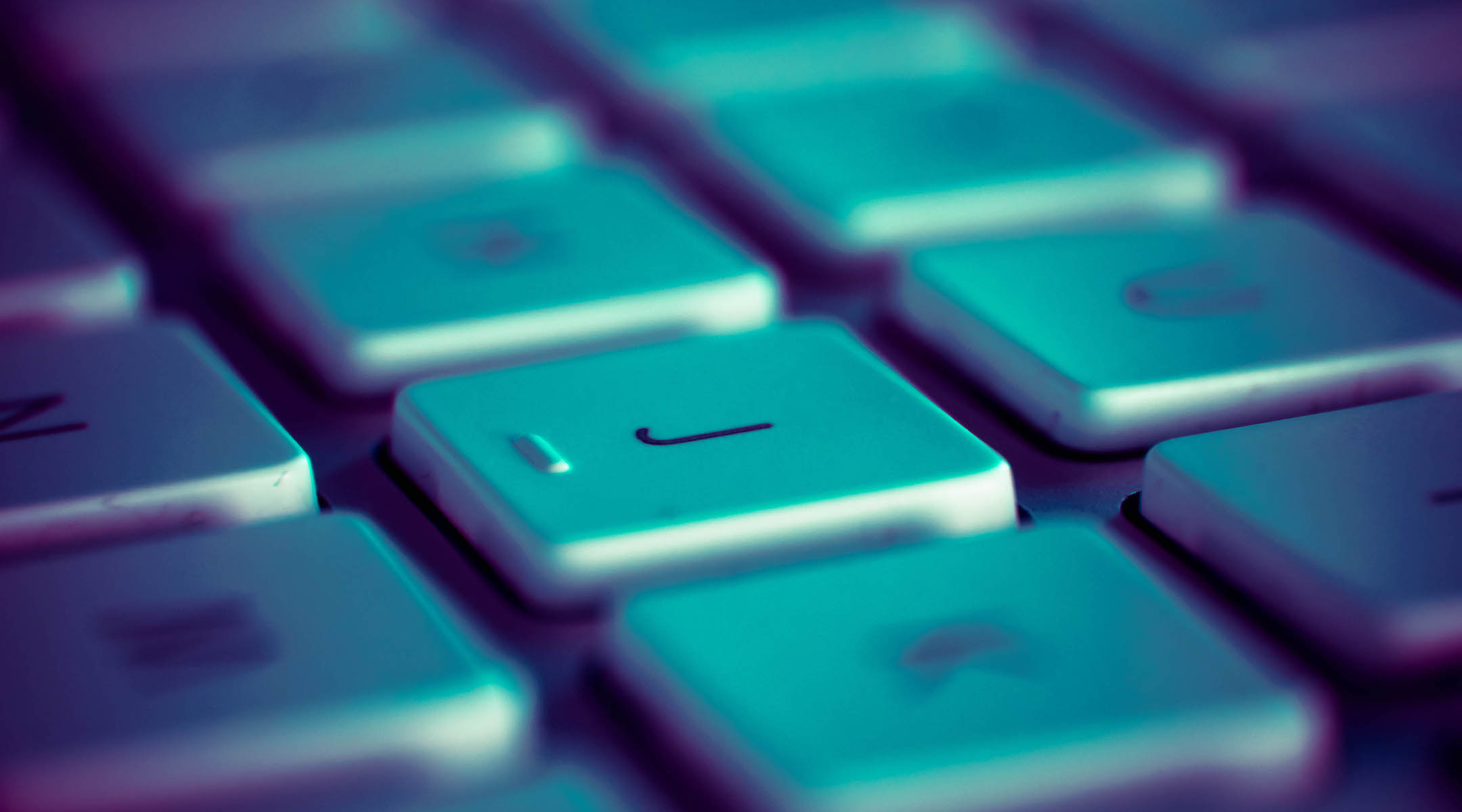 (JTA) — Authorities in Peru have arrested a 33-year-old man who the FBI has charged with making a string of bomb threats targeting U.S. Jewish institutions, including synagogues on Rosh Hashanah.
Eddie Manuel Nunez Santos made more than 150 threats, mostly by email, against synagogues, hospitals, school districts and other institutions in five states between Sept. 15 and Sept. 21, according to the FBI's complaint against him, which was unsealed Thursday. Nunez Santos was arrested in Lima on Tuesday, according to the FBI.
The FBI says Nunez Santos, who is Peruvian, embarked on the bomb threat spree after asking teen girls to send him pornographic pictures of themselves and being rejected. He is also being charged with crimes related to those requests, the FBI said.
Some of the emailed threats included phone numbers to contact. Those phone numbers, the FBI said, belonged to the teen girls who had rejected or cut off contact with him.
The tally of threats in the complaint reflect only some of those that have been reported by synagogues or their local police departments in the last few months. None of the threats have been credible.
After Rosh Hashanah, which began on the evening of Sept. 15, the Anti-Defamation League said it had counted a total of 71 threats against Jewish institutions in 14 states since July 21. But the ADL, an antisemitism watchdog, cautioned that the real number may be even higher: Some communities, it said, had chosen not to disclose the threats they received, in part to avoid gratifying whoever was issuing them.
The bomb threats targeting synagogues have, in many cases, led to congregations being evacuated in the middle of prayer services so that police can conduct a sweep of the building. In addition, the threats included in the complaint resulted in thousands of schoolchildren evacuating their schools; a lockdown of a hospital; and flight delays, according to the FBI.
The FBI and antisemitism watchdogs did not immediately respond to questions about whether additional people might have been responsible for the recent wave of bomb threats. The threats in the complaint were made to institutions in New York, Pennsylvania, Connecticut, Arizona, and Alaska, according to the FBI, but evacuations were reported in several other states including several in New Jersey on Rosh Hashanah.
The complaint includes an example of a complaint received by a synagogue in Westchester County, New York, on Sept. 17, the second day of the holiday. "I placed multiple bombs inside the Jewish Center," the threat said. "The bombs I placed in the building will blow up in a few hours. Many people will lay in a pool of blood."
At the time, the Westchester Jewish Council's security committee emailed synagogues in the county saying that local police and the council's own security official had investigated the email and others received in the area that day and deemed them non-credible. The committee emphasized that all threats needed to be investigated, a warning that came after months of recurring fake threats.
Using data tied to the emails, and by investigating the included phone numbers, law enforcement agents were able to trace the emailed threats to Nunez Santos, who works as a web developer.
The five charges that Nunez Santos faces, if he is convicted, carry the potential of significant prison time. The charges of conveying hoaxes and communicating threats across state lines carry maximum sentences of five years in prison. The charges related to child pornography and exploitation carry much harsher penalties.
"Not only did Santos allegedly email hundreds of hoax bomb threats terrorizing schools, hospitals, and houses of worship, he also perversely tried to sextort innocent teenage girls. His actions wasted limited law enforcement resources, put first responders in unnecessary danger, and victimized children," the FBI's assistant director in charge, James Smith, said in a statement. "The FBI will not tolerate anyone who seeks to induce fear in our communities, and we will do whatever it takes to put the perpetrators of such actions behind bars, regardless of their location."
This is not the first time false bomb threats have been called into a series of Jewish institutions. More than 100 such threats were called into Jewish community centers in the early months of 2017 — most of which, it was later discovered, came from a teen in Israel. In 2020, dozens of JCCs received a separate series of emailed bomb threats.
—
The post Man in Peru charged with making recent bomb threats to US synagogues, FBI says appeared first on Jewish Telegraphic Agency.
Biden expands Civil Rights Act protections at 8 cabinet departments to include antisemitism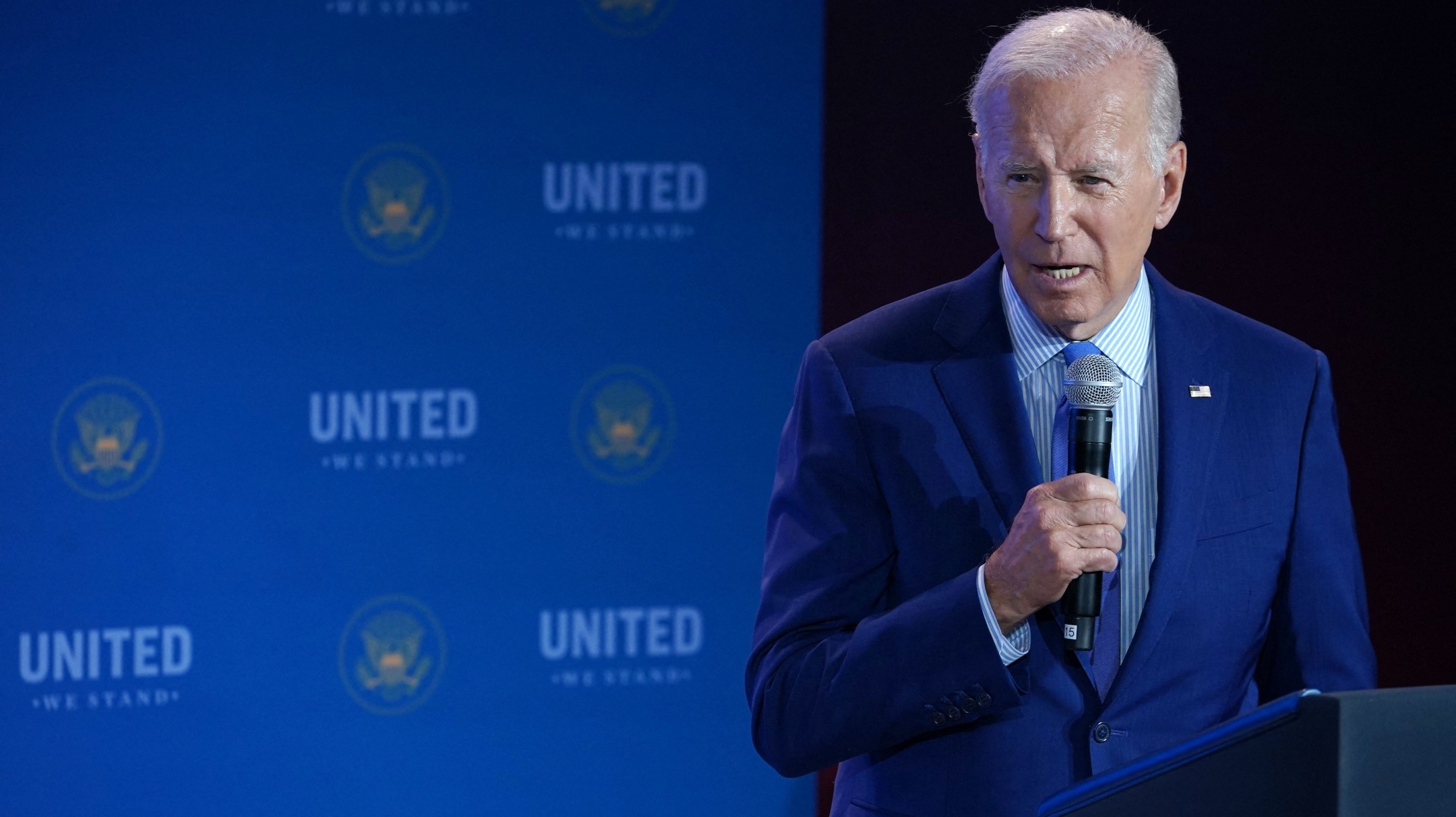 WASHINGTON (JTA) — The Biden administration is aiming to counter antisemitic discrimination in federally-funded transit systems, housing, food programs and other areas — one of the most major actions the White House has taken since it unveiled a far-reaching strategy to combat antisemitism in May.
On Thursday, the administration announced that it is instructing eight cabinet departments to extend civil rights protections to victims of antisemitism and other forms of religious bigotry. The decision marks a broad expansion of the 1964 Civil Rights Act.
In addition, the administration is launching a listening tour of schools and colleges this fall to hear from Jewish students about hostility on campus, which Jewish groups say often comes from the anti-Israel left. Last week, an LGBTQ student group at Rice University cut ties with Hillel over its support for Israel, and in a separate incident, the Hillel at the University of Pennsylvania was vandalized.
Thursday's launch of the listening tour in San Francisco will include a meeting between the deputy secretary of education and representatives of the city's Hillel chapter. 
"The Biden-Harris Administration will continue to lead a robust, whole-of-society effort to combat antisemitism and discrimination in all its insidious forms," a White House official said in an e-mailed statement. The four-page release was the most comprehensive accounting to date of how the antisemitism strategy has been implemented since May. Biden set a deadline of May 2024 for the strategy to be implemented across the executive branch.
The announcement includes a comprehensive list of initiatives already taken under the antisemitism strategy. It also comes the same day as President Joe Biden is set to deliver a speech in Phoenix at the McCain Institute, named for the late Republican senator, that will warn of threats of democracy from the far-right and former President Donald Trump.
Under the 1964 act's Title VI, which the White House release cites, any program or activity receiving federal funding cannot discriminate on the basis of race, color, or national origin. The White House statement said that staff at the Departments of Agriculture, Health and Human Services, Homeland Security, Housing and Urban Development, Interior, Labor, Treasury, and Transportation will be told the landmark 1964 Civil Rights Act bans discrimination based on antisemitism, Islamophobia and other forms of religious bias.
The initiative is a substantial expansion of initiatives by the Obama and Trump administrations to extend the Civil Rights Act's protections to Jews through the Education Department. An executive order signed by Trump led to a series of federal complaints alleging that Jewish and Zionist students faced hostile campus environments.
Staff will be trained "to respond to this kind of discrimination, engage with entities that are prohibited from discriminating in these ways to explain their legal responsibilities, and inform communities of their rights to be free from such discrimination and how to file complaints," said the release. Fact sheets on the topic will be available in Yiddish, Hebrew, Arabic, Punjabi, and other languages.
Examples of how the expansion would work, the release said, include "shielding people from harassment or discrimination on transit systems funded by the Department of Transportation; in housing funded by the Department of Housing and Urban Development; or in U.S. Department of Agriculture-funded food programs."
In recent years, Jewish watchdog groups have recorded a spike in antisemitic attacks in public places, targeting people who wear outwardly Jewish symbols or clothing. Muslim and Jewish groups have also long advocated — with some success —  for making kosher and halal food available through relief programs.
Jewish groups have, for decades, sought the act's protections, but have been frustrated by the difficulty of resolving constitutional guardrails around the separation of church and state. The Obama and Trump Education Department directives worked around that issue by defining Jews not simply as a faith but as a group defined in part through ancestry, and also as a group perceived by bigots as being a race — cateogires that fall under Title VI's purview. 
As part of the launch of the listening tour of Jewish students, Deputy Secretary of Education Cindy Marten will meet with Jewish students, teachers and community leaders at San Francisco's Contemporary Jewish Museum, followed by a closed session with Hillel-affiliated students from the Bay Area about campus antisemitism.
The emphasis on allegations of campus antisemitism may address concerns by some Jewish organizations that the Biden administration was not as focused on combating antisemitism from the left as it was on antisemitism from the right, and that it is not addressing antisemitism in the context of anti-Israel activism.
In addition to the expansion of Title VI and the listening tour, the White House statement mentioned a list of actions the administration has taken as part of the strategy on antisemitism. Those include delivering information and training to Jewish and other communities on securing their buildings and their computer systems in the face of threats, and bringing together law enforcement agencies and religious communities targeted by violence. Federal officials are also training National Park Service staff on stopping and preventing antisemitic harassment.
The White House is providing information to religious communities on their rights to build houses of worship, an issue that continues to dog Muslim and Orthodox Jewish communities thwarted by local authorities. Alongside those measures, the administration is informing members of religious minorities of their rights to religious accommodation in the workplace and is educating medical students, professionals and chaplains on religious discrimination in health care settings. In addition, an exhibit on how the United States reacted to the Holocaust is touring libraries across the country.
In November, a planned Agriculture Department summit of religious leaders in Omaha will "assess the state of antisemitism, highlight effective strategies to counter antisemitism, and build solidarity across faiths."
—
The post Biden expands Civil Rights Act protections at 8 cabinet departments to include antisemitism appeared first on Jewish Telegraphic Agency.