Angry and tired, Gazan mothers stuck in Israel after medical care want to get home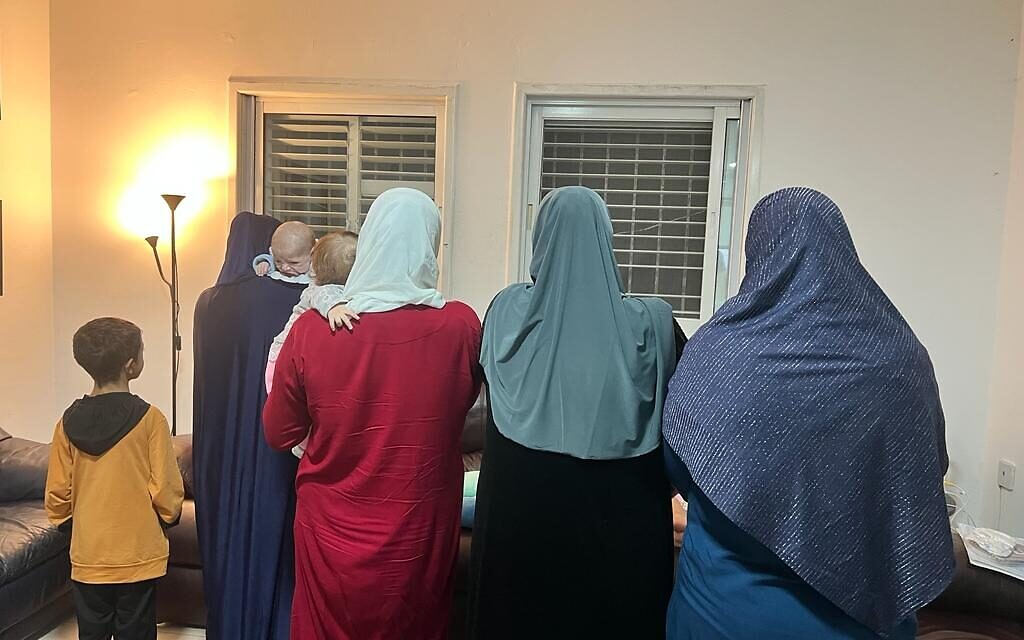 Yad Vashem Chairman Says Campus Antisemitism Like Cancer, Warns Problem Could Become 'Terminal' for Universities
Antisemitism on American college campuses is comparable to Stage 2 cancer, and if allowed to progress to Stage 4, academia will be "doomed," the chairman of Yad Vashem, Israel's national memorial to the Holocaust, told The Algemeiner a day after presidents of elite US universities refused to issue a condemnation of genocidal calls against Jews and Israel.
According to Dani Dayan, institutions of higher education are becoming increasingly filled with "pseudo-academic theories advocating for genocide of the Jewish people," and the leadership of those colleges are supporting them, "either by action or inaction."
Dayan said he explained to University of Pennsylvania president Elizabeth Magill — who drew outrage in September for refusing to cancel an anti-Zionist festival featuring speakers accused of promoting antisemitic conspiracies and violence against Israel — that antisemitism was a "cancerous process" that wasn't stopped at Stage 1 by universities when it would have been "relatively easy" to do so.
"Now we are in Stage 2, which is much more difficult, and necessarily takes harsher steps," he said.
"But if we don't take those steps now, we will reach Stage 3 and Stage 4, which is terminal," he added, clarifying the problem would be lethal "not for the Jews, but terminal for the university. They will be doomed if they continue this way."
Yad Vashem, which is based in Jerusalem, released a statement on Wednesday saying it was "extremely alarmed" by the presidents of Harvard University, the University of Pennsylvania (Penn), and the Massachusetts Institute of Technology (MIT) over their conduct at a hearing on campus antisemitism before the US House Committee on Education and the Workforce on Tuesday. The statement highlighted a refusal by the administrators to clearly affirm that genocidal calls against Jews violate their university policies and codes of conduct.
"Yad Vashem is appalled that leaders of elite academic institutions would use misleading contextualization to minimize and excuse calls for genocide of the Jews," the statement read.
Fitting with Dayan's analogy of a progressive cancer, the Yad Vashem statement noted that the Holocaust "did not start with ghettos or gas chambers, but with hateful antisemitic rhetoric, decrees, and actions by senior academics, among other leaders of society."
Dayan called on campus leaders to visit Israel and Yad Vashem during the upcoming university semester break "in order to learn what past calls for the genocide of Jews has led to — the Holocaust."
"They will be able to understand what can be the consequences of condoning blatant antisemitism. Universities are not immune to bigotry," Dayan told The Algemeiner. "Those that burned books in Germany in the 1930s, books written by Jews, were not the ignorant masses. They were professors and students in elite universities no less prestigious than Harvard, MIT, and UPenn are today."
"Never Again must begin with education," he concluded.
US college campuses have experienced an alarming spike in antisemitic incidents — including demonstrations calling for Israel's destruction and the intimidation and harassment of Jewish students — since Hamas' Oct. 7 massacre across southern Israel.
During Tuesday's hearing, presidents Magill of Penn, Claudine Gay of Harvard, and Sally Kornbluth of MIT largely evaded questions about the consequences of rising antisemitism on their campuses, where there have been several instances of both students and professors rationalizing the Hamas atrocities and blaming Israel. This anti-Israel activism has at times manifested in violence against Jewish students.
The post Yad Vashem Chairman Says Campus Antisemitism Like Cancer, Warns Problem Could Become 'Terminal' for Universities first appeared on Algemeiner.com.
Celebrities React to Hamas Sexual Violence: 'Medieval Barbarism Unlike Anything in Modern History'
Warning: This story contains graphic details about sexual violence, including rape and torture, carried out during Hamas' Oct. 7 massacre.
An event that took place at the United Nations this week about the sexual and gender-based violence perpetrated by Hamas terrorists during their deadly rampage across southern Israel on Oct. 7 has caught the attention of Jewish celebrities, who blasted those staying silent about the abuse that unfolded two months ago.
Actress and former Will & Grace star Debra Messing attended the UN event — titled "Hear Our Voices: Sexual and gender-based violence in the October 7th Hamas terror attack" — and said in a post on Instagram that the testimonies she heard about rape, mutilation, and other forms of sexual violence resembled accounts of "medieval barbarism unlike anything seen in modern history."
"First responders attesting to the rape and subsequent mutilation of women and young girls. Survivors detailing women begging to be killed during their rape and torture. Forensic experts detailing the deliberate targeting of sex organs, shooting, mutilating, nails, and other means of torture including cutting off of breasts while the girls were being raped and still alive. There were gasps, and tears," she wrote. "Powerful speeches demanding recognition and pursuit of justice by the UN Women, who have remained silent."
United Nations Women — the UN agency for gender equality and women's empowerment — released on Nov. 25 its first statement about the gender-based violence carried out on Oct. 7 — 50 days after they took place. A week later, on Dec. 1, the agency condemned for the first time ever the Hamas terrorist attacks. There have been calls to have UN Women disbanded for waiting so long to comment on the sexual violence, and on Sunday, Israeli actress Gal Gadot slammed the international community for staying quiet about the sexual abuse women experienced at the hands of Hamas.
Messing also shared on Instagram a clip of Iranian activist and content creator Mandana Dayani at the UN event discussing the Oct. 7 massacre by the Hamas terror group, whose main sponsor is Iran. She expressed disappointment in the "peers, friends, universities, and fellow leaders who still remain silent" about the sexual violence that women experienced. "You have made the deliberate choice to look the other way," she said. "You saw the videos, the phones, many recorded and live-streamed by the terrorists themselves. You know exactly what happened to these girls and yet you turned away … When our women's mouths were bound and gagged, you chose not to be their voice."
Actress and writer Jenny Mollen Biggs, who is the wife of American Pie star Jason Biggs, also shared on Instagram a clip of Dayani's speech at the UN event, calling it "just f—king brilliant." Two days earlier, she shared on social media a testimony from a survivor of the Hamas attack on the Supernova music festival who witnessed the beating and raping of a fellow music festival attendee. Frustrated by the silence shown by feminists about such violence, Biggs wrote in the caption for the post, "Our daughters are being raped and shot in Israel, our daughters are being raped and shot in Sudan, our feminists are busy shopping for the holidays."
In her own Instagram post, actress Mayim Bialik drew attention to a female-led demonstration that took place outside the UN event, where protesters demanded to know why the organization has remained silent about the sexual abuse inflicted on Israeli women. Demonstrators also used the hashtag "#MetooUNlessYouareaJew" to draw attention to their cause.
The former Big Bang Theory star shared a photo from the demonstration and wrote in the caption, "Note to the world: believe all women — even if they are Jews. Also, believe the autopsies showing grotesque sexual mutilation."
"Finally, to the 'anti-Israel' protesters who literally marched at the UN as we ask for dignity for the women of the Oct. 7 massacre which used women's bodies as war prizes: what exactly were you marching against in this particular case?" she added.
The post Celebrities React to Hamas Sexual Violence: 'Medieval Barbarism Unlike Anything in Modern History' first appeared on Algemeiner.com.
Amid war, food rescue group switches from relying on farmers' generosity to helping them survive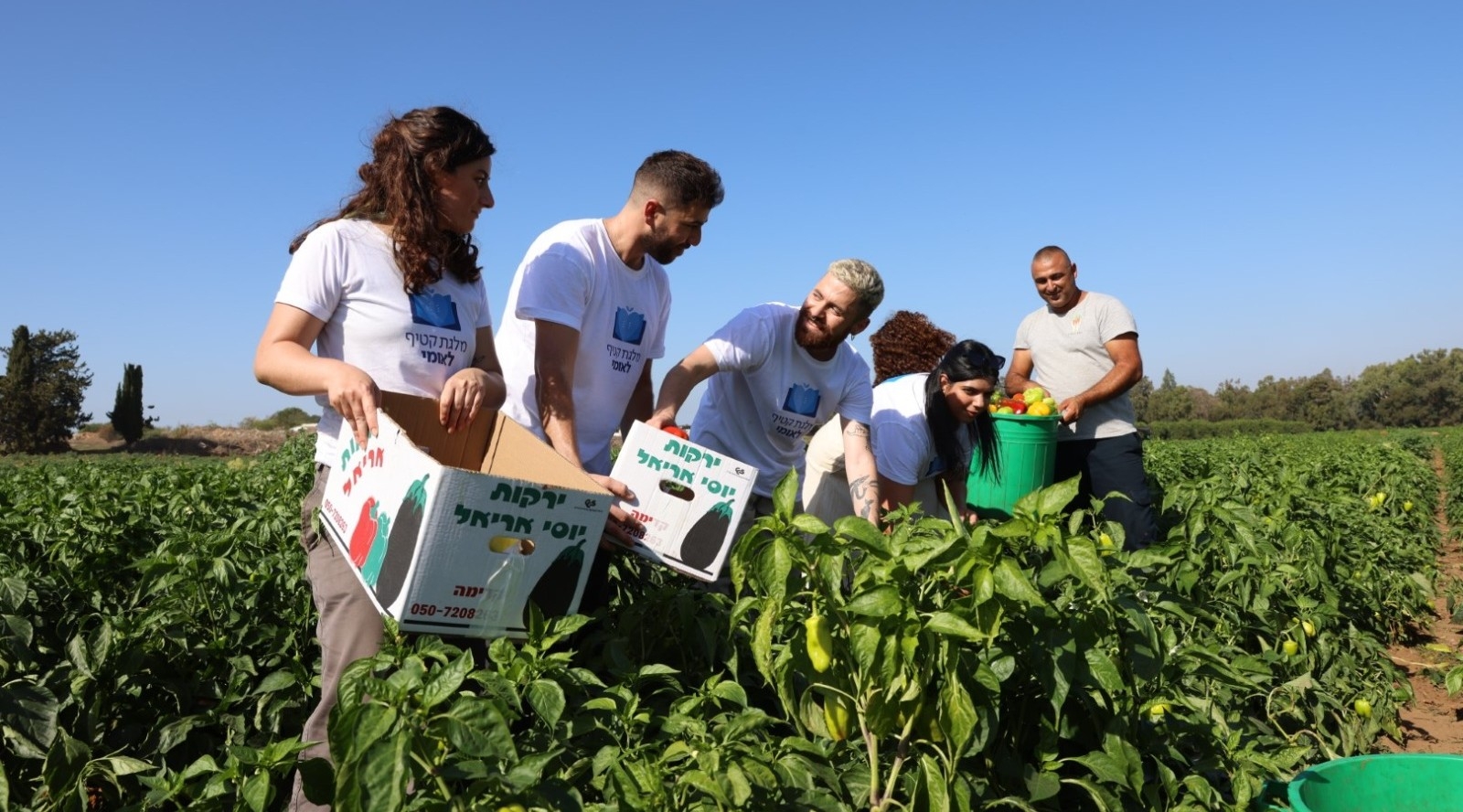 Yariv Hagbi, a farmer whose family has been growing produce in the area of southern Israel near Gaza for generations, spent part of Oct. 7 fighting terrorists who broke into his family home in the town of Yakhini.
That Saturday, his brother, Yizhar Hagbi, and several other relatives were killed. Since then, the entire community of Yakhini has been displaced, but Hagbi stayed behind because he's determined to save the family farm — despite all the grief, shock and devastation.
"At a certain point, you have to get back to life," Hagbi said. 
A range of produce grows at Hagbi's farm in Nir Moshe, including broccoli, potatoes, cabbage, melon, tomatoes, corn and chickpeas. Until the war, the farm relied on Thai farmhands — part of an agricultural workforce of tens of thousands of foreign laborers in Israel. But most fled their places of work after Hamas's brutal attack left dozens of foreign farmworkers dead or abducted and turned a large swath of southern Israel into a war zone. Without the 20 Thais who had worked at Hagbi's farm, Hagbi's produce was left unpicked and was starting to rot. 
Hundreds of other farms in southern Israel — the source of approximately 75% of the country's vegetables — were in similarly dire circumstances.
Joseph Gitler, Founder and Chairman of the Israeli food rescue organization Leket Israel, quickly pivoted his organization's focus to address the crisis. 
In normal times, Leket Israel collects surplus produce from farms around the country — and excess cooked meals from institutions such as hotels and army bases — and distributes the food to needy families via a network of nonprofit organizations. In 2022, Leket rescued 58 million pounds of agricultural produce, and the 20-year-old organization was on track to increase those numbers in 2023.
Then came Hamas's attack and the war in Gaza.
"We immediately understood that the Oct. 7 attack would bring an upheaval to our work," Gitler said. "We realized that our food sources were about to dry up."
First, Leket shifted gears to aid Israeli farmers, who until the war had been Leket's primary donors of surplus food. The organization began recruiting volunteers from Israel and around the world to help fill the gap left by the absence of farm workers, organizing 15,000 to 20,000 volunteers to farms amid a nationwide movement of volunteers helping pick, plant and protect produce from weeds.
Leket also began purchasing produce from farmers rather than just collecting surplus. The need is particularly high because Israeli farms have lost many export customers due to the challenges of harvesting and transporting the produce at a time when workers and overseas flights are both in short supply (most international carriers have canceled all their Israel flights).
At the same time, Leket has been continuing to provide meals to needy Israelis even as some of the organizations it works with to distribute those meals have suspended operations during the war due to logistical difficulties — or, like the army, don't have surplus food anymore. Today Leket provides about 15,000 meals per day — 50% more than before the war — all via purchased rather than donated food.
"The situations of people we help hasn't gotten any better since October 7," Gitler said. "In some cases, they have gotten worse."
For farms in the vicinity of Gaza, the challenges are tremendous. Almost all farming families in the south are mourning loved ones or friends, have been evacuated from their homes, or have family members doing military reserve duty. The farms themselves have suffered significant damage, including incineration by Hamas terrorists, fields torn up by military vehicles, structures damaged by rocket or mortar fire, and locations commandeered by the army. Farms within four kilometers of the border must obtain special permission from the Israeli Defense Forces to continue operating amid the fighting. Then, of course, there's the loss of the farmworkers themselves.
That problem is afflicting farmers all over Israel, not just those in the war zones.
Yuval Shargian, a farmer in Tzofit, north of Tel Aviv, whose 100-acre tract grows broccoli, zucchini and leeks, for years has donated his surplus to Leket. But when his entire workforce of Thai and Arab workers disappeared after Oct. 7, he became reliant upon volunteers. 
"It's been amazing with the volunteers," Shargian said. "They have a lot of good will and a desire to help. My farm will survive because of them."
Debbi Hirsch Levran, a retired social worker and lawyer living in Jerusalem, is among those who have has been volunteering on farms during the war, and she frequently helps organize buses of volunteers through her synagogue, Kol Haneshama.
"We have worked in cauliflower fields and strawberry fields. We picked sweet potatoes, oranges and tomatoes. We planted broccoli," Levran said. "It has been therapeutic for us — not only to be in the fresh air and to be with friends, but also to assist people who we've never met before but who are part of our larger community of Israel."
Dan Greenberg, 51, joined a Leket volunteer group on a recent visit to Israel from his home in Brooklyn, New York, picking tomatoes and pomegranates near Gaza. 
"The work was tough and exhausting. Every muscle hurt at the end of the day," Greenberg said. "And it was the most fulfilling work I have ever done."
Leket has set up a series of partnerships to create new avenues to support farmers and volunteers. A new partnership with Bank Leumi, the Israel Student Union and the Keshet media company will give 800 students who volunteer on a farm for 160 hours a yearlong academic scholarship. In a new partnership with Strauss foods, farmers can receive a debit card through which they get direct funding.
Supporting the farmers is vital not just to keep them in business but also to support Israel's entire food system. If the farms in southern Israel were to collapse, Israel would have to embark on a major food import campaign with long-term repercussions for Israel's economy and the national ethos of being self-sustaining. 
"That would start a difficult path to come back from," Shargian said. "Had the volunteers not helped with the planting, Israel would be having a real food crisis now." 
Levran and Hagbi both say planting is critical at this moment. 
"The most important thing is to keep planting; it is about preserving our way of life," Hagbi said. "My family has been farming here for generations, and our enemies want to erase our entire way of life. We are fighting for our very existence. Planting is our way of ensuring our long-term survival here in a Jewish, democratic state. We are doing this for all of Israel." 
Through Leket, tourists to Israel may volunteer for as little as several hours planting, packing or harvesting.
"We need all hands on deck right now," Gitler said. "Leket is doing what we can. But we need more help. If you're coming to Israel, be ready to roll up your sleeves. Everyone has to participate."
—
The post Amid war, food rescue group switches from relying on farmers' generosity to helping them survive appeared first on Jewish Telegraphic Agency.