As Europe's Jews see a new era of antisemitism, governments struggle over how to respond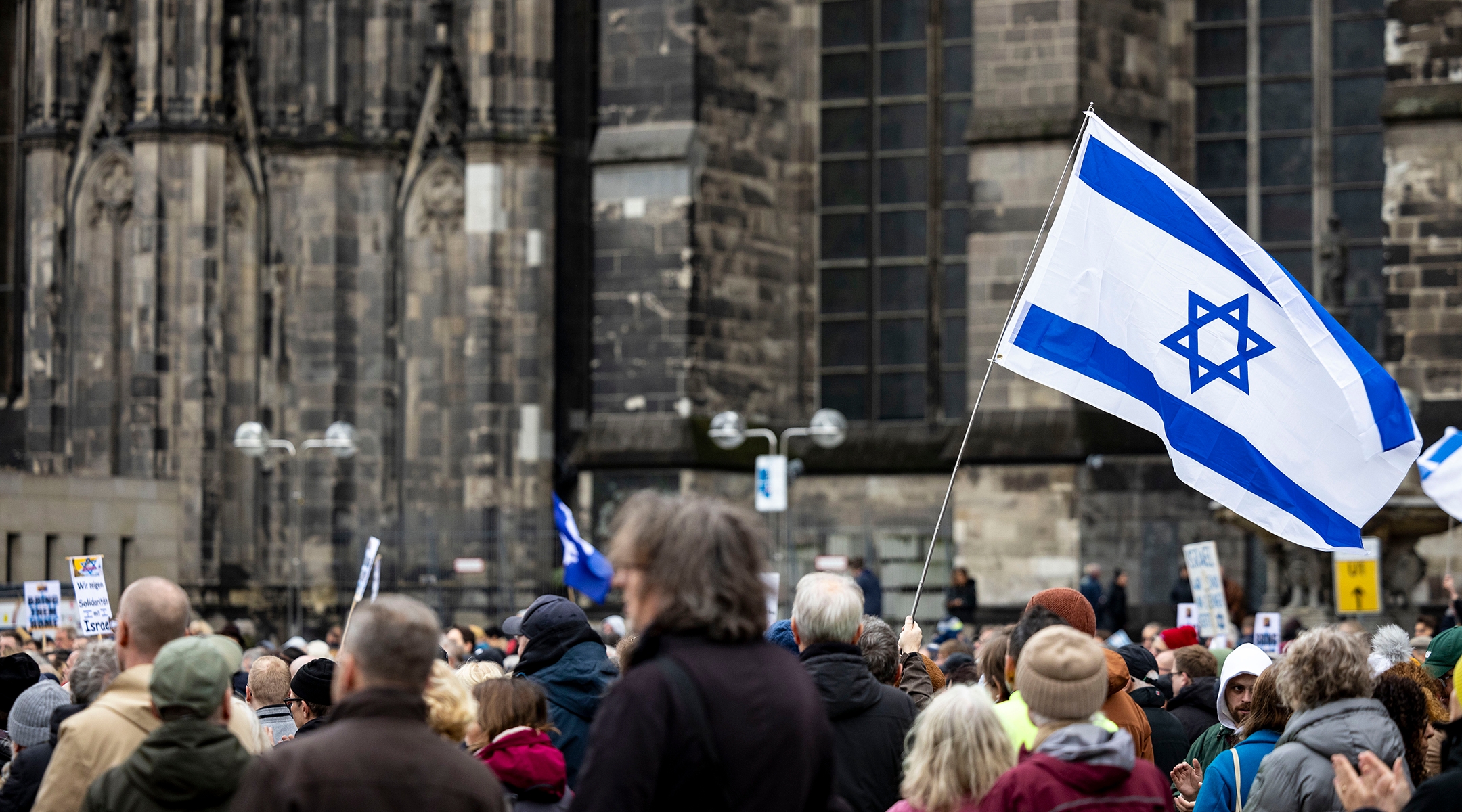 (JTA) — In synagogues, schools and ordinary streets across Europe, Jews are voicing a similar refrain: They live in a different world from the one they knew before Oct. 7.
That's not only because Hamas' attacks in southern Israel killed the most Jewish civilians in one day since the Holocaust. Across Europe, the rate of antisemitic incidents has fueled an atmosphere of fear and motivated some to conceal their Jewish identity.
European governments have made it a point to protect their countries' Jews from antisemitism in recent decades. The fruits of those efforts are seen in the increased security at Jewish institutions across the continent and the continued public statements by Western leaders meant to call out and condemn hatred against Jews.
But there is a new wrinkle to that arc: a clear, tortured confusion in European governments and police departments about how to distinguish between anger against Israel and antisemitism, between the right to assemble at pro-Palestinian rallies and the crime of hate speech. The debate was punctuated on Monday by the firing of British Home Secretary Suella Braverman, who made a series of divisive remarks about pro-Palestinian demonstrators last week.
A new era?
Over a month into the bloody aftermath of Hamas' attack on Israeli towns and Israel's bombardment and siege of the Gaza Strip, antisemitism is soaring far from the scene of the conflict.
France has registered over 1,000 antisemitic acts since Oct. 7, exceeding in weeks the number recorded over the past year, according to Interior Minister Gerald Darmanin. The Community Security Trust, a group that tracks antisemitism in Britain, has reported 1,205 incidents in that time frame — the highest total in a 35-day period since it began recording offenses in 1984. And in Germany, the federal agency RIAS verified 202 antisemitic incidents between Oct. 7-15, up 240% from the same week last year.
The incidents run the gamut: Assaults, threats to Jews and Jewish businesses, damage to Jewish property, hate mail and online abuse.
On Nov. 4, a Jewish woman in Lyon was stabbed in the stomach at her home, while a swastika was found graffitied on her door. French prosecutors have also opened a probe into a viral video that showed a group of youths chanting on the Paris metro: "Fuck the Jews and fuck your mother, long live Palestine, we are Nazis and proud of it."
Meanwhile, Berlin police are investigating two Molotov cocktails thrown at the Kahal Adass Jisroel synagogue, along with multiple Stars of David marked on apartment buildings. The Oct. 27 cover of the German magazine Der Spiegel, one of the most widely circulated news magazines in Europe, read "Wir Haben Angst" ("We are scared"). One of the four German Jews pictured on the cover is 90-year-old Holocaust survivor Ivar Buterfas-Frankenthal.
Marina Chernivsky is the founder and director of OFEK, a Berlin counseling center that specializes in antisemitic violence and discrimination. The group has struggled to manage a 12-fold increase in requests for psychological counseling since Oct. 7, she told the Jewish Telegraphic Agency. In just three weeks, OFEK received 390 requests; its previous record was 370 in an entire year.
"It's unbelievable," said Chernivsky. "It's just one indicator of the situation now, because it's a very high barrier to decide to call an institution and tell the story and also ask for support. It's not easy and many people do not do it."
London police received reports of 657 antisemitic and 230 Islamophobic incidents between Oct.1 and Nov. 1, a significant jump in both categories. On Nov. 2, staff at London's Wiener Holocaust Library — the world's oldest Holocaust library and research center — found graffiti that read "Gaza" across their building's sign.
In Italy's capital, four Holocaust memorial plaques were found blackened with a torch and spray paint last week. The bronze blocks, called "pietre d'inciampo" or "stumbling stones" in Rome, are embedded on the sidewalk in front of apartment buildings where Jews were rounded up from the Nazi-occupied city and sent to Auschwitz in 1944. They show the names of the Jews who lived there and the dates when they were born, deported and murdered.
Milan officials are also investigating dozens of antisemitic incidents, including death threats graffitied in a hospital, a bakery and a nightclub. At a recent Milan rally, some protestors chanted, "Open the borders so we can kill the Zionists."
Spain and Portugal have seen their share of synagogue graffiti, too. In Melilla, a Spanish enclave on the North African coast, a group of protestors gathered in front of a synagogue and burned an Israeli flag.
In the Netherlands, the number of antisemitic incidents reported to a leading Dutch-Jewish watchdog is up 818% from the monthly average of the past three years. This figure only includes interpersonal incidents, such as threats, verbal and physical abuse and direct messages, not general antisemitic statements on social media.
"We see lots of incidents at schools, where Jewish or Israeli kids are being attacked because of what's going on in Israel and Gaza," CIDI director Naomi Mestrum told JTA. "One kid was threatened with a knife and hit with a bottle, while the other kids were swearing, 'kankerjood' — in Dutch, that means 'cancer Jew.'"
The Dutch Jewish Weekly changed its delivery packaging from transparent plastic to an anonymous white envelope after Oct. 7, according to editor-in-chief Esther Voet, because subscribers were anxious about their neighbors finding out they were Jewish. Their requests follow a pattern of fear among Jews taking measures to hide their identity in Europe, from removing or camouflaging their mezuzahs to taking off their kippahs in public and avoiding speaking Hebrew on the street. One Syrian Jewish refugee in the Netherlands told JTA he no longer sleeps in his own apartment after his window was defaced with a swastika.
Although antisemitism typically flares in Europe when there is fighting in Israel and the Palestinian territories, tracking groups in France, Britain, Germany and the Netherlands all report that European Jews are living in a new landscape.
"We've never seen this before, both this increase in numbers and the threatening types of incidents," CIDI researcher and policy advisor Hans Wallage told JTA. "I also hear from the Jewish community that they've never experienced this before, and they're very afraid and anxious for the future."
The free speech debate
In the face of this crescendo, European governments have been conflicted over how to crack down on antisemitism without inhibiting free speech.
In France, Darmanin attempted to impose a blanket ban on pro-Palestinian demonstrations, declaring them "likely to generate disturbances to public order." Vincent Brengarth, a lawyer for the Palestine Action Committee, called this order a "serious attack on freedom of expression." The ban has since been overturned by France's top administrative court, although local authorities can still block protests on a case-by-case basis.
London's Metropolitan police have been open about their difficulty in determining which protest chants are lawful and which could incite violence. In a bulletin on Oct. 20, they discussed the popular chant "From the river to the sea, Palestine will be free," which has various interpretations. Some activists say it means that Palestinians should be free of Israeli occupation, with rights and dignity equal to Israelis. Critics, including Israeli leaders and Jewish groups such as the Anti-Defamation League, say the chant calls for a Palestinian entity that has eliminated Jews and Israelis between the Jordan River and the Mediterranean Sea.
"While we can envisage scenarios where chanting these words could be unlawful, such as outside a synagogue or Jewish school, or directly at a Jewish person or group intended to intimidate, it is likely that its use in a wider protest setting… would not be an offense and would not result in arrests," said the Metropolitan police.
Meanwhile, the British government is divided. Ahead of a massive pro-Palestinian rally in London on Saturday, Suella Braverman wrote an op-ed calling the protestors "hate marchers" and accusing the police of being overly lenient with them. In a letter to senior police officers last month, the former home secretary argued that waving a Palestinian flag and chanting "From the river to the sea" should both be considered as possible criminal offenses.
Britain's Labour party, just a few years removed from a longstanding antisemitism scandal, is similarly divided. Party leader Keir Starmer has shown a zero-tolerance policy for anything he sees as approaching hate speech against Jews. Labour parliament member Andy McDonald was suspended, pending an investigation, after the party alleged that he made "deeply offensive" comments at a rally on Oct. 29. He said in the speech: "We will not rest until we have justice. Until all people, Israelis and Palestinians, between the river and the sea, can live in peaceful liberty."
Although Germany's constitution protects freedom of expression, opinion and assembly, various local authorities have imposed bans on pro-Palestinian protests — including Hamburg, the second-largest city. In some places, resistance to these orders has led to clashes between protestors and riot police. Berlin's education senator Katharina Guenther-Wuensch has allowed schools to ban the keffiyeh, a symbol of Palestinian solidarity, along with the phrase "Free Palestine."
Josef Schuster, president of the Central Council of Jews in Germany, has said he believes that protest bans are "definitely justified" to prevent "anti-Israel, aggressive and antisemitic" actions.
But some vocal opponents of the protest bans are Jews. In an open letter published in the German newspaper Die Tageszeitung and the New York-based magazine N+1, over 100 Jewish artists, writers and scholars in Germany said the suppression of pro-Palestinian rallies did not make them feel safer.
The group noted the surge in violent intimidation against German Jews and expressed fear that "the atmosphere in Germany has become more dangerous — for Jews and Muslims alike — than at any time in the nation's recent history." However, they denounced bans on nonviolent protest, saying these restrictions often come with brutality to immigrants and minorities and can escalate instead of preventing violence.
"As Jews, we reject this pretext for racist violence and express full solidarity with our Arab, Muslim, and particularly our Palestinian neighbors," said the letter. "What frightens us is the prevailing atmosphere of racism and xenophobia in Germany, hand in hand with a constraining and paternalistic philo-Semitism. We reject in particular the conflation of anti-Semitism and any criticism of the state of Israel."
—
The post As Europe's Jews see a new era of antisemitism, governments struggle over how to respond appeared first on Jewish Telegraphic Agency.
Protester Sets Self on Fire Outside Israeli Consulate in Atlanta
i24 News – A protester was in critical condition on Friday after setting themself on fire outside the Israeli consulate in Atlanta, Georgia, U.S. authorities said. A security guard who tried to intervene was also wounded.
A Palestinian flag found at the scene was part of the protest, Atlanta Police Chief Darin Schierbaum said at a news conference. He added that investigators did not believe there was any connection to terrorism and none of the consular staff was ever in danger.
JUST IN: A pro-Palestine protester is in critical condition after they set themselves on fire in "political protest" outside of the Israeli Consulate office in Atlanta.
The protester was reportedly draped in a Palestine flag.
The protester has severe burns and unfortunately, a… pic.twitter.com/B8nUQAj2nU
— Collin Rugg (@CollinRugg) December 1, 2023
"We do not see any threat here," he said. "We believe it was an act of extreme political protest that occurred." Everyone inside the consulate building was said to be safe.
Anat Sultan-Dadon, Consul General of Israel to the southeastern U.S., said: "We are saddened to learn of the self-immolation at the entrance to the office building. It is tragic to see the hate and incitement toward Israel expressed in such a horrific way."
"The sanctity of life is our highest value. Our prayers are with the security officer who was injured while trying to prevent this tragic act. We are grateful to the city of Atlanta's law enforcement and first responders for all they do to ensure safety."
The post Protester Sets Self on Fire Outside Israeli Consulate in Atlanta first appeared on Algemeiner.com.
Released Israeli Hostages Call for Captives to Be Freed
Israeli hostages released in the past week by Hamas in Gaza called on Saturday for the immediate release of fellow captives left behind, a day after a temporary truce that had allowed scores to come home broke down.
Tens of thousands gathered at a rally in Tel Aviv outside Israel's defense headquarters, where they cheered Yelena Trupanov, 50, standing on a stage just two days after being freed.
"I came to thank you because without you I wouldn't be here. Now we must bring back my (son) Sasha, and everyone. Now."
Similar pleas from other released hostages were shown on video.
A seven-day truce, during which Hamas had released more than 100 hostages, collapsed on Friday after Hamas breached the ceasefire.
Israel said on Saturday it had recalled a Mossad intelligence agency team from Qatar, host of indirect negotiations with Hamas, accusing the Palestinian faction of reneging on a deal that would have freed all children and women held hostage.
More than 240 people – Israelis and foreign nationals – were abducted to Gaza on Oct 7. by Hamas terrorists who burst through the border with Israel and killed 1,200 people.
The post Released Israeli Hostages Call for Captives to Be Freed first appeared on Algemeiner.com.
IDF Foils Stabbing Attack Near Nablus in West Bank, Eliminates Terrorist
i24 News – The Israel Defense Forces (IDF) reported thwarting a stabbing attack on Saturday afternoon against reserve Battalion 7037 at the X junction near Nablus in the West Bank.
According to the IDF spokesperson, the event unfolded when the forces at the roadblock became suspicious of an individual approaching the barricade.
During the questioning process, the suspect suddenly drew a knife and advanced towards the IDF personnel.
ניסיון פיגוע דקירה אירע לפני זמן קצר לעבר כוח צה"ל במילואים מגדוד 7037 שפעל בחסם בצומת האיקס סמוך לעיר שכם שבמרחב חטיבת שומרון.
הכוח חשד במחבל שהגיע לחסם והחל לתחקר אותו, המחבל שלף סכין והחל להתקדם לעבר הכוח.
הלוחמים חתרו למגע והגיבו בירי לעבר המחבל שחוסל. אין נפגעים לכוחותינו. pic.twitter.com/mEaJs58hpE
— דובר צה״ל דניאל הגרי – Daniel Hagari (@IDFSpokesperson) December 2, 2023
The soldiers, faced with the threat, engaged in contact procedures and ultimately responded by opening fire on the assailant. The spokesperson confirmed that the attacker was neutralized due to the IDF's action.
It was also noted that there were no casualties among the IDF forces involved in the incident. According to the spokesperson, the situation at the X junction has stabilized, and IDF continues to maintain vigilance in the area to prevent further attacks.
The post IDF Foils Stabbing Attack Near Nablus in West Bank, Eliminates Terrorist first appeared on Algemeiner.com.