At a Republican Jewish gathering, Trump's first term inspires pride. The idea of a second spurs anxiety.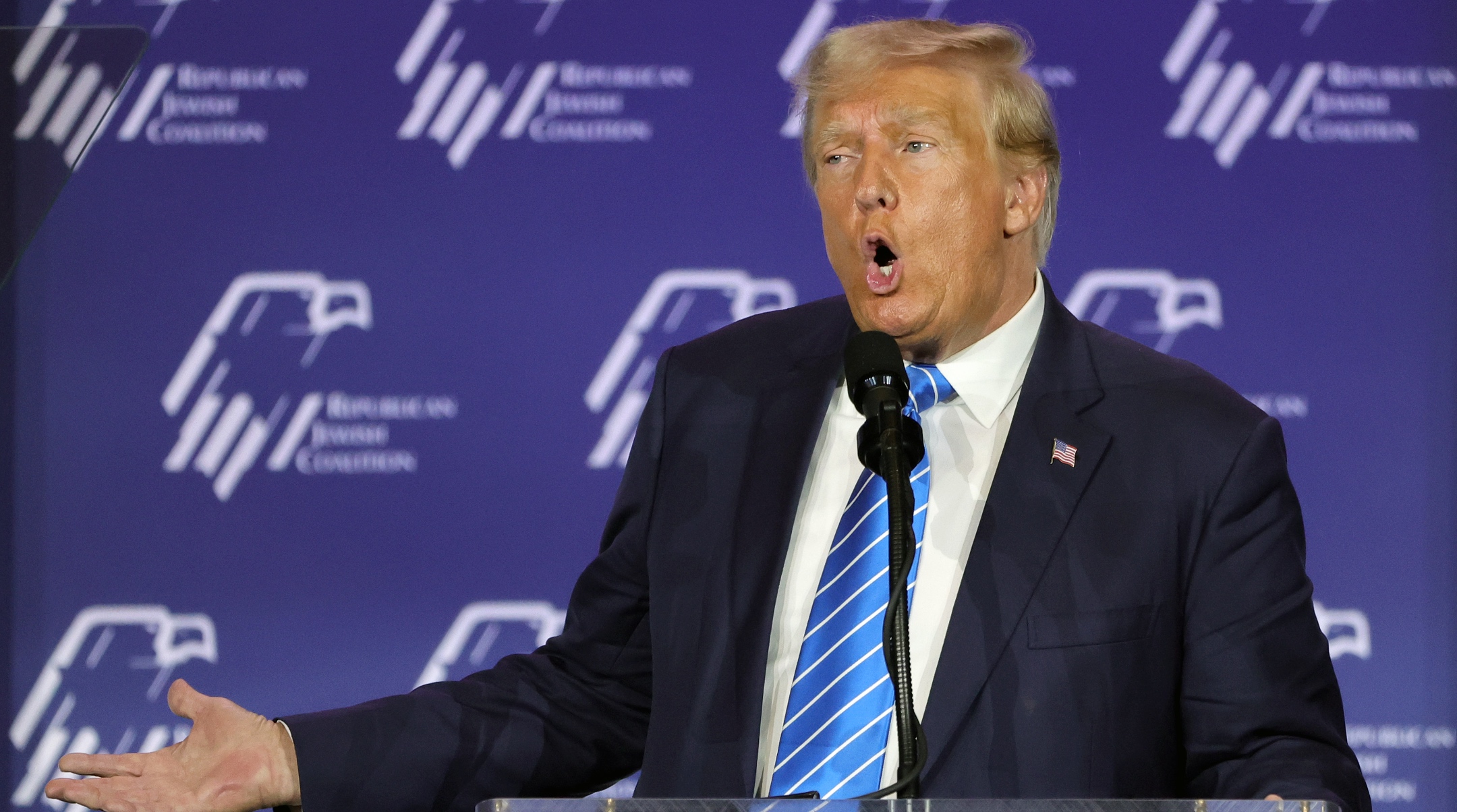 LAS VEGAS (JTA) — Throughout the annual conference of the Republican Jewish Coalition, it seemed like attendees and speakers talked about two Donald Trumps.
One was the past president who delivered the crowd's wishlist — moving the U.S. embassy from Tel Aviv to Jerusalem, brokering normalization deals between Israel and four Arab countries, pulling out of the Iran nuclear deal and more. The other was the Donald Trump of today, running for president with a vision of an insular, isolationist United States.
That split was at the core of the insecurity occupying American Jewish Republicans: With the rise in the party of an isolationist right, spurred in part by Trump's "America First" rhetoric, how secure is the U.S.-Israel relationship? And how committed to the relationship is the former president?
"Corners of the party have turned into isolationist navel gazing Charles Lindbergh-esque pockets of stupidity, and they're not committed to America's robust role in the world anymore," said attendee Jonathan Greenberg, a Reform rabbi and conservative activist who is an advisor to a private charitable foundation, referring to the aviator who sympathized with the Nazis. "And I don't think they understand what the ramifications of that are."
The RJC conference, which meets annually at the Venetian, acts as a forum for Republican presidential candidates. The hotel and casino was owned by the late Republican megadonor Sheldon Adelson. His widow, Miriam Adelson, has said she will remain neutral in the 2024 presidential primary.
Trump got the biggest ovation of all eight candidates attending the event, earning applause for a speech laden with boasts that he would have prevented the war in Ukraine and Hamas' Oct. 7 attack on Israel. He also repeated his falsehoods about winning the 2020 election.
"Think of it, you wouldn't have Ukraine, you wouldn't have Israel being attacked," he said. "I will defend our friend and ally the State of Israel like nobody has ever defended. I will rescue the economy. I will restore America's borders, which are a disaster. I will stand up for American sovereignty and I will save American freedom starting on November 5, 2024."
The audience whooped with delight, a reflection of Trump's wide lead in the polls and the very likely possibility that he will be the nominee.
But just before he spoke, one of his rivals, Nikki Haley, also earned applause when she articulated a concern that has preoccupied many in the Jewish Republican establishment.
"We all know what Trump did in the past," Haley said. "The question is, what will he do in the future?"
Insiders say that GOP Jewish donors fear that Trump is now alienated from many of the Jewish and pro-Israel advisers who shaped his first term foreign policy such as his son-in-law, Jared Kushner. They have been replaced by isolationists who have flirted with antisemitism, such as Trump's former national security adviser, Michael Flynn.
Trump has indicated that if he is reelected he would pull the United States out of the NATO alliance and that he would broker a deal between Russia and Ukraine that would be favorable to Russia. In his final days in office, he sought to pull U.S. troops out of global conflict hot spots.
Trump has made no secret of his frustration with American Jews who continue to vote overwhelmingly for Democrats. One year ago, he wrote on his social network, "Jews have to get their act together and appreciate what they have in Israel – Before it is too late!" And private conversations about Trump during the RJC confab inevitably ended up at his dinner a year ago with two notorious antisemites, the rapper formerly known as Kanye West and the Holocaust denier Nick Fuentes.
Chris Christie, the former New Jersey governor who is also a contender and who addressed the RJC conference, told CNN on Sunday that Trump's penchant for retribution presaged an uncomfortable second term for Israel and its supporters.
"What a second Trump presidency looks like will be much, much different," Christie said, noting Trump's repeated attacks on Israeli Prime Minister Benjamin Netanyahu, in part because Netanyahu recognized Joe Biden's victory in the 2020 presidential election. "F— him," Trump once reportedly said of the prime minister.
"He will take vengeance against anyone who he thinks has done him wrong," Christie said on CNN.  "And it's clear he thinks Benjamin Netanyahu has done him wrong and certain elements that support Israel have done him wrong politically.."
Hamas' attack on Israel, and Israel's ensuing war on the terror group in Gaza, was a focus of the conference. A featured speaker was Eli Be'er, president of United Hatzalah, volunteer first responder corps, who wept as he read a traditional Jewish prayer for healing. A table was left with settings intact and empty chairs to honor the hundreds of hostages Hamas took in the invasion, which killed 1,400 Israelis and wounded thousands.
In a searing address the same day, Mike Pence, Trump's vice president, shocked the room by announcing his decision to drop out of the presidential race. Pence made clear he believed his former boss's increasingly isolationist posture was ill-equipped to meet the current crisis.
"I don't have to tell people that there are powerful voices within and outside our party that say we have to choose between supporting our allies and solving problems here at home," said Pence, who never named Trump. "We have done both, we must do both and we will do both for the sake of America, Israel and the world."
Trump's volatility poses specific threats to Israel, said Haley, the single candidate among the seven Trump rivals who directly named the former president and repeatedly attacked him.
"As president, I will not compliment Hezbollah," she said, referring to a recent speech by Trump in which he bashed Netanyahu and called the Lebanese terrorist organization "smart." "Nor will I criticize Israel's prime minister in the middle of tragedy and war. We have no time for personal vendettas."
The deep foreign policy divisions in the Republican Party were on constant display throughout the weekend. Vivek Ramaswamy, the businessman who has explicitly called for cutting foreign aid to Israel, pitched his approach as pro-Israel.
"I am not running for president of Israel, I'm running for president of the United States," he said. U.S. assistance to Israel meant that the United States had a say in how Israel waged its wars, Ramaswamy said, adding that the aid was holding Israel back. He pledged that he would continue to back Israel in diplomatic arenas.
"So what does that mean for U.S. involvement now?" he said. Using Israel's missile defense system as a metaphor, he added, "It means we support Israel to the fullest with a diplomatic Iron Dome that allows Israel to fully defend its national existence without anybody else, not the U.S., not the U.N., not Europe, not anybody standing in Israel's way."
Pence, Haley, Christie, and South Carolina Sens. Tim Scott and Lindsey Graham pleaded with the RJC to lead the pushback against those views. (Graham, a longtime ally of the RJC, was a keynote speaker and, unlike the others, is not running for president.)
"If America does not change the way we look at the world, the world will get worse," Graham said, describing the devastation he saw during a recent visit to Israel. "Isolationism and appeasement led us to this day."
The Democratic National Committee, which held a call with reporters ahead of the RJC conference, said it was ready to push foreign policy to the forefront of the debate when it battled Republicans for the Jewish vote — a shift from a Democratic strategy of emphasizing domestic policy in past Jewish campaigns.
"Joe Biden flew into a war zone to stand with Israel at its moment of greatest need," said Massachusetts Jewish Democratic Rep. Jake Auchincloss. Referring to an article in the Atlantic, he said, "Contrast that with Donald Trump, who refused to even visit a cemetery of American war dead including Jewish war dead in Normandy because it made him uncomfortable."
Despite the warnings and criticism, the crowd at the conference seemed to love Trump. The former president enraptured the audience with a speech long on extravagant claims and short on facts. Trump saluted his backers in the audience, including lawmakers, donors and a star of the History Channel reality show "Pawn Stars." He called Miriam Adelson "a fantastic woman."
Trump boasted of his accomplishments, pulling numbers and historical dates out of thin air.
"We kept paying them $742 million a year," he said of U.S. funding to the Palestinian Authority, which he cut. (It was about $564 million.) He said the new Jerusalem embassy cost $500,000, after he told his advisers not to be so cheap. (It cost an estimated $21 million. Previously, he has said he told his advisers to double the amount from $200,000 to $400,000). He said he ended 72 years of pleas to recognize Israel's claim to the Golan Heights. (Israel has held the Golan for 56 years, since it captured the territory from Syria in the 1967 SIx Day War.)
He praised Hungarian strongman Viktor Orban for praising him. "Viktor Orban said the other day, the only way that this world is going to be solved is a very strong man," Trump said. He also claimed that if he had stayed in office, within three months, he would have persuaded the whole Middle East to establish diplomatic relations with Israel.
And Republican leaders remained reluctant to criticize Trump for his recent comments about Hezbollah and Israel. Florida Sen. Rick Scott, in a brief interview, declined to comment on Trump's attacks on Netanyahu. "I have a very good working relationship with Prime Minister Netanyahu," Scott said. "I'm just going to talk about my relationship."
Matt Brooks, the RJC CEO, and Ari Fleischer, a former spokesperson for President George Bush who is an RJC board member, said Trump's record was more important than his ballistic rhetorical tendencies.
"He's saying that Hezbollah, he's not saying he supports them, he's not saying he endorses them, he's saying that they're strategic and focused in how they act," Brooks said in a briefing with reporters after Trump spoke. "That doesn't change all that he has said previously and currently, and all that he has done. His record is unblemished on this."
Fleischer said, "He shouldn't have said it." He added, "But his record is so strong and so good. He still has a deep pool of goodwill, because he earned it — as you saw in this room."
The candidate earning the biggest boos, by contrast, was Christie, who has shaped his campaign around attacking Trump. Ronna McDaniel, the GOP chairwoman, opened the proceedings with a plea to end Republicans' internecine fighting, which also played out in a lengthy, bruising and unprecedented fight in Congress over who would be speaker of the House.
"We cannot fight each other," she said to applause. "Please resolve to unite around our eventual nominee."
That appeal had resonance, even to people attending who admired Trump's most serious rival, Florida Gov. Ron DeSantis. Sharon Kattan, a New York City real estate agent, said she backed DeSantis for taking on allegations of campus antisemitism, and for how he ended COVID-19 restrictions. But she was ready to vote for Trump given his commanding lead in the polls.
"I know Trump will get it done," she said. "But there's a lot of divisiveness that comes along, he creates a lot of anger. And you just want a more peaceful situation in the country."
Rep. Mike Johnson, the Louisiana Republican just elected speaker of the House, made his first public appearance in that role. He and Majority Leader Steve Scalise, also of Louisiana, said the days of Republican infighting were over. Scalise had also run for speaker.
Johnson described one of his first calls as speaker, with Netanyahu. "I assured the prime minister of our unwavering unwavering support of Israel and her people and I assured him that our Congress and under my leadership, we will be there until the end," he said.
Almost every speaker at the conference brought up the first congressional vote of Johnson's tenure, a resolution condemning Hamas and supporting Israel that was passed overwhelmingly, 412-10, with six voting present. Johnson said a small number of progressive Democrats' votes against the resolution "underscored an alarming trend of antisemitism."
He also quoted favorably G.K. Chesterton, the writer who said Hitler's philosphy "is almost entirely of Jewish origin."
"He observed that America is the only nation of the world that was founded upon a creed, and he said it was listed with almost theological lucidity," Johnson said of Chesterton.
The tensions between some Jewish Republicans and people with deeply Christian outlooks such as Johnson — who has said in the past that homosexuality is "inherently unnatural" — became evident after Johnson left the stage and the comedian Modi closed the weekend.
Modi launched into a series of jokes about the differences between Gen Z and millennials by mentioning his husband, Leo, who is younger than him.
"It's okay," Modi said. "Mike Johnson isn't here anymore. We can talk about it."
There was nervous laughter.
—
The post At a Republican Jewish gathering, Trump's first term inspires pride. The idea of a second spurs anxiety. appeared first on Jewish Telegraphic Agency.
Julie Platt, chair of Jewish federations group, is helming Penn's board amid leadership transition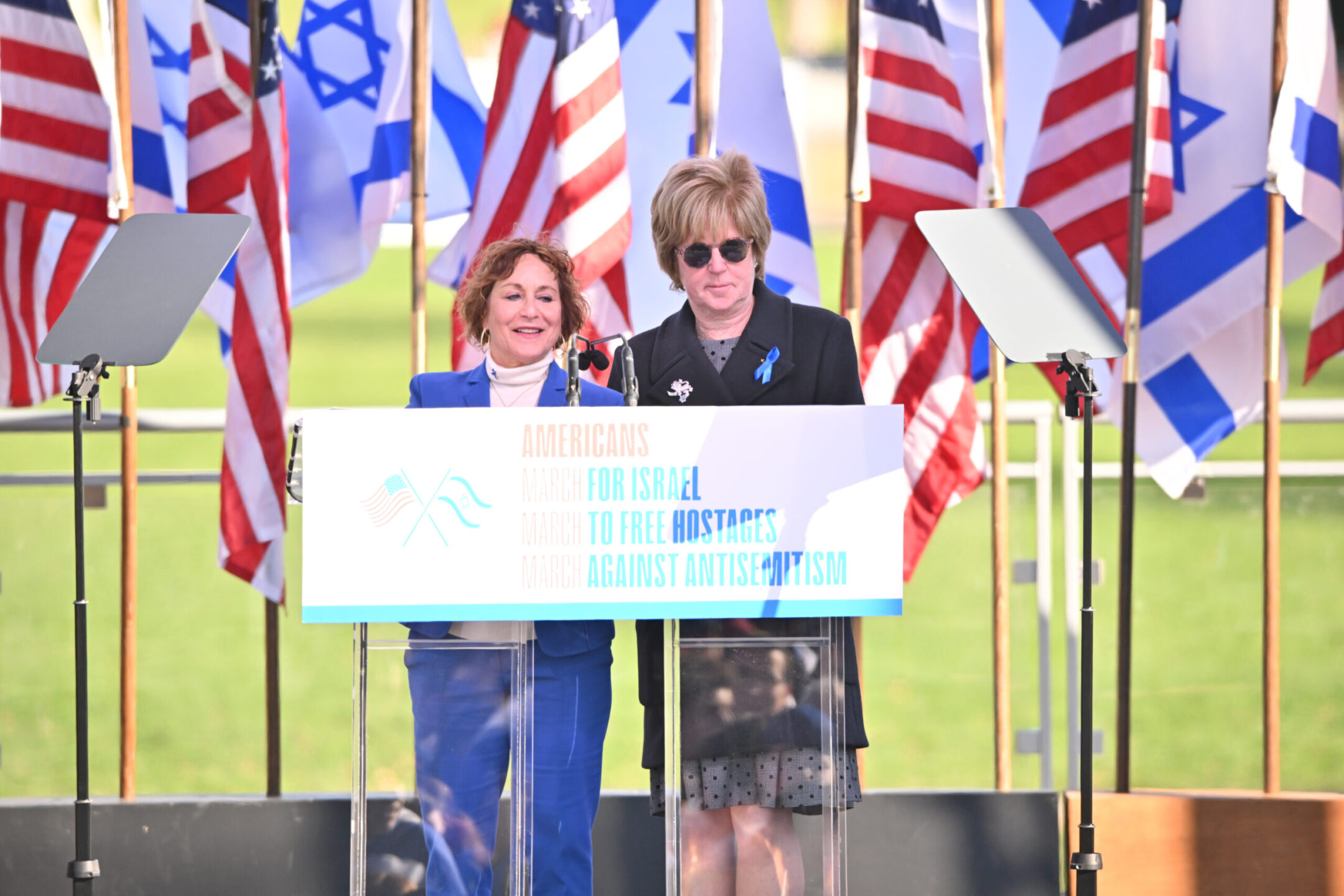 (JTA) — To steer the university through an unexpected leadership change induced by debate over antisemitism, the board of the University of Pennsylvania turned to their vice chair — who is also one of the most prominent Jewish communal leaders in the country.
Julie Beren Platt, a 1979 Penn graduate, has been on the Penn board of trustees since 2006 and recently started her second stint as vice chair, making her a natural fit to step up when chair Scott Bok resigned from the management body on Saturday, following the resignation of the university's president, Liz Magill.
Platt is also the chair of Jewish Federations of North America, the umbrella of 146 local Jewish communal bodies that has collected more than $700 million — and allocated more than $240 — to drive the American Jewish philanthropic response to the Oct. 7 attack on Israel. Platt cited that commitment in emphasizing that her leadership of Penn's board would last for a short period: She said she will step down in January when a permanent chair is selected.
Platt's dual roles mean that she has been on the front lines in two of the most prominent organizations reshaped by the Oct. 7 attack and its aftermath. It also suggests, as she acknowledged in a statement, that even the presence of a seasoned Jewish leader in a senior university board position is not sufficient to address antisemitism on college campuses right now.
"I have worked hard from the inside to address the rising issues of antisemitism on campus. Unfortunately, we have not made all the progress that we should have and intend to accomplish," Platt said in a statement issued by JFNA, adding, "I will continue as a board member of the university to use my knowledge and experience of Jewish life in North America and at Penn to accelerate this critical work."
A JFNA spokesperson declined to elaborate on how she will balance the two roles.
Platt, 66, is the daughter of Robert Beren, the Kansas City oil magnate and Jewish philanthropist who died in August at 97. She is also the mother of five children — four of them Penn graduates — including the Broadway actor Ben Platt and Jonah Platt, a musician who also sits on the board of 70 Faces Media, the Jewish Telegraphic Agency's parent company.
Previously the chair of the Los Angeles federation and the Foundation for Jewish Camp, Platt also chairs a foundation named for her and her husband, Hollywood producer Marc Platt, and has been involved in an array of Jewish educational initiatives.
She became the second woman to helm JFNA's board last year, assuming leadership of the fundraising organization at a crucial time. The organization has distributed hundreds of millions to groups providing emergency aid in Israel since Oct. 7. The group has also supported local Jewish communities in the United States in strengthening their own response to antisemitism through an initiative, LiveSecure, created in 2021, that Platt was instrumental in launching.
"We are leading the largest mobilization in our history in support of Israel's right to protect its citizens and against the rise of antisemitism in North America, including staging the largest Jewish rally in American history on the National Mall," Platt said in her statement. "We will continue this fight with all our energy."
Penn was already grappling with a crisis related to antisemitism in the weeks prior to Oct. 7, as a festival featuring Palestinian writers drew criticism. Platt and Bok had issued a statement of confidence in Liz Magill, Penn's president, in the wake of that crisis and in the immediate aftermath of Oct. 7, even as some criticized the school's initially response as tepid.
But last week, Magill was one of three college presidents who declined during a congressional hearing to say that the genocide of Jews would violate their schools' codes of conduct. Her testimony drew criticism from Pennsylvania's Jewish governor, Josh Shapiro, and even the White House.
Platt said in a statement that she believed Magill had fallen short in the hearing. "In my view, given the opportunity to choose between right and wrong, the three university presidents testifying in the United States House of Representatives failed," she said. "The leadership change at the university was therefore necessary and appropriate."
—
The post Julie Platt, chair of Jewish federations group, is helming Penn's board amid leadership transition appeared first on Jewish Telegraphic Agency.
Thousands of Jews and non-Jews rally against antisemitism in Berlin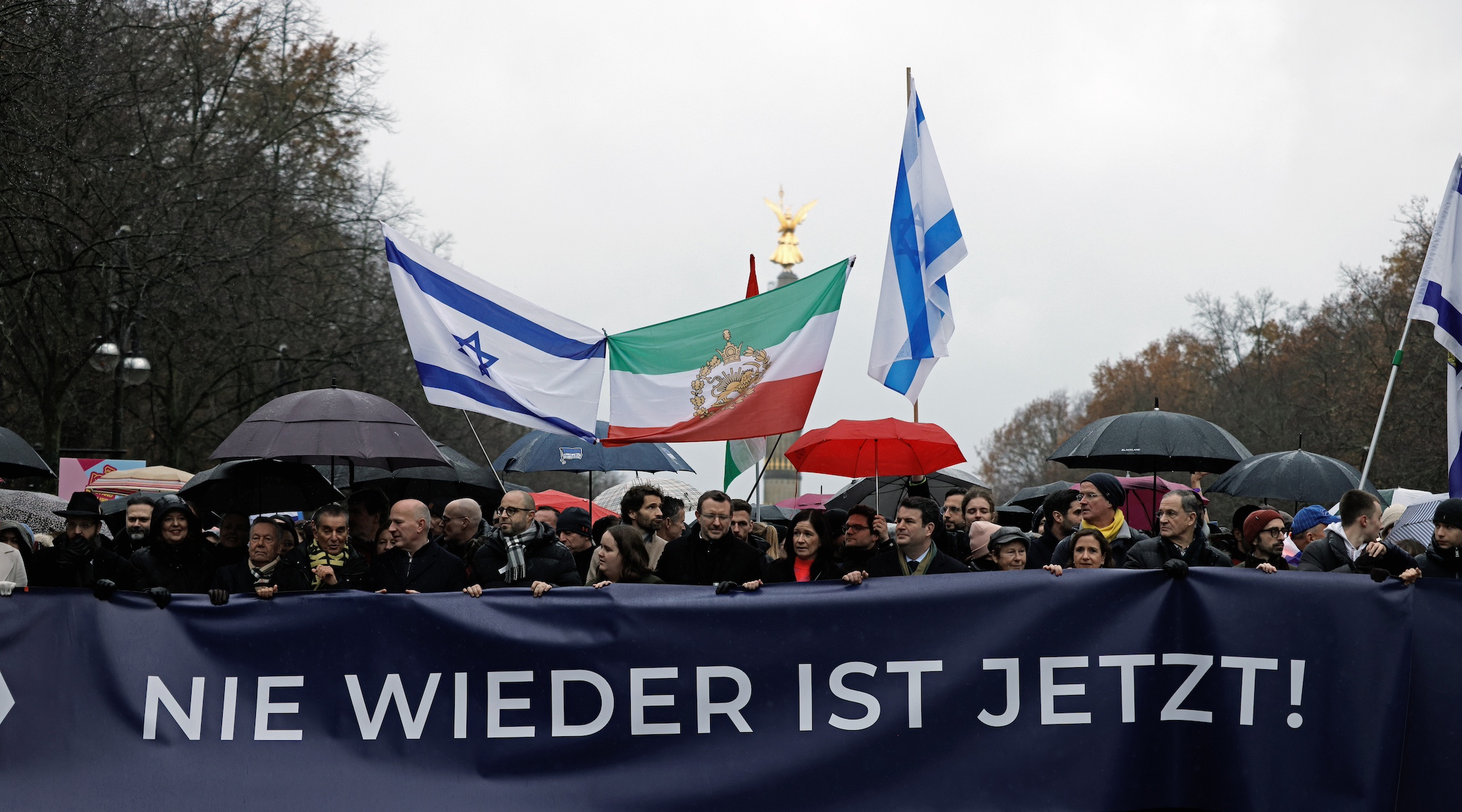 BERLIN (JTA) – Several thousand Berliners braved a chilling rain Sunday to demonstrate against antisemitism at an interfaith rally at the city's iconic Brandenburg Gate.
The event — which drew a broad coalition of politicians and religious leaders as well as popular stars — was a response to a record increase in reported antisemitic incidents across Germany in the month after Hamas attacked Israel on Oct. 7.
Dubbed "Never again is now — Germany stands up," the rally was organized by a Jewish real estate magnate, Nicolai Schwarzer.
In announcing the event, Schwarzer, 48, said he wanted "to send a powerful and unmistakable signal to the world — from the heart of the capital — that no form of antisemitism, hatred or xenophobia will be tolerated in Berlin or anywhere else in Germany."
The rally joins several others organized in major cities in Europe and the United States to demonstrate opposition to antisemitism. They have been organized in part as a counterpoint to the large pro-Palestinian rallies that have taken place in many of those cities. Such rallies have been relatively muted and heavily monitored by police in Germany, where antisemitic speech and criticism of Israel are circumscribed by laws enacted in part because of the country's role in perpetrating the Holocaust. Still, pro-Palestinian sentiment, including among Germany's large immigrant population, is high.
"Sometimes I don't recognize this country, something has gone out of control," Josef Schuster, head of the Central Council of Jews in Germany, said at the rally.
He described a pro-Hamas protest that took place at Berlin's University of the Arts on Nov. 13, where he said participants "dressed in black to look like Hamas terrorists. They had painted their hands red — a clear reference to the murder of two Israeli soldiers by an Islamist mob in Gaza more than 20 years ago. The whole thing was orchestrated by visiting professors from the global south – how can that be?" Schuster said the incident was proof of the danger of the movement to boycott Israel, which has been considered officially antisemitic in Germany since 2018.
Bärbel Bas, the president of Germany's parliament, read through a litany of antisemitic incidents: "Swastikas and Stars of David have been daubed on synagogues, memorials and even private homes." In one notable incident on Oct. 18, two Molotov cocktails were thrown at a Jewish community center that houses a synagogue as well as a kindergarten.
Bas described hearing from a student who was the only child to attend class at her Jewish school on a day when fear reigned about a Hamas call for violence abroad.
"Jews are afraid, and they feel left alone. And it's not only hate that creates this feeling, but also silence and indifference," she said. "And that's why it's important that we make a powerful, wipeable and loud statement here today. Never again is now."
Other speakers included Israel's ambassador to Germany, Ron Prosor; Berlin's mayor, Kai Wegner; author Michel Friedman; 1990s pop music icon Herbert Grönemeyer; and Hubertus Heil, Germany's minister of labor and social affairs.
The rally began with the lighting of a Hanukkah menorah by Rabbi Yehudah Teichtal, the head of Berlin's chapter of the Chabad-Lubavitch movement. Representatives of Catholic and Protestant churches lit advent candles.
Eren Güvercin, a member of the German Islam Conference — which the German government started as a forum for dialogue in 2006 — delivered a prayer of his own, for "peace for the souls" of the Israelis murdered on Oct. 7 and for the hostages and their families, "who fear for their loved ones."
"And we pray for peace for the people who are now suffering the consequences of this terrorist organization's crimes in Gaza," he added. "Nothing we say here today will solve the Middle East conflict. But we raise our voices to remind everyone who lives together here in this city, in this country: Faith is a source from which we draw to create peace. Faith must not divide us. It must unite us."
Organizers claimed 11,000 people had taken part in the rally, though police estimated the attendance at 3,000. Those gathered were praised by many speakers for braving the weather to show their support. They included members of Berlin's Jewish community, estimated at over 30,000, as well as non-Jewish allies.
"This is the third time we have been here in front of the Brandenburg Gate since Oct. 7," said Berliner Melanie Schmergal, 55. "It upsets me that you don't see any big demonstrations for Israel's right to exist and against antisemitism. You see other people screaming quite a bit. [But] I believe… that the others are not in the majority."
"It is important to take a stand against any kind of extremism," said Christian Götz, 60. "And that Israel has a right to defend itself, and that we as a population have to show, especially here in Berlin, that we are on Israel's side."
The pair, who are not Jewish, said they had met the descendants of Jews who used to live in their building in Berlin, and who were either deported or managed to flee Nazi Germany.
"It's so incredible that something like this seems possible again," Schmergal said.
***
On Dec. 8, the Bergen-Belsen Memorial in Lower Saxony hosted a public panel discussion marking 75 years since the Universal Declaration of Human Rights, specifically addressing the issue of antisemitism after the Hamas terrorist attack.
Next week, the Berlin-based Tikvah Institute is co-hosting the presentation of a study on how Russian-speaking Jews in Germany perceive antisemitism after Oct. 7. About 90% of all Jews in Germany today are migrants from the former Soviet Union.
And though not in Germany, the annual Claims Conference International Holocaust Survivors Night on Dec. 11 — a star-studded event whose virtual guests of honor will include German Chancellor Olaf Scholz — "takes on unique significance," said the organization's president, Gideon Taylor: "We are reminded that some of the strongest among us survived during the darkest of times."
Despite the alarming statistics in Germany and elsewhere, Jews are in a better position today in terms of world support than they were in the 1930s-40s, said New Yorker Menachem Rosensaft, who was born at the displaced persons camp at Bergen-Belsen and participated in the recent round table at the memorial.
"President Biden, for one, is the polar opposite of FDR in his unequivocal support for Israel after Oct. 7 and his equally unequivocal repudiation and condemnation of all manifestations of antisemitism," said Rosensaft, who is also the chair of the Advisory Board of the Lower Saxony Memorials Foundation.
—
The post Thousands of Jews and non-Jews rally against antisemitism in Berlin appeared first on Jewish Telegraphic Agency.
Jews don't count, but do we want to? Phoebe Maltz Bovy on why the Ivy League antisemitism hearings (sort of) matter