Celebrity Israeli chef Eyal Shani opens his first kosher restaurant in NYC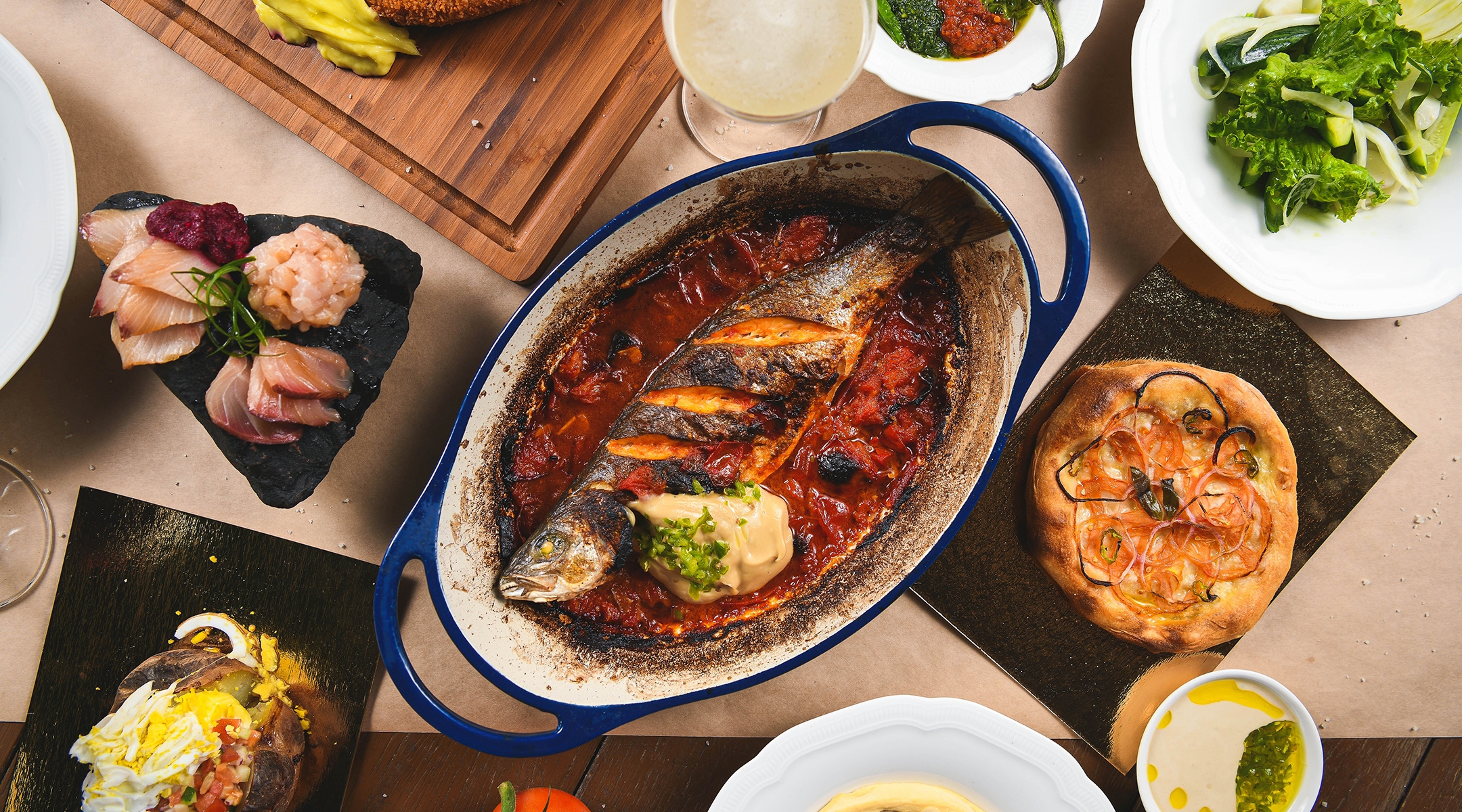 (New York Jewish Week) — Celebrity Israeli Chef Eyal Shani arrived in New York City early on Monday morning, two days before the launch of Malka — his 41st restaurant and his first certified kosher eatery outside of Israel. 
For several weeks, he had deliberated as to whether he should fly in for the grand opening on Wednesday night. "It is the first time in my life that I don't have the will to travel, to get out of Israel, because of the situation in Israel now," Shani told the New York Jewish Week.  
Shani has been working almost nonstop since the war in Israel began on Oct. 7. He immediately closed all 12 of his restaurants in Tel Aviv and converted their kitchens into what he calls "food factories," where volunteers cooked 4,000 meals each day which were then delivered to the soldiers on the front line. Even children were involved: some came to restaurants and painted pictures that were included in the packages for the soldiers.
But last week, Shani shut down the food factories and re-opened several of his Tel Aviv restaurants. "We understood that we need a place for our clients to be in, to talk, to argue with each other," Shani said. "We have to bring back our workers. That is the reason why we opened in Israel."
It's been an incredibly busy time for the high-profile chef. In addition to his activism, the day-to-day pressures of running a global restaurant empire and the incomprehensible stress of living through a brutal war, Shani has been busy earning accolades: Last week, Shani won his first-ever Michelin star for Shmoné, his seasonally-focused restaurant on West 8th Street in Greenwich Village. 
"When I heard we won the Michelin star, I was happy, but not so much, because there is no place for happiness now," said Shani, who added that he was "cooking for soldiers" when the star was awarded. "But when I saw my partners, my chefs, climb to the stage to get the star, and I saw the flag of Israel on their jacket, I began to cry. That was my happiness. And that is my happiness to open a kosher restaurant, too."
Shani's goal with the New York outpost of Malka, which opens to the public on Sunday and is located at 161 West 72nd Street on the heavily Jewish Upper West Side, is to create a kosher restaurant that does not feel like most kosher restaurants. Case in point: At the moment, Shani is hard at work creating a signature dish for the restaurant, a Jewish-inflected ramen soup made with chicken. 
"Chicken soup is the best soup in the world," he said, echoing the sentiment of Jewish grandmothers everywhere. "I am going to develop an amazing ramen based on the chicken stock. I hope I will succeed in making the best ramen in New York."
Shani himself does not keep kosher, but five years ago he opened Malka in Tel Aviv — which, at the time, was the only kosher restaurant in his portfolio. He did so, he said, because he saw that kosher consumers were "craving" his food but they couldn't eat it because it was not kosher.
"These people are part of my nation," Shani said. "Part of my people. How can I make food without letting half of my people eat it? That is the main reason I opened Malka."
These days, in addition to the forthcoming Malka in Manhattan, Shani operates two kosher certified restaurants in Israel. In Paris, three locations of his fast-casual pita chain Miznon use all-kosher ingredients but they are not certified kosher. 
In addition to ramen, New York Malka will have the thinly-pounded schnitzel stuffed with mashed potatoes that is a signature dish in his Tel Aviv Malka, as well as his popular beetroot carpaccio and Jerusalem mezze platter, featuring falafel and hummus made from Mexican chickpeas. Shani hopes that Malka's seasonal menu showcasing the flavors of Israeli cuisine will be a draw for Jews and non-Jews alike.
"I had a dream one night that the food would be so good that even non-kosher people would go to the restaurant," said Shani, "and kosher people would come to eat and at the end of the night they would dance together in the bar."
Adeena Sussman, cookbook author and a keen observer of modern Israeli cuisine, agrees that Shani's food is different from the food you would find at other kosher establishments.
"Eyal Shani restaurants are not meat-centric," Sussman said. "It is interesting for the kosher crowd because kosher diners have typically been known to be very carnivorous." 
"Maybe he is helping gently nudge people towards a more plant-celebratory eating experience," she added. 
Shani, who cites his vegan grandfather as a major inspiration, told the New York Jewish Week that while meat and fish are certainly on Malka's menu, more than half of the offerings will be plant-based.
"Olive oil is my main ingredient," he said. "If olive oil disappeared from the world, I would quit and leave the profession. I would not be a chef."  This is especially true at a kosher establishment, where the mixing of milk and meat is prohibited. At his other New York restaurants, including the upscale HaSalon and Shmoné, the chefs use superb olive oils that come from Spain, Italy and Israel. He plans to do so at Malka, too.
The produce will also be premium quality. "All of the vegetables will be from upstate New York or California," he said. But the tomatoes, he added — a central feature of Shani's cuisine — will all be local. "Real tomatoes cannot travel," he said. 
Just as Shani was uncomfortable about leaving Israel during the war, many Jewish restaurant-goers seem to be conflicted about the morality of dining out and having fun while a war rages in Israel. Kosher restaurants in New York are suffering, according to Elan Kornblum, publisher of Great Kosher Restaurants Media Group. But despite consumers' hesitation to enjoy life while the war with Hamas is ongoing, interest in Shani's kosher eatery is high.
Kornblum posted Malka's menu on his organization's Facebook page, and it garnered more than 50,000 views in less than three weeks. The average number of views for his posts are about 5,000, he said. "If something gets 40,000-50,000 views, you know people are excited and are sharing," he said. "It is big news." 
Shani understands the discord that some people feel about returning to life – and to restaurants. But he feels strongly that it is important to do so.
"There is no reason for anything if we are not going to build a normal life, a peaceful life, or if we are not going to try to bring quality and happiness and hope to people," he said.
—
The post Celebrity Israeli chef Eyal Shani opens his first kosher restaurant in NYC appeared first on Jewish Telegraphic Agency.
Before they hit the National Mall, these pro-Israel rally-goers stopped for lox and prayers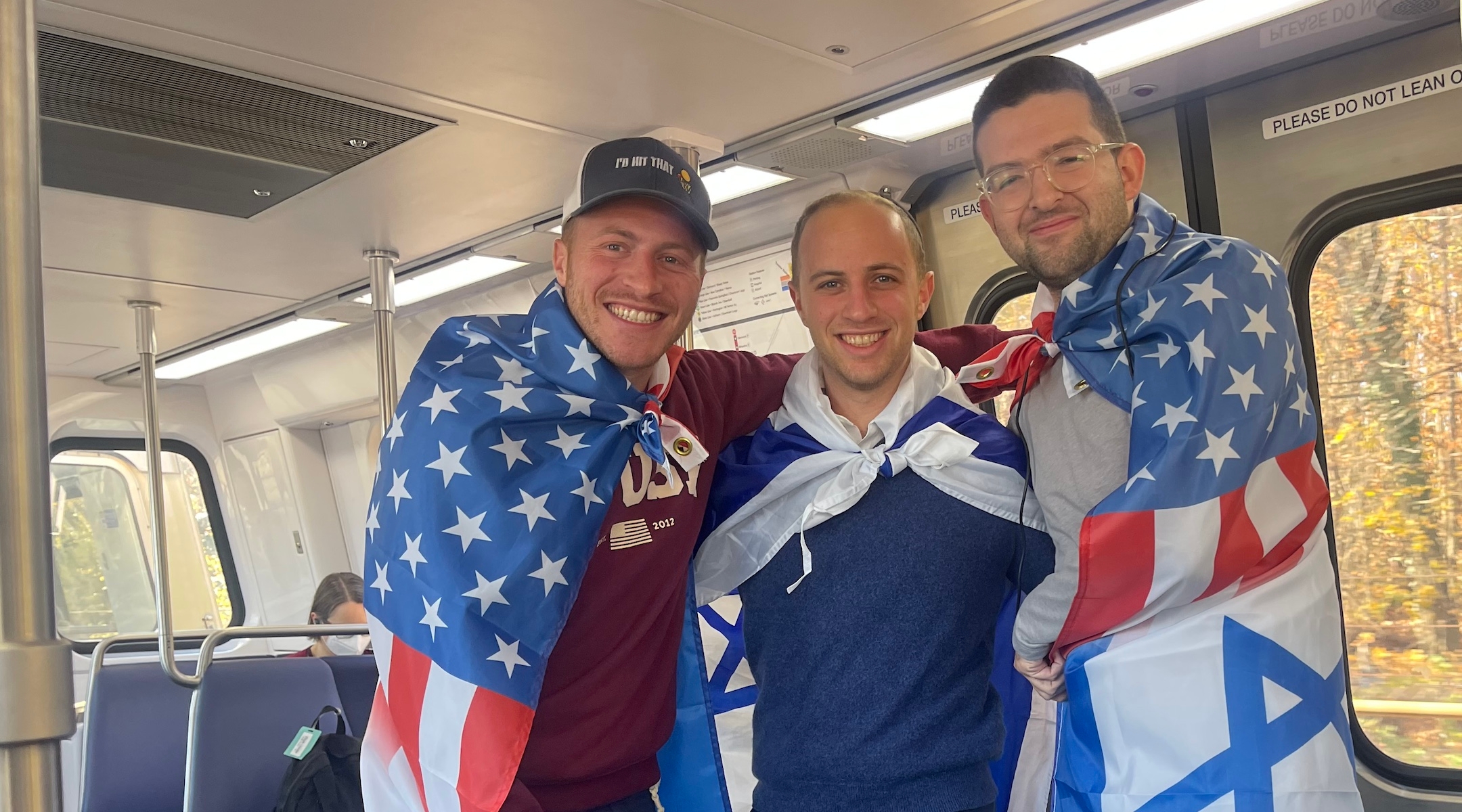 WASHINGTON (JTA) — After 12 hours on the bus, Dan Kenem appreciated the breakfast at Ohev Sholom Congregation.
"The lox really hit the spot," he said, seated at a table in the synagogue's social hall, just minutes after getting off the bus that had started out from Lakefield, a Chicago suburb, the night before.
David Wolkenfeld, the rabbi at this modern Orthodox synagogue in a leafy neighborhood in northwest Washington, D.C., had moved here six months ago from Chicago. So when he heard a week or so ago that there would be a March for Israel on Tuesday in his new hometown, he put out the word in his old hometown: Ohev Sholom would seek overnight accommodations for families coming early and would feed those coming in the morning.
That was the easy part, Wolkenfeld said. "There were a lot of enthusiastic responses" among his new congregation.
Travelers did not seem too put out by the 12-hour journey. "It was lots of fun," said Yona Lunken as he double checked his travel bag for his prayer book, his prayer phylacteries and his prayer shawl. "Today's a good day to pray."
First reports estimated around 100,000 Jews at the National Mall on Tuesday who were gathered to hear from a range of speakers, including survivors of the Oct. 7 Hamas massacres that launched the current Israel-Hamas war; students from U.S. campuses who have experienced a spike in antisemitism; and a bipartisan slate of leading politicians. It is likely the largest Jewish rally in the United States since the Second Intifada in 2002.
"There was a Palestinian march that was fairly large," said Kenem, 58, who works in real estate, referring to a D.C. protest last month. "I hope we're close to it or bigger. It will give people on the fence an idea of what Jews in the U.S. are doing."
Lunken, 62, an educator, said he was not a fan of crowds, but his wife, a dentist, encouraged him to go, if only because she was unable to clear her schedule to go herself.
"We need to show there are lots of us," he said.
Camile Altman flew in from Chicago — the thought of sitting down for 12 hours was too daunting. She wavered at first, but when she learned her mother was coming in from Memphis, that clinched it.
"I felt like I'd been doom scrolling for two hours every day, which is like being around people who want to murder me, and it would good to be with a crowd who accepted me for a few hours," said Altman, a 33-year-old tech product manager, who attended the Ohev Sholom breakfast to meet up with fellow Chicagoans.
That Altman was coming convinced her mother-in-law, Gail Guttman to come in from Bethesda, a Maryland suburb of Washington.
Guttmann, 69, a therapist, said she was wary of crowds, but decided to join hundreds of thousands of people on the mall not just to spend time with her daughter-in-law, but to exercise freedoms she did not have in her youth in Nashville.
"I lived with a lot of antisemitism," she said, referring to practices that kept Jews from joining organizations or living in certain places. "I'm here because I can do something where I couldn't do anything then."
Bruce Gillers flew in from Boston for the protest, but arrived a few days early to hang out with grandchildren. He heard about Ohev Sholom's breakfast and came in time for morning prayers. He had attended mass rallies in Washington for Jewish causes — for Soviet Jewry in 1987 and for Israel during the Second Intifada in 2002 — and he wanted this one to dwarf those.
"This is a challenge to the existence of Israel," said Gillers, 75, an ophthalmologist.
Some organizers said the rally drew 200,000 people, more than the 100,000 in 2002, but short of the 250,000 in 1987.
The Chicago delegation made their way to the Metro, where they joined other people who had traveled into Washington to join the protest.
Asher Blum, Ari Barnett and Moshe Felson, all in their 20s and who know each other from yeshiva studies in Israel, flew from around the country into New York and made a road trip out of it. They stood on the Red Line train and wore capes that depicted the Israeli flag bleeding into the American one.
Barnett had heard about the rally through a group he belongs to, Young Jewish Conservatives, and he was taking his friends to a pre-rally event at the conservative Heritage Institute. Rep. Pat Fallon, a Texas Republican, would be present, Barnett told his friends. "He's base," he said, using a conservative term for "cool."
"We want to show that Israel has America's support," said Felson.
Watching them was a couple that had driven down the night before from Long Island, Ted Sklar and Maddy Meltzer. Sklar held up a poster, "Never again! Am Yisrael Chai" inscribed over an Israeli flag.
Sklar, 67, a retired attorney, said he was attending for his father, who survived the Holocaust in France and who was still alive.
"The world's moral compass is broken," he said, choking back tears. "He's alive, and he has to see this again? I have to do this for him, and for my granddaughter."
—
The post Before they hit the National Mall, these pro-Israel rally-goers stopped for lox and prayers appeared first on Jewish Telegraphic Agency.
Kosovo Soccer Fans Boo as Israel's National Anthem Plays During Match Against Israeli Team
Some soccer fans inside Fadil Vokrri Stadium in Pristina, Kosovo booed and whistled as Israel's national anthem Hatikvah was being played before Israel's national soccer team kicked off its European Championship qualifying match against Kosovo on Sunday.
Videos circulating on social media showed the scene taking place as the Israeli athletes lined up on the field to hear the national anthem. The players also paid tribute to the roughly 240 hostages taken by Hamas terrorists during their Oct. 7 terror attacks in Israel by miming the symbol of half a heart, showing that the heart won't be whole until the hostages return to their families.
The Union of European Football Associations (UEFA) told CNN that "proceedings have been opened for disturbances during the national anthems" and that the "UEFA Control, Ethics, and Disciplinary Body will deal with this case in due course."
Kosovo fans booed while Israel's national anthem was played before the Euro 2024 qualifying match between Kosovo and Israel.pic.twitter.com/bTuI8Jgdo2
— kos_data (@kos_data) November 12, 2023
The Israeli national soccer team lost 1-0 to Kosovo on Sunday in its first game since the start of the Israel-Hamas war. Romania and Switzerland have already qualified for the 2024 European Championship, which will take place in Germany.
Sunday's game was the first of four soccer matches in 10 days that Israel will play to determine whether it qualifies for the first time ever for the European championship. The match was originally scheduled for Oct. 15 but was postponed due to the war. Israel is set to play Switzerland on Wednesday at the Pancho Aréna in Hungary.
"Our country is more important than football," Alon Hazan, coach of the Israeli national soccer team, told reporters after Sunday's match. "We cannot separate the war from us. But we have to play football and we want to represent our country very well."
"The chances [of reaching the European Championship finals] still exist," he added. "We are looking forward to the game against the Swiss; it will be very difficult. And we'll see what is the situation with the condition of the players."
The post Kosovo Soccer Fans Boo as Israel's National Anthem Plays During Match Against Israeli Team first appeared on Algemeiner.com.
Stockholm Film Festival Denies Allegedly Disinviting American-Israeli Filmmaker Because of Gaza War
The Stockholm International Film Festival in Sweden has denied allegations that it disinvited an America-Israeli filmmaker and actress from attending an in-person event taking place this month, saying there had been a "misunderstanding."
Aleeza Chanowitz was invited to attend the event for a special presentation of her television show Chanshi on Thursday at the film festival, which runs from Nov. 8-19.
In the show, Chanowitz stars as a young Jewish Orthodox woman from Brooklyn, named Chanshi, who runs away from her engagement and moves to Israel to find freedom, fun, and live out her sexual fantasy of being with an Israeli soldier. Jewish actor Henry Winkler plays her father. The show screened at the 2023 Sundance Film Festival in January.
Chanowitz and the show's Israeli broadcaster Hot said in statements over the weekend that her invitation to the Stockholm International Film Festival was allegedly withdrawn following the outbreak of the Israel-Hamas war that began on Oct. 7, when Hamas terrorists rampaged across southern Israel murdering over 1,200 people and taking more than 200 as hostages. Chanowitz said that in a series of emails, the film festival's hospitality department listed reasons as to why it was better if she did not come in person, including travel concerns, while the screening of Chanshi would proceed as scheduled.
Organizers of the Stockholm Film Festival explained in a statement on Monday that the confusion about Chanowitz's attendance had nothing to do with "political viewpoints" surrounding the war in Gaza, the Palestinian enclave controlled by Hamas.
"This is not correct at all," organizers said. "From the bottom of our hearts, we at the Stockholm International Film Festival are deeply sorry and take responsibility for the misunderstanding that was communicated to Aleeza Chanowitz and the team behind Chanshi."
"After the October 7th attacks we offered to arrange a digital Q&A instead," they added. "The Stockholm International Film Festival always stands behind its films and filmmakers and would never refuse a participating director's visit, nor cancel the screening of their work for political reasons. We are incredibly sorry about this bad communication that has caused pain for the team, for Israel, and for the wider Jewish community. The screening of Chanshi will go on as planned on November 16th."
Chanowitz told Deadline that she had received a new email from the film festival on Monday in which organizers apologized and reiterated the misunderstanding. They said they would "love" for her to come to the festival in person and offered to cover her accommodation expenses, if she paid for her flight. She told Deadline, "The festival's excuse as to why they don't want me to attend has changed three times, which makes me feel that they aren't being honest with me. I don't think I'll be going because I don't feel very welcome anymore."
The post Stockholm Film Festival Denies Allegedly Disinviting American-Israeli Filmmaker Because of Gaza War first appeared on Algemeiner.com.