Comedians defend Israel the best way they know how: Make 'em laugh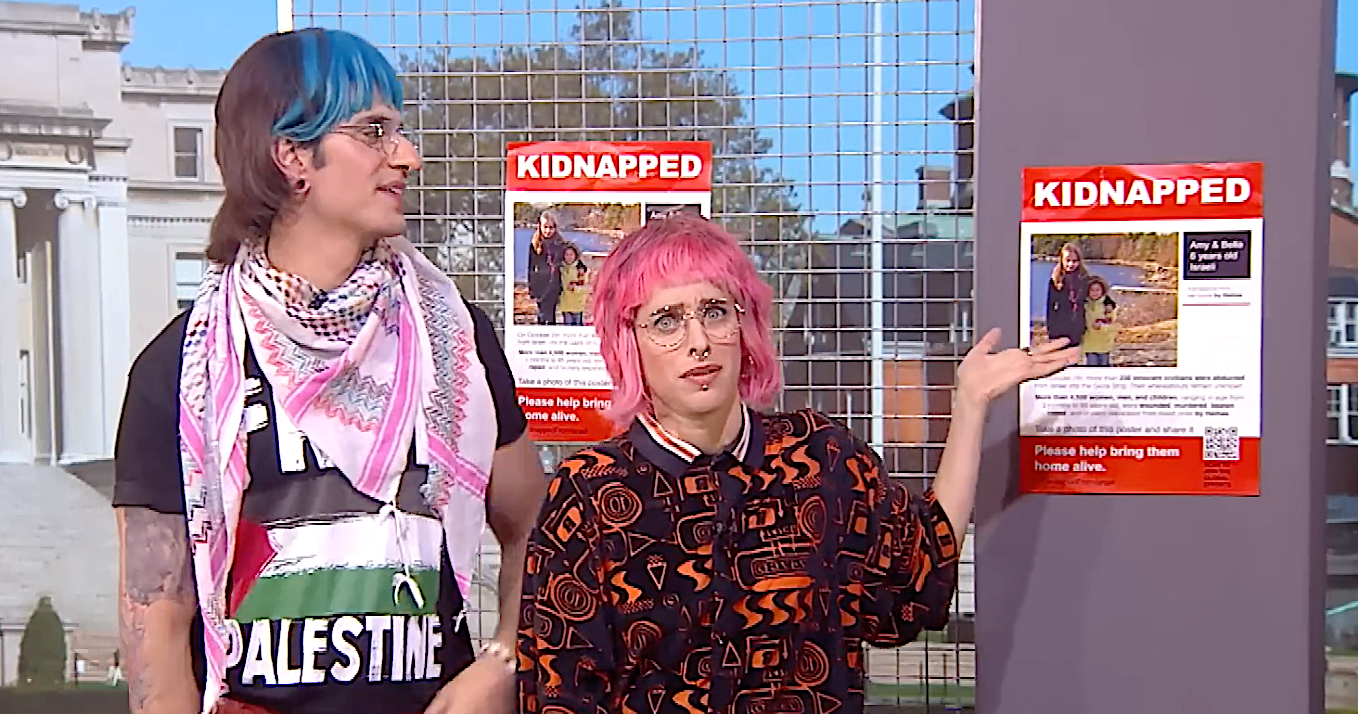 (JTA) — In his viral video on social media after the Hamas attack on Israel, comedian Daniel-Ryan Spaulding riffs on the imagined reactions of an intolerably "woke" activist.
"If there was a Hamas terrorist attack at a queer rave in Brooklyn or Berlin, there'd probably be a purple-haired girl in the center of the massacre watching all her friends being brutally murdered [switches to a high-pitched voice]: 'It's OK, guys, resistance is justified when people are occupied! It's Israel's fault!'"
He continues: "Her best friend's being burned alive and mutilated. [He switches to character's voice] 'It's okay, McKayla, take one for the team!' She'd probably take a knife and start stabbing herself. [He mimics stabbing himself] 'I'm fighting apartheid!'"
Funny? To some. Provocative, certainly. Spaulding's video has been viewed 9 million times.
With the war on Gaza, hostages still in captivity, antisemitism raging around the world and on U.S. college campuses, there doesn't seem much to laugh about. But many people like Spaulding are using humor to push back against what they see as a propaganda war against Israel and Jews.
After the attack, "I saw friends of mine posting 'Palestinians have the right to defend themselves,'" said Spaulding, 38, a Canadian who is not Jewish but had just performed in Tel Aviv. He thought his friends didn't understand what really happened on Oct. 7.
"I had been visiting Israel for so long I forgot how antisemitic people were and how much they hated Israel," he said. He wanted to say something, and finally posted his first comedic video defending Jews and Israel.
"Comedians are social critics: We have the ability through humor to expose hypocrisy, to make people think about things in a certain way," he said. "Doing the right thing doesn't come at the right time. You have to be brave, there might be a risk and consequences."
Some comedians already in the Jewish space are devoting content to current affairs. On social media, Alex Edelman, star of Broadway's "Just For Us," spoofed Hamas' call for a global Day of Rage: "Yesterday was the day of resistance, today is the day of rage, tomorrow you rest, because you're tired from all the rage, and then Sunday's pizza, and then Monday you're back to rage! And Tuesday's obviously tacos."
@alexedelman♬ original sound – Alex Edelman
He followed that video with one advising Jews to pick a "gentile" name for when things get really bad, by combining the name of a president and a small city. (Edelman's gentile name is Thomas Albany III, "but my friends call me Tug," he jokes.)
Jews use humor in times of trouble in a lot of different ways, said Jeremy Dauber, professor of Yiddish, literature and culture at Columbia University and the author of "Jewish Comedy: A Serious History." "There are theories that humor helps to provide a sense of resilience — to help endure and psychologically manage stressful situations," he said.
Joking about a situation might provide audiences some comfort, or a sense of control over something "that they know is all too well beyond their power to control," Dauber said, noting that comedy also may be used to cut opponents down to size.
That seems to be the purpose of many humorous viral TikToks by Israelis. In Israel, it seems like every soldier, comedian, actress or cute kid is making reels to amuse, inspire or distract Israelis.
"Pardon my French, but listen to me good: the minute you crawl out of your hiding place I will break your unibrow. You are ruining my quality of life, I won't put up with this anymore!" says Moshe Korsia, an Israeli singer now serving in the reserves, in a Hebrew reel directed at Hamas. In the video, he wears his uniform and makes coffee, his signature move.
Korsia posts multiple videos a day. He has 200,000 followers on TikTok and 250,000 on Instagram, and his videos regularly get over 100,000 views.
@moshekorsiaתתפללו לרפואתה ♬ צליל מקורי – Moshe Korsia
Israeli comedian Adir Miller even joked about soldiers acting out on social media, during a recent performance for troops in the field. "I have a little problem with the soldiers on the internet," said Miller. "Politicians tell the soldiers, 'You guys are lions, leopards, foxes,' but I go on TikTok and I see all the soldiers [imitates a soldier singing and dancing to a trivial Israeli pop song]. What is up with this? Stop it! Do you see Hamas doing this?"
Actress Meital Avni (4.1 million views on TikTok) has lately used her platform to call out what she sees as hypocrisy on the part of the media and Israel's critics. She too mocked the BBC, which apologized Wednesday for reporting that the Israeli military was targeting medical teams and at Gaza's Al-Shifa Hospital."Oops, you did it again," she sang, quoting a Britney Spears song. "You gave a fake report/it was a mistake…"
Humor as a response to the trauma of Oct. 7 and the war that has followed is not for everyone, though. "I've always relied on humor to overcome hardship, even to gain strength from it," said Hadas Bueno, a therapist who helps children in Israel process their emotions. "After such a horrendous disaster I didn't think it would be possible to consider using humor."
But she changed her mind when she saw a comedy sketch on Israel's popular satire show "Eretz Nehederet" ("It's a Wonderful Life"). In it, a character based on Rachel Edri, the real-life woman who offered cookies to the Hamas terrorists who broke into her home in Ofakim, is now leading Israel's military.
"As Jews, we know how to use sarcastic and commendable humor better than anyone else because history has taught us that we must learn to laugh even when it's tough to continue, survive, and be strong," said Bueno.
"Eretz Nehederet" writer Itay Reicher, who helped pen the Rachel skit, has been with the show for 17 of the 20 years it has been on the air.
"We've been writing the show through three-and-a-half wars — I think the new thing is that it gets a wider audience," said Reicher, who also wrote two viral English-language sketches: the BBC "news" spoof where newscaster "Harry Whiteguilt" shows a video of the hospital bombing from "Hamas, the most credible not terrorist organization in the world," and the "Welcome to Columbia Untisemity" skit, where a pink-haired student says "everyone is welcome, LGBTQ-H" — noting the H is for Hamas.
Reicher said the parody of pro-Palestinian activism on American college campuses hit a chord on both sides of the debate. "We're very passionate about the woke ultra-left progressive students in colleges ripping down posters of children torn from their beds, and I think we knew it was resonating when people disliked it. It unsettled them," he said. "It put a mirror in front of them." The video has gotten 17 million views on Twitter alone.
Spaulding, the Canadian comic, also put out a reel about anti-Israel activists tearing down posters depicting the Israelis taken hostage by Hamas. He calls them out, "in your little Yassir Arafat scarves doing your little Jihad Jane cosplay … I'm a gay guy, I'm going down with the Jews."
Does Spaulding — who appears in his off-Broadway show "Power Gay" at Red Eye NY on Nov. 19 and 24 — think that his videos will reach anyone outside the bubble of Israel supporters?
"I don't know if I'm changing minds," he said. "But at least I'm trying."
—
The post Comedians defend Israel the best way they know how: Make 'em laugh appeared first on Jewish Telegraphic Agency.
'My Role Is to Preserve Unity': Macron Defends Absence From Paris March Against Antisemitism
French President Emmanuel Macron has justified his absence from last Sunday's march against antisemitism in Paris, saying that his role was not to attend protests, but "to work for the release of our hostages, and to continue to preserve the unity of our country during this period."
Speaking to the news outlet Le Figaro during an official visit to Switzerland, Macron emphasized that his opposition to antisemitism was never in doubt, and that he would have been ready to clarify any "ambiguities." He continued: "But there were none, I was always implacable."
The French leader had faced criticism for not attending the march, with Eric Ciotti, who heads the Les Republicains (LR) Party, calling on him to "clarify the reasons" for his absence. Several speakers at the march, among them a descendant of Alfred Dreyfus — the French Jewish army captain falsely convicted on espionage charges at an infamous 1894 trial that unleashed a wave of antisemitic violence across France — expressed disappointment at Macron's absence. Nearly 200,000 people attended the march in Paris, with more than 20,000 gathering as well in provincial cities.
However, Macron has been anxious to avoid being pulled into day-to-day political disputes, arguing that a head of state should stand above the fray. Some analysts also suggested that Macron wanted to avoid marching in the same demonstration as Jordan Bardella and Marine Le Pen, the leaders of the far right Rassemblement National (RN — "National Rally"), who joined the march despite appeals from the Jewish community to stay away.
Macron also addressed the ongoing war in Gaza, triggered by the Oct. 7 Hamas pogrom in Israel which resulted in the murder of more than 1,200 people and the seizure of over 200 as hostages.
France's stance was to support "Israel's right to live in peace in the region" along with the "legitimate aspirations of the Palestinian people" towards the goal of a "two-state solution," he said.
Referring to the fighting between Israeli troops and Hamas terrorists in Gaza, Macron added that he "condemned in the strongest terms all the bombing of civilians, in particular civilian infrastructure, which must be protected under international humanitarian law."
Macron asserted that his role as president is "to work for the release of our hostages, and to continue to preserve the unity of our country during this period," stressing that "protecting French people of Jewish faith [does not mean] pillorying French people of Muslim faith." Six French citizens are understood to be in Hamas captivity.
More than 1,500 antisemitic incidents have been reported in France since the Oct. 7 atrocities.
The post 'My Role Is to Preserve Unity': Macron Defends Absence From Paris March Against Antisemitism first appeared on Algemeiner.com.
LA-area man charged with involuntary manslaughter in death of pro-Israel protester Paul Kessler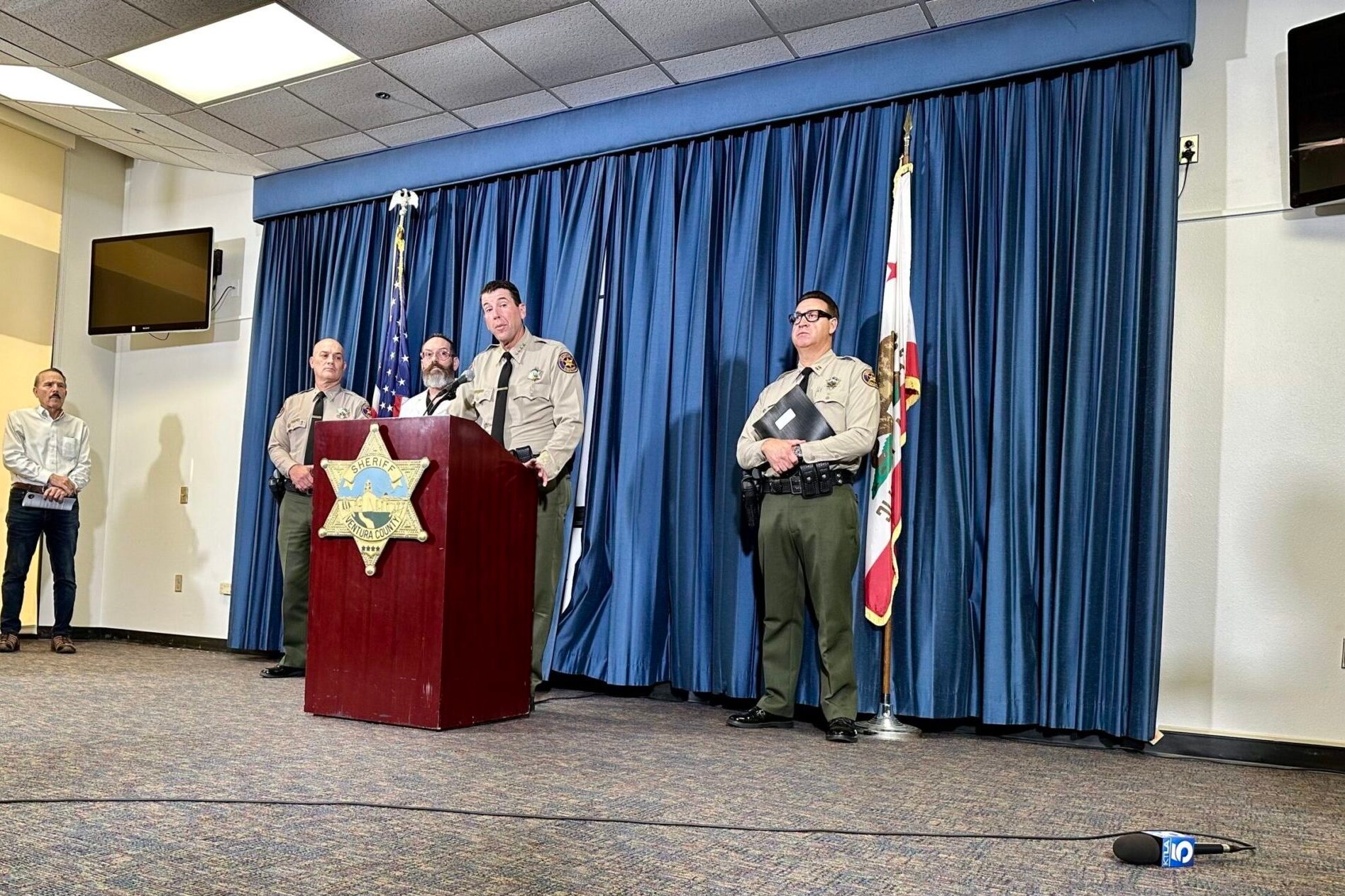 (JTA) — The Ventura County sheriff's office has arrested a man in connection with the death of Paul Kessler, a 69-year-old Jewish pro-Israel activist who died after a confrontation during a demonstration in a Los Angeles suburb.
Loay Abdelfattah Alnaji, 50, of Moorpark, was charged with involuntary manslaughter and his bail was set at $1 million. A spokesman for the sheriff's office declined to share any further information — including about the possibility that the case was being investigated as a hate crime. Involuntary manslaughter is usually applied in cases where authorities believe that a killing was unintentional.
Alnaji had been identified, though not by name, as the main suspect in the investigation at a press conference held by the sheriff's office on Nov. 7. Ventura County Sheriff James Fryhoff had said the suspect had been briefly detained while investigators executed a search warrant on his home. Fryhoff said Alnaji had been cooperative with deputies.
Social media watchdogs and news organizations had identified Alnaji as the likely suspect using photographs from the scene. Alnaji has worked as a professor of computer science at local colleges and had, according to news reports, posted pro-Palestinian content on social media.
Though an arrest has been made, the sheriff's office encouraged anyone with information about the criminal investigation to come forward, including those with footage of the protest where the altercation took place on Nov. 5.
Kessler's death had been ruled a homicide. The Ventura County chief medical examiner said during the Nov. 7 press conference that physicians who assessed Kessler, as well as an autopsy that was performed on him, observed an injury to his face that could have been caused by being struck with a megaphone — something the local Jewish federation said had occurred. But it was the blow to the back of Kessler's head, caused by his fall, that was fatal, said the examiner, Dr. Christopher Young.
Kessler's death was the first associated with a wave of demonstrations for and against Israel in the wake of Hamas' Oct. 7 attack on Israel. Scuffles have broken out at others.
"We are grateful for the swift work of the Ventura County Sheriff's Department in response to the tragic death of Mr. Paul Kessler," the Jewish Federation of Greater Los Angeles said in a statement. "This arrest shows that violence towards our Jewish community will not be tolerated. We will continue to monitor the case to help ensure justice is served. Our heartfelt condolences continue to be with the family of Paul Kessler and may his memory forever be a blessing."
In the immediate aftermath of Kessler's death, the local Jewish community had gathered at the intersection where the fatal altercation occurred to lay out flowers, light candles and hear from local leaders and witnesses of the incident.
—
The post LA-area man charged with involuntary manslaughter in death of pro-Israel protester Paul Kessler appeared first on Jewish Telegraphic Agency.
Actress Susan Sarandon Bashes Israel's Military Campaign Against Hamas, Shares False Info About Gaza War
Academy Award-winning American actress Susan Sarandon has become one of Hollywood's most outspoken critics of Israel during its war with the Hamas terror group, repeatedly posting on social media against Israel's military operations in Gaza and often promoting false information.
In recent days, Sarandon has been especially active in her anti-Israel online postings and even attended a "Free Palestine" rally last week in New York City, where she told the crowd that Israel was allegedly committing war crimes in Gaza.
On Thursday, the Thelma & Louise star shared a video on X/Twitter in which a Norwegian doctor talked about Israel's alleged "systematic man-made slaughtering of patients" at Al Shifa, the Gaza Strip's largest hospital. The doctor also described an "unprecedented attack on [a] civilian society occupied by one of the most brutal and ruthless armies in the world," a clear reference to the Jewish state and the Israel Defense Forces (IDF). The physician, who worked in Al Shifa, also accused Israel of racism.
The IDF said on Wednesday that at the same hospital, they found a command center, weapons, and combat gear belonging to Hamas terrorists. The Israeli military shared footage from inside the hospital — showing military equipment found even behind MRI machines — and also said that the "beating heart" of Hamas' operations was headquartered in tunnels beneath Al Shifa, putting at risk the lives of civilians inside the hospital in violation of international law. The US confirmed the assertion about Hamas' command center being located under the hospital with its own intelligence.
On Tuesday, Sarandon reposted a message in support of a plan by Rep. Ilhan Omar (D-MN) to introduce a bill that would block a $320 million package of US weapons for Israel. She also shared a video of a US Army veteran accusing Israel of war crimes in the Gaza Strip.
The Stepmom actress previously shared on X information about how to boycott brands that have ties to Israel; posted the accusation that Israel "lied about 40 beheaded babies to justify a genocide"; and reposted a video of the chairman of the Jewish Network for Palestine saying, "It's not Jews vs. Muslims, it's the oppressors vs the oppressed and it started in 1948 when Israel was founded on violence and theft."
Sarandon's posts against Israel during its war against Hamas — such as accusing the Jewish state of apartheid and committing a "Gaza Holocaust" — go as far back as Oct. 8, just one day after Hamas terrorists infiltrated southern Israel, killed over 1,200 people, mostly civilians, and kidnapped more than 240 others. Instead of posting to condemn the Hamas atrocities, Sarandon instead posted messages on X that called Gaza an "open-air prison" and shared the hashtag "GazaGenocide." The actress did not mention that Israel withdrew all its soldiers and civilian settlers from Gaza in 2005.
Sarandon attended a pro-Palestinian rally on Nov. 9 in New York City's Bryant Park where thousands of protesters held banners that read "Free Palestine," "End all US aid to apartheid Israel," and "Resistance against occupation is a human right." Other signs held by protesters said "From the river to the sea, Palestine will be free," — a slogan widely interpreted as a call for the destruction of Israel, which is located between the Jordan River and the Mediterranean Sea, so it can be replaced with "Palestine."
Addressing the crowd at the rally, Sarandon accused Israel of committing a war crime for what she called the "slaughter" of children in the Gaza Strip and claimed that "war crimes are being delivered every single day." She also compared the Hamas massacre against civilians in Israel on Oct. 7 to the plight of the Palestinians.
"So many people don't understand the context in which this Oct. 7 assault happened," she said. "They don't understand the history of what has been happening to the Palestinian people for 75 years … it's time that Palestine be free."
Sarandon was also among the dozens of celebrities who signed a letter sent to US President Joe Biden last month, urging him to press for a ceasefire to the fighting between Israel and Hamas in Gaza.
The post Actress Susan Sarandon Bashes Israel's Military Campaign Against Hamas, Shares False Info About Gaza War first appeared on Algemeiner.com.