Elon Musk, Under Fire, Threatens Lawsuit Against Media Watchdog
Elon Musk threatened on Saturday to sue media watchdog Media Matters and those who attacked his social media platform X, following moves by several large U.S. companies to halt advertising on the site after being promoted alongside antisemitic content.
Musk and X have been under a microscope all week for antisemitic and racist content that has proliferated on the site since he purchased it in 2022.
Liberal watchdog group Media Matters for America said earlier this week that it found ads from IBM, Apple and others were placed alongside content promoting Adolf Hitler and the Nazi Party.
Musk on Wednesday endorsed an antisemitic post on X that falsely claimed members of the Jewish community were stoking hatred against white people, drawing sharp condemnation, including from the White House.
"The split second court opens on Monday, X Corp will be filing a thermonuclear lawsuit against Media Matters and all those who colluded in this fraudulent attack on our company," Musk wrote in a post on X, without naming any other parties.
Numerous companies suspended ads in the last two days, including IBM, Disney, Warner Bros Discovery and Comcast, Lions Gate Entertainment and Paramount Global. Axios reported that Apple, the world's largest company by market value, would do the same.
"This week Media Matters for America posted a story that completely misrepresented the real experience on X, in another attempt to undermine freedom of speech and mislead advertisers," a statement posted by Musk said. He accused Media Matters of creating an alternative account designed to "misinform advertisers" about their posts.
Media Matters did not immediately respond to an emailed request seeking comment outside of business hours.
Musk has threatened legal action against other parties in the past, most specifically the Anti-Defamation League, a nonprofit organization that fights antisemitism, blaming it for X's loss of ad revenue. He has not yet sued the ADL, however.
Advertisers have fled the site since Musk bought it in October 2022 and reduced content moderation, resulting in a sharp rise in hate speech, according to civil rights groups.
The White House on Friday condemned Musk's endorsement of what it called a "hideous" antisemitic conspiracy theory, and accused Musk of an "abhorrent promotion of antisemitic and racist hate" that "runs against our core values as Americans".
Musk is also CEO of electric carmaker Tesla, which has been hit by several lawsuits that allege rampant racial or sexual harassment of workers.
Antisemitism has been on the rise in recent years in the United States and worldwide. Following the outbreak of war between Israel and Palestinian Islamist terror group Hamas, which attacked Israel on Oct. 7, antisemitic incidents in the United States rose by nearly 400% from the year-earlier period, the ADL said.
The post Elon Musk, Under Fire, Threatens Lawsuit Against Media Watchdog first appeared on Algemeiner.com.
Biden Adviser: No 'Significant' Pause in Gaza Before Hostage Release
i24 News – US President Joe Biden's main adviser on the Middle East said Saturday there would be a "significant pause" in the Israeli-Hamas war if hostages held by Hamas jihadists in Gaza are freed.
"The surge in humanitarian relief, the surge in fuel, the pause… will come when hostages are released," Brett McGurk told a security conference in Bahrain.
Release of a large number of hostages would result in "a significant pause… and a massive surge of humanitarian relief," he said.
Hamas militants seized about 240 hostages on October 7 when they surged across Gaza's militarized border into southern Israel to kill around 1,200 people, mostly civilians, according to Israeli officials.
In response, Israel is carrying out a relentless bombardment and ground offensive of targets in the Gaza Strip.
The post Biden Adviser: No 'Significant' Pause in Gaza Before Hostage Release first appeared on Algemeiner.com.
Hezbollah, Israel Trade Strikes at Lebanese Border in Latest Escalation
Hezbollah and Israel traded rocket and missile fire in areas near the Lebanese-Israeli border on Saturday, officials on both sides said, in the latest flare-up of violence which the United States worries will cause conflict to spiral in the Middle East.
The Iran-backed Hezbollah said it shot down an Israeli drone near the border in the early hours of Saturday. Israel's military said it intercepted a missile fired at an Israeli drone. Reuters could not verify either statement.
Lebanese officials said an Israeli air strike hit a building in an industrial area near the town of Nabatieh, one of the deepest Israeli strikes inside Lebanese territory since fighting began last month. The Israeli military did not immediately comment on the incident.
Lawmaker Hani Kobeissy distributed a video online of him visiting the site which he said was an aluminum supply store that had been bombed by Israel.
Hezbollah released a series of statements early on Saturday saying it had hit Israeli military sites and troops in areas along the border and caused casualties.
The violence is a spillover from Israel's war against Palestinian terrorist group Hamas in the Gaza Strip. Hamas, which controls Gaza, attacked Israeli towns on Oct. 7 killing 1,200 people, according to Israel.
Hezbollah has attacked Israeli troops at the Lebanese border since the latest Gaza war began and Israel has launched air and artillery strikes against southern Lebanon. More than 70 Hezbollah fighters and 10 civilians have been killed and at least 10 Israelis, most of them soldiers, have been killed.
It is the deadliest violence since the two sides fought a war in 2006. Western officials worry that its escalation risks drawing Iran and the United States further into the conflict.
The post Hezbollah, Israel Trade Strikes at Lebanese Border in Latest Escalation first appeared on Algemeiner.com.
Ventura County DA: Paul Kessler death does not 'meet the elements of a hate crime,' though investigation is ongoing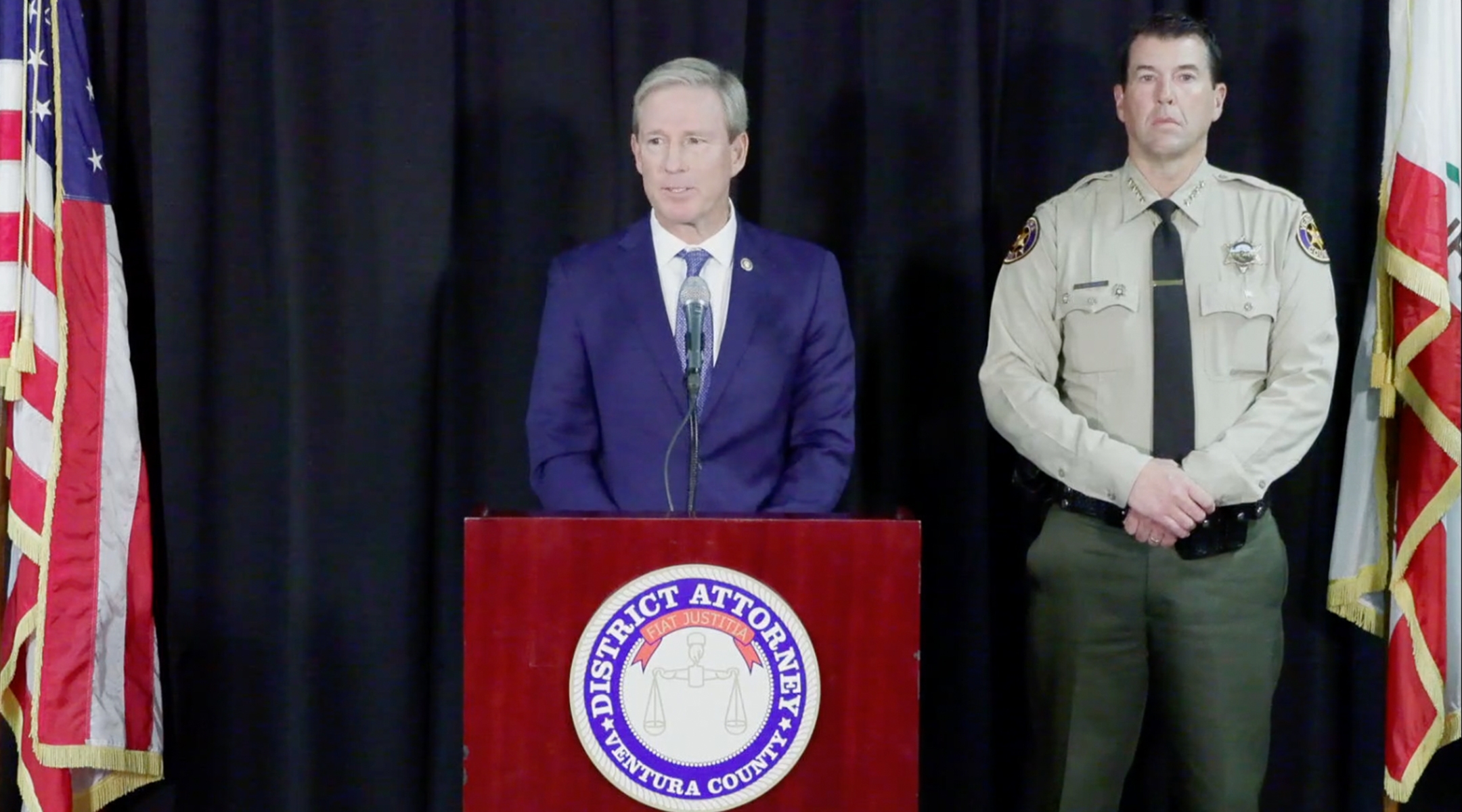 (JTA) — After a suspect was arrested and charged with involuntary manslaughter and battery in the death of a pro-Israel protester near Los Angeles earlier this month, Ventura County District Attorney Erik Nasarenko said that his office has "not ruled out a hate crime" in the case.
But he added that at present, based on what the police know, the death does not appear to be a hate crime.
"Simply put, looking at the statements as well as the words that accompany this act, we cannot at this time meet the elements of a hate crime," he said at a Friday morning press conference. "But nevertheless, we will continue to explore and investigate that offense as well as that special allegation."
Kessler's death has received widespread attention as it has come during Israel's war against Hamas in Gaza as well as during a reported spike in antisemitism in the United States following the outbreak of the war. A number of prominent pro-Israel activists have claimed that his death was motivated by antisemitism.
Loay Abdelfattah Alnaji, 50, of Moorpark, California, was arrested Thursday morning in the case and charged with two felony counts — involuntary manslaughter and battery causing serious bodily injury. His bail was set for $1 million, and he will be arraigned Friday afternoon. The charge of involuntary manslaughter implies that there was no proven intent to murder, Nasarenko said.
But Nasarenko said each count was accompanied by the "special allegation that in the commission of those crimes, the defendant personally inflicted great bodily injury upon Paul Kessler." Nasarenko added that those allegations "elevate these offenses to strikes under California's three-strikes law, which makes punishment prison-eligible."
Regarding the hate crime determination, Nasarenko said the investigators are specifically looking into "whether or not the acts, the impact, the force, was accompanied by specific hate speech, specific statements or words that demonstrate antipathy or hatred toward a specific group." He said there are still outstanding search warrants in the case, and nine have so far been executed.
Sheriff James Fryhoff said the investigation has thus far gotten statements from 60 witnesses and that his team has reviewed 600 pieces of evidence. He said the investigation, which began within 24 hours of Kessler's death on Nov. 5, has so far comprised more than 2,000 hours of work by his investigators. He encouraged anyone with information or footage of the incident to come forward.
Nasarenko also thanked Ventura County's Jewish and Muslim leaders, saying that they have "shown restraint" and respect as the investigation is underway.
Fryhoff and Nasarenko also met virtually with Kessler's family on Thursday, they said.
"They are mourning. They are grieving. And they are asking for privacy for this very difficult period," Nasarenko said.
He added that while Kessler's Israel advocacy has received considerable attention since the altercation took place nearly two weeks ago, he wanted to share additional information about Kessler, "because in this process, we should never forget that human life was taken, and that a victim exists."
Nasarenko highlighted that Kessler had worked in medical sales for decades and had taught sales and marketing at a number of colleges. He was a pilot, and had been married for 43 years. He left behind a son.
"We want to continue to remember and honor Paul Kessler, and the tragic loss of life that has occurred," Nasarenko said.
—
The post Ventura County DA: Paul Kessler death does not 'meet the elements of a hate crime,' though investigation is ongoing appeared first on Jewish Telegraphic Agency.