'Hezbollah Is Sacrificing Lebanon': Iran-Backed Terror Group Facing Backlash as Attacks Against Israel Continue
i24 News — The Lebanese terrorist organization Hezbollah claimed responsibility for at least four attacks against Israel on Friday morning as criticism against the Iranian-backed Shi'ite group grows in Lebanon.
"The goals that [Hezbollah Secretary-General Hassan] Nasrallah set for Lebanon are dangerous," wrote the Asharq Al-Awsat newspaper, saying the conflict risked becoming a "Gaza 2."
"The threat posed to southern Lebanon will affect all of Lebanon — with a considerable increase in the risk that it will spill over into a large-scale war," the London-based newspaper added, "This new situation violated UN Resolution 1701, thanks to which the South was in a period of stability."
Some Lebanese members of parliament also voiced their concerns, in a report by al-Jumhuriya, saying, "Hezbollah is sacrificing Lebanon and we certainly cannot accept that it will become the Gaza model."
An anti-tank missile and mortars were fired at the northern Israeli border community of Malkiyah in the Upper Galilee, the IDF says. Adjacent roads in the area have been closed.
Meanwhile, Lebanese media reports multiple Israeli airstrikes and artillery shelling in the… pic.twitter.com/LZSX6OaDDv
— Ariel Oseran (@ariel_oseran) November 17, 2023
Meanwhile, Israel Defense Forces (IDF) fighter jets struck several Hezbollah terror targets in Lebanon, "including terrorist infrastructure, a weapons storage facility, and a military structure," according to a statement.
A terrorist cell identified in Lebanon, adjacent to Arab al-Aramshe, was hit per the latest IDF statement on Friday morning.
A senior Hezbollah official threatened that "the undermining of Israel will continue and even escalate — as long as the fighting in Gaza continues, as Nasrallah said," continuing their ongoing strategy against the IDF.
The al-Akhbar newspaper, which is close to Hezbollah, showed its support by asking the Lebanese critics, "Do any of you know the operational requirements for any military operation, whether it is a rocket fire, a mortar, or shelling?"
"Do any of you know the nature of the war that will break out if the front expands to the maximum level, or do you think that this is a game built on a panel of buttons that the commander presses live?"
"Who told you that what the resistance does does not anger Israel and restrict its movement," the editor-in-chief of al-Akhbar, Ibrahim Al Amin, stressed.
The post 'Hezbollah Is Sacrificing Lebanon': Iran-Backed Terror Group Facing Backlash as Attacks Against Israel Continue first appeared on Algemeiner.com.
With Mapping Robots and Blast Gel, Israel Wages War on Hamas Terror Tunnels
After locating what they described as the entrance to a Hamas tunnel under an evacuated hospital in northern Gaza, Israeli army engineers filled the passage with exploding gel and hit the detonator.
The blast engulfed the building and sent smoke spewing out of at least three points along a nearby road in a district of the city of Beit Hanoun, surveillance footage showed.
"The gel spread out and exploded whatever they had been waiting for us in the tunnel," an army officer told reporters at a briefing at Zeelim Ground Forces Base in southern Israel.
Clearing the tunnels is an important part of Israel's military campaign against Hamas in the Gaza Strip in response to the Palestinian terrorist group's deadly attack on southern Israel on Oct. 7.
When not using munitions to map out the bunkers, access shafts, and tunnels which both sides say run for hundreds of kilometers under Gaza, the army opts for tracker robots and other technology operated remotely.
The officer could not be identified under the rules of the briefing, and declined to provide further details of below-ground combat which he said was a work in progress. He did not name the hospital in Beit Hanoun.
"I think there are other methods being developed," he said. "That is where creativity and innovation come in handy."
In Beit Hanoun, where his forces were operating, some gunmen had stormed the Israeli military from tunnel shafts and had been killed, he said.
Israel's policy, he said, was not to send personnel in the other direction to confront Palestinian fighters who would have a defender's advantage in narrow, dark, under-ventilated and collapsible passages with which they were familiar.
"We don't want to go down there. We know that they left us a lot of side-bombs [improvised explosives devices]," he said.
One such bomb, rigged to the cover of a tunnel-access shaft at ground level, had killed four special forces reservists last week.
WEB OF TUNNELS
Hamas has tunnels for attack, smuggling, and storage, security sources say. Dozens of shafts can lead to each tunnel at depths of between 20 and 80 meters (65-260 feet).
Destroying a shaft is relatively easy and quick, the officer said, adding: "Any platoon can do it."
The Israeli military said last week that 130 shafts had been destroyed so far, but gave no figure for demolished tunnels.
The tunnels are harder to tackle. The officer said several tons of the exploding gel — on which he declined to give any technical details, other than to say it is brought in by truck — are required for every few hundred meters of tunnel.
After-action analysis is difficult. The officer said around half of the shafts in his Beit Hanoun operation zone had been destroyed, but acknowledged that these can be rebuilt.
"It's hard to say how many tunnels [are destroyed] because they are all connected," he said.
Hamas has denied using hospitals as cover for such tunnels. It has dismissed assertions by Israel, backed by the US, that it has a command center under Gaza's biggest hospital, Al Shifa, which Israeli forces entered on Wednesday.
EFFORTS TO AVOID ENDANGERING HOSTAGES
Hamas took some 240 people back to Gaza as captives in the Oct. 7 attack in which about 1,200 people were killed, Israel has said. One of a handful of hostages released said she and at least two dozen others had been held in a tunnel.
The army officer said care was being taken not to endanger tunnels that may contain hostages.
"We sometimes get indications that this [a target] might be related to hostages. And then we know not to attack it unless we get an approval [that it is clear]," he said
Like much of northern Gaza, Beit Hanoun has been emptied of civilians, who fled south under orders from Israel as it sent in ground troops to try to wipe out Hamas.
"The only population left is the terrorists," the officer said, adding that sometimes a secondary explosion set off by a tunnel destruction blast "will bring down a building a few hundred meters away".
Palestinian terrorists taken captive have provided Israel with intelligence on the tunnel network, he said, but this information has been limited.
"Most of them don't know about the whole city. But they know their own village, they know pretty well the tunnel system," the officer said.
The officer said it could take months to destroy Gaza's entire underground network.
"I think it's more complicated than the New York City subway," he said.
The post With Mapping Robots and Blast Gel, Israel Wages War on Hamas Terror Tunnels first appeared on Algemeiner.com.
'Hamas did not murder your vision': At memorial service for Vivian Silver, grief and a determination to pursue peace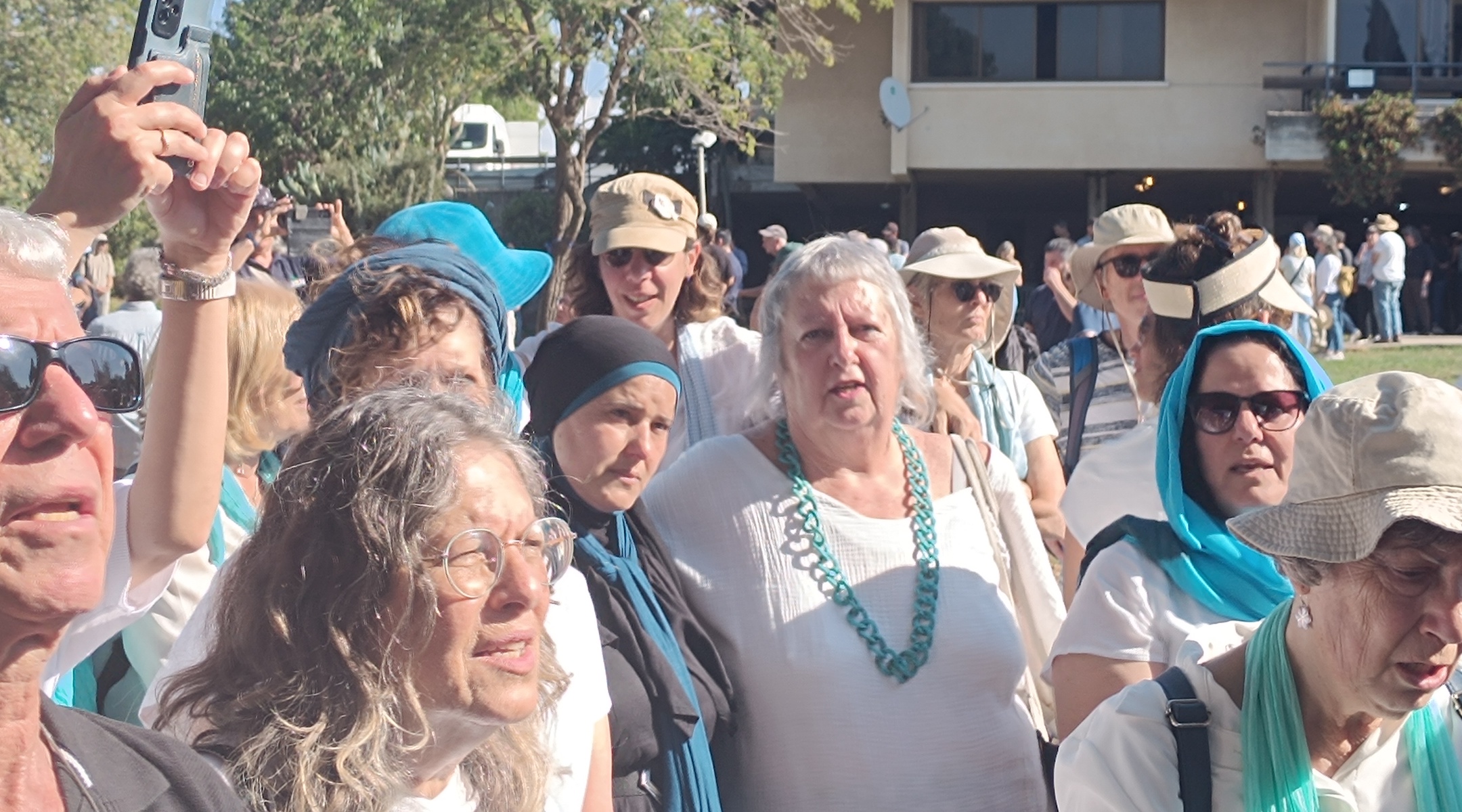 KIBBUTZ GEZER, Israel (JTA) — As she eulogized Vivian Silver, her friend and longtime fellow activist, Ghadir Hani said, "Vivian, my beloved, if you could hear, I would want you to know: Hamas did not murder your vision."
Hani, who is from Hura, a Bedouin town in southern Israel, was one of several speakers at a "parting ceremony" for Silver, the Canadian-Israeli peace activist who was killed by Hamas in its invasion of Israel on Oct. 7. Many in the mixed crowd of Jewish and Palestinian women at the ceremony held each other in tears, and a friend of Silver's from Gaza sent a written note.
Silver was previously presumed to have been held hostage, and confirmation of her death in the massacre at Kibbutz Be'eri came earlier this week. Before moving to Be'eri in 1990, Silver had lived at Gezer, in central Israel, for more than a decade.
Cars lined the road for several kilometers outside of the kibbutz, and the large crowd included current and former Israeli lawmakers, Reform and Orthodox Jewish leaders, international and local media and activists wearing shirts bearing the names of left-wing organizations including the one she co-founded, Women Wage Peace.
"It is impossible to destroy humanity, solidarity, the wish for a safe future," Hani said in her eulogy.
Arab-Israeli Knesset member Ayman Odeh, who leads the Hadash Party, described Silver in remarks to journalists as "the shining light of our community" and lamented that "instead of dancing together after achieving peace, she became a victim in the most horrible way."
Dov Khenin, a longtime Knesset member from Hadash and later the Joint List, told the Jewish Telegraphic Agency that his "heart is broken" and that Vivian "was optimistic, very smiley and personable" while working together with him on many campaigns promoting Jewish-Arab partnership.
Many speakers from diverse backgrounds described their immense pain at Silver's death, and determination to pursue the causes to which she was devoted: peace and feminist activism.
"We promise you Vivian, we will continue your path even stronger and braver, since now it is clear where the path leads to that is not the 'way of peace,'" said Avital Brown of Women Wage Peace. Brown promised to "continue to work with our Palestinian partners and the global community of women. "
After the final speaker, members of Women Wage Peace, all wearing light blue scarves, gathered  in a circle, singing Israeli folk songs and concluding with "We shall overcome."
"You taught us the most important lesson: to be human, to see the other, the weak, the one whose voice is not heard," said Hani, who discussed the difficulty of saying goodbye to Silver during wartime.
"I wait here without words," she said. "We are all in shock. What would you tell us to do now? How can we continue from here?"
—
The post 'Hamas did not murder your vision': At memorial service for Vivian Silver, grief and a determination to pursue peace appeared first on Jewish Telegraphic Agency.
Elected officials and Jewish leaders decry pro-Palestinian group's map of Jewish organizations with 'blood on their hands'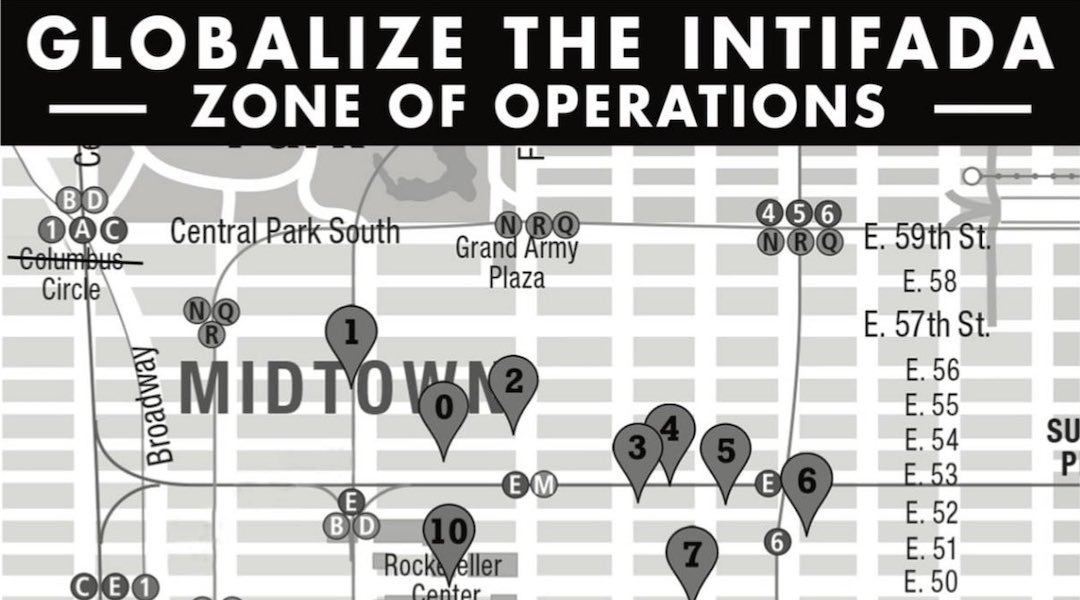 (New York Jewish Week) — A pro-Palestinian group that calls for "intifada" and Israel's destruction temporarily posted maps online detailing the locations of Jewish organizations in New York City and saying they had "blood on their hands."
The posts have drawn the NYPD's attention and sparked condemnation from elected officials and Jewish leaders. Manhattan Borough President Mark Levine called the posts "dangerous and reprehensible."
The group, Within Our Lifetime, posted the maps on Instagram. It urged its 121,000 followers, in all caps, to "KNOW YOUR ENEMY." The group, and others who shared the posts, had deleted them from the platform by Thursday. 
The posts were uploaded during an ongoing heated debate on social media over Israel's war against Hamas in Gaza. They also come during a spike in antisemitism across the United States in the nearly six weeks since Hamas launched the war on Oct. 7 with its invasion of Israel. 
The images recall the "Mapping Project," an anonymous effort last year that listed the names and locations of Jewish institutions in Boston as supporters of "the colonization of Palestine." That project was condemned and disavowed by a wide range of organizations, including pro-Palestinian groups. And in 2021, a local leader of the Council on American-Islamic Relations warned an audience to beware of "polite Zionists," including Jewish federations, synagogues and Hillels. 
The posts displayed black-and-white maps with pins denoting the locations of a number of Jewish and pro-Israel organizations. Some are focused on funding settlement expansion or the growth of Jewish neighborhoods in east Jerusalem, such as the Central Fund of Israel, Friends of Beit El, Friends of Ateret Cohanim and Friends of Ir David. 
Others are broadly focused on supporting Israel and its military, including Israel's consulate in New York, Friends of the Israel Defense Forces and the Jewish National Fund. Still others are more general Jewish organizations such as the World Jewish Congress and Jewish Communal Fund, which is a donor-advised fund.
"Some of the most egregious organizations that we should be protesting every day are the fake zionist charities funding settlers in Palestine," read one of the posts. "Make these locations a stop in your protests. picket and leaflet outside of them, make supporters of genocide uncomfortable!"
The groups "receive subsidies from the US government to commit genocide and ethnic cleansing," one of the posts said. "These zionist charities must be exposed and confronted."
Within Our Lifetime's leader, Nerdeen Kiswani, shared the map and said, "Genocide supporters have been working amongst us." 
Another post from the group, headlined with one of its common chants, "Globalize the Intifada," had a map of Israeli and U.S. companies and transit hubs. The locations listed included The New York Times, Penn Station, Grand Central Station, the BlackRock investment firm, and the Israeli tech company Check Point.
"Each of the locations on this map reflects the location of an office of an enemy of both the Palestinian people and colonized people all over the world. Today and beyond, these locations will be sites for popular mobilization in defense of our people," the group wrote.
"May this map serve as a call for every struggle to act in their own interest," the post said, closing with "from the river to the sea," a slogan that critics have said calls for the destruction of Israel. Within Our Lifetime did not respond to a request for comment.
Within Our Lifetime supported the Oct. 7 Hamas attack as "whatever means necessary it takes" to achieve Palestinian liberation, and has since held near-daily street protests denouncing Israel. It has instructed its followers to chant, "Israel has got to go," "Smash the settler Zionist state" and "We don't want two states," a reference to the possibility of Israel existing alongside a Palestinian state. 
The group's protests include banners that say "By any means necessary" and chants of "Globalize the intifada." Palestinian terror attacks during the Second Intifada, two decades ago, killed an estimated 1,000 Israelis. Activists who have protested with the group have been convicted of hate crimes against Jews, and the Anti-Defamation League says the group has previously expressed support for U.S.-designated terrorist organizations.
"We strongly condemn maps of NYC that are circulating on social media with calls to 'globalize the intifada' in 'direct actions' and 'operations' zones," ADL's New York office posted online.
The NYPD said it was aware of the posts, saying in a statement, "We have been policing the protests effectively and will continue to do the same."
Elected officials across the city decried the group's posts.
"This posting is a dangerous and abhorrent incitement to violence and poses a direct threat to New York's Jewish communities," the New York City Council's Jewish Caucus said in a statement. "It must be taken seriously and we appreciate that law enforcement is already investigating this matter."
Democratic Bronx Congressman Ritchie Torres, a pro-Israel stalwart, said, "Coded calls for violence against Jews are proliferating on social media."
Ted Deutch, the CEO of the American Jewish Committee, said, "This is not promoting peace. This is an incitement to violence against Jews and it must be taken seriously."
One institution on one of the maps is the central office of the City University of New York, Kiswani's alma mater, which has been grappling with allegations of antisemitism on its campuses in recent years. Kiswani and another prominent activist from Within Our Lifetime, Fatima Mohammed, gave the past two commencement speeches at CUNY Law, both of which were decried by Jewish groups and elected officials as antisemitic. 
Within Our Lifetime collaborates with several CUNY student organizations that shared the maps targeting Jewish groups. All appeared to have removed the posts by Thursday evening.
Kiswani and Mohammed led a protest last year during which an activist associated with the group, Saadah Masoud, beat a Jewish man, Matt Greenman. Earlier this year, Masoud was sentenced to 18 months in federal prison on hate crimes charges for the assault on Greenman and attacking Jews in two other incidents. At least two other activists who have protested with the group have been arrested or imprisoned for attacking Jews.
—
The post Elected officials and Jewish leaders decry pro-Palestinian group's map of Jewish organizations with 'blood on their hands' appeared first on Jewish Telegraphic Agency.