Hezbollah's Nasrallah to break silence as Lebanon border skirmishes intensify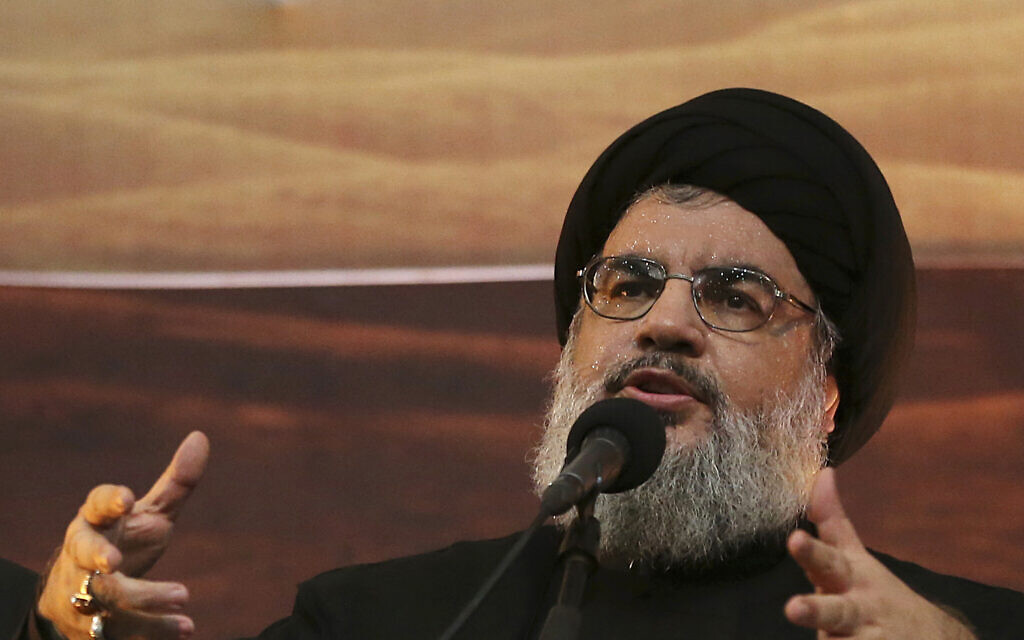 Organizers of Anti-Israel Rally That Mobbed Israeli Restaurant in Philadelphia Have History of Antisemitism, Watchdog Reveals
The organizers of a recent pro-Palestinian rally in Philadelphia that targeted a local Jewish restaurant have a history of backing the Hamas terrorist organization, calling for the destruction of Israel, and ridiculing victims of Hamas violence, according to a new exposé released by the watchdog group Canary Mission.
The Philly Palestine Coalition (PPC) organized a demonstration in downtown Philadelphia on Sunday during which a mob of protesters gathered outside Goldie, a vegan falafel restaurant co-owned by Israeli-American chef Michael Solomonov, and chanted "Goldie, Goldie, you can't hide, we charge you with genocide." Anti-Israel protesters also vandalized the front door and windows of Goldie, according to reports.
The incident was condemned by a slew of Pennsylvania politicians as antisemitic, but the PPC tried justifying its actions in a statement released earlier this week, making outlandish accusations against Israel and the famed chef who co-owns the restaurant.
Also during the rally, the demonstrators chanted "long live the intifada" and "there is only one solution, intifada revolution." They further spray painted "Free Palestine" on a map of the University of Pennsylvania campus, where they marched by.
Solomonov and businessman Steve Cook co-own a number of eateries under the Philadelphia hospitality group CookNSolo Restaurants, including Goldie. In a letter to Goldie's staff on Wednesday, they addressed the demonstration outside the restaurant and the tense atmosphere among staff since the start of the Israel-Hamas war.
Since Hamas' Oct. 7 massacre across southern Israel, the PPC has organized more than 15 Philly-based protests that included calls for violence against Israel and support for the deadly Hamas invasion, according to Canary Mission. The coalition collaborated on spearheading these events with other anti-Israel groups including Jewish Voice for Peace Philadelphia (JVP Philly), Penn Against the Occupation (PAO), and Temple University Students for Justice in Palestine (Temple SJP).
One of PPC's organizers, Nada Abuasi, spoke at a rally on Oct. 28 and advocated for the destruction of Israel. While calling for a ceasefire between Israel and Hamas, she said, "A ceasefire is only the bare minimum. A ceasefire is not liberation. Liberation means ending the siege on Gaza, ending the occupation, and decolonizing Palestine from the river to the sea."
The slogan "from the river to the sea, Palestine will be free" is widely considered a call for the eradication of Israel, which is located between the Jordan River and the Mediterranean Sea.
Abuasi previously expressed support for violence against Israel on social media, as highlighted in Canary Mission's report. In 2021, she tweeted, "Israel is illegitimate. Abolish it." She also wrote on X/Twitter that same year, "Palestine will not be liberated through chocolates and flowers. Our liberation necessities armed struggle." In two separate tweets in 2022 she added, "Palestine will not be liberated until the entirety of the Zionist entity is dismantled" and "The Isr*eli state must cease to exist."
Another PPC organizer, Jordan Vaughan, led chants calling for violence against Israel at a rally on Oct. 8 — just one day after Hamas terrorists murdered 1,200 people in Israel and kidnapped 240 others. Vaughan held a lighter to an Israeli flag, ready to set it on fire, before he was stopped by another rally leader.
Canary Mission revealed in its exposé some of the antisemitic calls for violence that Vaughan has expressed on social media, including a tweet in which he wrote, "Live, Love, Hamas." He also tweeted, "Can't wait for the day Israel goes up in flames and all those skin cancer havin settlers perish and d** [die] and the olive trees grow up through their ashes and the wind blows and speaks to me."
Vaughan additionally posted on X/Twitter a photo of Shani Louk, a 23-year-old German-Israeli woman who was kidnapped and murdered by Hamas on Oct. 7, and wrote, "Glad Hamas killed this b*tch cause what's that?"
The antisemitic activity of PPC spokesperson Nour Qutyan was also highlighted in Canary Mission's report. Qytyan spoke at a PPC rally on Oct. 8 and defended the Hamas terror attacks that took place a day earlier in Israel.
"Hamas…they will call an Islamic terrorist group. Hamas, what they are is they're the resistance front," Quran said. "What they're doing is defending their land, defending their people and defending their right to live." She added that "indigenous people have a right to resist occupation…and that includes violent resistance."
The post Organizers of Anti-Israel Rally That Mobbed Israeli Restaurant in Philadelphia Have History of Antisemitism, Watchdog Reveals first appeared on Algemeiner.com.
How I'm thinking about Hanukkah when Israel is at war — and campus tensions are high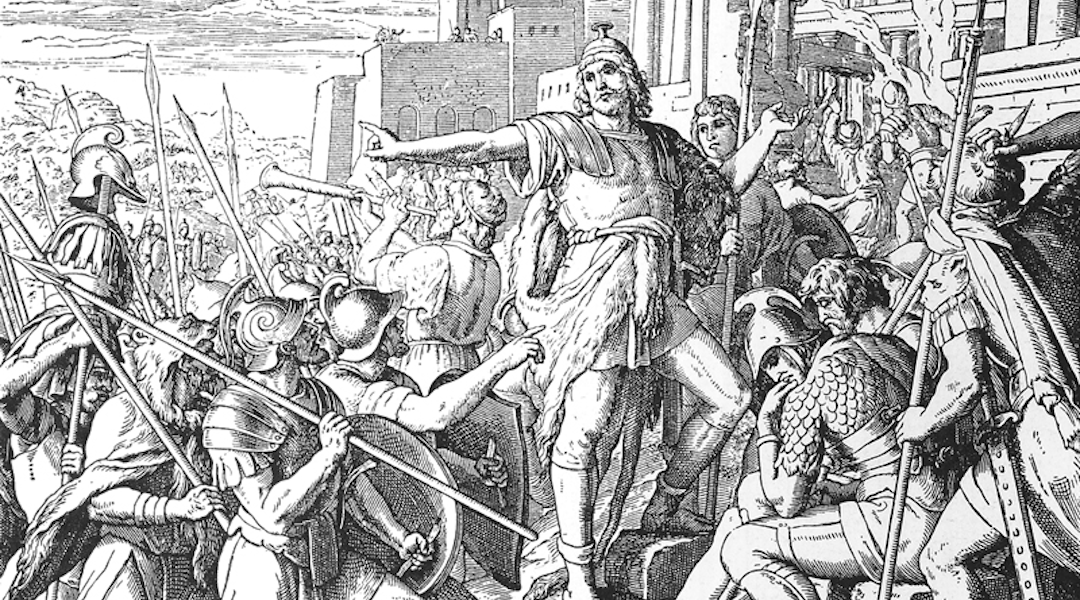 (JTA) — Last summer, I became a chaplain at Brown University, a campus at which a celebration of the uniqueness of every student is embedded in our culture, where we pride ourselves on bringing students together in creative and unexpected ways.
That means this is my first Hanukkah on campus. And what a time: Two months after the darkest day in contemporary Jewish history, some Jewish students are feeling singled out for publicly supporting Israel's military action in Gaza. Some are feeling unwelcome in institutional Jewish spaces because they do not identify with the word "Zionist." Some Jewish and Arab students have shared that they have felt as if they were tiptoeing, seeking to find peers with whom they could mourn for all people in Israel-Palestine who have been assaulted or murdered and express horror at the trauma that is ongoing.
Many students have described strains in relationships with people with whom they disagree. Some students have shared their discomfort walking on campus in clothing that is associated with Palestinian or Jewish culture, and some students have expressed concern or disappointment about how staff, faculty, administrators and other stakeholders have used their power, platforms or resources. 
Now, as we light the first candle, students with family or friends serving in the IDF may feel connected to the military themes of the holiday like never before. And other students may struggle to find light, as they show up hand in hand with their Israeli and Palestinian families and friends trying to find light of their own.
When I reflect on productive discomfort, a concept I learned from Ruth Messinger, one of this generation's great Jewish lights, I notice that I, like many of us, often find myself in a conversation in which the discomfort no longer feels so productive. It is tempting to put up a boundary or just walk away. What I have been sharing with my students is that when I feel myself hitting a wall or wanting to walk away, I try to push myself to ask one more question, and then to do my best to listen to their answer with an open heart.
How I teach Hanukkah to a 3-year-old — perhaps toppling a dozen blocks that I have built to represent the Second Temple — is different from how I teach it to adults, perhaps analyzing the context of Jewish farmers living in the land of Israel grappling with the Greek empire's focus on the polis. 
There have been multiple layers of the Hanukkah story. The Talmud acknowledges Hanukkah's military victory but uses the Hebrew word nes, miracle, to describe the small amount of oil lasting seven days longer than expected — transforming a national holiday marking a military victory into a Jewish holiday celebrating the triumph of faith. Prayers in the synagogue service and the blessing after meals expand the language of miracles into redemption and heroism, salvation, military might and comfort — a lofty list, all of which hold contemporary resonance.
Some 800 years ago, Maimonides taught that if we have not lit Hanukkah candles of our own yet see someone else's Hanukkah candles, we still say the blessing "she'asah nissim," giving thanks for the miracles wrought for our ancestors in days of old at this time. We are not only invited to publicize the miracle in each generation by making our hanukkiyot visible from the street, but perhaps saying a blessing when we see someone else's candles helps shape the holiday for each person, in each generation. In the United States, a seemingly minor holiday took on new meaning in the gift-giving season of Christmas; in Israel, the ancient military narrative of the few against the many was familiar once again in 1948.
The more I learn about the historical Hanukkah of 2,200 years ago, the less I imagine it as a struggle between "us" and "them," between "Brave Judah the Maccabee" and "Bad King Antiochus." The "outsiders" in this story were mostly other Jews against whom the Maccabees were fighting in a civil war. Although our prayers associate the Maccabees with a victorious Hasmonean dynasty, the leadership they established would be associated with power consolidation and corruption within just a few generations; Rabbi Daniel Levine has noted that, with hindsight, rabbinic tradition minimizes the role of the Maccabees. So, what does "winning" really mean in the long term when binaries begin to break down, when "us vs. them" is not a sufficient description?
Unlike its parallel holiday of Purim a few months later, there is no requirement to tell the story of Hanukkah word by word the way that the public reading of the Megillah, the Scroll of Esther is part of many people's Purim practices. No hearing the shofar. No telling the story of the Exodus.
But even though there is no "requirement" to tell the Hanukkah story, I hope we remember that flames are symbols of the human soul, and that as we increase the light each night, we find opportunities not only to tell our Hanukkah stories but to hear the stories of other people as well. We might start by reconnecting with someone with whom we have lost touch, but we should also make an effort to hear the story of someone with whom we might disagree so strongly that it feels easier simply not to listen to their story at all. Easier is not always better, nor does it necessarily bring an enduring solution.
This week our students will gather around campus with their friends, light the menorah, eat foods fried in oil and tell Hanukkah stories on their own terms, stories that some may have learned in preschool and some they are starting to encounter for the first time as Jewish young adults.
My wishes for all of us this Hanukkah 5784 are opportunities to connect with others in ways that are creative and challenging, in ways that surprise us, and in ways that center our ongoing senses of curiosity and wonder in this season of light — may it increase beyond these eight nights.
—
The post How I'm thinking about Hanukkah when Israel is at war — and campus tensions are high appeared first on Jewish Telegraphic Agency.
Hanukkah Celebrations Are Being Cancelled Due to Explicit and Implicit Antisemitism
Anyone still clinging to the belief that there is a difference between hating Jews and wanting Israel to disappear now needs to explain away another inconvenient truth: Why scheduled Hanukkah celebrations across the United States, Canada, and elsewhere are being canceled.
The reason cited over and over is that Jews would not be safe, or that hosting such holiday events could imply support for Israel in its war against the Gaza-based Hamas terrorist organization.
A Hanukkah candle lighting that was due to take place at a music and arts festival in Williamsburg, Virginia, was canceled by the festival's founder because the lighting of a menorah "seemed very inappropriate" given current events in Israel and Gaza.
Let us conduct a quick thought experiment: Even supposing that holding Jewish people everywhere accountable for Israel's actions since the October 7 massacre was somehow valid, at what point did a country's right — obligation — to defend itself and its citizens become a reason to cancel a Jewish holiday event?
Moreover, this fear of being seen as siding with Israel over Hamas has not extended to Muslim-themed events and ceremonies in the US and Canada, which continue to be held. When it comes to Muslim communities residing in these countries, there is a clear line being drawn between Hamas in Gaza and law-abiding citizens in Los Angeles, New York, Virginia, and Toronto exercising their right to worship and assemble as they see fit.
This double standard between how Jews and Muslims are treated has extended everyone. Responding to a question about soaring rates of antisemitism and the wave of cancelled Hanukkah celebrations, White House Press Secretary Karine Jean Pierre said this week: "We have seen an uptick in hate, just more broadly, in different communities — obviously, also in the Muslim community. And so, we will do everything that we can to make sure that these communities feel safe."
The United States responded militarily to a Muslim leader with violent and genocidal intentions in 2003. For years leading up to the US-led invasion of Iraq, Saddam Hussein had backed up his threats with devastating action: the taking of Kuwait, the Persian Gulf war, the Scud missile attacks on Israel, the assault on the Kurds, the oppression of his own people.
But while some of the arguments in support of that war have not stood the test of time, and even though hundreds of thousands of civilians were killed, I do not recall public Christmas celebrations being cancelled across the United States after the US military entered Iraq.
The spate of Hanukkah cancellations in countries founded on the principle of religious freedom highlights the fact that antisemitism is not just another form of prejudice. What makes Judeophobia unique is its shapeshifting, sometimes even contradictory, nature.
Today the trope about Jews having an unnatural lust for money is commonplace. But in pre-Enlightenment Europe, Jewish people were reviled for the exact opposite reason: they were desperately poor.
If once upon a time Jewish people were scorned for isolating themselves from the wider society, nowadays they are lumped in with the privileged, white, oppressor majority — even though they remain a microscopically small community outside of Israel. While Jews today are treated with suspicion for their supposed lack of religiosity, history shows that they were similarly derided for living by a set of strange religious beliefs.
And whereas Jews used to be hated for being a landless people, today they are ridiculed because of the existence of Israel.
In other words, the difference between antisemitism and anti-Zionism is little more than linguistic — a phantom distinction.
Even the halls of Congress are not immune from the contradictory nature of antisemitism. Conservative lawmaker Marjorie Taylor Greene (R-GA)'s support for bizarre antisemitic conspiracies and related comments she made before being elected to the House of Representatives unleashed a media firestorm. Meanwhile Progressive Representative Rashida Tlaib (D-MI)'s incessant demonizing of the world's only Jewish state in the days following Hamas' attack on Israel led to her being censured by the House.
By comparing the historic hatred of Jews to other types of bigotry, the serious risk that Jewish people around the world face is being diluted.
The cancellation of Hanukkah is only related to two factors: hatred of Jews, and fear for Jews' safety because the threat from people who hate Jews is so real and worrisome.
Gidon Ben-Zvi is an accomplished writer who left Los Angeles for Jerusalem in 2009. After serving in an Israel Defense Forces infantry unit from 1994-1997, Ben-Zvi returned to the United States before settling in Israel, where he and his wife are raising their four children.
The post Hanukkah Celebrations Are Being Cancelled Due to Explicit and Implicit Antisemitism first appeared on Algemeiner.com.