Hot and bothered: Young Jews are demanding action on climate change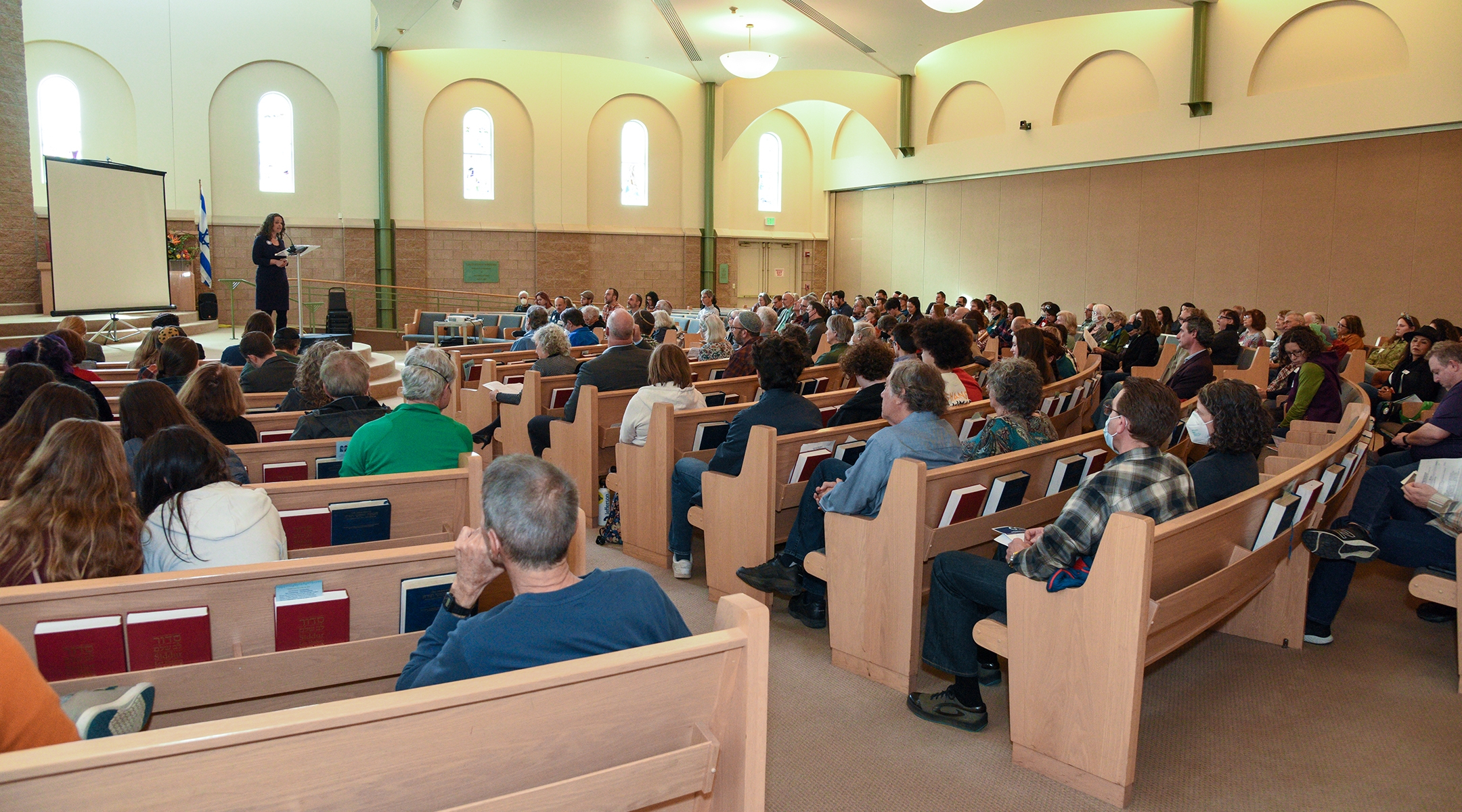 This article was produced as part of JTA's Teen Journalism Fellowship, a program that works with Jewish teens around the world to report on issues that affect their lives.
(JTA) — On an unusually warm February day, approximately 200 Jews gathered at the Hebrew Educational Alliance in Denver, Colorado for the inaugural Colorado Jewish Climate Summit, which coincided with Tu Bishvat, the new year of the trees. 
Among the attendees were about 20 teens, who filed into the sanctuary, past tables stacked with brochures on sustainability and vibrant tapestries portraying Torah stories. They clustered into wooden pews, discussing the climate workshops they would attend — or lead. 
"In the Jewish community, we talk about being collective in our efforts. And climate change is the same way — it's not what one of us does, it's what many of us do," said Noah Shurz, a 16-year-old from Denver who helped plan the summit. 
As the climate crisis and the global response to it intensifies, many Jewish teens are utilizing the intersections of Jewish and environmentalist teachings as impetus for activism. Through participating in groups like Jewish Youth Climate Movement, Dayenu and Jewish Climate Action Network, teens are strengthening their connection to Judaism and deepening their sense of community. Values like Tzedek Tzedek Tirdof ("justice, justice you shall pursue"), Tikkun Olam ("repairing the world") and L'Dor V'Dor ("from generation to generation") fuel their activism. These activists bring a unique perspective to the movement, combining the fervor of young changemakers with the tradition of the Jewish people.
"My Judaism and my desire to fight against climate change go hand in hand," said Rivka Schafer, a Modern Orthodox 18-year-old from Teaneck, New Jersey who uses they/them pronouns. In their role as co-director for Jewish Youth Climate Movement, a youth organization founded in 2019 that has about 450 members, Schafer acts as the bridge between youth leaders and adult staff.
Schafer described participating in climate action as almost a religious obligation. "When I go into nature, I feel inherently connected to God," said Schafer. "To see that loss of our natural world to me resembles a loss of spirituality as well." 
Schafer became a climate activist at age 12 after seeing bleached coral reefs firsthand during an underwater dive. "For the first time, it hit me, the destruction we are causing our world," they said. "I decided that if the government wasn't doing anything to fix the world, and if the adults weren't doing enough, then it was up to me to bear that responsibility of healing our planet." 
Schafer's co-director, Amber Marcus-Blank, 18, from Sharon, Massachusetts, shares this connection to the natural world. "There is a very similar feeling that I get when I'm reading Jewish prayers and when I'm in nature," said Marcus-Blank.
In the past, Jewish Youth Climate Movement has pushed for banks to divest from fossil fuels, participated in and led climate protests and sent youth representatives to the U.N COP27 climate conference. More recently, as smoke from wildfires engulfed the eastern U.S, causing alarmingly poor air quality, JYCM teens connected the Biblical concept of neshama (both "breath" and "soul") to the climate fight. The organization challenged their Instagram followers to "fight to protect the sanctity of our breath and the right for all communities to breathe safe and clean air," suggesting actions like calling representatives to pass climate legislation like the NY HEAT Act.
The organization works with local Jewish institutions to create change within Jewish communities. Institutions "can look at implementing recycling/compost…can encourage transit usage by trying to get a bus stop next to them, or having bike parking and reducing car space: things to get people to see what they could also do in their household… and advocating for [climate action] bills," said Shurz. JYCM teens lead sustainability trainings at Jewish institutions, build resources, run the social media accounts, and organize demonstrations; a few adult staff handle behind the scenes work. 
Jewish activists use similar tactics to other groups — such as divestment campaigns or changes to unsustainable infrastructure — but their actions are by, about, and for Jews. Groups like JYCM make helping synagogues or day schools become more sustainable, a top priority.
For example, many synagogues, with assistance from Adamah (previously Hazon), are moving towards greener energy. The organization provides energy audits, educational resources, and institutional partnerships via their Jewish Climate Leadership Coalition (with more than 30 institutions across the country). Youth activists help educate Jewish communities as to the necessity of the program.
Some teens interviewed say they were previously engaged in non-denominational climate action, but that Jewish activism serves their needs better. "As an Orthodox Jew, I keep Shabbos, I keep kosher," said Schafer. "I wanted to be in a place where people would understand me and be respectful of my religious observances, so it just didn't make sense for me to join [a climate] organization that wasn't Jewish." 
Their co-director, Marcus-Blank, said that the intersectional nature of JYCM — Jewish, youth, climate — provides space for all her interests. "It allows me to be my full self in a way that I can't really be in any other space." She felt limited by other organizations: struggling with not discussing Judaism in secular climate spaces or climate in Jewish spaces, and sometimes, given her age, being ignored in both spaces.
"Being Jewish is what led me to [climate activism]," said Marcus-Blank. Being taught tikkun olam, surrounded by Jews who took action for the things they believed in, contributed to her desire to pursue environmental activism. 
Not only can Jewish values like Tikkun Olam be connected to environmentalist principles, but many of those principles are explicitly found in Jewish teachings. Judaism regards human beings as the "guardians of the earth." It dictates that God created the universe and it is the duty of humans to protect it (stewardship). Nature is woven into much of Judaism — from environmentally related holidays such as Sukkot or Tu Bishvat, to the Tree of Life, a metaphor for the Torah. Jewish tradition also supports modern sustainability concepts such as regenerative agriculture and low waste living.
Nevertheless, the Jewish presence in the climate movement is relatively recent. The first official Jewish-environmentalist organization, named Shomrei Adamah (for the Hebrew phrase "keepers of the earth") was created in 1988 by Rabbi Ellen Bernstein. The organization's mission was to "illuminate and make accessible the ecological roots of Jewish tradition and to inspire Jewish individuals and institutions to care for the earth and act on her behalf." It has since been joined by other groups, such as Adamah (the parent organization of JYCM), which formed with the merger of Hazon and Pearlstone.
Recently, the field of faith-based activism has become more diverse, with interfaith organizations such as Greenfaith gaining prominence. Jewish climate activism also has been increasing as more Jews learn of the scale and speed of the threat.
Through JYCM, teens also learn more about Judaism. Marcus-Blank learned about nigun, a form of sung prayer, at a retreat with JYCM in 2022. During Dayenu's 2022 "All Our Might"campaign, JYCM youth activist Lexie Miller brought matzah to the leader of a Wells Fargo bank as symbolism for the limited time remaining to fight the climate crisis – just as the Jews had limited time for the matzah to rise.
JYCM also conducts trainings relating Jewish persecution and perseverance to climate action. Miller, who serves on the JYCM national youth leadership board, helps to create 'equity and inclusion' resources explaining to youth that now is a time that Jews must fight for survival, just as in the past. "I perceive the threat of climate change very similar to how I felt people in the Torah must have felt when their homes were threatened," said the 13-year-old from Boulder, Colorado. The concept of justice for Jews and other marginalized groups plays a large role in JYCM's philosophy. "All of our Jewish teachings tell us to stand up for those who can't stand up for themselves and to care for the world. That's why climate activism and [equity and inclusion] is rooted so much in Jewish history," said Miller. 
For the Colorado Jewish Climate summit, the teens planned with adult organizers for months. The event was similar to others that Jewish teens are coordinating across the country. The summit came to fruition under the direction of Colorado Jewish Climate Action, and included Rabbi Jenni Rosen of Dayenu and a message from U.S senator Michael Bennet. Colorado Jewish Climate Action hopes to collaborate further with the youth activists; in the future, the Denver kvutzah will serve as a youth outreach partner. 
Many teens choose Jewish-based climate action because it fosters community. "[The other teens] inherently understand some of the biggest components of my identity and the things I value," said Schafer. 
Taking action in these groups can also alleviate burnout, a common phenomenon experienced in climate activism. "In this line of work, where you're facing an existential crisis, it's not a tangible goal that you're reaching for. And so it can be really easy to get burned out and be disappointed by the lack of action," said Marcus-Blank. "JYCM is what kept me going, because these people have so much hope and optimism."
These teens combine the ideals of youth and deep-seated values of Judaism as fuel for continued engagement in the climate movement; especially l'dor v'dor, "from generation to generation," the value of preserving/protecting Jewish faith and livelihood in the face of adversity in order for future Jews to benefit, 
"There's a certain urgency that comes with young people, because we are starting to see the effects of climate change in real time. My Jewish values project that urgency because I'm really in tune to wanting to help people," said Marcus-Blank. "And the persecution of Jews has always created changemakers. So both of those things go hand in hand."

—
The post Hot and bothered: Young Jews are demanding action on climate change appeared first on Jewish Telegraphic Agency.
25 years after opening, Yiddish Book Center overhauls its core exhibit for a wider audience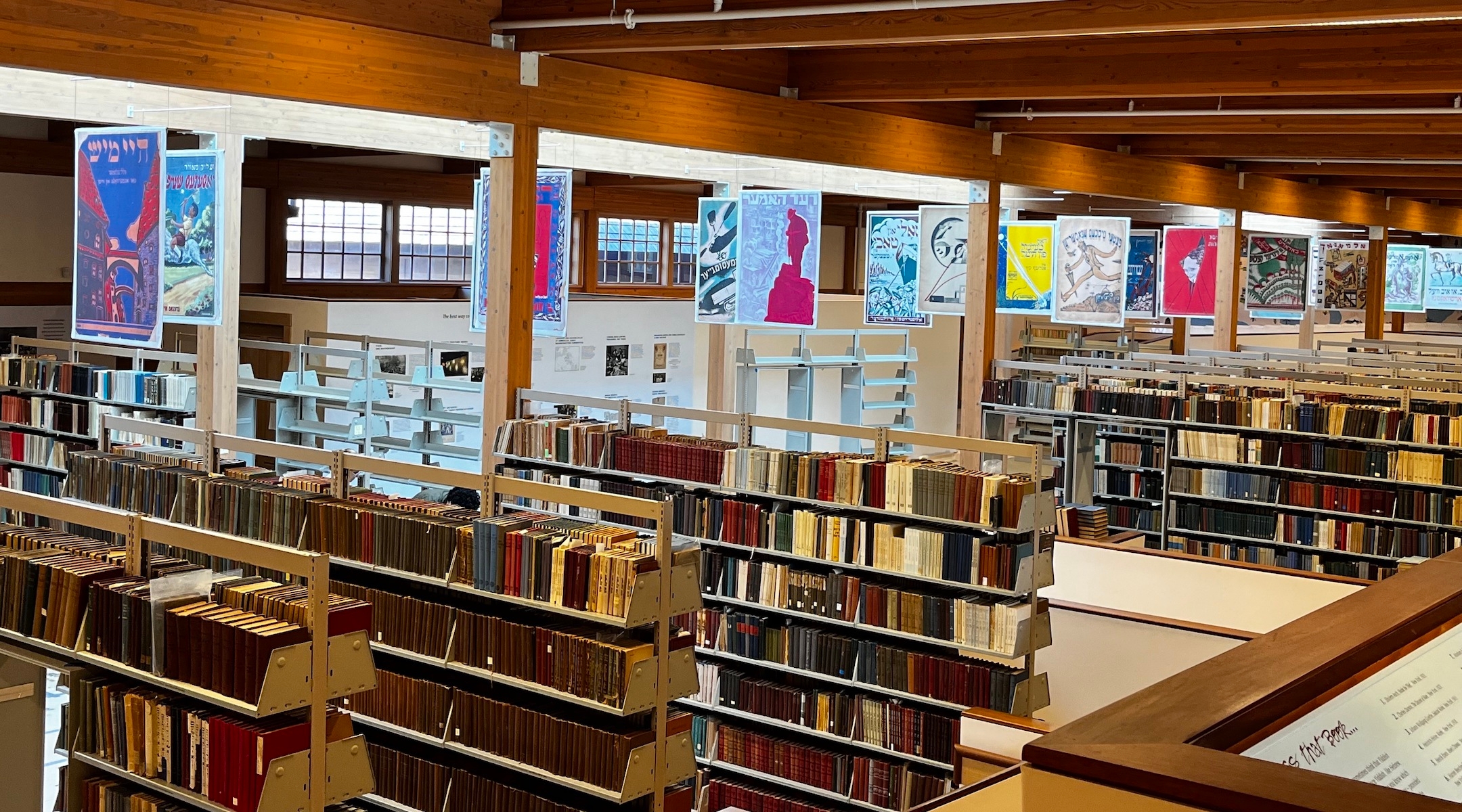 AMHERST, Massachusetts (JTA) — Since its opening in 1997, the Yiddish Book Center has wowed visitors with its architecture. A Jewish village resurrected on a college campus in sylvan Amherst, Massachusetts, the building conveys the Center's mission: to rescue and revive a language spoken for over 1,000 years by Ashkenazi Jews in German-speaking lands, Eastern Europe and wherever they migrated. 
On Oct. 15, the Center is unveiling a new core exhibit, meant to flesh out and deepen the story told by its building and the treasures stored inside. Arriving at a moment when Yiddish is experiencing one of its periodic revivals, "Yiddish: A Global Culture" is a major Yiddish institution's answer to a question without easy answers: How do you tell the story of a language without a country, and of a culture that lost a majority of its purveyors in a little over a decade of madness?
In response, the new exhibit depicts the "secular" Yiddish culture that arose in the mid-19th century as a distinctly transglobal, modern movement that includes theater, the press, mass market publishing and intellectual ferment in big cities from Warsaw to New York to Shanghai.
The exhibit is "foregrounding a story of creativity, tremendous accomplishment and tremendous diversity of a culture that has migration built into its DNA," David Mazower, the Center's research bibliographer and the exhibition's chief curator, told me when I visited Amherst last month.
The displays in the exhibit will surround and weave in and out of the Center's book stacks, another striking architectural feature of the building. The stacks offer duplicates of the Center's collection of 1.5 million Yiddish books and periodicals, for sale and browsing. I couldn't be the first visitor to be reminded of the closing scene in "Raiders of the Lost Ark," which reveals a colossal government warehouse filled with, in the words of the screenplay, "crates and crates. All looking alike. All gathering dust." 
What a casual visitor might not see is all that is happening at the Center to blow the dust off those books, including translator workshops, summer fellowships, conferences, an oral history project, a busy publishing program and a riotous summer music festival.
Interest in all of those activities has been helped along by young Jews interested in the language and culture and a pandemic that created a demand for online Yiddish classes. The Yiddish Book Center has been drawing 10,000 visitors a year since its pandemic shutdown. The New York Times made the latest revival official (to non-readers of the Jewish media, anyway) in an essay last month by the Jewish polymath Ilan Stavans, declaring that "Yiddish Is Having a Moment." Stavans notes a flurry of new translations of obscure and classic Yiddish writers, the all-Yiddish staging of "Fiddler on the Roof" and the Yiddish dialogue in three recent Netflix series: "Shtisel," "Unorthodox" and "Rough Diamonds."
(More controversially, Stavans also reports that Yiddish is appealing to those — presumably young anti-Zionist Jews — for whom Hebrew "symbolizes far-right Israeli militarism.")
Such a revival also challenges keepers of the flame — not just the Yiddish Book Center, but the YIVO Institute for Jewish Research in New York, The Workers Circle, publications like In geveb and the Yiddish Forward, academic departments plus a host of regional Yiddish organizations — to define a language and culture that means many different things to many different people.
Is it a language of a decimated past? A progenitor of the Jewish left? A tongue, still spoken daily by haredi Orthodox Jews, that continues to grow and evolve? Is it an attitude — a Jewish way of being and thinking — that survives in humor and cooking and music even if those who appreciate it can't speak the language? For European Jews of the Enlightenment, the Yiddish scholar Jeffrey Shandler reminded me a few years ago, "Yiddish represented the resistance and inability of Jews to enter the cultural mainstream. It represented something atavistic, a way of holding Jews back." For Zionists, meanwhile, it represented a weak Diaspora and everything associated with it (a clash explored in a current YIVO exhibit, "Palestinian Yiddish:  A Look at Yiddish in the Land of Israel Before 1948").
Goldie Morgenthaler, herself the daughter of the Yiddish writer Chava Rosenfarb, has written that she teaches Yiddish literature to mostly non-Jewish university students in Alberta, Canada because "studying what is specific to one culture is often the first step to understanding many cultures."
At YIVO, an institution founded by scholars in Vilna in 1925 and transplanted to New York in 1940, Yiddish is regarded as an expression of and vehicle for "Jewish pride," according to its executive director and CEO, Jonathan Brent.
"For Jewish people in the Diaspora to understand that they have in fact a future as Jews," he said last week, "they have to take pride in their heritage. For all kinds of historical reasons, many Jews felt that [Yiddish] was somehow a shameful or devalued heritage. It was 'zhargon' [jargon], and it had been basically eliminated from public discourse in the land of Israel. YIVO from the very beginning wanted to study Yiddish as a language among languages, the same way you studied Russian or Spanish or French. It was a language with a history.
"What Yiddish does," he continued, "is help anchor us in the language in which our grandparents and great grandparents communicated their deepest thoughts and feelings. And that has real implications for the survival of the Jewish people."
Aaron Lansky, the founder and president of the Yiddish Book Center, said the story he wants to tell goes back to his days as a graduate student in Yiddish at McGill University in the 1970s, when he first started saving the discarded books that would become the core of the Center's collection.
"People think of [Yiddish] as this nostalgic creation," he said. "But the truth is, it was a profound, multifaceted and really global literature that emerged in the late 19th century, and then just took off throughout the 20th century…. It wasn't long before writers were using every form of literary expression — expressionism, impressionism, surrealism, eroticism. It all found expression in this very short period of time, and even the Holocaust didn't destroy it. "
Lansky admits his own vision is more literary than the core exhibit's, and thanked Mazower for creating a broader view of Yiddish as a global culture.
That view is represented in a 60-foot mural that serves as an introduction to the exhibit. Cartoons by the German illustrator Martin Haake depict key historical vignettes in Yiddish history, from nearly every continent. Glikl of Hameln, a German-Jewish businesswoman, writes her diaries at the turn of the 18th century. Women call for a strike at "Yanovsky's Cigarette Factory" in Bialystok, Poland, in 1901. A nursery scene honors the leading Yiddish activists who were born in Displaced Persons camps after World War II. And tubercular Yiddish writers are seen recovering at the Jewish Consumptive Relief Society in Denver, Colorado, which operated from 1904 to 1940. 
The mural lines the ramp that leads to the bookshelves, where displays (some of which Mazower calls "wedges") use artifacts and wall-mounted photos to talk about the breadth of Yiddish culture. There's a display about Yiddish celebrities, including writers, such as Sholom Aleichem and Chaim Zhitlowsky, who would draw tens of thousands of mourners to their funerals. Another display honors those who preserved and studied Yiddish culture, from YIVO (described here as "The Mothership") to the monumental "Language and Cultural Atlas of Ashkenazic Jewry" undertaken between 1959 and 1972 by the linguist Uriel Weinreich. A Yiddish linotype machine, rescued by Lansky, anchors an exhibit about the Jewish press.
A centerpiece of the core exhibit is a recreation of the Warsaw literary salon of the writer and playwright I.L. Peretz, a leading figure of the late 19th century and early 20th centuries. While few actual artifacts belonging to Peretz survive, the room will include contemporaneous objects and photographs to immerse visitors in the literary scene of the day. 
"You'll step through his doorway the way that so many young writers did, clutching their first manuscripts to show them either in Hebrew or in Yiddish," Mazower explained. "His name, his address was known throughout the Russian Empire at that time. People would come thousands of miles in some cases to Warsaw to try and get entry into this alchemy-like space where extraordinary things happen."
One of those pilgrims was Mazower's great-grandfather, the famed playwright Sholem Asch. When Asch showed Peretz a draft of his notorious play "God of Vengeance," whose lesbian subplot would shock audiences and rile religious leaders, Peretz reportedly told him to burn it. 
"My hope is that through the exhibition as a whole you see Jewish history through a Yiddish lens and in a different way from the Holocaust-defined story that so many of us have been educated with and that popular culture feeds us," said Mazower. 
The exhibit treats the Holocaust as one part of the Yiddish story, not its culmination. The original Yiddish edition of Elie Wiesel's "Night," published as part of a memorial project in Argentina shortly after the war, rests in a wedge about individuals who rescued Yiddish culture under the Nazis. The same section features a tribute to Rokhl Brokhes, a writer murdered in the Minsk Ghetto in 1945. A still from a recent animated adaptation of one of her stories by Alona Bach, currently a PhD student at MIT focusing on the "intersections of electricity and Yiddish," affirms one of the Center's aims: to bring young Yiddishists into conversation with the past.
The story of Yiddish theater will wrap around the auditorium, starting with a large photo of the audience at the opening of the Grand Street Theatre in New York in 1905. A memorial section remembers the probably thousands of actors, playwrights and musicians who were killed in the Holocaust.
"Had Yiddish theater not suffered a rupture, which it did, it would have continued to evolve and borrow and expand," said Lisa Newman, the Center's director of publishing and public programs. "What's so important about this exhibition is that it places Yiddish in this context of language no less than any other country's, except it's not a country." 
I asked Mazower what kind of stories he did not want to tell about Yiddish culture.
"It's not a story about Yiddish humor," he said. "It's not a story about the Holocaust. It's not a story about the state of Israel. It's not a lachrymose story about Jewish persecution through the ages."
Other Yiddishists told me much the same thing (Brent said that the story of Yiddish "shouldn't be told as a collection of jokes, or Yiddish curses, or as a cute language that connects you to Bubbe's gefilte fish"). 
And yet, said Lansky, "We're not feinschmeckers, we're not elitist when it comes to Yiddish. Yiddish was a vernacular language, and I am happy to embrace that. I love the humor and social criticism that's embedded in it. It's the aggregate that's so impressive. To see all of this literature and culture in a lively and accessible way can be quite transformative."
—
The post 25 years after opening, Yiddish Book Center overhauls its core exhibit for a wider audience appeared first on Jewish Telegraphic Agency.
San Francisco Giants fire Jewish manager Gabe Kapler after disappointing season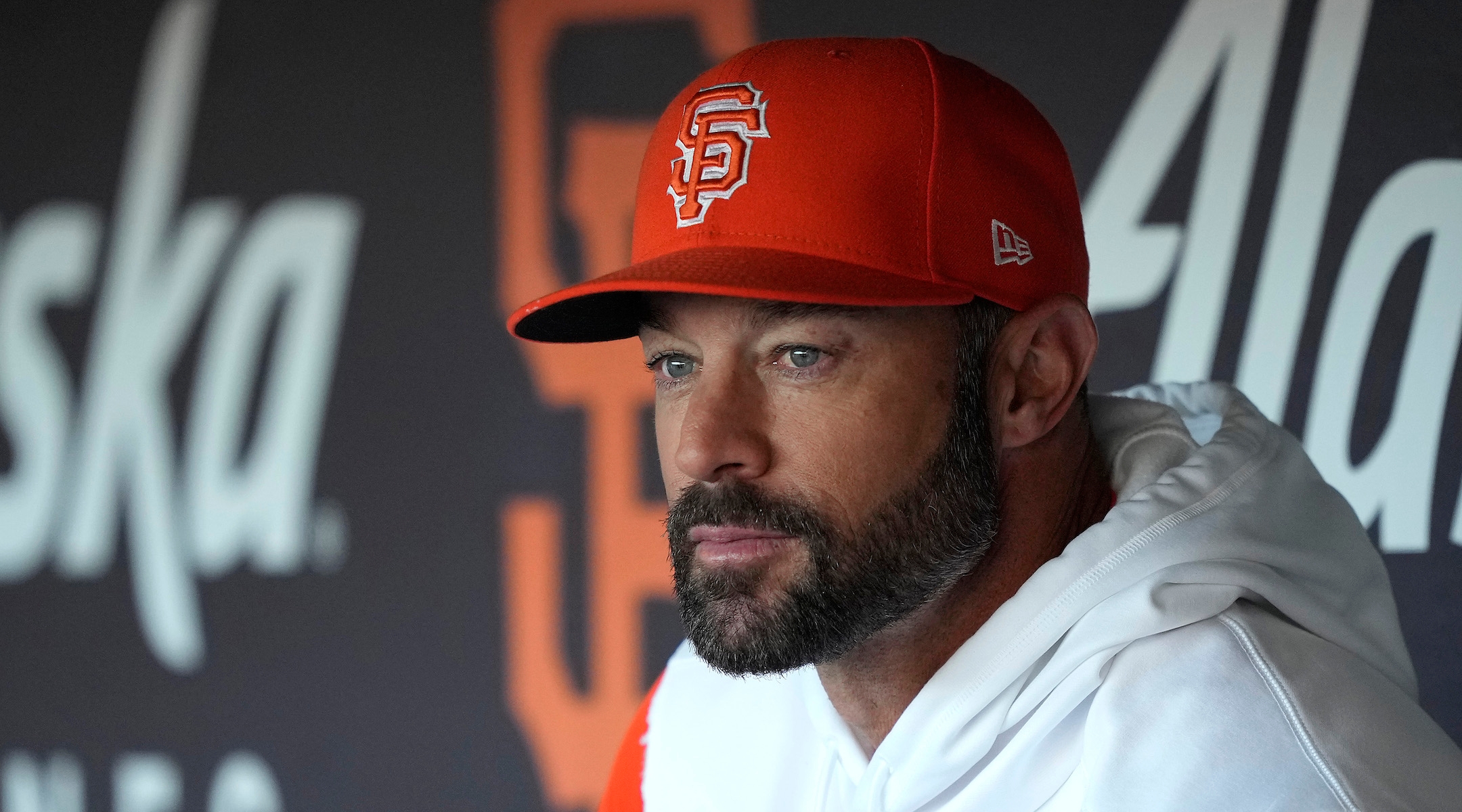 (JTA) — The San Francisco Giants have fired Jewish manager Gabe Kapler after four seasons.
Kapler joined the Giants in November 2019 and led the Giants to a 295-248 record during the 2020-2023 seasons, highlighted by a 107-win 2021 campaign that earned Kapler the National League Manager of the Year award. The team rewarded Kapler with a two-year contract extension that was set to run through 2024.
The Giants were eliminated from postseason contention this week, missing the playoffs for the second consecutive season.
In addition to his 2021 accolade, Kapler's tenure in San Francisco was punctuated by his unorthodox style both on and off the field. The 48-year-old Hollywood, California, native is a fitness geek with an active social media presence and his own blog. ESPN deemed him "the most interesting man in baseball" in May 2022. Kapler also has a Jewish tattoo on each leg: a Jewish star on his left leg and "Never Again" — a reference to the Holocaust — on his right leg.
On the field, Kapler in 2020 became the first MLB manager to kneel during the national anthem amid nationwide Black Lives Matter protests. In 2022, in the wake of the deadly mass shooting at an elementary school in Uvalde, Texas, Kapler announced that he would begin skipping the pregame national anthem to protest the "state of this country." He frequently used his platform in the sport to share his political beliefs.
Kapler played for six teams during his 12-year major league career, largely as a role player and backup outfielder. After retiring in 2010, Kapler played and coached for Team Israel in the 2013 World Baseball Classic. He previously managed the Philadelphia Phillies from 2018-2019 and worked for the Los Angeles Dodgers organization.
With Kapler's firing, San Diego Padres manager Bob Melvin becomes the league's lone Jewish skipper.
—
The post San Francisco Giants fire Jewish manager Gabe Kapler after disappointing season appeared first on Jewish Telegraphic Agency.
Flash floods put a dangerous damper on the first night of Sukkot in NYC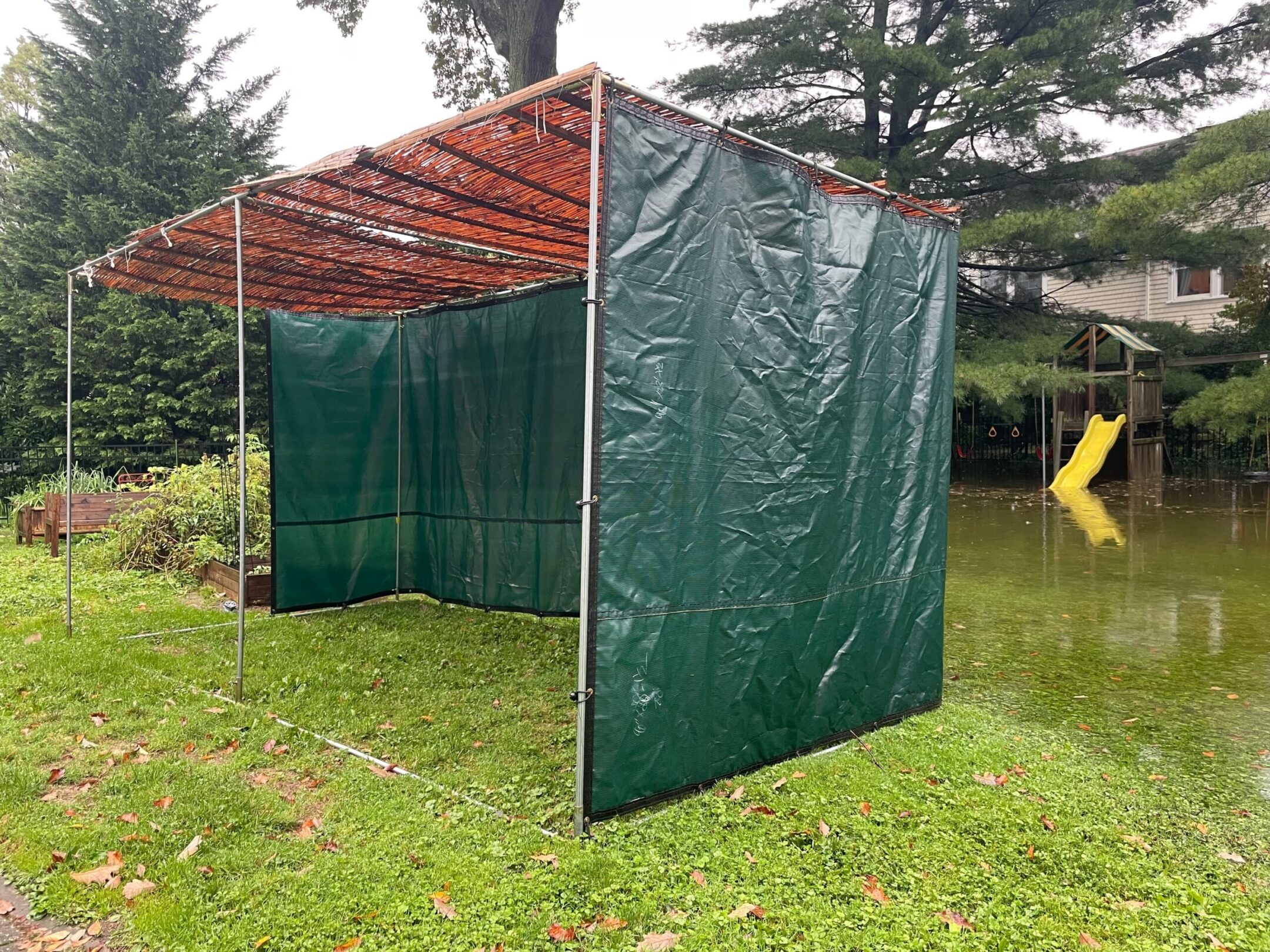 (New York Jewish Week) — Mark Vogel, who lives in Riverdale and runs a website about Jewish and kosher travel, spoke for many of his neighbors when he posted a video on Instagram of his sukkah being pounded by rain, standing forlornly in the middle of his flooded backyard.
"I built a Sukkah," he wrote in a caption. "I should have built an ark."
Vogel, and many of the other millions of Jews in the tristate area, have been coping with the reality that Sukkot, the most outdoor holiday on the Jewish calendar, has coincided with heavy rains that have flooded highways, shut down subway lines and triggered a state of emergency in New York City. More than 8 inches of rain had fallen at John F. Kennedy airport by Friday afternoon, and more is expected into Saturday.
New Yorkers should expect heavy rain and flooding to continue throughout the night tonight," Gov. Kathy Hochul posted on social media on Friday afternoon. "To our Jewish neighbors celebrating the beginning of Sukkot, please take steps to stay safe during this severe weather event."
Sukkot begins Friday night, and on the weeklong holiday, Jews traditionally eat their meals and even sleep in the sukkah, an outdoor hut with a roof generally made from tree branches that recalls the Israelites' biblical sojourn in the desert and emphasizes the need for divine protection.
But rain makes those observances close to impossible — leading most would-be sukkah-dwellers in New York to accept that they'll be eating indoors on the holiday's first night, and sparking a wide variety of theological and practical responses from rabbis and rank-and-file Jews alike. For others, it has complicated travel plans hours before the holiday's start, backing up traffic and making the subway especially hard to navigate.
"I once heard that if it rains on [the] first night of sukkoth, it's some sort of sign that God is displeased with us," Linda Gisselle Roth, who splits her time between New York City and Connecticut, wrote on Facebook on Friday. "And it's been raining for days. And I've never felt like this before."
She added, "I want to spend [the] first night of sukkoth, in my sukkah. So for right now, I'm asking, please let the rain stop."
While the rainy season in Israel traditionally begins right after Sukkot, rain is a common occurrence on the holiday in the United States and even inspired the title of a children's book from the 1990s, "Why Does It Always Rain on Sukkot?"
Observant Jews have varying customs when it comes to dealing with rain on the holiday. Many avoid their sukkah entirely, while others will quickly recite blessings over wine and challah in the sukkah and then eat the rest of the meal indoors. Adherents of Chabad, the Hasidic movement based in Crown Heights, try to eat in the sukkah under nearly all circumstances.
One resident of Teaneck, New Jersey, a heavily Jewish suburb, posted a single-spaced, two-page guide from his local rabbi on what to do if it rains on the holiday. (The rabbi, who is not named in the document, recommends saying blessings over wine and challah in the sukkah and then continuing the meal inside.)
Rabbis on social media, meanwhile, explored the theological dimensions of the weather. Some cited a passage from the Mishnah, the ancient code of rabbinic law, that compares rain on Sukkot, following the effort of building a sukkah, to a servant bringing his master a jug of wine, only for the master to throw water back in the servant's face.
"Nasty weather on sukkot is a sign of God's displeasure with us," Rabbi Ysoscher Katz, who teaches at the liberal Orthodox Yeshivat Chovevei Torah seminary, wrote on Facebook. Then, referencing the recent High Holidays and addressing God, he wrote, "If all we did the last few weeks is not good enough for You, what's left for us to say?! We did the best we can. If You want more, You will have to let us know what that more is."
Rabbi Ethan Tucker, the president of the Hadar Institute, an egalitarian center of Jewish study based in Manhattan, also cited the passage and encouraged people to focus on the experience of the servant in the parable. He added that because the first day of the holiday falls on Shabbat, the other central commandment associated with Sukkot, praying with four species of plants, is also deferred a day. (Sunday is expected to be sunny.)
"What does it *feel like* when you have prepared for something and then you cannot execute it as planned?" he wrote on Facebook. "It feels like rejection, as in the parable. The weather may in fact just be the weather, but it doesn't necessarily make the feeling of loss less palpable. Is there a way to make this Sukkah rainout an opportunity to sit with rejection? To empathize with other such experiences, even if they are not our own?"
Some New Yorkers tried to stay positive. "It might be flooding and we might consume a lot of rain water with our food lol but Sukkot Dinner under the Stars is still on even if we might end up eating indoors under a roof instead!" a Facebook user from Queens posted on Friday, advertising a meal that night.
Nina Jochnowitz, a State Senate candidate in New Jersey, cited the rabbinic idea that Sukkot is considered a time of joy, and referenced a Hasidic saying that "'joy breaks all boundaries,' transforming even the most negative occurrences into blessings!"
And others reached for seasonal parallels: "If only sukkot came with rain dates like baseball," one person posted.
For Vogel, the travel writer and Riverdale resident, the rain was especially unfortunate, as he has built a smaller sukkah in recent years to limit capacity due to the COVID-19 pandemic. This was the first year he had gone back to building a larger one.
"Well, I was looking forward to eating in a large sukkah this year with friends and family," he told the New York Jewish Week. "But we can't control the weather, so we will make the best of it."
—
The post Flash floods put a dangerous damper on the first night of Sukkot in NYC appeared first on Jewish Telegraphic Agency.