In Tel Aviv, Biden pins blame for Gaza hospital blast on 'the other team'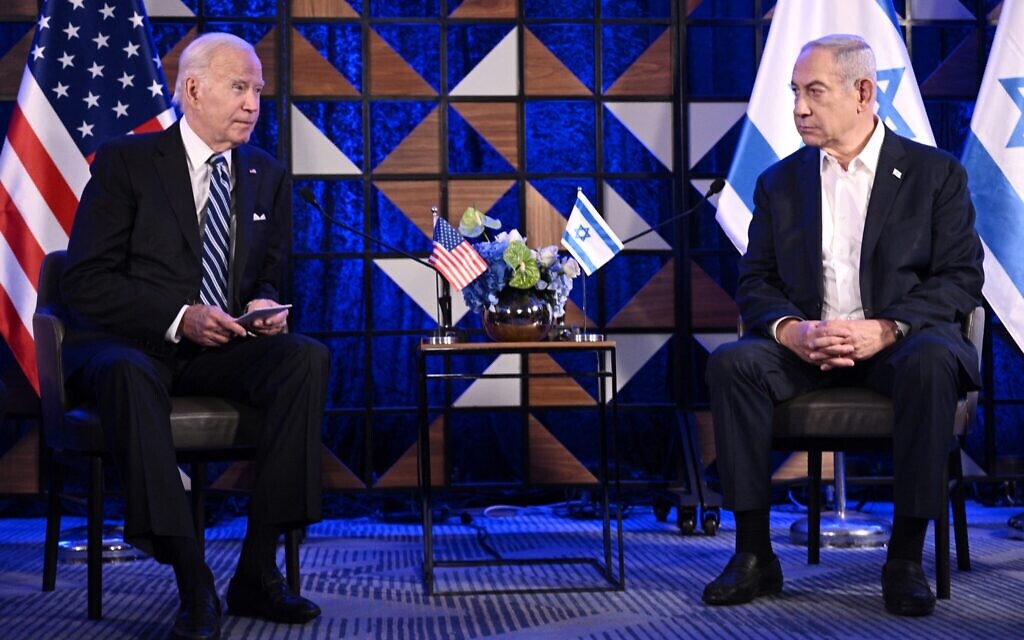 Israel's assertion that a misfired Palestinian rocket caused the deadly explosion in Gaza City receives major boost; president also says Hamas makes ISIS look 'more rational'
Hebrew pocket watch, frozen in time of Titanic wreck, headed for auction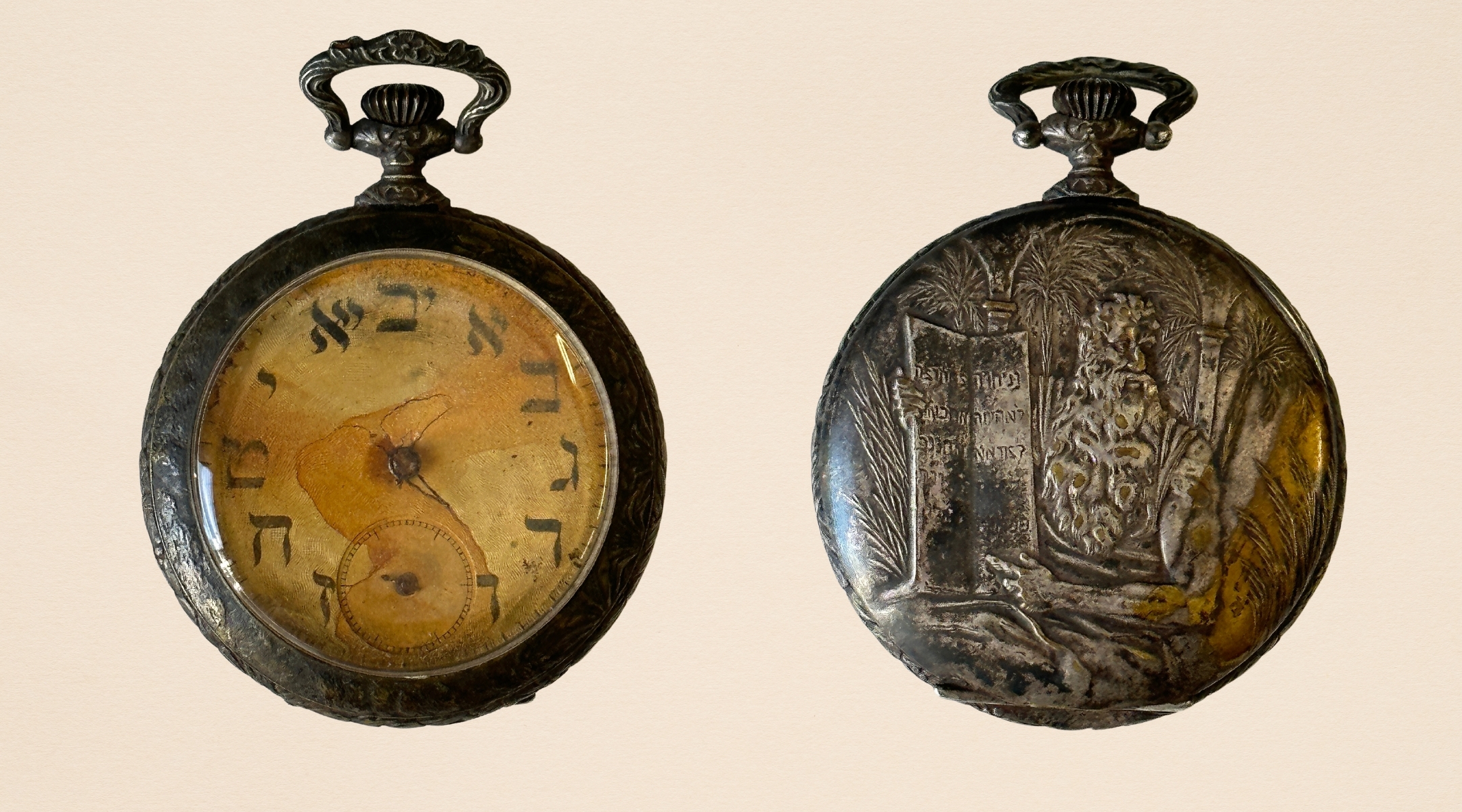 (JTA) — A pocket watch, frozen in time when the Titanic went underwater, is set to sell at auction Saturday, with an expected sales price of nearly $100,000.
That's nearly 30 times the value of the ticket that Sinai Kantor, a Russian Jew on his way to New York City, spent for his ticket on the "unsinkable" ship.
Numbers on the Swiss-made, silver-on-brass watch are written in Hebrew numerals and its hands are nearly all deteriorated, due to saltwater exposure — but dried water marks indicate that time stopped at 2:25 a.m., about five minutes after the Titanic sank. Its back features an embossed, solemn, muscular Moses holding the Ten Commandments on a background of date palms.
The silver pocket watch once belonged to Kantor, 34, a second-class passenger traveling with his wife Miriam, 24. The pair were recently married university graduates, on their way to New York where Kantor planned to sell furs while they studied dentistry and medicine, as part of a flood of Jewish immigration underway at the time.
Kantor paid £26 — worth about $3,100 today — for ticket No. 244367 on the Titanic, which they boarded on April 10, 1912, in Southampton, England.
"On the night of the disaster, like so many couples, they were forced to separate because of the 'women and children only' rule," Michael Findlay, former president of the Titanic International Society told the Washington Post. "Mr. Kantor had to remain behind."
Miriam alone was saved in lifeboat 12, according to information provided by the auction house. According to records collected by Titanic enthusiasts, she later became a U.S. citizen, taking the name Mary, and worked as a pharmacist in Brooklyn before being institutionalized at a psychiatric hospital where she spent the rest of her life before dying at 63 in 1950.
Kantor's body was recovered eight days after the accident. His pocket watch and some of his other possessions, including his Russian passport, a notebook, money, wallets, a telescope and a corkscrew were returned to his widow in May 1912 by the White Star Line, according to Henry Aldridge and Son, the auction house selling his possessions and other Titanic memorabilia. Kantor was buried at Mount Zion Cemetery in Queens.
His watch was previously sold at auction in 2018 for $57,500.
Of the timepieces that survived the shipwreck, most are stopped between 2:20 and 2:30, Findlay said. "It all depends when the individual went into the water," he said. "It's haunting."
—
The post Hebrew pocket watch, frozen in time of Titanic wreck, headed for auction appeared first on Jewish Telegraphic Agency.
Columbia University suspends Jewish Voice for Peace and Students for Justice in Palestine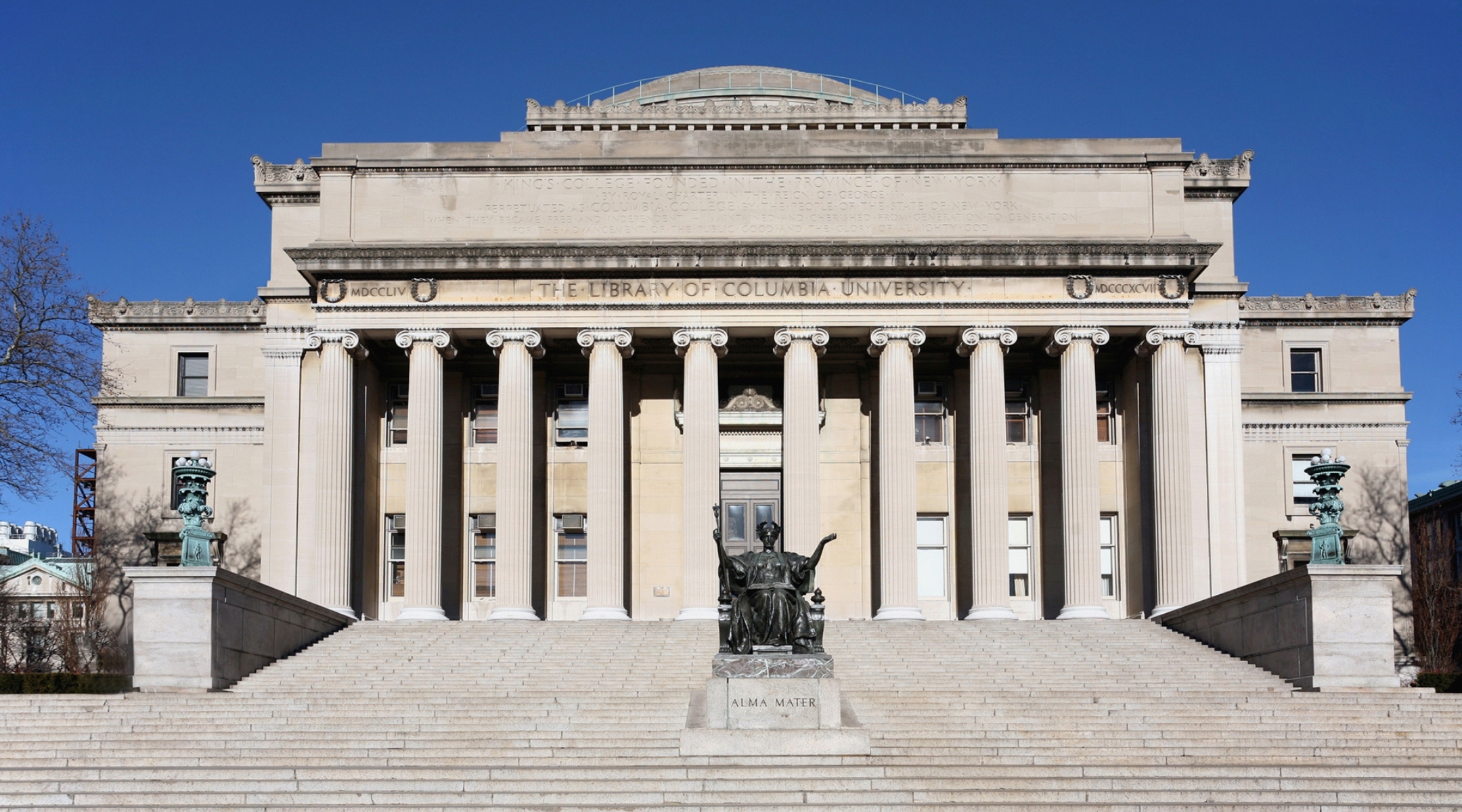 (New York Jewish Week) — Columbia University has suspended two pro-Palestinian student groups — Jewish Voice for Peace and Students for Justice in Palestine — saying they violated university policies and expressed "threatening rhetoric and intimidation."
The suspension runs through the end of the fall semester, about six more weeks, and marks a significant crackdown by the school on the two groups as campuses nationwide have erupted in debate, activism and occasional violence surrounding the war between Israel and Hamas in Gaza.
"This decision was made after the two groups repeatedly violated University policies related to holding campus events, culminating in an unauthorized event Thursday afternoon that proceeded despite warnings and included threatening rhetoric and intimidation," read a statement issued Friday by Gerald Rosberg, Columbia's senior executive vice president and chair of its Special Committee on Campus Safety.
A spokesperson for JVP's national organization said it was deferring to the student group to comment on the suspension. Columbia SJP posted on X, formerly known as Twitter, that followers should "stay tuned for an official response."
The suspensions mean that the groups cannot receive university funding or hold events on university space. To be reinstated, Rosberg said, they will need to show "a commitment to compliance with University policies" and meet with university officials.
SJP, whose national umbrella celebrated Hamas' Oct. 7 attack on Israel, has been banned at Florida's public universities as well as Brandeis University. This appears to be the first time a university has suspended JVP, a Jewish anti-Zionist group.
At Columbia, the two groups have held a series of protests and other actions calling for a ceasefire in Israel's war against Hamas in Gaza, and accusing Israel of "genocide." Columbia has been a hotspot for campus activism surrounding the conflict, and an Israeli student was assaulted there in what police called a hate crime. Supporters of Israel have criticized the school for what they call a tepid response to the anti-Israel activism, and late last month, Jewish billionaire Henry Swieca quit the board of Columbia Business School, saying that the campus is "unsafe" for Jews.
On Thursday, the two suspended groups held a "die-in" in front of the school's Low Library, and SJP put up a placard with a series of demands that the JVP chapter promoted online. The final demand, "No more dual degree," was an apparent reference to the school's undergraduate dual-degree program with the Jewish Theological Seminary, a Conservative Jewish institution.
Rosberg threatened anti-Israel activists with formal punishment on Wednesday, when a group staged a nine-hour sit-in at the Columbia School of Social Work that was promoted by SJP. According to the Columbia Spectator, the campus newspaper, Rosberg communicated through representatives that the activists were in violation of school rules and faced academic sanctions. The Spectator reported that Rosberg told the activists they were "interfering with the traffic of people who are trying to come in and get an education here and pursue their goals here in the School of Social Work."
He added, "I want to say to you as clearly as I possibly can that what you are doing, all of you, just by being here, is a serious violation of our rules."
The announcement of the suspension comes after dozens of national Jewish groups, campus organizations and state legislators signed a letter demanding universities withdraw their schools' recognition of and funding for SJP following Oct. 7. It also comes about a week after Columbia announced the formation of a task force to identify short- and long-term strategies to combat antisemitism at the university and its affiliated institutions.
"During this especially charged time on our campus, we are strongly committed to giving space to student groups to participate in debate, advocacy, and protest," Rosberg wrote. "This relies on community members abiding by the rules and cooperating with University administrators who have a duty to ensure the safety of everyone in our community."
—
The post Columbia University suspends Jewish Voice for Peace and Students for Justice in Palestine appeared first on Jewish Telegraphic Agency.
How Tuesday's rally in DC is trying to pitch a broad pro-Israel tent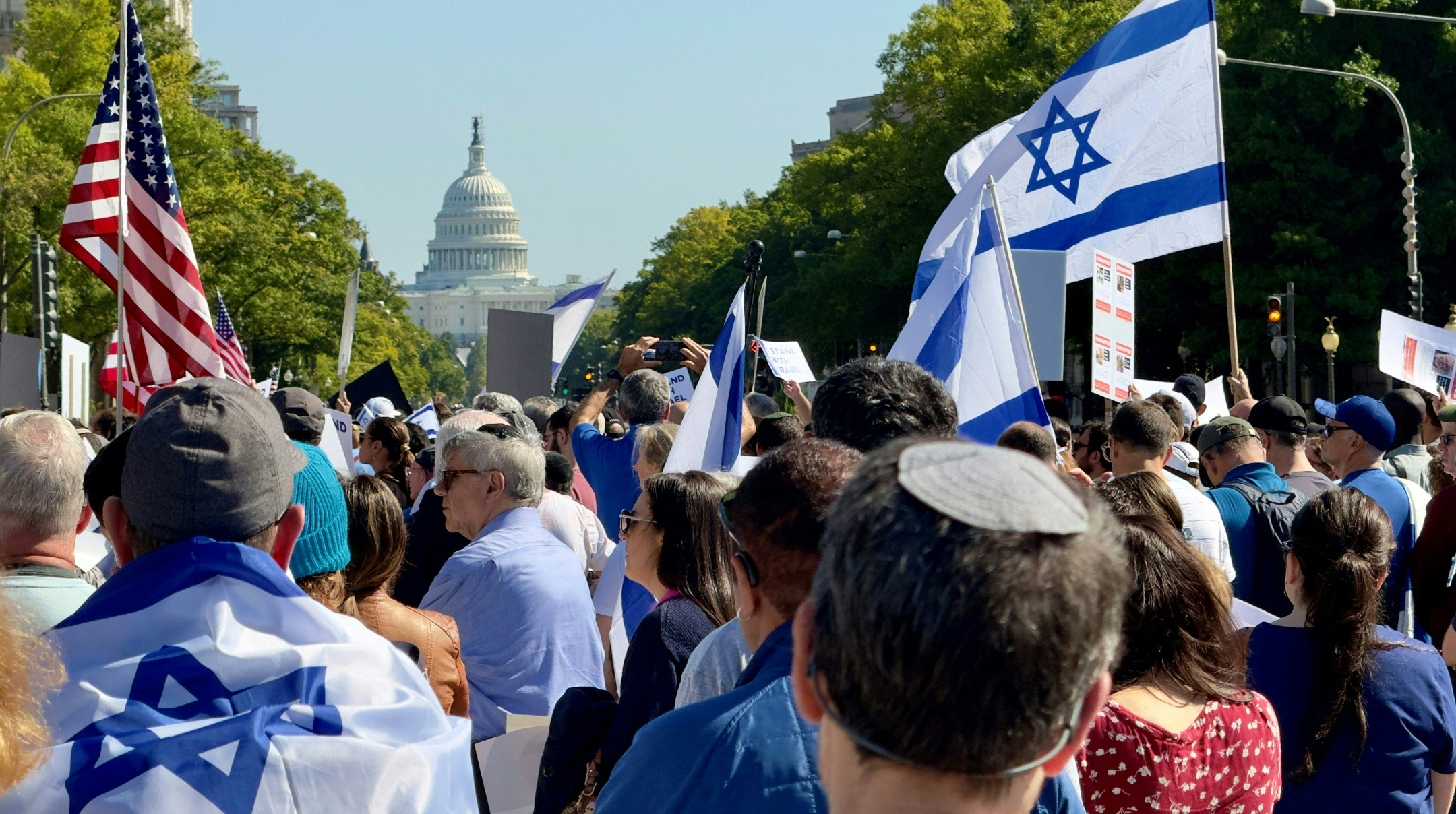 WASHINGTON (JTA) — When it sends a contingent to the mass pro-Israel rally in Washington, D.C. next week, Americans for Peace Now will be standing alongside a group led by someone it accused of racist tweets. 
That group, the Zionist Organization of America, has accused Americans for Peace Now of supporting antisemitism. 
Leaders of both groups said they would still protest together on Nov. 14. 
"It is nearly certain that some speakers at the rally will say things that we disagree with, and they will certainly not say everything that we believe needs to be said," said an alert from APN, a left-wing pro-Israel group. "But we will not cede this ground to those with whom we disagree. We will stand together as a community alongside other Jewish organizations in our Peace Bloc and yes, alongside those who do not share our views."

Morton Klein, the president of the right-wing ZOA, sounded the same note: "The Hamas Jew-hater types are after all of us, no matter our political views, so I'm proud to stand together with my fellow Jews who understand this is a flight to protect all Jews, no matter their political position or religious beliefs," he said. 
Securing the presence of those two groups along with others that are firmly on the right and left was one of the goals of the rally, which was called last week and aims to attract tens of thousands to demonstrate for Israel, on behalf of the hostages held by Hamas, and against antisemitism.
The rally's goal is to shore up support for Israel's war effort more than a month after Hamas' Oct. 7 attack on Israel sparked an Israeli invasion of Gaza aimed at deposing the terror group. That invasion has sparked growing criticism of a mounting civilian death toll along with calls for a ceasefire. But the rally also aims to show that even as American Jews have become increasingly polarized, a broad spectrum of Jewish organizations and their supporters can still unite behind an overarching message of backing Israel and opposing antisemitism. 
"It's just indicative of the clarity that comes from October 7," said William Daroff, the CEO of the Conference of Presidents of Major American Jewish Organizations, which is organizing the rally along with the Jewish Federations of North America. "We must stand together as one, and we can put aside our differences, big differences and small differences, and focus on the commonality of our connectivity to Israel and our connectivity to each other as Jews here and around the world."
To that end, organizers have curated the rally to feature speakers and branding that attract a broad consensus. By the same token, they are eschewing steps that could alienate segments of the Jewish organizational world.
The rally has no official cosponsors, and leaders of organizations will not be delivering any major speeches from the stage. The emphasis from the podium, Daroff said, will be on the tragedy of Oct. 7 and the need to free hostages, as well as the danger of antisemitism on campus and elsewhere. 
"We are talking to families of hostages and survivors and evacuees and others who were affected by Oct. 7 In Israel," he said, referring to possible speakers. A program for the rally has not been issued 
"We're also talking to students who have experienced hate on our campuses," he said. And invitations have already gone out to top congressional leaders and to top Biden administration officials, he said, "as well as the top-flight entertainers and people from the entertainment industry."
The rally is being promoted by major Conservative, Reform, Reconstructionist and Orthodox groups. Along with APN, the pro-Israel left will be represented by the liberal lobby J Street. APN's president, Hadar Susskind, said the lack of cosponsors made it easier to join. He didn't have to worry about APN's logo showing up alongside those of groups it opposes.
"The concept that no one is co-sponsoring this, I think, is very smart," he said. "Because, frankly, had I been asked to co sponsor it. I'm not sure that I would have. Co-sponsoring, to me, is a different level than just 'we're going to it.'" 
A poll released by the Jewish Federations on Thursday showed that large majorities of American Jews fear rising antisemitism and back military aid to Israel. 
The entirety of the Jewish left will not be represented on Tuesday, though they may organize their own demonstration: Jewish organizations that have accused Israel of genocide and advocated in protests for an immediate ceasefire, Jewish Voice for Peace and IfNotNow, did not respond to requests for comment on whether they would counterprotest.
Rally organizers hope to have the same impact as mass Jewish-led National Mall rallies in 2002, when the Second Intifada was raging in Israel, and in 1987 on behalf of Soviet Jewry. Those rallies topped 100,000 attendees. But judging by this rally's permit request, its attendance will be lower. Organizers have asked the National Park Service for space to accommodate 60,000 people. 
But Daroff still believes the showing will be significant. 
"We hear of just thousands and thousands of people coming to Washington — schools that are closing and bringing their whole student bodies and universities doing the same,  federations that are chartering planes, people coming from the West Coast. Huge numbers of people coming from South Florida," he said. "It wouldn't surprise me if all of Boca Raton's synagogues convened on the National Mall on Tuesday."
That doesn't mean there won't be political tensions. At the time of the announcement on Monday night, the Biden administration and Israel were more or less in lockstep in terms of rejecting pressure from the left for a ceasefire. Biden officials are reportedly now pressing for a three-day pause in fighting to deliver humanitarian relief; if Israel resists, those political statements could play out among the speakers from the podium. On Thursday, Israel agreed to pauses of several hours per day for humanitarian relief. 
Daroff said security would be tight — another overarching concern of American Jews. "The very first call that I made, as we were considering having this event, was to Secretary [Alejandro] Mayorkas at the Department of Homeland Security," he said. National security agencies will also be providing security for the event. 
"We will have literally hundreds of security officials who will be around as well, including our own private security," he said. "There will be metal detectors, magnetometers and I'm confident that on November 14, at one o'clock, among the safest places on the planet will be our little piece of the National Mall."
—
The post How Tuesday's rally in DC is trying to pitch a broad pro-Israel tent appeared first on Jewish Telegraphic Agency.