Iran Denies Involvement in Seizure of Israeli-Linked Red Sea Ship by Yemen's Houthis
Iran on Monday denied Israeli claims that it was involved in the seizure of a British-owned and Japanese-operated cargo ship in the southern Red Sea by Yemen's Houthis, an Iranian-backed terrorist organization.
"We have said multiple times that resistance groups in the region act independently and spontaneously based on their interests and that of their people," Iranian Foreign Ministry spokesperson Nasser Kanaani said on Monday at a press conference, adding that Israeli claims were aimed at diverting attention away from Israel's "irreparable defeat" in its battle against Hamas terrorists in the Gaza Strip.
On Sunday, Israel said the incident was an "Iranian act of terrorism" with consequences for international maritime security.
The Houthis, an ally of Tehran, said they had seized a ship in the area but described it as Israeli. "We are treating the ship's crew in accordance with Islamic principles and values," a spokesperson for the group said. The Yemen-based group reportedly took the ship's 25 crew members hostage.
"All ships belonging to the Israeli enemy or that deal with it will become legitimate targets," the Houthis said.
The Houthis have been launching long-range missile and drone salvos at Israel in solidarity with the Palestinian Hamas terrorists fighting in Gaza. Last week, the Houthis' leader, Abdul-Malik al-Houthi, vowed to maintain armed attacks against Israeli targets while bemoaning the "weak stance" of the Muslim world towards the ongoing conflict in Gaza.
According to reports, ownership details in public shipping databases associated the ship's owners with Ray Car Carriers, founded by Abraham "Rami" Ungar, one of the richest men in Israel. However, the Israel Defense Forces (IDF) said on Sunday that no Israelis were on the cargo ship.
Japan's top government spokesperson on Monday confirmed the capture of the Nippon Yusen-operated ship, Galaxy Leader, adding that Japan was appealing to the Houthis while seeking the help of Saudi, Omani, and Iranian authorities to work toward the swift release of the vessel and its crew.
"We strongly condemn such acts," Chief Cabinet Secretary Hirokazu Matsuno told a news conference. No Japanese nationals are among the crew, he said.
Galaxy Leader is owned by a company registered under Isle of Man-headquartered Ray Car Carriers, which is a unit of Tel Aviv-incorporated Ray Shipping, according to LSEG data.
Japan's Nippon Yusen, also known as NYK, said the company had set up a task force to gather more information, including on the safety of the 25 crew, who are from the Philippines, Bulgaria, Ukraine, Romania, and Mexico. The vessel, a car carrier, had been heading toward India from Europe with no cargo, a spokesperson said.
The US was monitoring the situation, a defense official said.
Israeli Prime Minister Benjamin Netanyahu's office said a ship — which it did not name — had been seized. There were no Israelis aboard and Israel was not involved in its ownership or operation, his office said.
"This is another Iranian act of terrorism that represents an escalation in Iran's belligerence against the citizens of the free world, with concomitant international ramifications vis-a-vis the security of global shipping routes," his office said.
The post Iran Denies Involvement in Seizure of Israeli-Linked Red Sea Ship by Yemen's Houthis first appeared on Algemeiner.com.
Javier Milei, right-wing economist with a passion for Judaism, is elected president of Argentina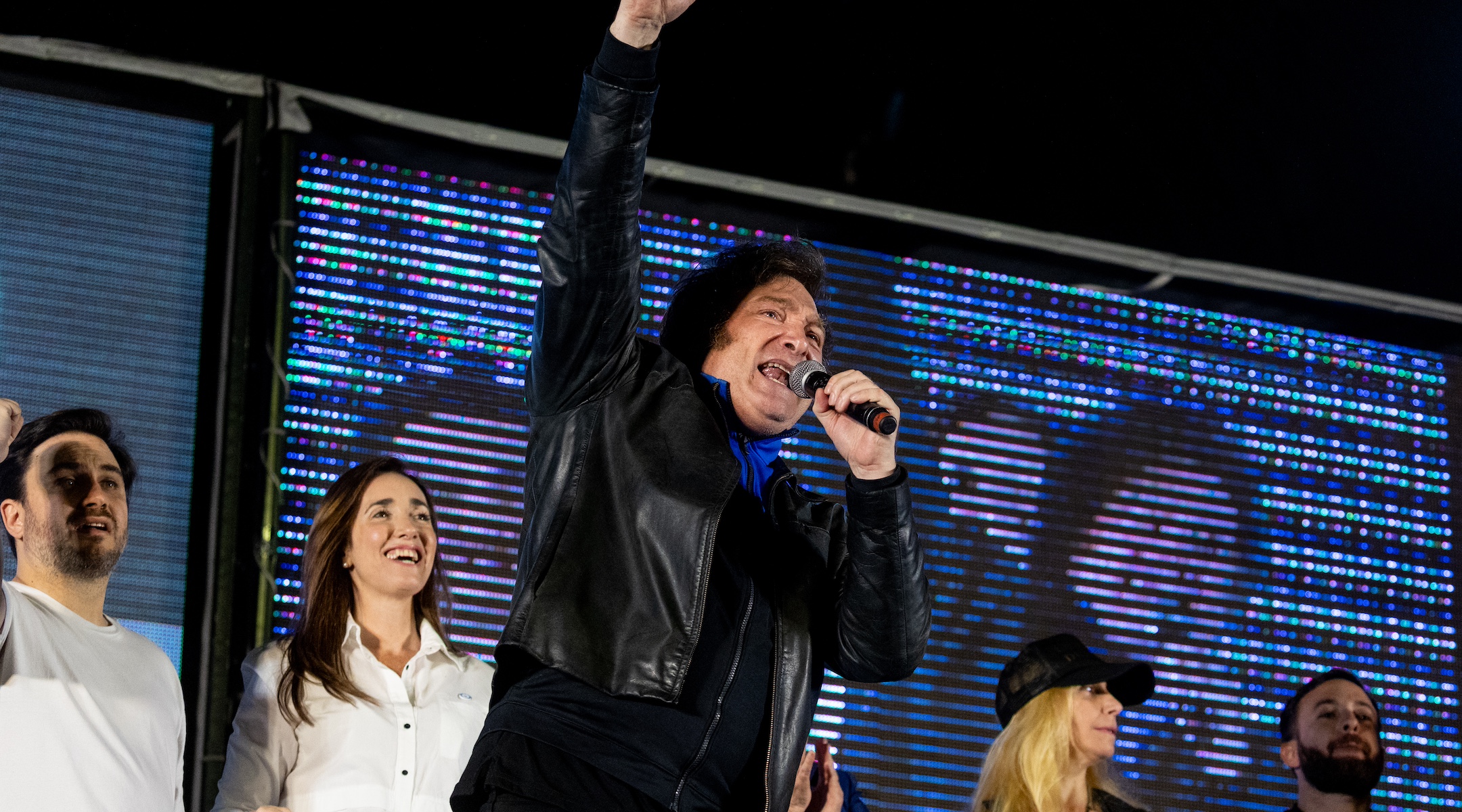 BUENOS AIRES (JTA) — Javier Milei, a colorful right-wing populist who has said he would like to convert to Judaism, was elected president of Argentina on Sunday.
Early results showed he garnered over 55% of the national vote, defeating Sergio Massa, the current left-wing government's economy minister.
Milei's passionate love of Judaism and Israel has been one of the several unexpected qualities that Argentines and political analysts have become accustomed to during his rapid rise over the past year. Milei, 53, throughout his campaign blamed the outgoing government for soaring inflation and poverty rates. That government included Cristina Fernández de Kirchner — who has been accused of obstructing the investigation into the 1994 AMIA Jewish center bombing — as vice president.
"Today we will start the rebuilding of Argentina," Milei said in his acceptance speech Sunday night.
Milei, an economist and former TV and radio pundit, calls himself an anarcho-capitalist. He has promised to close several government ministries, including Argentina's national bank, a move that would make the country's currency the American dollar. He calls climate change a hoax and has earned comparisons to Donald Trump.
He also studies Torah regularly.
In an interview with Spain's El Pais newspaper over the summer, Milei talked about his study with Rabbi Shimon Axel Wahnish, who heads ACILBA, an Argentine-Moroccan Jewish community based in Buenos Aires. Milei said he has considered converting to Judaism but worries about how Shabbat observance would clash with the duties of the presidency.
He demonstrates his passion for Judaism at rallies and public events, often walking out on stage to the sound of a shofar, the ram's horn blown on Rosh Hashanah. At one rally in August, the shofar sound was accompanied on a screen by a photo of a man wearing a Jewish prayer shawl.
SUENA EL SHOFAR pic.twitter.com/cggV3tjgbS
— Santiago Oría (@Santiago_Oria) August 8, 2023
He is also an outspoken supporter of Israel, having stated before the start of Israel's war on Oct. 7 that he would like to make an early diplomatic trip to Jerusalem and to move Argentina's embassy to that city. In one of his final public appearances before the election, Milei was seen waving an Israeli flag among a large crowd in Rosario.
—
The post Javier Milei, right-wing economist with a passion for Judaism, is elected president of Argentina appeared first on Jewish Telegraphic Agency.
A Serb Killer Breaks Bread with Hamas
JNS.org – "Politics makes strange bedfellows," goes the old Victorian saying. In the harrowing weeks that have followed the Oct. 7 Hamas pogrom in southern Israel, we've seen radical feminists aligning with rapists who tortured and violated young women at a music festival, Jewish "peace activists" aligning with terrorists who would quite happily slaughter them along with all their relatives, and Western liberals marching arm-in-arm with Islamists bellowing antisemitic chants in Arabic.
However, at least to my mind, the alignment of a Serbian war criminal from the 1990s with the Hamas murderers of the 2020s is the strangest and most unsettling of all.
Vojislav Šešelj (pronounced "Sheshel") was the founder of the Serbian Radical Party (SRS), which he still chairs, and the main inspiration behind the White Eagles, a vicious Serb paramilitary organization responsible for numerous atrocities in Croatia and Bosnia. Šešelj first emerged in the 1980s, when rising, belligerent Serb nationalism heralded the breakup of what used to be Yugoslavia. During the 1990s, when he served for a time as Serbia's deputy prime minister, Seselj played an instrumental role in orchestrating and cheering Serb atrocities in Croatia and Bosnia. For the first decade of this century, he was locked in a jail cell at the International Criminal Tribunal for the former Yugoslavia (ICTY) in The Hague, where he was on trial for war crimes and crimes against humanity.
Diagnosed with cancer in 2014, Šešelj was released. He returned to Serbia and was sensationally acquitted in The Hague before an appeal in 2018 secured his conviction for crimes against humanity. Reached by telephone in Belgrade by a Reuters reporter after the appeal verdict was announced, he declared: "I am proud of all my war crimes and crimes against humanity and am ready to repeat them." The majority of the victims of those crimes were the largely secular Balkan Muslims in Bosnia and Kosovo, whom Seselj would contemptuously dismiss as "pan-Islamists" and "Turks."
Since that conviction, I haven't had occasion to think about Šešelj—in my estimation, a truly evil individual who derived a visceral pleasure from his acts—until this week, when I saw a photo of him hosting the Palestinian Ambassador at the headquarters of the SRS in Belgrade. I will admit that I did a double take, not quite believing that someone who instigated a genocide against members of the Muslim faith was now embracing, and being embraced by, Palestinian Muslims in the Middle East.
In the process, Šešelj outed himself as an antisemite. Again, that was somewhat surprising given that some of the more opportunistic Serb nationalists sought to win sympathy in Israel and among Jews by invoking the brutal Nazi occupation of Serbia, and then misrepresenting the Serbs as victims of the Nazis in the same manner that the Jews were. (No reasonable person could question the suffering of the Serbian nation under Nazi occupation; but equally, no reasonable person could examine the historical record and conclude that the Nazis slaughtered Serbs with the same devotion and the same justification that they applied to the 6 million Jews at their mercy.)
Interviewed by a nationalist outlet after his meeting with the Palestinian envoy, Šešelj (recall again, a man convicted for crimes against humanity) "expressed his understanding for the just struggle of the Palestinian people and great concern over the genocide that Israel is carrying out against the Palestinians, seeking a basis for its genocidal intent in the Bible of the Old Testament." This recasting of the Hebrew Bible as the point of origin for Israel's supposed iniquities is a well-worn antisemitic trope; Christians in medieval Europe invoked the jealous God of Israel as a counter to the universalist message of Jesus Christ, and later on, Soviet Communists touted sacred Jewish texts as embodying the reactionary ideology of Judaism. Its sole purpose, like all antisemitic tropes, is to sow hatred of all Jews everywhere.
Šešelj also inserted a hefty dose of anti-Americanism into his remarks, depicting Serbia as a target of U.S. imperialism by way of NATO's war to liberate Kosovo in 1999—the same U.S. imperialism backing Israel now, he underlined. And in other media appearances, such as a television interview in mid-October, Šešelj has hammered the same themes. "Hamas is above all an ideology," he said. "Hamas is not a terrorist organization, but a typical liberation organization that wants to liberate the Palestinian territories. They want freedom for the Palestinian people, and they want a Palestinian state."
No slights against Muslims, no mention (of course!) of his role in stirring up the ethnic hatred that sparked a genocide against them in Bosnia and then Kosovo. The Šešelj of 2023 could be taken for a representative of the Iranian regime or, given the Palestinian keffiyeh scarf he has now taken to draping around his portly frame, a pro-Hamas demonstrator in Paris or New York City.
Are Šešelj and Hamas strange bedfellows? On one level, the answer is yes, insofar as Šešelj has a history of stoking hatred against Muslims that would make the most hardened Islamophobes blush. But that's not the whole story.
Fundamentally, Hamas and Šešelj share the same worldview: hatred of Jews, hatred of America and a burning desire to fight both using any means, no matter how bestial. In the atrocities of Oct. 7, Šešelj would have recognized something of himself in the perpetrators, particularly in the manner in which they dehumanized their victims. When I saw the Israel Defense Forces' heart-wrenching video of the atrocities at the Israeli Consulate in New York earlier this month, I was reminded of many parallels—the Nazis, most of all—but also the Serb paramilitaries who murdered their way through Croatia, Bosnia and Kosovo 30 years ago. The bond between Šešelj and Hamas is one of hatred forged with the blood of those they loathe.
As Israel's defensive war in Gaza rolls on, I expect many more such alliances—on the one hand, unlikely, but on the other, perfectly natural—to emerge in the coming months.
The post A Serb Killer Breaks Bread with Hamas first appeared on Algemeiner.com.
Hamas Gravely Miscalculated How Israel Would React
JNS.org – While the IDF is engaged in Gaza, in what is becoming a protracted war, aiming to weaken Hamas and secure the release of captives, the main effort by Hamas and its backers has been focused on reaching as prolonged a ceasefire as possible.
Such a ceasefire has operational and tactical importance for Hamas. However, its main significance lies in the strategic arena. Hamas hopes a ceasefire will compel Israel to change its war objectives and revert to the softer approach that the Islamist group initially believed Israel would follow right after the Oct. 7 massacre.
I believe that Hamas leaders, despite the severe blow inflicted on Israel, were convinced that the Israeli response would focus on targeted airstrikes that would extract a significant price from the Palestinians and perhaps even a limited ground maneuver. However, they never anticipated that Israel would launch an all-out undertaking to eliminate the terrorist organization and deprive it of its military-terrorist capabilities along with retaking the Gaza Strip.
Hamas likely believed that had Israel subscribed to a small-scale approach, they could build on the success of Oct. 7 and effect a change that would result in a new "equation" between the organization and the Jewish state. Meaning, the release of the terrorists imprisoned in Israel, lifting the blockade, and stopping the normalization process between Israel and Saudi Arabia.
Hamas assessed that Israel's weakness and its problematic relations with the U.S., coupled with its inherent reluctance to pay the high price involved in a broad military operation to remove Hamas from Gaza, would ultimately prevent it from completely defeating Hamas, just like in previous flare-ups.
In previous rounds, whenever the fighting ended, both sides licked their wounds, but Hamas then quickly recovered and again posed a threat to the area near Gaza and to Israel as a whole.
To the surprise of Hamas
This time Israel adopted, to the surprise of Hamas, a different approach that could strategically weaken the organization to an unprecedented extent, thereby also affecting both radical factions associated with the organization; the radical axis led by Iran on the one hand, and the Muslim Brotherhood axis, which includes Qatar and Turkey, on the other.
All actions by Hamas, Iran and its proxies (Hezbollah, the Houthis and Shi'ite militias in Iraq), as well as Qatar and Turkey, should be seen in the context of the attempt to persuade U.S. President Joe Biden to pressure Israel to stop the fighting and eventually adopt an alternative approach.
This effort motivates them to create the impression that there is a severe humanitarian crisis in Gaza. It is what made Hamas play a cynical game with the captives, and this is also what has prompted the Shi'ite militias in Iraq to step up their attacks on U.S. forces. Likewise, this explains the gradual escalation by Hezbollah in the north and the missile launches from the Houthis in Yemen, and the potential expansion of the conflict by Iran and its allies.
This is also the context through which we must treat the numerous protests in Western capitals calling for a ceasefire. Even Jordan and Egypt are joining the chorus for various reasons, primarily due to the concern about a flow of Palestinian refugees into their territories. The Palestinian Authority calls for a ceasefire, but it is unclear if it is genuinely interested in one.
So far, Hamas and its allies' efforts have been unsuccessful. Biden is under pressure, along with most Western leaders. They understand the importance of Israel's success in undermining Hamas and the moral justification for it. Israel's recent moves, such as advancing on the ground, exposing the illicit Hamas activity at the Rantisi and Shifa hospitals, and continued close coordination with the U.S. regarding the management of the conflict against Hezbollah, contribute to Biden's ability to withstand pressure.
As the fighting continues, Israel will need to remind Western leaders, led by Biden, that letting Hamas stay in power is beyond the pale and that Israel can bring about the organization's demise within a reasonable time without causing a humanitarian disaster in Gaza or leading to actions that would escalate the conflict into a regional war.
This is how Israel would be able to ensure room to act and the time needed to achieve its strategic goals, even if it agrees to short ceasefires/pauses to free the captives.
Originally published by Israel Hayom.
The post Hamas Gravely Miscalculated How Israel Would React first appeared on Algemeiner.com.