Israel, prominent in first GOP presidential debate, gets no mention in second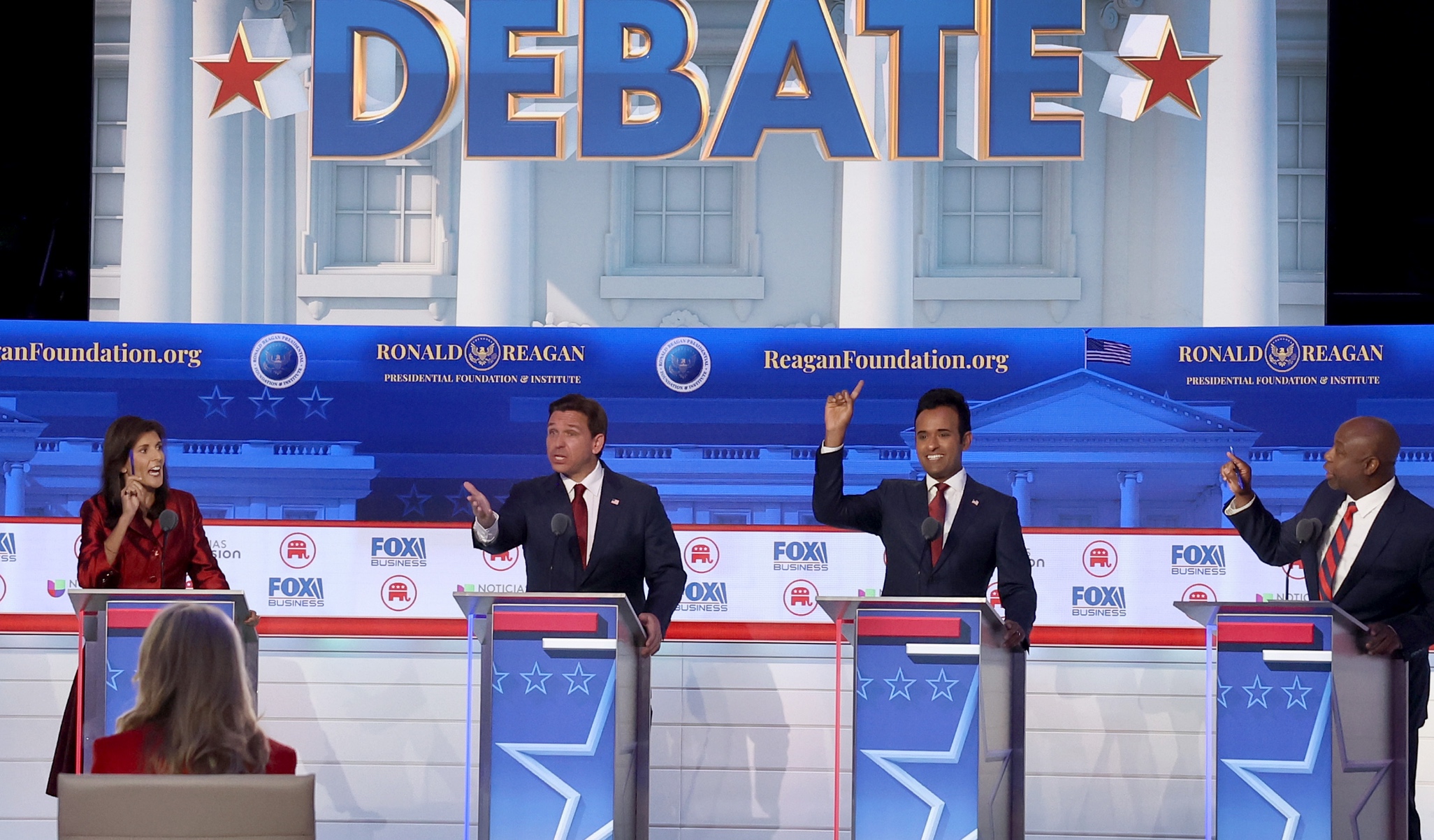 (JTA) — Israel, which featured large in the first Republican debate, got nary a mention in its sequel on Wednesday night, as the candidates on stage in California instead devoted much of their focus to Donald Trump, who opted to skip the proceedings.
Nikki Haley, the former South Carolina governor and ambassador to the United Nations, once again tangled with Vivek Ramaswamy, a businessman, but it was not over his proposal to wind down defense assistance to Israel, as it was in August at the first debate.
Instead, they fought over TikTok, the Chinese-owned social media platform which Ramaswamy has embraced as a means of reaching young voters and which Haley decries as an instrument of Chinese influence.
"Honestly, every time I hear you, I feel a little dumber," she told Ramaswamy in one of the debate's moments that set social media on fire.
The debate, often raucous, was broadcast by Fox News' business channel, and Univision, a Spanish language network. Trump, the former president who is leading in the primary polls by a huge margin, gave a competing speech in Michigan at the same time. He loomed over the proceedings, with a number of candidates taking shots at him for ducking the debate.
Iran, Israel's deadliest enemy, scored a number of mentions for its role in backing and supplying Russia in its invasion of Ukraine. One of the most substantive splits among the seven candidates was whether to continue funding Ukraine's defense, with Haley, former Vice President Mike Pence, South Carolina Sen. Tim Scott and former New Jersey Gov. Chris Christie embracing U.S. support for Ukraine, and Florida Gov. Ron DeSantis and Ramaswamny arguing that aid to Ukraine should end.
North Dakota Gov. Doug Burgum was the sole candidate on the stage at the Ronald Reagan Library in Simi Valley, California, who mentioned that Iran could soon pose a threat as a nuclear armed nation, an issue that Israel and its allies here believe should be front and center of U.S. foreign policy.
Burgum attacked the Biden administration for its recent prisoner exchange with Iran, which included the release of $6 billion in money South Korea owes to Iran for oil sales, which the Biden administration insists will only be used for humanitarian purposes.
"Six billion dollars, they traded for five people," Burgum said, calling the Biden administration's Iran policy "appeasement." "They just now set a price on anyone's head who is a tourist from America, who's a student from America, for kidnapping — if you want more kidnapping, put a price on it. And they're also helping Iran get to have, get more closer to a nuclear weapon."
Ramaswamy attacked Ukraine's Jewish president, Volodymyr Zelensky, noting that he had saluted a former Nazi in the Canadian parliament last week. "This is a country whose president just last week was hailing a Nazi," he said.
There is no evidence that Zelensky knew that the man, who was invited by the Canadian Parliament speaker, had a Nazi background. The speaker said he had not known the man's background and resigned as a result of the ensuing scandal.
DeSantis once again invoked George Soros, the Jewish progressive megadonor who is a frequent target of the right and of antisemitic conspiracy theories. Soros has funded election campaigns for progressive prosecutors. DeSantis has sacked two elected prosecutors in his state for being too liberal, and he said he would take the same fight to the White House.
"I will use the Justice Department to bring civil rights cases against all of those left-wing Soros-funded prosecutors," DeSantis said. "We're not going to let them get away with it anymore."
Also missing from the debate was any discussion of antisemitism, which Jewish organizations say has spiked in recent years and which is the focus of a major strategy rolled out this summer by the Biden administration. The moderators also did not raise the four criminal indictments Trump is facing, including charges related to his efforts to overturn the 2020 election.
—
The post Israel, prominent in first GOP presidential debate, gets no mention in second appeared first on Jewish Telegraphic Agency.
Sense of duty mixes with fear for Israeli soldiers preparing to enter Gaza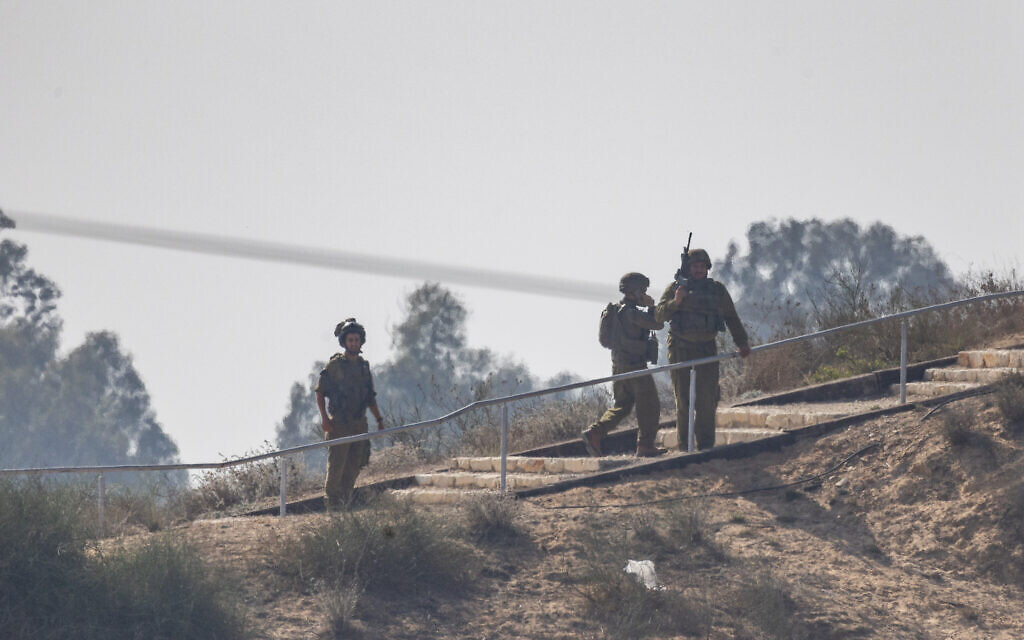 UAE says it will establish field hospital to treat Palestinians in Gaza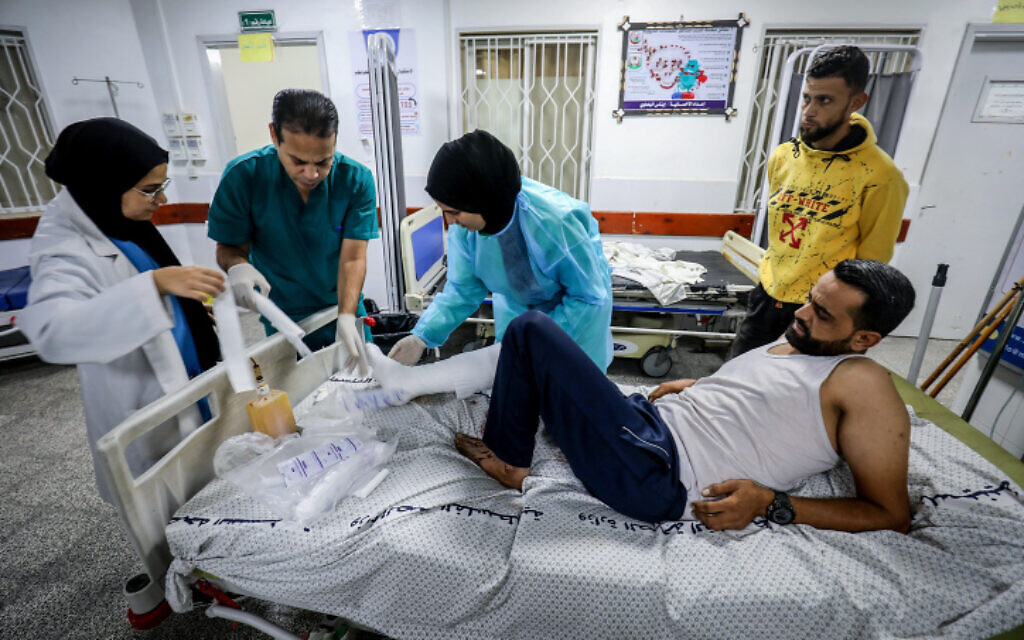 Thousands gather for pro-Israel rally in NYC 30 days after Oct. 7 massacre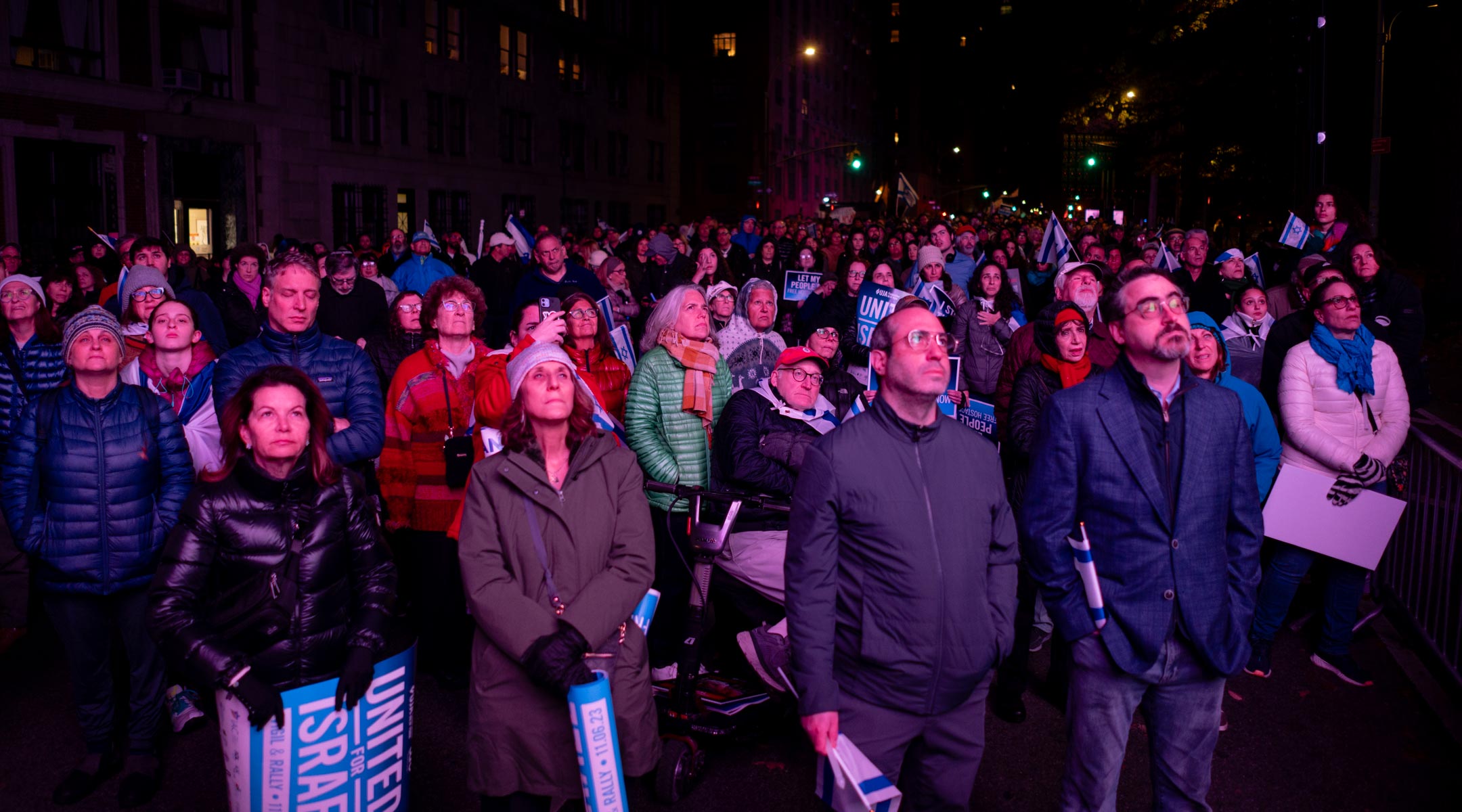 (New York Jewish Week) — Thousands gathered next to Central Park on Monday night for a vigil and rally marking 30 days since Hamas' Oct. 7 attack on Israel.
Speakers at the event, held along Central Park West on Manhattan's Upper West Side, mourned the attack's 1,400 victims, demanded the release of the more than 200 hostages held by Hamas and decried rampant antisemitism in the U.S. in recent weeks. Organizers estimated the crowd size at around 12,000 people.
Participants carried photos of the hostages and signs reading, "Bring our children home," "Let my people go," and "We stand with Israel." Thousands streamed past police cruisers on their way to the event chanting, "Bring them home" and singing Israel's national anthem, "Hatikvah."
Speakers included Sen. Chuck Schumer and Rep. Daniel Goldman, both Jewish Democrats; actors Brett Gelman and Debra Messing; and two relatives of hostages. Israeli singers Gad Elbaz and Idan Raichel performed for the audience.
The rally occurred around the 30-day milestone that traditionally marks the end of an acute Jewish mourning period, known as shloshim, following a death. It happened a little more than a week before a mass pro-Israel is due to take place on the National Mall in Weshington D.C. That rally will also call for the release of the hostages, decry antisemitism and cheer on continued American support for Israel as it fights a war against Hamas in Gaza, with the aim of deposing the terror group.
Ofri Haggai, an Israeli whose aunt and uncle were shot and taken hostage by Hamas, told the crowd, "All I'm asking from anyone who can help us is to bring all the hostages home."
"They are not part of any conflict, they are not part of any war, they are civilians, babies, kids, mothers, fathers, grandparents who just want to be brought home safely," she said.
Haggai  knows only that her aunt and uncle were badly injured and kidnapped. She does not know if they have received any medical care or their whereabouts, she said.
Goldman decried a "small but very loud fringe" in Congress that has opposed Israel since the attack, and urged the crowd to keep demonstrating to shore up support for the country. His mention of President Joe Biden, who has firmly supported Israel, drew cheers from the crowd.
"Every opportunity you have to rally, to express your support for Israel, I promise you it matters," he said.
The event was led by the UJA Federation New York and the Jewish Community Relations Council of New York, and was co-sponsored by an array of Jewish groups including the Israeli American Council, the Anti-Defamation League, the Union for Reform Judaism and the Orthodox Union.
—
The post Thousands gather for pro-Israel rally in NYC 30 days after Oct. 7 massacre appeared first on Jewish Telegraphic Agency.