Israel Says 55-Meter Fortified Tunnel Found Under Gaza's Shifa Hospital
Israel published video on Sunday of what it described as a tunnel dug by terrorists under the Gaza Strip's biggest hospital, a focus of its search-and-destroy missions against Hamas in a war now in its seventh week.
While acknowledging that it has a network of hundreds of kilometers of secret tunnels, bunkers and access shafts throughout the Palestinian enclave, Hamas has denied that these are located in civilian infrastructure like hospitals.
In an update on operations in Gaza City's Al Shifa Hospital, the Israeli military said its engineers had uncovered a tunnel 10 meters deep and running 55 meters to a blast-proof door.
"This type of door is used by the Hamas terrorist organization to block Israeli forces from entering the command centers and the underground assets belonging to Hamas," said a military statement accompanied by video showing a narrow passage with arched concrete roofing, ending at a grey door.
The statement did not say what was beyond the door. The tunnel had been accessed through a shaft discovered in a shed within the Shifa compound that contained munitions, it said.
The post Israel Says 55-Meter Fortified Tunnel Found Under Gaza's Shifa Hospital first appeared on Algemeiner.com.
Israel's Soldiers Vow 'Never Again'
JNS.org – The seaside Zikim base in southern Israel borders one of the kibbutzim destroyed by Hamas during the Oct. 7 massacre. Tanks, armored vehicles and excavation equipment that unearths terror tunnels roar past, heading for the Gaza Strip. Intense looking boys in uniform go to and fro in apparent chaos. But it is not chaos, it is Israel's ongoing series of military operations against Hamas.
The paratroopers we meet are finally having a drink. Yesterday, they managed to eat and take a shower after nine days in the Strip, during which they managed to sleep only a few hours on the ground and eat peanuts. What they found in Gaza is now making headlines around the world: Tunnels full of weapons, kindergartens full of missiles, the conquest of the Hamas "parliament," endless battles with terrorists embedded deep in the civilian population.
Israel is on the march, advancing slowly but steadily into the heart of Hamastan. Now, it is closing in on Hamas's main headquarters, including beneath hospitals and other civilian sites. Israel tries to protect civilians, but it is clear that the IDF will not allow Hamas's hideous tactics to work this time. This is war to the finish, and Israel intends to finish it.
The IDF has captured Hamas's most important bases in northern Gaza following intense battles. It has opened humanitarian corridors to the south for civilians seeking to escape the war zone. It had to do so after Hamas terrorists began killing civilians trying to flee, hoping to use them as human shields instead. Over 45 Israeli soldiers have been killed so far, in addition to the 1,400 murdered and some 240 kidnapped on Oct. 7.
Shon, a 24-year-old soldier, says, "I didn't have time to call my family. I know I should. We are reserves, but perfectly trained." When war broke out "I was in Tel Aviv, working in start-ups. But I rushed away as soon as our commander called. We immediately started fighting in the invaded kibbutzim. It's unspeakable what [Hamas] did to children and families."
"How do I feel?" he asks. "That we will never let it happen again."
Irwin, just returned from India, says, "In Gaza, I hope there are normal people. We are here to free them too. We know that we can die, but the purpose is bigger than us. There is no choice. We will not suffer another attack like the one on Oct. 7."
These soldiers fight out of love their homeland—moledet in Hebrew—for their homes and families; values that are difficult even to pronounce in Europe.
The soldiers' main target is the crown jewel of Hamas's terror infrastructure—the tunnels. They have found them littered with the detritus of terror, as well as possessions likely belonging to the hostages, such as baby bottles and diapers, as well as lists of Hamas "guards."
Now Hamas's "parliament," government buildings, police headquarters, and more are in the hands of the IDF.
Daniel, 21, was wounded in the fighting. At Ichilov Hospital in Tel Aviv, this pianist, marksman and nurse recounts, "I found myself naked after the blow that took me in the back and head. Next to me, my best friend was bleeding. Stunned, I heard shouting: 'Nurse! Nurse!' But I was the nurse. He was bleeding, we saved him and now he is next to me here in the hospital."
"I have damage to my ear, my head, I'm burned on my arm and body," he says, "but I'm dying to get back to my unit. I know I'm needed. We are a single body. We share sleeping bags and the last sandwich."
Back at Zikim, Shahar, a 30-year-old paratrooper, recounts, "On the seventh, they sent us directly to the kibbutzim. As soon as we arrived in Be'eri, in Alumim, we were hit in the face by the blood, the dead on the ground, the horrors and a huge number of terrorists. I lost a very dear friend of mine there, whose body was found only after a week."
"Entering Gaza to fight is the most natural thing," he says. "I was injured in the back and head, but I asked to return as soon as possible. My grandparents were Holocaust survivors, my father fought in the Yom Kippur War. Never again is now—and now, it's my turn."
"If we show weakness, Hamas will try to tear us to pieces again," he asserts. "It makes me angry that the world doesn't care about us. We do everything to save the civilian population. Hamas uses it as a human shield. My mother takes people from Gaza to hospitals in Israel. We offer incubators to hospitals that hide terrorist leaders. What else do you expect from us?"
The post Israel's Soldiers Vow 'Never Again' first appeared on Algemeiner.com.
30K Israelis join families of hostages in Jerusalem rally as reports swirl about a release deal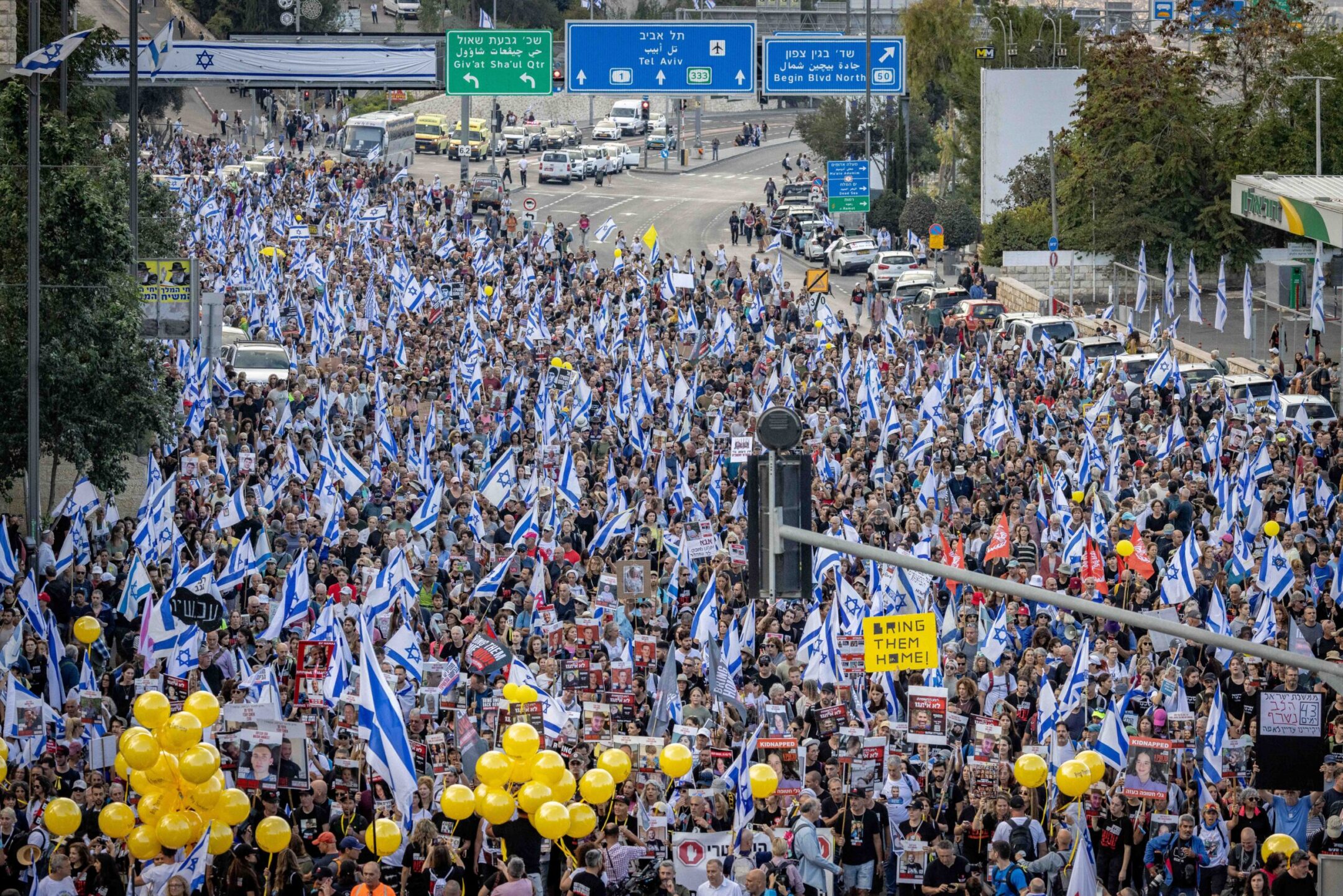 (JTA) — Tens of thousands of Israelis joined the families of many of the roughly 240 people held hostage by Hamas since Oct. 7 in a silent protest outside the offices of Prime Minister Benjamin Netanyahu Saturday night.
Later on Saturday, the Washington Post reported a deal for the release of about 50 of the hostages, including the estimated 40 children abducted by the terror group. But both Israeli and U.S. official batted down the report, saying that no deal yet had been reached.
The rally was the culmination of a five-day protest march from Tel Aviv to Jerusalem that aimed to call attention to what the families said was inadequate focus on their loved ones' plight amid Israel's war against Hamas in Gaza. Six weeks into the war, and three weeks into a ground invasion, just a handful of hostages have been freed while at least three others have died, leaving the vast majority unaccounted for in a battered Gaza Strip.
Spurred by a group called the Hostage and Missing Families Forum that formed within days of Hamas' attack, the hostages have become a cause célèbre the world over. In addition to the "Kidnapped" posters that are ubiquitous in many cities, supporters have mounted installations of Shabbat tables, shoes and strollers; "adopted" hostages in their synagogues and schools; and recruited celebrities to call attention to their plight. On Saturday, a boat parade in the canals of Amsterdam amplified the slogan "Bring them home."
Today, dozens of boats sailed through Amsterdam's canals to show support for Israel and call for the immediate release of 240+ people cruelly held hostage by Hamas terrorists in Gaza.
— European Jewish Congress (@eurojewcong) November 18, 2023
Yet the families have been frustrated at home, where Netanyahu has met only once with a small number of them and where the military's top goal of dismantling Hamas could put their loved ones at risk inside Gaza. Many have expressed anger at Netanyahu and his government.
"We have a message for the war cabinet — it cannot be that you make a decision without sitting with us and looking us in the eye. Look us in the eye!" Naor Pakciarz, who is representing the families of the hostages from Kibbutz Be'eri, where dozens of people are believed to have been taken, told Times of Israel.
In recent days, the deaths in captivity of three hostages have been announced: a 19-year-old soldier named Noa Marciano, a 65-year-old woman named Yehudit Weiss; and a 22-year-old Tanzanian student named Clemence Matanga. (The families' march detoured to Marciano's home in Modiin on Thursday.) No information has been released about the circumstances of their deaths.
Netanyahu and other leaders of his emergency government addressed the hostages at a press conference Saturday night. There was no deal to release them, he said, but reaching a deal that would keep families together was a shared priority within his government. Benny Gantz, a longtime rival of Netanyahu who agreed to work alongside him during the war, took a slightly different stance, according to local reports, saying that gaining the release of the hostages was a more pressing goal than defeating Hamas.
Shortly afterwards came the Washington Post report, which said the United States had brokered a deal for the release of 50 hostages in batches over several days in exchange for a five-day pause in fighting, increased humanitarian aid and the release of some Palestinians being held in Israeli prisons.
The United States said the report was premature. "We have not reached a deal yet, but we continue to work hard to get to a deal," tweeted the White House National Security Council Spokesperson Adrienne Watson.
—
The post 30K Israelis join families of hostages in Jerusalem rally as reports swirl about a release deal appeared first on Jewish Telegraphic Agency.
2 more Jewish Democrats, Jamie Raskin and Sarah Jacobs, join growing calls for a ceasefire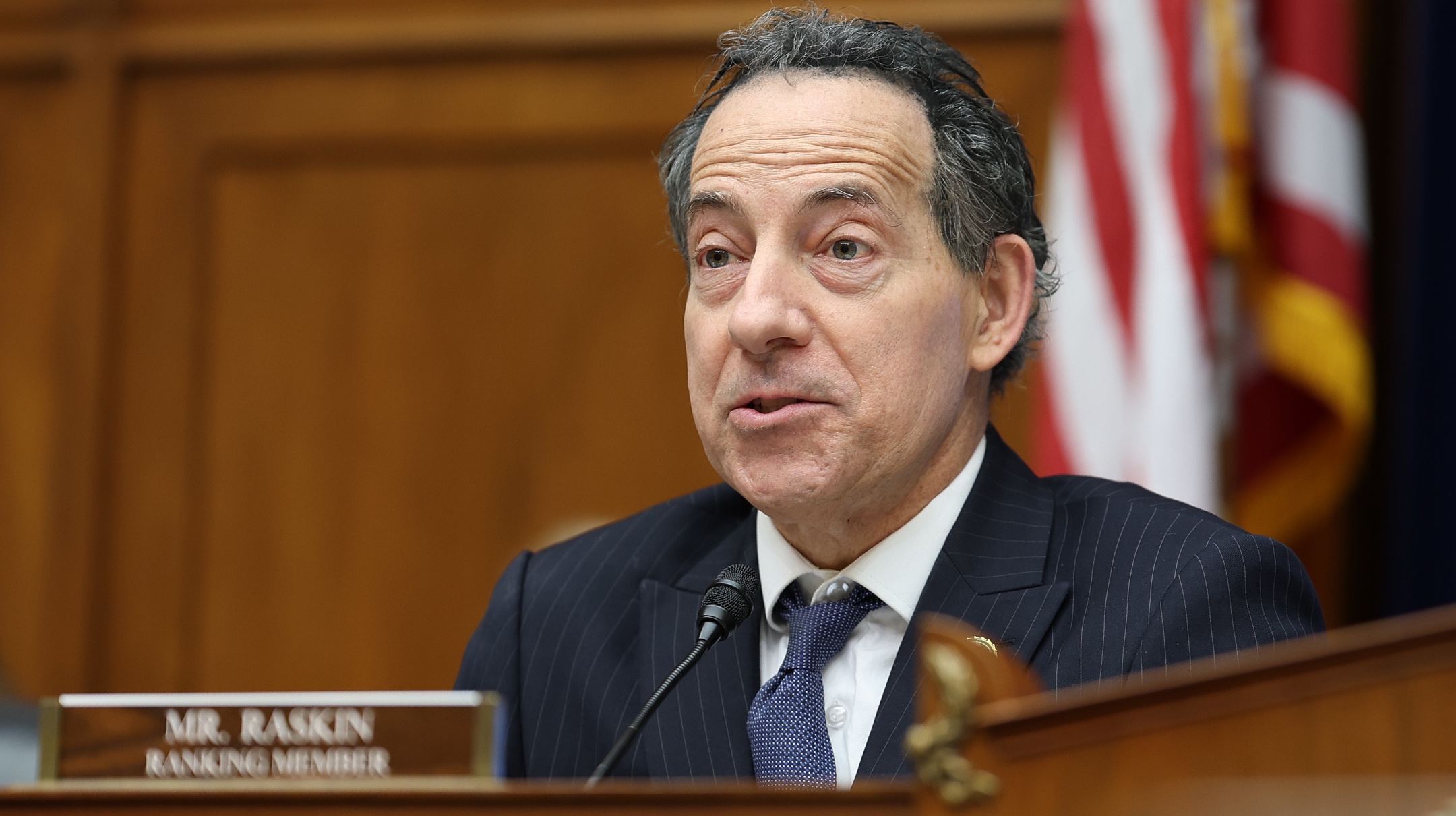 WASHINGTON (JTA) — The number of Jewish Democrats calling for a ceasefire in the Israel-Hamas war now numbers three, with Reps. Jamie Raskin of Maryland and Sara Jacobs of California joining Vermont's Becca Balint.
The calls signal a growing shift in how Jewish Democrats are approaching the war as it enters its sixth week, the humanitarian crisis in the Gaza Strip intensifies and the Palestinian death toll climbs. Other Jewish Democrats, including Rep. Jon Ossoff of Georgia and Sen. Bernie Sanders of Vermont, have ratcheted up their criticism of Israel in recent days while stopping short of calling for a ceasefire.
As recently as Oct. 22, all 24 Jewish Democrats in the U.S. House of Representatives signed onto a statement backing President Joe Biden's wholehearted backing for Israel in the war Hamas launched on Oct. 7. Raskin was one of three Jewish Democrats spearheading that statement.
Biden steadfastly opposes a ceasefire, which would leave Hamas in power in Gaza, reiterating his position in an op-ed in The Washington Post on Saturday.
"As long as Hamas clings to its ideology of destruction, a ceasefire is not peace," Biden wrote. "To Hamas's members, every ceasefire is time they exploit to rebuild their stockpile of rockets, reposition fighters and restart the killing by attacking innocents again. An outcome that leaves Hamas in control of Gaza would once more perpetuate its hate and deny Palestinian civilians the chance to build something better for themselves."
The Jewish lawmakers' shifted positions follow extensive advocacy by critics of Israel, including hundreds of Biden administration staffers and Jewish anti-Israel groups that have held high-profile demonstrations at lawmakers' offices and the headquarters of the Democratic Party, among other sites.
While those groups call for an immediate ceasefire, most of the Jewish lawmakers have so far outlined conditions they would like to see in a cessation of hostilities.
In his statement, Raskin called for "American strategic, diplomatic and political leadership to press for a breakthrough change in the relentless and dangerous dynamics of war and violence."
He called for "a mutually agreed-upon bilateral humanitarian pause or mutually agreed-upon ceasefire to provide for a 'global humanitarian surge' of aid to hundreds of thousands of displaced and suffering innocent civilians throughout Gaza."
Raskin outlined a number of components he wanted, including the release of some 240 hostages Hamas abducted on Oct. 7, removal of Hamas from governing the Gaza Strip and the prosecution of the Hamas officials who organized the mass slaughter. In her statement on Thursday, Balint also called for Hamas' removal.
Jacobs made no such call in her statement on Saturday, although she said the Oct. 7 attack was "gruesome, horrifying and inexcusable" and that Israel had the "right to respond to protect its citizens, and hold Hamas accountable."
She said she was concerned that after warning Gaza civilians to move to the south of the strip while Israel attacked Hamas' infrastructure in the north, spurring a massive migration southward, Israel appears ready to pursue Hamas in the south.
"It is time for a bilateral ceasefire — to immediately release the hostages; to establish humanitarian access and allow fuel, food, water and medical care into Gaza; and to end the bombardment of millions of Palestinian civilians," she said.
Other Jewish Democrats have also been outspoken. Rep. Dean Phillips of Minnesota on Friday said that there should be a ceasefire of "large-scale military operations," albeit only after the release of hostages, and Ossoff said Israel's conduct has been a "moral failure."
Hamas terrorists killed more than 1,200 people, most of them civilians, on Oct. 7 and abducted some 240 people. Since Israel launched counterstrikes, the Hamas-run Gaza health ministry has said that 11,000 Palestinians, including thousands of children, have been killed. It is not known what portion of that number are combatants and how many were killed by rockets aimed at Israel that misfired.
Independent reporting has increasingly documented a steep toll on Palestinian civilians, particularly on children, and the Israeli government nodded at worsening conditions on Saturday when it authorized the delivery of fuel it said was needed to prevent the spread of disease.
The number of Democrats in the House now calling for a ceasefire has doubled in recent days from 18 to 37, according to a count by The Intercept, a publication that backs a ceasefire.
Separately, Sen. Bernie Sanders, the Jewish Vermonter who is the unofficial leader of progressives in Congress, on Saturday called for conditioning aid to Israel unless it hews to strictures on its conduct of the war.
Sanders has resisted urging from fellow progressives to call for a ceasefire but said he wanted a "significant pause" in the fighting.
Among his conditions were "an end to the indiscriminate bombing which has taken thousands of civilian lives and a significant pause in military operations so that massive humanitarian assistance can come into the region; the right of displaced Gazans to return to their homes."
In addition to the $3.8 billion Israel gets annually from the United States, Biden has asked Congress to authorize $14 billion in emergency aid.
Biden in his op-ed outlined the humanitarian assistance his administration has facilitated in negotiations with Israel and Egypt but suggested he wanted to see more from Israel, particularly related to increased settler violence against West Bank Palestinians since the war's start. For the first time, he said his administration would bar Israeli extremists from entering the United States.
"The United States is prepared to take our own steps, including issuing visa bans against extremists attacking civilians in the West Bank," he said.
Biden also said that once Hamas is ousted he sees Gaza as being governed by the West Bank-based Palestinian Authority, an outcome Israeli Prime Minister Benjamin Netanyahu has resisted endorsing.
A number of Jewish Democrats in the House immediately rejected Sanders' call for conditioning aid, among them Reps. Josh Gottheimer of New Jersey, Debbie Wasserman Schultz of Florida and Brad Schneider of Illinois.
Schneider linked Sanders' proposal to a bill that the new speaker of the U.S. House of Representatives, Republican Mike Johnson of Louisiana, advanced recently conditioning Biden's $14 billion request to cuts to the Internal Revenue Service.
"Conditioning aid to Israel is misguided and dangerous," Schneider said in an emailed statement. "Plans such as those offered by Speaker Johnson and Senator Sanders serve only the interests of those opposed to Israel and to peace."
—
The post 2 more Jewish Democrats, Jamie Raskin and Sarah Jacobs, join growing calls for a ceasefire appeared first on Jewish Telegraphic Agency.