Israeli army surrounds main Gaza hospital it claims is a Hamas HQ as Biden calls for 'less intrusive action'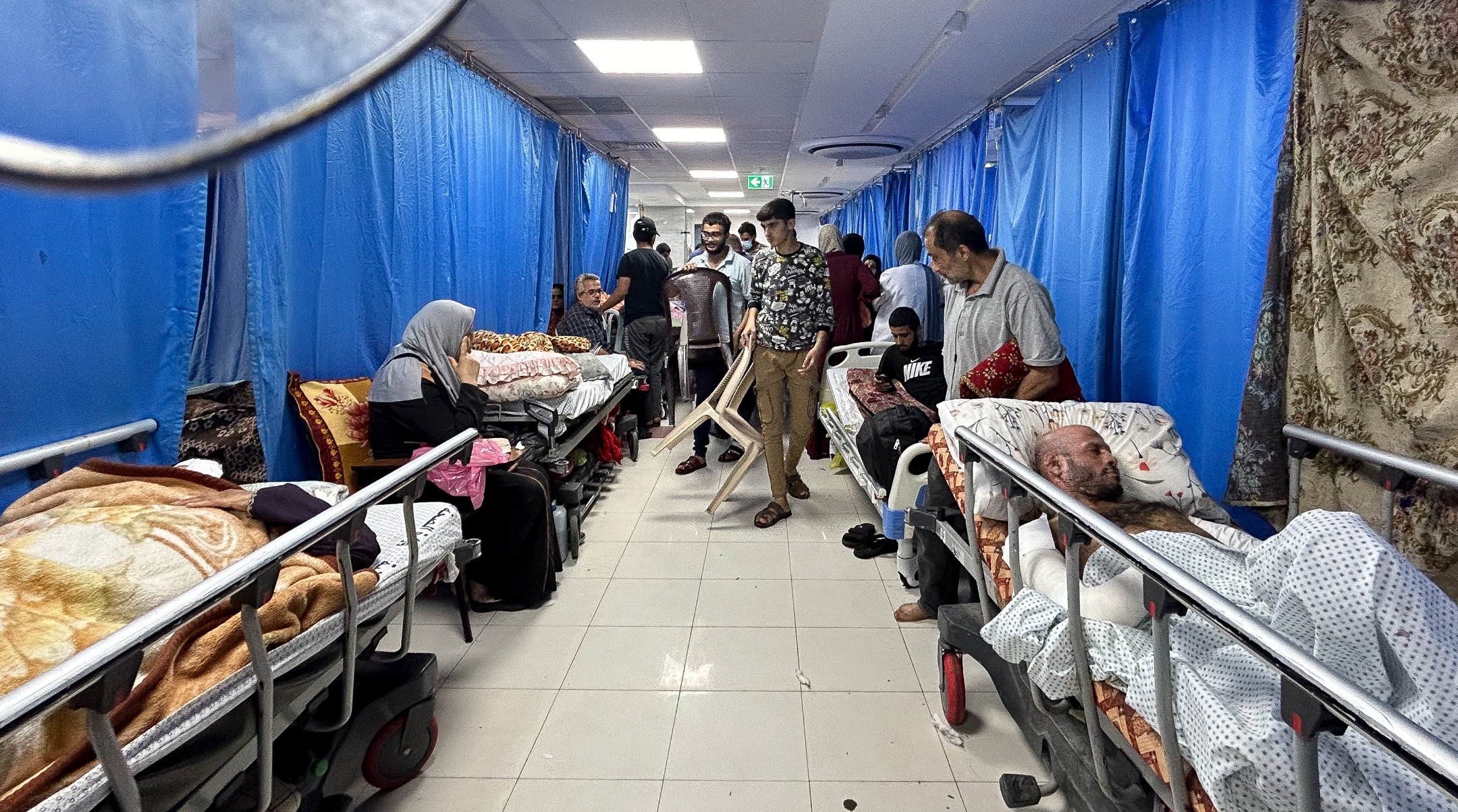 (JTA) — President Joe Biden called on Israel to take "less intrusive action" at hospitals across the Gaza Strip, which have become a focal point in the country's war against Hamas and have drawn the attention and concern of the international community.
The Israel Defense Forces have surrounded the main hospital in Gaza City, Al-Shifa, which Israeli officials say also acts as a headquarters for Hamas, the terror group that controls Gaza and that invaded Israel on Oct. 7. 
Palestinian and international health agencies said Al-Shifa was barely functioning on Monday. The power was out at the hospital and newborns and other patients are dying, the groups said. Israel has said it is making efforts to safeguard and evacuate patients from the hospital even as Hamas has disrupted those efforts.
In its most recent update, on Sunday, the United Nations Office for the Coordination of Humanitarian Affairs said 12 of the hospital's patients died over the weekend, including two premature babies, "compounded by the lack of medical consumables." The agency said an additional 36 babies in incubators and kidney dialysis patients are "at heightened risk of death."
The IDF said it endeavored over the weekend to get fuel to Al-Shifa for its generators, but that Hamas stopped the hospital from accepting the fuel. It also said it is helping evacuate babies from Al-Shifa to a safer hospital, and denied that the hospital is under siege. Daniel Hagari, the IDF spokesperson, said the military is "speaking directly and regularly with the hospital staff."
Hamas killed some 1,200 people in its invasion, largely civilians, and captured more than 200 hostages. It has also shot thousands of rockets at Israeli cities. Israel has vowed to defeat the terror group and rescue the hostages, and has hit Gaza with airstrikes and a ground invasion in which 44 Israeli soldiers have been killed. 
According to the Hamas-run Health Ministry in Gaza, more than 11,000 people have died in the fighting, including thousands of children. Hamas' figures do not differentiate between fighters and civilians and do not denote casualties from misfired Palestinian rockets. Israel says it strives to avoid killing civilians and blames Hamas for embedding within civilian population centers. 
Biden has broadly backed Israel's response to the Oct. 7 massacre and has so far ruled out a ceasefire in the conflict, but has sounded notes of concern about specific Israeli actions. On Monday, speaking to reporters, he called on Israel to use caution in dealing with hospitals.
"Well, as we know, I have not been reluctant expressing my concerns with what's going on," he said when a reporter asked about the situation at Al-Shifa. "My hope and expectation is that there will be less intrusive action relative to hospitals and we remain in contact with the Israelis."
On Thursday, Israel launched its raid on the area near Al-Shifa, which it calls Hamas' "military quarter," involving ground troops, including special forces, that are backed up by air strikes. Al-Shifa is one of several hospitals that Israel has accused Hamas of using to shield its terrorists.
"The military quarter area is the heart of intelligence and operational activities of Hamas and was used, among other things, to plan and prepare Hamas operatives for the murderous attack on October 7th," the Israeli military said at that point.
Hamas denies that its headquarters are adjacent to Al Shifa and accuses Israel of deliberately targeting hospitals. Hundreds of thousands of people in the northern Gaza Strip have evacuated south at Israel's behest as it attempts to rout Hamas. At least one other hospital in the city, Al-Quds, has been partially disabled by the fighting, according to reports from Gaza. Israel said last week that Hamas terrorists had barricaded themselves in the hospital.
On Monday, the army released footage it said came from another hospital, Rantisi, showing weapons and signs that hostages had been held in the hospital. Yet another hospital, Al-Ahli, was hit in a blast earlier in the fighting that Hamas blamed on Israel but that a range of assessments — including from the United States, Israel and a series of journalists and analysts — attributed to a misfired Palestinian rocket. 
The Biden Administration backs Israel's aims but has sought to expand access to humanitarian assistance for civilians in Gaza via pauses in the fighting. Last week, Israel agreed to daily gaps of four hours in the fighting to funnel in aid. It's not clear how efficient the deliveries have been.
In his meeting with reporters, Biden said the pauses could be useful for leveraging the release of the hostages, noting that U.S. officials are in touch with Qatar, a nation that has acted as an intermediary with Hamas and that houses its political leadership, to bring out the hostages.
"There is an effort to get this pause to deal with the release of prisoners and that's being negotiated, as well with the Qataris [who] are being engaged," he said. "So I remain somewhat hopeful — but hospitals must be protected."
Israel's foreign minister, Eli Cohen, on Monday told reporters Israel had two or three weeks before international pressure to cease fire intensified. 
"We sense that there is international pressure on Israel," Axios quoted him as saying. "It is not strong but it is getting stronger",
Biden is fending off pressure from the left flank of his party, as well as pro-Palestinian activists, to press Israel now for a ceasefire. The latest such call came in an internal memo from some 100 staffers in Biden's State Department, Axios reported. The memo accuses Israel of committing "war crimes," and calls on Biden to speak out more forcefully.
A key concern for Biden is that the war does not expand. Exchanges of fire with the Lebanese terror group Hezbollah, which like Hamas is backed by Iran, have intensified. And Israel is stepping up its raids on militant strongholds in the West Bank, where more than 150 Palestinians and one Israeli have been killed since Oct. 7. Tens of thousands of Israelis have evacuated communities adjacent to Gaza and Lebanon. The IDF's chief of staff, Lt. Gen. Herzi Halevi, said on Monday that there were "defensive and offensive" plans to engage with militants firing on Israel from Lebanon.
"We are preparing the operational plans for the North. Our mission is to bring security," Halevi said, according to an army release. "The security situation will not remain such that the civilians of the north do not feel safe returning to their homes."
—
The post Israeli army surrounds main Gaza hospital it claims is a Hamas HQ as Biden calls for 'less intrusive action' appeared first on Jewish Telegraphic Agency.
Protester Sets Self on Fire Outside Israeli Consulate in Atlanta
i24 News – A protester was in critical condition on Friday after setting themself on fire outside the Israeli consulate in Atlanta, Georgia, U.S. authorities said. A security guard who tried to intervene was also wounded.
A Palestinian flag found at the scene was part of the protest, Atlanta Police Chief Darin Schierbaum said at a news conference. He added that investigators did not believe there was any connection to terrorism and none of the consular staff was ever in danger.
JUST IN: A pro-Palestine protester is in critical condition after they set themselves on fire in "political protest" outside of the Israeli Consulate office in Atlanta.
The protester was reportedly draped in a Palestine flag.
The protester has severe burns and unfortunately, a… pic.twitter.com/B8nUQAj2nU
— Collin Rugg (@CollinRugg) December 1, 2023
"We do not see any threat here," he said. "We believe it was an act of extreme political protest that occurred." Everyone inside the consulate building was said to be safe.
Anat Sultan-Dadon, Consul General of Israel to the southeastern U.S., said: "We are saddened to learn of the self-immolation at the entrance to the office building. It is tragic to see the hate and incitement toward Israel expressed in such a horrific way."
"The sanctity of life is our highest value. Our prayers are with the security officer who was injured while trying to prevent this tragic act. We are grateful to the city of Atlanta's law enforcement and first responders for all they do to ensure safety."
The post Protester Sets Self on Fire Outside Israeli Consulate in Atlanta first appeared on Algemeiner.com.
Released Israeli Hostages Call for Captives to Be Freed
Israeli hostages released in the past week by Hamas in Gaza called on Saturday for the immediate release of fellow captives left behind, a day after a temporary truce that had allowed scores to come home broke down.
Tens of thousands gathered at a rally in Tel Aviv outside Israel's defense headquarters, where they cheered Yelena Trupanov, 50, standing on a stage just two days after being freed.
"I came to thank you because without you I wouldn't be here. Now we must bring back my (son) Sasha, and everyone. Now."
Similar pleas from other released hostages were shown on video.
A seven-day truce, during which Hamas had released more than 100 hostages, collapsed on Friday after Hamas breached the ceasefire.
Israel said on Saturday it had recalled a Mossad intelligence agency team from Qatar, host of indirect negotiations with Hamas, accusing the Palestinian faction of reneging on a deal that would have freed all children and women held hostage.
More than 240 people – Israelis and foreign nationals – were abducted to Gaza on Oct 7. by Hamas terrorists who burst through the border with Israel and killed 1,200 people.
The post Released Israeli Hostages Call for Captives to Be Freed first appeared on Algemeiner.com.
IDF Foils Stabbing Attack Near Nablus in West Bank, Eliminates Terrorist
i24 News – The Israel Defense Forces (IDF) reported thwarting a stabbing attack on Saturday afternoon against reserve Battalion 7037 at the X junction near Nablus in the West Bank.
According to the IDF spokesperson, the event unfolded when the forces at the roadblock became suspicious of an individual approaching the barricade.
During the questioning process, the suspect suddenly drew a knife and advanced towards the IDF personnel.
ניסיון פיגוע דקירה אירע לפני זמן קצר לעבר כוח צה"ל במילואים מגדוד 7037 שפעל בחסם בצומת האיקס סמוך לעיר שכם שבמרחב חטיבת שומרון.
הכוח חשד במחבל שהגיע לחסם והחל לתחקר אותו, המחבל שלף סכין והחל להתקדם לעבר הכוח.
הלוחמים חתרו למגע והגיבו בירי לעבר המחבל שחוסל. אין נפגעים לכוחותינו. pic.twitter.com/mEaJs58hpE
— דובר צה״ל דניאל הגרי – Daniel Hagari (@IDFSpokesperson) December 2, 2023
The soldiers, faced with the threat, engaged in contact procedures and ultimately responded by opening fire on the assailant. The spokesperson confirmed that the attacker was neutralized due to the IDF's action.
It was also noted that there were no casualties among the IDF forces involved in the incident. According to the spokesperson, the situation at the X junction has stabilized, and IDF continues to maintain vigilance in the area to prevent further attacks.
The post IDF Foils Stabbing Attack Near Nablus in West Bank, Eliminates Terrorist first appeared on Algemeiner.com.