Israelis urged to reconsider overseas travel amid rising antisemitism worldwide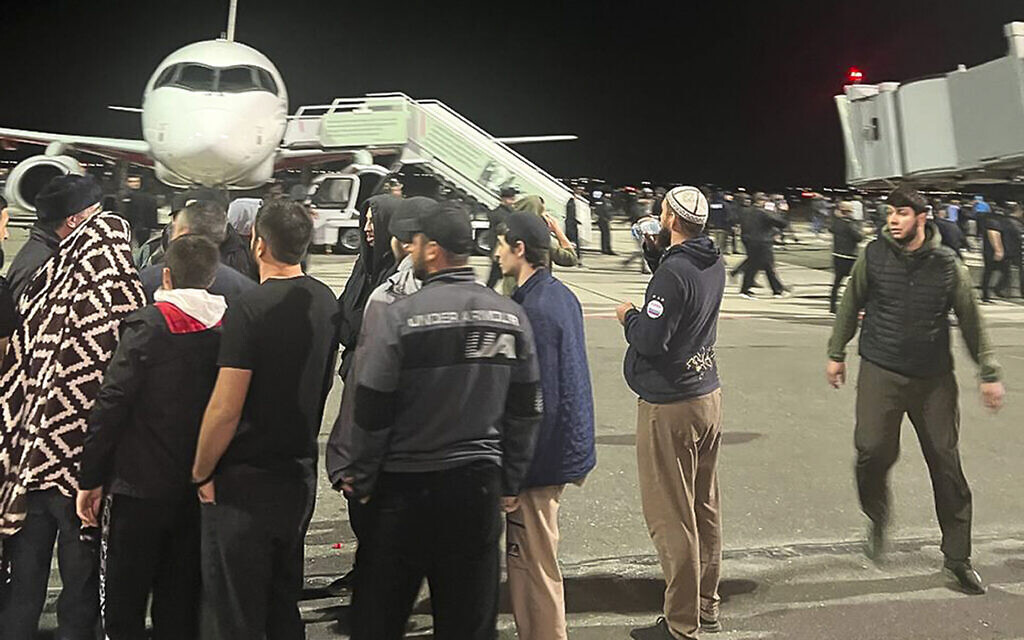 University of North Carolina Hosts Event Promoting the 'Eradication of Zionism'; Will Anyone Act?
On Nov. 28, I attended the event "No Peace Without Justice: A Round-Table Talk about Social Justice in Palestine," hosted by numerous departments at the University of North Carolina at Chapel Hill (UNC).
One of the speakers, Dr. Rania Masri, said: "Oct. 7 for many of us from the region was a beautiful day. It was the day in which we saw that, we saw our brothers, we saw our fathers, we saw men break out of a concentration camp."
Then speaking with pride and admiration for Hamas and their paragliders, she continued: "So for many of us, the question is, how did they learn that? How did they develop those paratroopers? Where did they get those skills? How, how, after a hundred years of having a military boot on your neck, could you still develop the technique and the resilience to literally fly? That is what Oct. 7 means to many of us. And I just want to be very frank about it and not be in the least bit apologetic of the violence of the oppressed or the occupied."
Panelist and UNC doctoral student Kylie Broderick was the only speaker who participated via Zoom. She was projected on a huge screen above the in-person panelists. While Masri spoke her hateful words, Broderick nodded along in approval. The Reverend Mark Davidson spoke about five minutes after Masri, pronouncing, "I agree with everything my colleagues have said."
Masri went on to call Zionism a "cancer," and President Biden a "racist Zionist." Masri said: "Let us demand the eradication of Zionism. Let us have that be our goal."
There were seven panelists, two moderators, and UNC professors present. No one appeared concerned by what Masri said, or challenged her. Further, the absence of a question and answer period meant that nothing could be challenged by audience members.
After introductions, the audience was shown a short film titled "Gaza Concentration Camp," chosen by panelist Dr. Frances Hasso from Duke's Department of Sociology. The film narrator stated that on Oct. 7, "Palestinians didn't break through a border to enter Israel." She added, "They destroyed a fence separating them from the homes they were forced out of." The film portrayed Hamas' massacre of Israelis as people simply going home. The film did not mention Hamas' killing of 1,200 Israelis, taking more than 240 hostages, and raping and torturing many others.
UNC professor of Geography Sara Smith began the program by announcing "This should be Danielle Purifoy. I'm so sorry she couldn't make it, but please know that she is the one who organized all of this and gets all the credit for this event." In 2021, Smith and Purifoy both signed a public letter which stated, "As academics based in the United States, we acknowledge our complicity in Israel's oppression of the Palestinians." Also in 2021, Smith signed a letter affirming her commitment to promote the Boycott, Divestment, and Sanctions (BDS) movement against Israel "in the classroom and on campus."
A moderator explained that all the prepared questions for the panel were "written by Dr. Danielle Purifoy." Questions included "How do we explain the US government response to Palestinian genocide?" and "How do we connect Palestine to other forms of colonial and imperial violence?" The starting point of these conversations was clearly the demonization of Israel.
The event was sponsored by the UNC Department of Geography and Environment, the UNC Center for Middle East & Islamic Studies, and UNC's Student Life & Leadership.
Kylie Broderick taught UNC's 2021 course on Israel and the Palestinians, even though she publicly promoted the view that Israel should not exist. On Oct. 15, 2023, Broderick tweeted "F—k Israel." Her anti-Israel track record is beyond vile, and has been reported on extensively.
Not all in the audience were activists. I saw a number of students taking notes. It made me wonder: Are some students actually receiving credit for attending this antisemitic event?
The event reminded me of UNC's 2019 Conflict Over Gaza conference — co-sponsored by the university's Center for Middle East & Islamic Studies — which made international news for featuring an antisemitic rap performance. In response to an antisemitism complaint filed with the US Department of Education stemming from this conference, UNC entered into a Resolution Agreement with the department's Office of Civil Rights, requiring UNC "to ensure that students enrolled in the university are not subjected to a hostile environment."
As this column and my recent reporting suggests, UNC may be breaching its obligation to protect its Jewish students.
The painful question I can't shake and that I keep asking myself is: why would any parent, especially those who are Jewish, ever wish to send their children to UNC?
Peter Reitzes writes about issues related to antisemitism and Israel.
The post University of North Carolina Hosts Event Promoting the 'Eradication of Zionism'; Will Anyone Act? first appeared on Algemeiner.com.
What to do every night of Hanukkah 2023 in NYC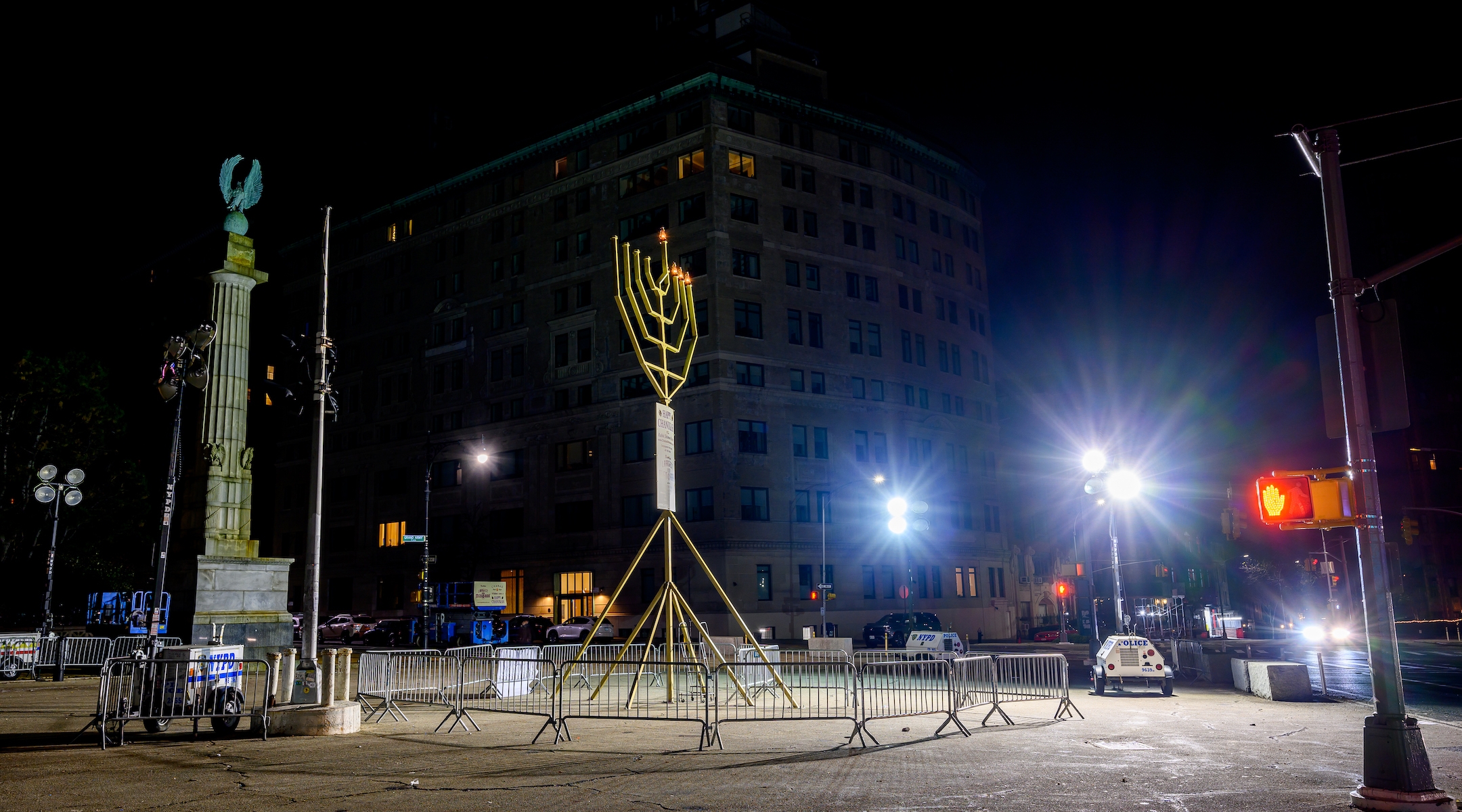 This story will be updated with Hanukkah events throughout the holiday. Send an email to jgergely@jewishweek.org with the details if you'd like us to add yours to our list!
(New York Jewish Week) – December is already upon us, and that means Hanukkah is almost here. This year the holiday begins on the evening of Thursday, Dec. 7 and lasts through Dec. 14 — though there's no shortage of pre-Hanukkah events around the city have already started marking the holiday. 
With rising antisemitism in New York City amidst the ongoing war between Israel and Hamas in Gaza, the Jewish community needs to celebrate our light now more than ever. Whether you're looking for a doughnut-making class, a menorah-lighting ceremony, a dance party or a dreidel-decorating session, New York's Hanukkah scene has everything to help you celebrate the holiday. 
Keep scrolling for our list of Hanukkah events across the city this year. 
Pre-Hanukkah fun
Glow-in-the-Dark Hanukkah Dinner
92NY is kicking off Hanukkah a week in advance with a glow-in-the-dark dinner on Friday at 5:30 p.m in their Buttenweiser Hall. Geared towards families with children, there will be a Kabbalat Shabbat and kosher catered dinner. Get tickets for $36 here.
Hanukkah Bazaar by Tablet Magazine
Tablet Magazine is hosting a Hanukkah Bazaar from 11 a.m. to 6 p.m. on Sunday at Lavan Midtown. Here, you can get all your gift shopping done ahead of the holiday: vendors include Seed + Mill, Batsheva, Ariel Tidhar, Mamaleh Jewelry, the Jewish Book Council and more. Tickets start at $18, find more information here.
Rebecca Day at the Museum of Jewish Heritage
Bring your American Girl doll to the Museum of Jewish Heritage on Sunday at 1 p.m. to celebrate Rebecca Rubin, the Jewish American Girl doll who was a Russian Jewish immigrant who lived on the Lower East Side in 1914. Activities include a latke lunch, dreidel-making, a tour of the museum and a discussion with the author of the Rebecca book series, Jacqueline Dembar Greene. The event is free but a $10 donation is suggested. Learn more here.
Havurah Hanukkah Fair
Havurah, a Jewish arts collective, is hosting their second annual Hanukkah Fair on Sunday at 6:00 p.m. at the Jewish Center on the Upper West Side. Guests will enjoy live jazz music and free doughnuts as they peruse offerings from more than 30 vendors selling art, jewelry, literary magazines and more. Find more information for the free event here.
Hey Alma Comedy Show
Our partner site, Hey Alma, is back for their holiday comedy series, hosted by deputy editor Evelyn Frick. This year's Hanukkah show, "Hanukkuties" is on Monday at 7:00 p.m at Caveat NYC (21A Clinton St.) and features comedians Michael Cruz Kayne, Rebecca Weiser, Brandon Follick and our own Lily Lester. Tickets for the livestream start at $10, in-person at $20. Get your tickets here.
Hot Jewish Hanukkah Book Launch Party 
Join our 2022 "36 to Watch" honoree Danielle Brody and Michael Valdes for the launch of their graphic novel "Hot Jewish Hanukkah," a modern retelling of the Hanukkah story for ages 18+, featuring real-life Jewish creatives (including yours truly!). The book also features a Hanukkah gift guide and holiday recipes. The launch party, at Solas Bar (232 E. 9th St) is on Tuesday at 7 p.m. and will include sufganiyot, a DJ, latkes and dancing. Tickets start at $40 and include a copy of the book. Find more information and get tickets here.
Hanukkah Doughnut Masterclass with Pastry Chef Fany Gerson
The Nosher, our partner site, will host a livestream doughnut masterclass with Fany Gerson, the chef behind Fan-Fan Doughnuts on Wednesday at 7:30 p.m. Gerson will teach attendees how to make the dough, fry and decorate their doughnuts. Snag a ticket for $25 here.
A Roman Jewish Hanukkah Party and Schmaltzy Live
The Jewish Food Society, The Neighborhood and author Leah Koenig are hosting a Hanukkah party at the Ace Hotel Brooklyn (252 Schermerhorn Street) on Wednesday at 7 p.m. The party includes a live-taping of Koenig's podcast, "Schmaltzy," that will tell the story of Rome's 2,000-year-old Jewish community and cuisine. Koenig will also be signing copies of "Portico," her cookbook of Roman Jewish food. Tickets start at $40.
Thursday, Dec. 7: The first night of Hanukkah
Light the city's biggest menorahs
It wouldn't be Hanukkah in New York without attending a menorah lighting outside Prospect or Central Park. Hosted by Chabad, the free menorah lighting takes place at 5:30 p.m. in Manhattan's Grand Army Plaza outside the Plaza Hotel and will happen every night throughout the holiday. In Brooklyn, there will be a free kickoff concert with live music and latkes in another Grand Army Plaza that is adjacent to Prospect Park at 5:00 p.m., with lighting of the menorah every night of the holiday. Find the lighting schedule in Manhattan here and in Brooklyn here.
Governor Kathy Hochul speaks with CBE
Congregation Beth Elohim in Park Slope (271 Garfield Place) will host New York State Gov. Kathy Hochul on at 6:30 p.m. for a discussion and Hanukkah celebration in honor of their "sister community," K'far Aza, a kibbutz in southern Israel that was attacked by Hamas terrorists on Oct. 7. The event will collect donations to help kibbutz residents rebuild. Find more information here.
Oy Vey! A Night of Jewish Excellence
Celebrate Hanukkah at 54 Below (254 W. 54th St.) at 9:00 p.m. with dozens of Jewish musical theater performances including songs from "Fiddler on the Roof," "Parade" and "Falsettos," all performed by Jewish musicians, including our very own Lily Lester. Tickets start at $15, with a food and beverage minimum of $25. Get tickets here.
Wechsler Center For Modern Aging Hanukkah Party 
Join the Marlene Meyerson JCC Manhattan (334 Amsterdam Ave) at 3:30 p.m. for an event geared towards older adults.The party includes live music, wine, an olive oil tasting, snacks and a performance by the JCC's Modern Ager Chorus. Tickets start at $25.
Friday, Dec. 8: The second night of Hanukkah
Shabbat Family Service and Celebration of Light Party with Temple Emanu-El
Join Temple Emanu-El (1 E 65th St) for a Shabbat of Hanukkah for a service, party and dinner. The party includes crafts, face painting, LED golf, a bounce house, snacks and a retelling of the Hanukkah story. From 4:30 p.om to 6:00 p.m., young families and nursery school students are invited to join. The service will take place from 6:00 p.m. to 7:00 p.m. and a party and dinner for families with children ages 5 and up will take place from 7:00 p.m. to 9:00 p.m. Tickets — 1 per family — start at $36. Register here.
Saturday, Dec. 9: The third night of Hanukkah
Friday Night Hub Hanukkah Party
Temple Emanu-El's Friday Night Hub will host a Saturday night Hanukkah party at 8:00 p.m. for young professionals ages 21-39. The party, held at the synagogue, will feature live music, dreidels, gifts, sufganiyot and food by Jake Cohen and Joan Nathan. Tickets start at $36, find more information here.
Hanukkah Hootenanny at East Midwood Jewish Center
Join the East Midwood Jewish Center on Saturday at 6:30 p.m. for a their annual Hanukkah party and a Havadalah celebration. Featuring music from Jacob's Ladder Bluegrass Band and latkes, donuts and crafts, the evening has something fun for all ages. Tickets start at $40 for adults, find more information here.
The Seventh Annual Chanukahstravaganza
Say that five times fast. Comedians Lana Schwartz and Ilana Michelle Rubin will host their annual Hanukkah comedy show on Saturday at 8:30 p.m., this year at Brooklyn Comedy Collective (167 Graham Ave). The show features Jewish comedians Brandon Follick, Blair Dawson, Josh Gondelman, Anna Roisman and Anna Suzuki. Tickets start at $15.
Sunday, Dec. 10: The fourth night of Hanukkah
Crafts and Menorah Lighting at South Street Seaport Museum
From 11 a.m., head over to the South Street Seaport Museum (12 Fulton St.) for a free menorah lighting and crafts, as well as access to the museum and the 19th-century ships at Pier 16. Make a baggywrinkle, a maritime-inspired decoration, and tour the museum and ships. Registration for the free event is required.
92NY's Hanukkah Festival: Bring in the Light!
92NY (1395 Lexington Ave.) hosts their annual Hanukkah festival on Sunday at 11 a.m. featuring crafts, make-your-own treats, a live Hanukkah game show and an Israeli folk dance performance. Tickets for the in-person event begin at $18.
Sunday Story Time: Herschel and the Hanukkah Goblins
For this week's Sunday Story time for young New Yorkers ages 3-6, the New York Historical Society (170 Central Park West) is reading "Hershel and The Hanukkah Goblins" at 11:30 a.m. Afterwards, stay for dancing, games and dreidel-making. Tickets are free with museum admission ($24 for adults). More information here.
Hershel and The Hanukkah Goblins: An Unauthorized Parody Musical
For adults that want their own version of the "Hershel and the Hanukkah Goblins" story, join comedians Sam Clark and Gus Mayopoulos for their brand-new musical about the folktale hero Hershel of Ostropol. The laugh-out-loud performance will take place at 4:30 p.m. at Caveat NYC (21A Clinton St.) Tickets start at $10 for the livestream and $18 for in-person. Get tickets and read more about it here.
Brooklyn Conservatory of Music Hanukkah Celebration
The Brooklyn Conservatory of Music (58 7th Ave.) will host their annual Hanukkah party this year at 7 p.m. Co-hosted with The Neighborhood: An Urban Center for Jewish Life, the concert and party includes music from The Klezmer Big Band of Light and other klezmer musicians. There will also be performances by Yula Beeri, Isaac Gardner and INDIGA. The party includes latkes, karaoke, coloring and a cash bar. Tickets start at $10 for children and $20 for adults. Find more information here.
Monday, Dec. 11: The fifth night of Hanukkah
Unorthodox Comedy Hanukkah Edition
Every month, comedian Chani Lisbon hosts "Unorthodox Comedy" inside of Sixth Street Synagogue (325 E 6th St). This month, the Hanukkah-themed show takes place at 7:30 p.m., with a percentage of the proceeds donated to the IDF. Jewish comedians Mathew Broussard, Liz Glazer, Harrison Greenbaum, Elon Altman and Chani Lisbon will perform. Get tickets, starting at $36, here. 
Tuesday, Dec. 12: The sixth night of Hanukkah
Hanukkah on Ice
Chabad of the West Side hosts their annual "Hanukkah on Ice" this year at 6:00 p.m. at Wollman Rink in Central Park. A $35 ticket includes access to the rink, live music, a visit with a lifesize dreidel mascot, hot drinks, doughnuts and food from Famous Pita. Learn more and buy your tickets here.
Good & Fantzye Hanukkah
Good Pierogie and Fantzye Suppers will host a Hanukkah dinner at Farm to People (1100 Flushing Ave.) from 5:00 p.m. Make a reservation for dinner featuring an a la carte menu of sweet and savory latkes, vegetarian fritto misto, market fish with spicy pickles, winter chicory salad and rugelach. 
Wednesday, Dec. 13: The seventh night of Hanukkah
20s, 30s, 40s Hanukkah Party with Town and Village Synagogue
Town and Village Synagogue (334 East 14th St.) is hosting a Hanukkah party for Young Professionals at 6:30 p.m. Tickets start at $18 and include drinks, snacks and music.
Thursday, Dec. 14: The eighth night of Hanukkah
Sacred Rhythms: A Hanukkah Journey Through Breath 
On the final night of Hanukkah, Shefa and The Neighborhood host a collaborative spiritual gathering in honor of Rosh Chodesh, the beginning of a new month, and the last night of Hanukkah. Taking place at Gaia NoMaya (510 Flatbush Ave) at 6:30 p.m., there will be a teaching of Jewish wisdom from Arielle Krule and vegan and vegetarian food. Guests are encouraged to wear comfortable clothing and bring a water bottle and journal. Tickets start at $36.
20s and 30s Hanukkah Party on the Upper West Side
At 7:00 p.m., the Marlene Meyerson JCC Manhattan hosts their 20s and 30s Hanukkah party in partnership with B'nai Jeshurun, Masa Israel Journey, Moishe House, The Jewish Agency For Israel, UJA-Federation of New York and Trybal Gatherings. The party features an open bar, DJ, photo booth and latkes and sufganiyot. Tickets start at $36.
—
The post What to do every night of Hanukkah 2023 in NYC appeared first on Jewish Telegraphic Agency.
Harvard Hillel Decries 'Terrifying' Anti-Zionist Protest That Disrupted Classes
Harvard University's Hillel chapter has called on the school's administration to hold accountable those involved in a "terrifying" anti-Zionist demonstration in which activists stormed the campus calling for the destruction of Israel.
On Wednesday, Harvard classes were disrupted by a coordinated protest of demonstrators who used bullhorns to blast calls to "globalize the intifada," a term used to describe violent Palestinian uprisings against Israel, as well as the popular phrase "from the river to the sea, Palestine will be free" — a slogan widely interpreted as a call for the destruction of the Jewish state, which is located between the Jordan River and the Mediterranean Sea.
"These calls for genocide and anti-Jewish violence throughout the world represent antisemitic speech and are not protected by the university's community standards," Harvard Hillel said on Thursday in a statement obtained by The Algemeiner. "Students were terrified by this protest and the violence it endorsed, and some were unable to resume work for hours after the protests passed."
Harvard Hillel called on the university to hold both the individuals and organizations involved in the protest "accountable," specifically naming the school's Palestine Solidarity Committee (PSC), "who promoted these actions that are inconsistent with university policies." The Jewish group also asked that Harvard's president, Claudine Gay, send a university-wide email to students, staff, and faculty explaining why such actions are not covered by the university's protected speech and clarifying the consequences for violating them.
The group noted that its members "wholeheartedly support free speech on campus — a sacred right necessary in a free and democratic society. Yet that right does not encompass disruptions to university classes nor hateful slogans chanted on university property. Harvard recognizes this distinction, and therefore rightly does not protect threatening speech or speech that is disruptive to learning on campus."
The group added" "Protests of this nature have become increasingly normalized on our campus, causing Jewish and Israeli students to avoid class, university events, and dining halls."
Wednesday's incident was the latest of several since Hamas' Oct. 7 massacre across southern Israel in which Harvard's campus has been a hub for anti-Israel activists to not only attack the Jewish state but also intimidate and harass Jewish students.
Amid such a hostile environment, Gay denounced the "from the river to the sea" chant, saying it carries "specific historical meanings that to a great many people imply the eradication of Jews from Israel and engender both pain and existential fears within our community." Pro-Palestinian students have castigated Gay in return, accusing her of squelching speech that addresses what they falsely describe as a "genocide" of Palestinians.
Last week, students protested on campus and issued to Gay a list of demands, which included the reinstatement of a student proctor who three weeks ago participated in mobbing a Jewish student and screaming "Shame!" into his ears. The students presented their demands during their occupation of a campus building. 
Another demand in the letter to Gay called for Harvard to "disclose [its] investments in the internationally recognized illegal settlements in Palestine and divest from those holdings" — an apparent nod to the boycott, divestment, and sanctions (BDS) movement against Israel. The BDS campaign seeks to isolate Israel from the international community as a step toward the Jewish state's eventual elimination.
Harvard has been battling a perception that it harbors antisemitism since the Hamas atrocities in Israel last month, when the Palestinian terror group murdered over 1,200 people, mostly civilians, and abducted more than 240 others back to Gaza. As scenes of Hamas terrorists kidnapping children and desecrating dead bodies circulated worldwide and caused global outrage, 31 student groups at Harvard, led by the PSC, issued a statement blaming Israel for the attack and accusing the Jewish state of operating an "open air prison" in Gaza, despite that the Israeli military withdrew from the territory in 2005.
Responding to the statement, Larry Summers, a former US secretary of the treasury under the Clinton administration and a former president of Harvard University, criticized the student groups for justifying terrorist violence and called out the school's administration for not disavowing support for terrorism.
"The silence from Harvard's leadership, so far, coupled with a vocal and widely reported student groups' statement blaming Israel solely, has allowed Harvard to appear at best neutral towards acts of terror against the Jewish state of Israel," Summers tweeted. "I cannot fathom the administration's failure to disassociate the university and condemn this statement."
Gay, who is the first Black American to hold the job as Harvard's president, has since said "antisemitism has no place at Harvard" and announced the creation of an Antisemitism Advisory Group.
The group, she explained, plans to implement several reforms, including a historical examination of the roots of antisemitism at Harvard, educational programming highlighting the antisemitic origins of anti-Israel rhetoric, raising awareness of anonymous reporting of antisemitic incidents, forging relationships with external groups, and for the first time ever incorporating Holocaust Remembrance Day and Jewish American Heritage Month into the school's calendar.
"Harvard was founded to advance human dignity through education," Gay said earlier this month. "We inherited a faith in reason to overcome ignorance, in truth to surmount hate. Antisemitism is destructive to our mission. We will not solve every disagreement, bridge every divide, heal every wound. But if we shrink from this struggle, we betray our ideals."
Gay — along with two other presidents of elite universities, Elizabeth Magill of the University of Pennsylvania and Sally Kornbluth of the Massachusetts Institute of Technology (MIT) — have been called to testify before the US House Committee on Education and the Workforce on Dec. 5 about rising antisemitism on college campuses in the wake of Hamas' Oct. 7 massacre.
Follow Dion J. Pierre @DionJPierre.
The post Harvard Hillel Decries 'Terrifying' Anti-Zionist Protest That Disrupted Classes first appeared on Algemeiner.com.