Israel's home qualifying soccer matches for Euro 2024 moved to Hungary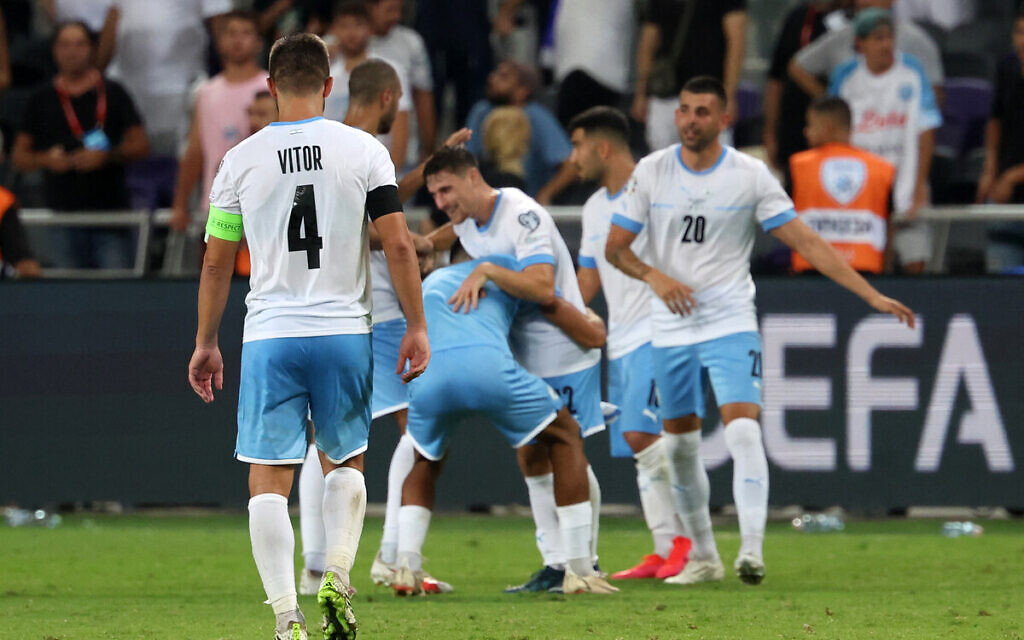 In a rare move, the US House of Representatives censures Rashida Tlaib for Israel remarks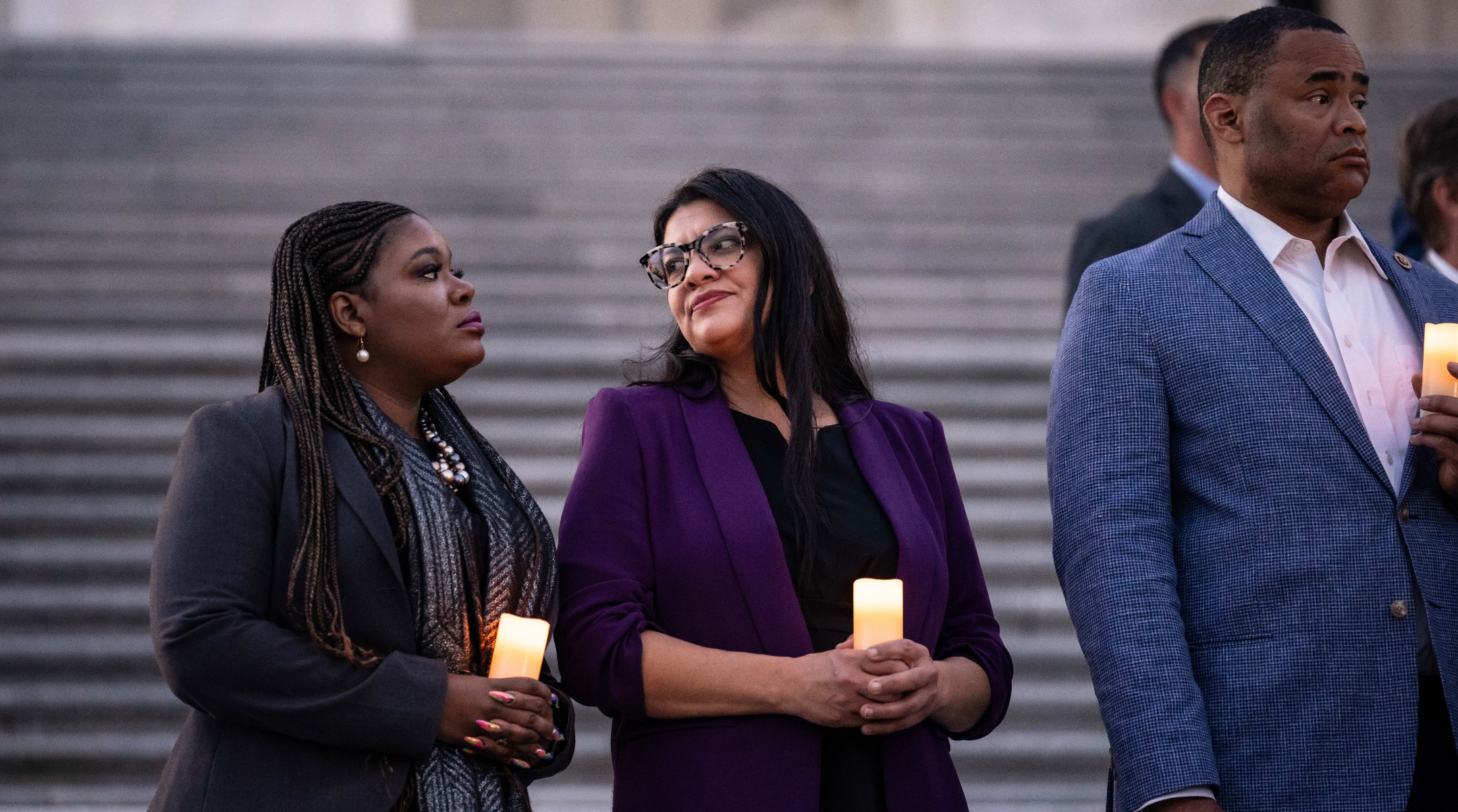 WASHINGTON (JTA) — The U.S. House of Representatives censured Michigan Rep. Rashida Tlaib, the Palestinian American Democrat, for her rhetoric in the wake of Hamas' Oct. 7 invasion of Israel, including using the term "from the river to the sea."
The 234-188 vote late Tuesday night saw 22 Democrats vote to censure Tlaib, and was sure to sharpen divides among Democrats over Israel's war with Hamas in Gaza. Some Democrats vehemently defended Tlaib's right to free speech and others said the "From the river to the sea" term signifies the elimination of Israel. The vote was largely on party lines, reflecting the Republican majority, though four Republicans voted against censuring Tlaib.
Tlaib said she would not be intimidated by the censure vote, which will require her to stand in the well of the House chamber and listen to  House Speaker Mike Johnson explain why she is being censured. "I will not be silenced and I will not let you distort my words," she said.
The censure resolution was initiated by Rep. Rich McCormick, a Georgia Republican, and focused on statements by Tlaib since Hamas launched the war. It noted that Tlaib used the phrase on "from the river to the sea" Nov. 3 on social media and argued that "it is widely recognized as a genocidal call to violence to destroy the state of Israel and its people to replace it with a Palestinian state extending from the Jordan River to the Mediterranean Sea."
Tlaib in her Nov. 3 post on X, the platform formerly known as Twitter, said she used the phrase to describe a democratic outcome for all in that region. "From the river to the sea is an aspirational call for freedom, human rights, and peaceful coexistence, not death, destruction, or hate," she said. "My work and advocacy is always centered in justice and dignity for all people no matter faith or ethnicity."
A number of Jewish Democrats decried the use of the phrase, but said limiting her speech set a dangerous precedent.
"As I have repeatedly made clear, I disagree vehemently with the comments made by Rep. Tlaib and condone no rhetoric that rejects the Jewish people's right to self determination," said Rep. Jerry Nadler, a New York Democrat who is the dean of the House's unofficial Jewish caucus. "I also defend the freedom of speech that each and every American is granted by our Constitution, even when I find that speech to be reprehensible, as I do in this case."
Other Jewish Democrats said Tlaib's offenses were serious enough to merit censure, which most recently was used on California Rep. Adam Schiff, a Jewish Democrat targeted by republicans for his work investigating former President Donald Trump.
"I recognize this censure resolution is not a perfect resolution in its language or form, but unfortunately it is the only vehicle available to formally rebuke the dangerous disinformation and aspersions that Rep. Tlaib continues to use and defend," said a statement from Illinois Rep. Brad Schneider, who, like McCormick's resolution, also cited the weeks during which Tlaib promoted a claim that Israel was responsible for hitting a hospital early in the conflict. A range of reporting and intelligence assessments determined the hospital was hit by a misfired Palestinian rocket. "I feel that I have no other recourse but to vote to censure her."
Other Jewish Democrats joining Schneider in censuring Tlaib include Rep. Kathy Manning of North Carolina, Reps. Debbie Wasserman Schultz, Lois Frankel and Jared Moskowitz of Florida, Rep. Josh Gottheimer of New Jersey, Rep. Daniel Goldman of New York , Rep. Greg Landsman of Ohio, Rep. Kim Schrier of Washington and Rep. Steve Cohen of Tennessee.
At one point Tlaib grew emotional. She was surrounded by progressives associated with the "Squad," a group of representatives known in part for harshly criticizing Israel. Rep. Ilhan Omar, a Minnesota Democrat, put her hand atop hers. "Palestinian people are not disposable, we are human beings like anyone else," Tlaib said.
Tlaib is leading an effort to get Congress to urge President Joe Biden to pressure Israel into a ceasefire, something that Biden and Israel reject. Israel is determined to keep fighting until Hamas returns the more than 200 hostages it abducted into the Gaza Strip, and until the terror group is dismantled.
"Trying to bully or censor me won't work because this movement to a ceasefire is bigger than one person," she said.
Tensions over the ceasefire and how best to deal with the war are roiling Democrats. Earlier in the day, Rep. Hakeem Jeffries, a New York Democrat who is the minority leader, did not recommend a vote either way, but said the "River' phrase was unacceptable discourse. "Echoing slogans that are widely understood as calling for the complete destruction of Israel — such as from the River to the Sea — does not advance progress toward a two-state solution," he said. "Instead, it unacceptably risks further polarization, division and incitement to violence."
It was the second attempt to censure Tlaib since the war started; a resolution advanced by Rep. Marjorie Taylor Greene, another Georgia Republican, failed in part because it packed in condemnations of the prosecution of rioters who stormed the U.S. Capitol on Jan. 6, 2021, in a bid to overturn Biden's election.
Tlaib said that calling her antisemitic was a means of censoring her. "The idea that criticizing the government of Israel is antisemitic sets a very dangerous precedent," she said.
—
The post In a rare move, the US House of Representatives censures Rashida Tlaib for Israel remarks appeared first on Jewish Telegraphic Agency.
Flowers, candles and anger at LA street corner where a Jewish pro-Israel protester was killed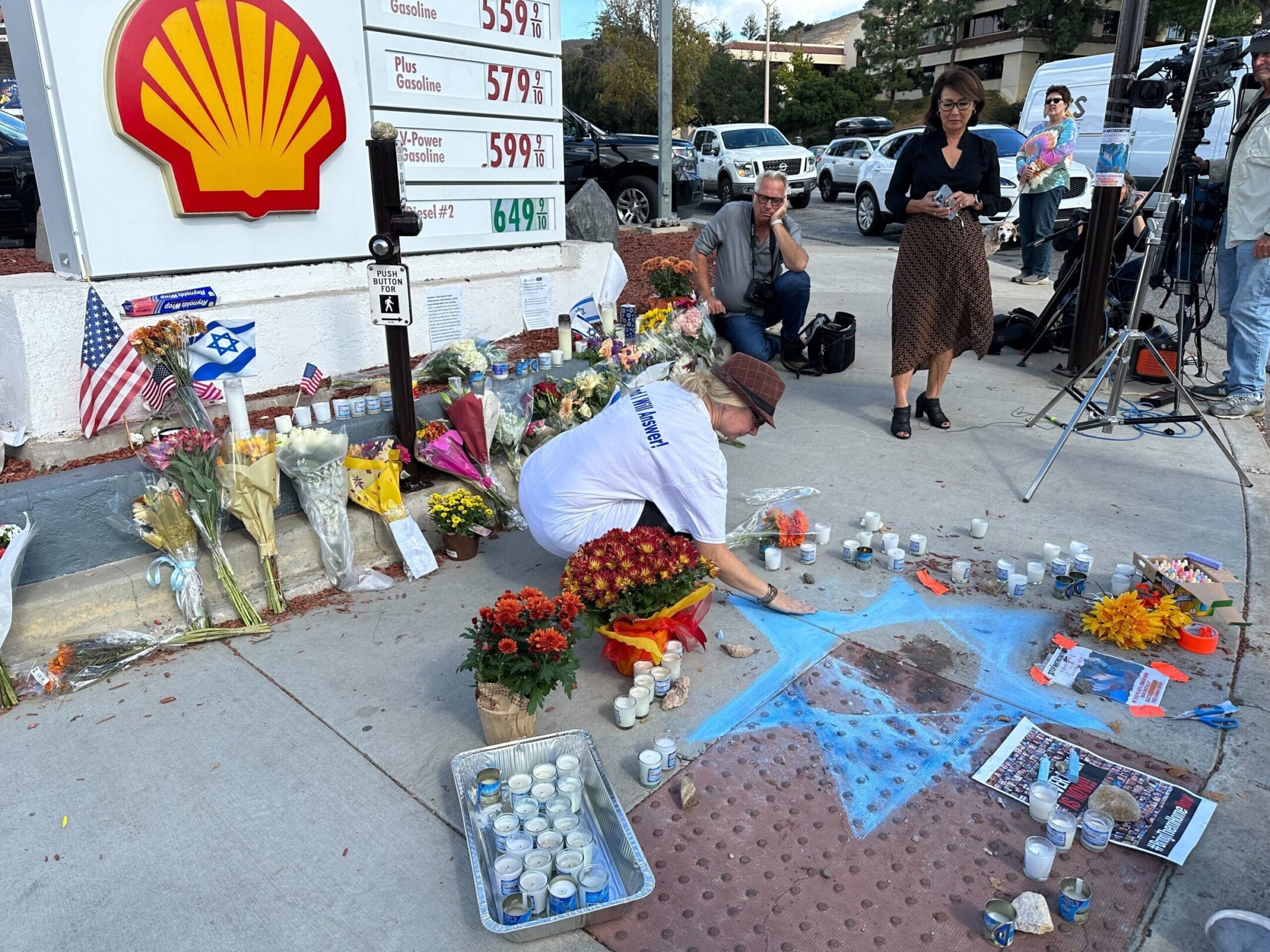 THOUSAND OAKS, California (JTA) —  Elena Colomba was on her hands and knees, covered in chalk, drawing a large blue Star of David on the sidewalk on Tuesday — a tribute to Paul Kessler, the Jewish man and pro-Israel protester who died Monday after an altercation with a pro-Palestinian protester.
The middle of the star framed bloodstains from Kessler's fall that were still visible.
"I am a Jew by choice, and I'm here to hold space for my brother from another mother," Colomba, who completed her conversion to Judaism in June, told the Jewish Telegraphic Agency.
Colomba, who lives in nearby West Hills and is a member of Hamakom Synagogue, said she had come to the scene of the incident Monday night around 8:30 p.m. and stayed until 1 a.m. before returning later on Tuesday morning.
Her star was surrounded by Israeli and American flags, yahrzeit candles and printouts of news stories of Kessler's death. There were also signs featuring Israeli hostages held by Hamas in Gaza.
And there were flowers. Bouquets and bouquets of blooms in all colors, part of a $400 haul purchased by a man named Marcus who said he felt compelled to do something, anything, in response to Kessler's death.
A Jewish father who declined to share his last name, Marcus said he had bought out a local grocery store's flower supply with the ambition of covering the sidewalk at this intersection in Thousand Oaks, a suburb north of Los Angeles.
"When a man who's in his 60s gets pounded in his face for standing up for Israel, every Jew needs to do something," Marcus told JTA.
"I would rather put flowers on this corner, and put so many f—ing flowers, so there's nowhere for these assholes to stand," he said, referring to pro-Palestinian protesters. He said he planned to buy more and continue to line the sidewalks until each of the four corners of the large intersection where the rally had taken place were "covered with love."
At the local Sprouts Farmers Market store where Marcus shopped, an employee confirmed to JTA that Marcus had purchased the store's entire stock of flowers. The employee said he was unable to comment further due to his company's policies, but said he was glad to help.
"If I didn't do something, I felt like it was 1930 again," Marcus said.
Colomba said people had walked by throughout the day cursing at her and yelling "Free Palestine."
"And my response is, 'I'm sending you love,' because we need more love in this shattered world," she said. Colomba said she also volunteers with her local chevra kadisha, a group that facilitates Jewish burial efforts.
Another local woman, who declined to share her name, told JTA she was Israeli and had family members who had been killed at the music festival where Hamas massacred 260 people on Oct. 7.
"The attacks are on our doorsteps," she said after placing flowers on the sidewalk. "It's coming to us on all fronts."
The woman said she felt relatively safe there compared to in other neighborhoods, but on the whole her sense of security had been shattered.
"I want the person who was involved to be held accountable," she added. "I want the world to know what happened here. I want people to wake up."
Rabbi Moshe Bryski, the executive director of the Chabad of Agoura Hills, just a few miles down the road from the scene of the altercation, told JTA that his community was experiencing a mix of emotions, including "sadness, outrage, concern, but at the same time resolute and strong and united."
Bryski, who had just spent a week in Israel, during which he met with the families of some of the hostages, said he did not know Kessler personally. He said a community vigil would be planned, in coordination with the family, which had been requesting privacy.
Speaking to JTA moments before the Ventura County Sheriff's Office held a press conference on the matter, Byrski said the incident was "sure looking like a hate crime. If someone goes with an Israeli flag to an event and comes back dead, that sounds like hate to me."
Sheriff James Fryhoff said investigators had not ruled out the possibility of a hate crime. A 50-year-old suspect has been identified but not arrested, and an investigation is ongoing, he said.
Later in the afternoon, the sidewalk, situated in front of a Shell gas station, was crowded with reporters and news cameras as a makeshift press conference was held, featuring remarks from Rabbi Mark Blazer, the president of the Jewish Life Foundation and rabbi at nearby Temple Beth Ami in Santa Clarita; Jonathan Oswaks, who had attended the rally with Kessler and witnessed the altercation; and Elan Carr, the CEO of the Israeli American Council and former antisemitism envoy under President Donald Trump.
As the speakers each addressed the cameras, there were repeated pleas for law enforcement to act and for continued support of Israel and Jews in light of the continuing war in Gaza. The tone had turned noticeably more urgent and outraged.
"Stop killing us!" Blazer exclaimed at the end of his remarks. "Whether it's in Israel or here in Southern California." He said he was leaving for Israel this week and would bring Kessler's story with him.
Oswaks, who was visibly shaken and angry, spoke for nearly 20 minutes, detailing his experience at Sunday's rally and at a prior gathering two weeks ago. He said he attended both events with Kessler.
"None of you are safe!" Oswaks shouted into the cameras at one point during his remarks.
Oswaks said he had met Kessler two weeks ago on the NextDoor hyperlocal social networking app and didn't know him well — adding that he didn't even know Kessler's last name when he attempted to visit him in the emergency room.
"He was a passionate Jew," Oswaks said of Kessler, who he said had insisted on holding the Israeli flag they had brought that was later seen in photos of the altercation.
Kessler was also a dedicated author of letters to the editor to the Thousand Oaks Acorn, according to an editor there, who characterized him in a social media post as "an ardent Democrat" with a "sharp wit."
The press conference concluded with the chanting of "El Maleh Rahamim," the prayer traditionally recited at Jewish funerals, by Kenny Ellis, the cantor at Temple Etz Chaim in Thousand Oaks, where Kessler was a member along with his wife. Kessler's funeral was also held on Tuesday.
Ellis told JTA that Kessler and his wife Cheryl had been more active in the synagogue when they were younger. While he said he does not know Kessler personally, Ellis said he had "only heard wonderful things about him," adding that he was "kind and giving."
—
The post Flowers, candles and anger at LA street corner where a Jewish pro-Israel protester was killed appeared first on Jewish Telegraphic Agency.
Biden confirms asking Netanyahu to 'pause' fighting in Gaza