Jewish poet Louise Glück, who won Nobel literature prize, dies at 80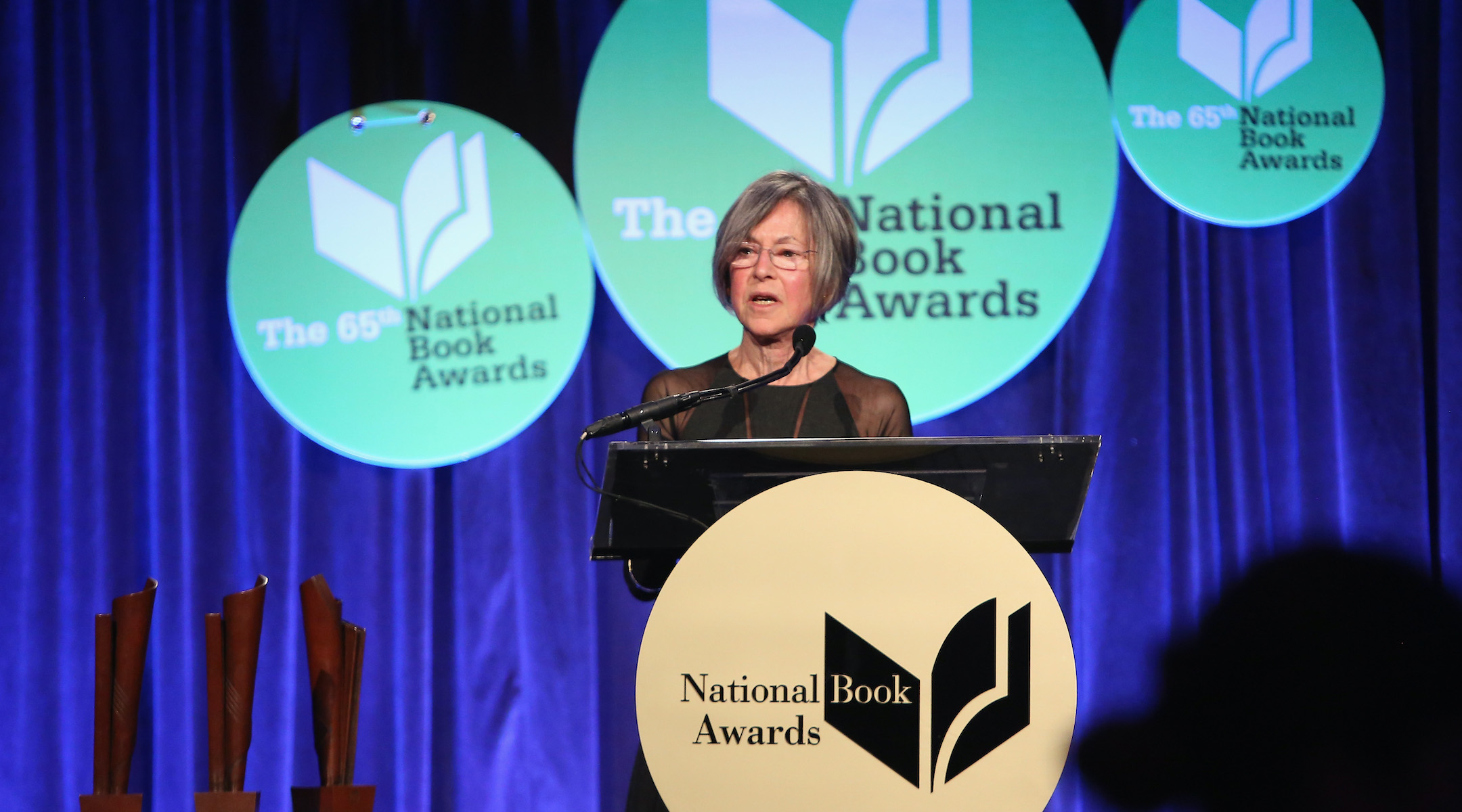 (JTA) — Louise Glück, a Jewish-American poet who was awarded the Nobel Prize in Literature in 2020, died Friday. She was 80.
Acclaimed since the 1970s for poetry that filtered personal and feminist themes though classical mythological, nature and religious imagery, Glück was also the United States poet laureate in 2003 and received a National Humanities Medal from President Barack Obama in 2015.
A product of what she once called a "rudimentary" Jewish upbringing, Glück wrote poems that sometimes reflected that distance. But she often returned for inspiration to the Western canon, including the Hebrew Bible — in books like "Ararat" (1990) — and Greek myth. In one poem, "Vespers," she directly addresses God in talking about her lack of belief: "Perhaps/they see your face in Sicily; here we barely see/the hem of your garment," an image taken from the Book of Samuel.
One critic, Daniel Morris, said her engagement with the Old Testament shows how "Glück's 'Jewishness' is bound up with how she interprets canons both secular and sacred as multiple networks of identity construction." 
Another critic, Dara Barnat, said Glück's poems incorporating Biblical stories were a type of "midrash" (alternative tellings of traditional Jewish text) and compared her in this regard to several other Jewish American women poets, including Shirley Kaufman, Alicia Ostriker and Jacqueline Osherow.
The Nobel Committee said Glück earned the literature prize — the first for an American and Jew since Bob Dylan's in 2016 — "for her unmistakable poetic voice that with austere beauty makes individual existence universal."
Glück (pronounced Glick) was born in New York in 1943  and grew up in the Long Island suburb of Cedarhurst. Her paternal Jewish grandparents owned a grocery after settling in New York City. Her father helped invent the X-Acto knife.
She attended Sarah Lawrence College and Columbia University.
She published 14 books of poetry, including "The Wild Iris" (1992)  which won the Pulitzer Prize. Glück won the National Book Award for Poetry in 2014, for "Faithful and Virtuous Night." Her book of essays "Proofs and Theories" (1994) was awarded the PEN/Martha Albrand Award for Nonfiction. She taught at at Goddard College, Williams College, Yale University and, most recently, Stanford University.
—
The post Jewish poet Louise Glück, who won Nobel literature prize, dies at 80 appeared first on Jewish Telegraphic Agency.
Treasure Trove: How some sheet music in the Theresienstadt Ghetto became a symbol of hope
Protester Sets Self on Fire Outside Israeli Consulate in Atlanta
i24 News – A protester was in critical condition on Friday after setting themself on fire outside the Israeli consulate in Atlanta, Georgia, U.S. authorities said. A security guard who tried to intervene was also wounded.
A Palestinian flag found at the scene was part of the protest, Atlanta Police Chief Darin Schierbaum said at a news conference. He added that investigators did not believe there was any connection to terrorism and none of the consular staff was ever in danger.
JUST IN: A pro-Palestine protester is in critical condition after they set themselves on fire in "political protest" outside of the Israeli Consulate office in Atlanta.
The protester was reportedly draped in a Palestine flag.
The protester has severe burns and unfortunately, a… pic.twitter.com/B8nUQAj2nU
— Collin Rugg (@CollinRugg) December 1, 2023
"We do not see any threat here," he said. "We believe it was an act of extreme political protest that occurred." Everyone inside the consulate building was said to be safe.
Anat Sultan-Dadon, Consul General of Israel to the southeastern U.S., said: "We are saddened to learn of the self-immolation at the entrance to the office building. It is tragic to see the hate and incitement toward Israel expressed in such a horrific way."
"The sanctity of life is our highest value. Our prayers are with the security officer who was injured while trying to prevent this tragic act. We are grateful to the city of Atlanta's law enforcement and first responders for all they do to ensure safety."
The post Protester Sets Self on Fire Outside Israeli Consulate in Atlanta first appeared on Algemeiner.com.
Released Israeli Hostages Call for Captives to Be Freed
Israeli hostages released in the past week by Hamas in Gaza called on Saturday for the immediate release of fellow captives left behind, a day after a temporary truce that had allowed scores to come home broke down.
Tens of thousands gathered at a rally in Tel Aviv outside Israel's defense headquarters, where they cheered Yelena Trupanov, 50, standing on a stage just two days after being freed.
"I came to thank you because without you I wouldn't be here. Now we must bring back my (son) Sasha, and everyone. Now."
Similar pleas from other released hostages were shown on video.
A seven-day truce, during which Hamas had released more than 100 hostages, collapsed on Friday after Hamas breached the ceasefire.
Israel said on Saturday it had recalled a Mossad intelligence agency team from Qatar, host of indirect negotiations with Hamas, accusing the Palestinian faction of reneging on a deal that would have freed all children and women held hostage.
More than 240 people – Israelis and foreign nationals – were abducted to Gaza on Oct 7. by Hamas terrorists who burst through the border with Israel and killed 1,200 people.
The post Released Israeli Hostages Call for Captives to Be Freed first appeared on Algemeiner.com.