Jewish security group warns Jews to stay away from pro-Palestinian rally on Shabbat calling to 'Flood Brooklyn for Gaza'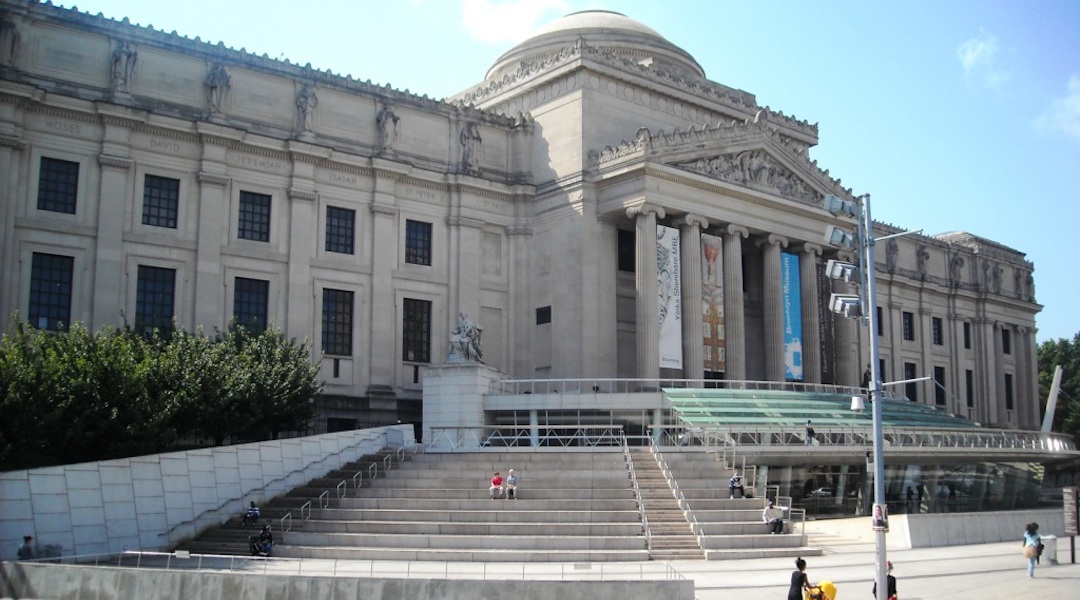 (New York Jewish Week) — A local Jewish security group is advising Jews to avoid the area near the Brooklyn Museum on Saturday afternoon, where a hardline pro-Palestinian group will hold a rally advertised as "Flood Brooklyn for Gaza."
Crown Heights Shmira, a local patrol group that works closely with the NYPD, shared a social media post "advising the community to stay away from the area of the Brooklyn Museum on Eastern Parkway this Shabbos, October 28th, at 3:00PM where a pro-Palestinian protest is scheduled to take place." 
Crown Heights is the home base of the Chabad-Lubavitch Hasidic movement, whose Eastern Parkway headquarters are a little over a mile away from the museum.  
The rally, held by the activist group Within Our Lifetime, comes after protests featuring rhetoric celebrating Hamas' Oct. 7 attack on Israel have unnerved some Jewish New Yorkers. On the day of the attack, in which terrorists killed and wounded thousands, and took hundreds captive, Within Our Lifetime posted on Instagram, "Supporting Palestinian liberation is supporting whatever means necessary it takes to get there."
Another of the groups backing Saturday's rally, Decolonize This Place, has in recent days shared videos of the Hamas invasion under the caption, "Palestinian anti-colonial struggle: 101." Saturday's rally's name recalls the name of the Hamas operation, "Al-Aqsa Flood." It comes three weeks into Israel's war on Hamas in Gaza, in which Israeli airstrikes have killed thousands, and as Israel's military has expanded ground operations in the coastal territory. 
The protest will begin Saturday afternoon at the Brooklyn Museum. Pro-Palestinian rallies typically feature speeches followed by a march down city streets accompanied by police. The NYPD said Friday that the route for most rallies is not determined until the day of the event.
Demonstrations in recent weeks in New York have not seen significant physical violence or injuries, unlike those held during and after Israel's 2021 conflict with Gaza terror groups including Hamas. Mitch Silber, director of the Community Security Initiative, a local Jewish security group, told the New York Jewish Week earlier this week that police had exercised stringent enforcement this year during and after protests.
Antisemitic incidents have spiked in New York City and the United States in recent weeks, according to data collated by the New York Police Department and Jewish security groups.
Within Our Lifetime holds protests that are attended by thousands, calls for the eradication of Israel and also calls on followers to "Globalize the intifada." Palestinian terror attacks during the second intifada, two decades ago, killed approximately 1,000 Israelis. Activists who have protested with the group have been convicted of hate crimes against Jews.
Within Our Lifetime has previously expressed support for U.S.-designated terrorist organizations, according to the Anti-Defamation League. The group led a large protest in Lower Manhattan on Thursday and has held a series of other events since Oct. 7. Its "rally toolkit" includes the chants "Resistance is justified" and "Smash the settler Zionist state."
—
The post Jewish security group warns Jews to stay away from pro-Palestinian rally on Shabbat calling to 'Flood Brooklyn for Gaza' appeared first on Jewish Telegraphic Agency.
Three-quarters of American Jews fear Israel-Hamas war is making their communities less safe, poll finds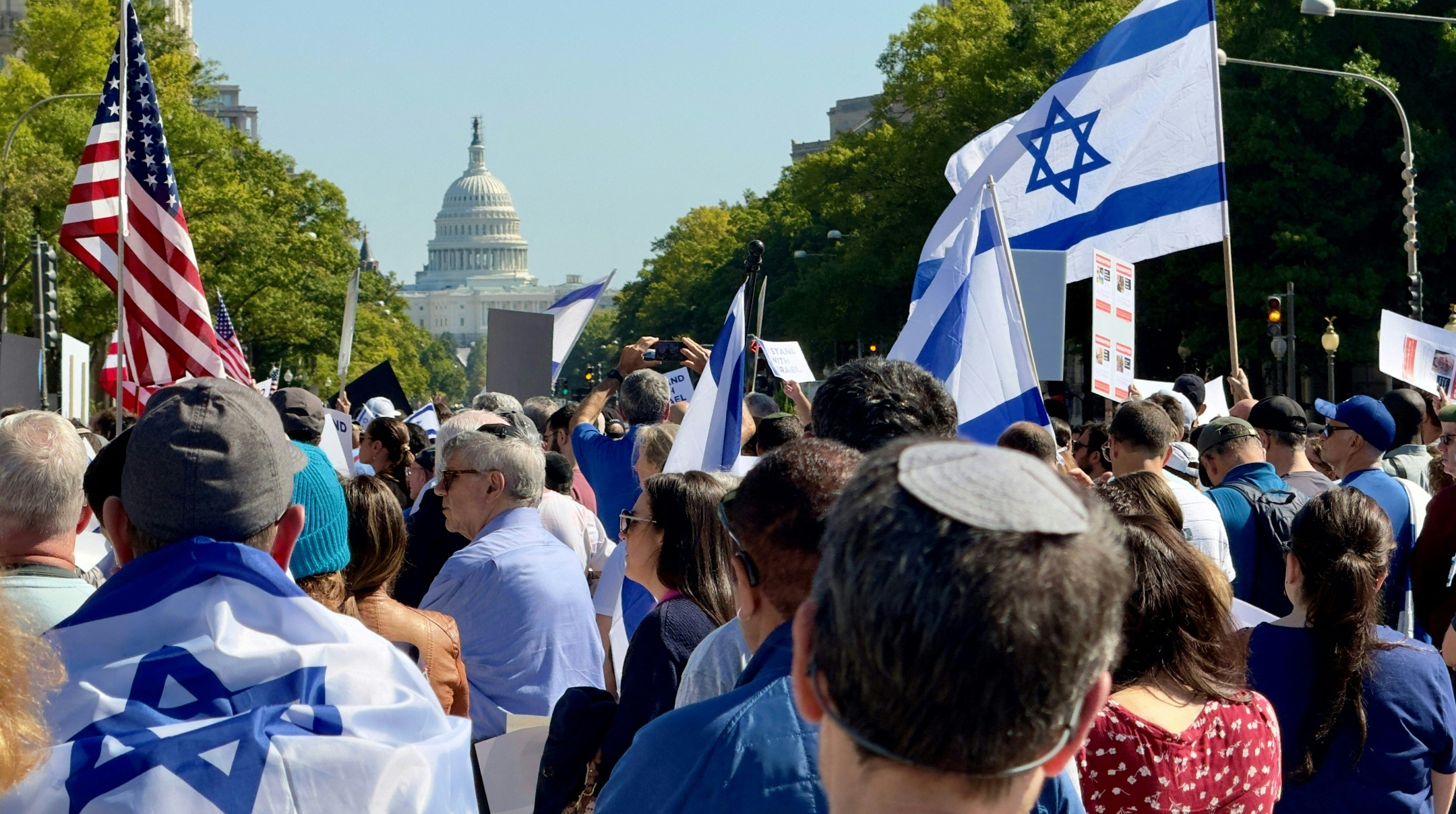 (JTA) — Large majorities of American Jews are worried for their safety amid Israel's war with Hamas and believe antisemitism is on the rise, according to a new poll.
Two-thirds of American Jews also support the Biden administration's policy on Israel and the vast majority support military aid for Israel. Most Americans overall also support military aid for Israel, the poll found.
According to the poll, which was commissioned by the Jewish Federations of North America and published Thursday, 75% of American Jews are either very or somewhat concerned that the war will cause issues in terms of security and safety in their communities. Nearly three in 10 said they knew of "physical acts of violence or acts of hate" against Jews in their communities, and
And 72% of Jews said antisemitism in their local communities has increased over the past few weeks. Zero percent believe it has decreased. Most Jews also believe antisemitism will continue to increase.
The poll, conducted by Benenson Strategy Group, is the first measure of the sentiments of American Jews since Hamas invaded Israel on Oct. 7, sparking a war in Gaza in which Israel has vowed to defeat the terror group. In the weeks since the war began, law enforcement agencies and Jewish security groups have documented a spike in antisemitic acts. Earlier this week, a Jewish man near Los Angeles died following a confrontation with a pro-Palestinian protester.
Asked to describe how they feel or the climate in their local community since the war started, 32% of Jews responded "tense," 21% said "uncomfortable" and 20% said "scary." Sixteen percent of Jews said it felt "normal."
A broad spectrum of Jewish groups have come out in support of Israel, pressed the Biden administration to support its military campaign and staged rallies on behalf of Israel and the hostages held by Hamas. Jewish groups are planning a large rally in Washington, D.C., on Tuesday to drive home those messages and speak out against antisemitism.
At the same time, a small number of Jewish groups have delivered statements and staged a series of large rallies and actions calling for a ceasefire and placing blame for the conflict on Israel, which they have accused of "genocide."
The poll did not ask about the particulars of Israeli policy or the war. The words "Gaza," "hostages" and "ceasefire" do not appear in its questions. But Eric Fingerhut, the CEO of the Jewish Federations, said the poll results show that those demonstrations do not represent most Jews or Americans.
"We know that large majorities of Americans support Israel in its fight against terror, and it's important not to let a vocal minority warp that view," he said in a statement.
The poll was taken form Oct. 29 to Nov. 1 and reached respondents via text message. It included 3,777 American adults, including 2,199 Jews. The margin of error was approximately 1.5% for the overall sample and 2% for the Jewish respondents.
The survey found that 85% of Jews and 53% of Americans overall have been following news about the war closely. An additional 15% of Jews are following the war news somewhat closely.
Among Jews, 46% strongly approve of Joe Biden's handling of U.S. policy toward Israel and an additional 22% somewhat approve. Twelve percent somewhat disapprove and 14% strongly disapprove. The survey did not segment out why people disapproved of Biden's policy. Americans overall are split: 44% strongly or somewhat approve of Biden's Israel policy, and 46% disapprove.
Regarding U.S. military aid to Israel, 73% of jews said it's very important and 14% said it is somewhat important, versus 13% who said it's not too, or not at all, important. Among U.S. adults overall, 60% say it is important and 40% say it is not.
The survey also found that both Jews and Americans overall feel there is significant prejudice in the United States against Jews, Muslims, Arabs and Palestinians. Two-thirds of Jews said there is "a lot" of discrimination against Jews, and an additional 26% said there is some, for a total of 92%. Likewise, 78% of Americans overall said Jews face a lot or some discrimination.
In addition, approximately 75% of Jews said Arabs as well as Muslims face discrimination in America, and 66% of Jews said Palestinians face discrimination. Majorities of Americans overall also said those groups face discrimination.
Jewish respondents have felt less secure over the past month, with 42% saying they have worried for their personal safety very much or all the time during that period, and an additional 30% saying they are somewhat worried. And 74% of Jews said there is a lot of antisemitism in the United States today; 86% say there's more antisemitism than there was five years ago.
Jews who wear Jewish symbols were twice as likely to say they worried for their personal safety "all the time."
—
The post Three-quarters of American Jews fear Israel-Hamas war is making their communities less safe, poll finds appeared first on Jewish Telegraphic Agency.
Brawls erupt outside LA Museum of Tolerance screening of Hamas atrocities footage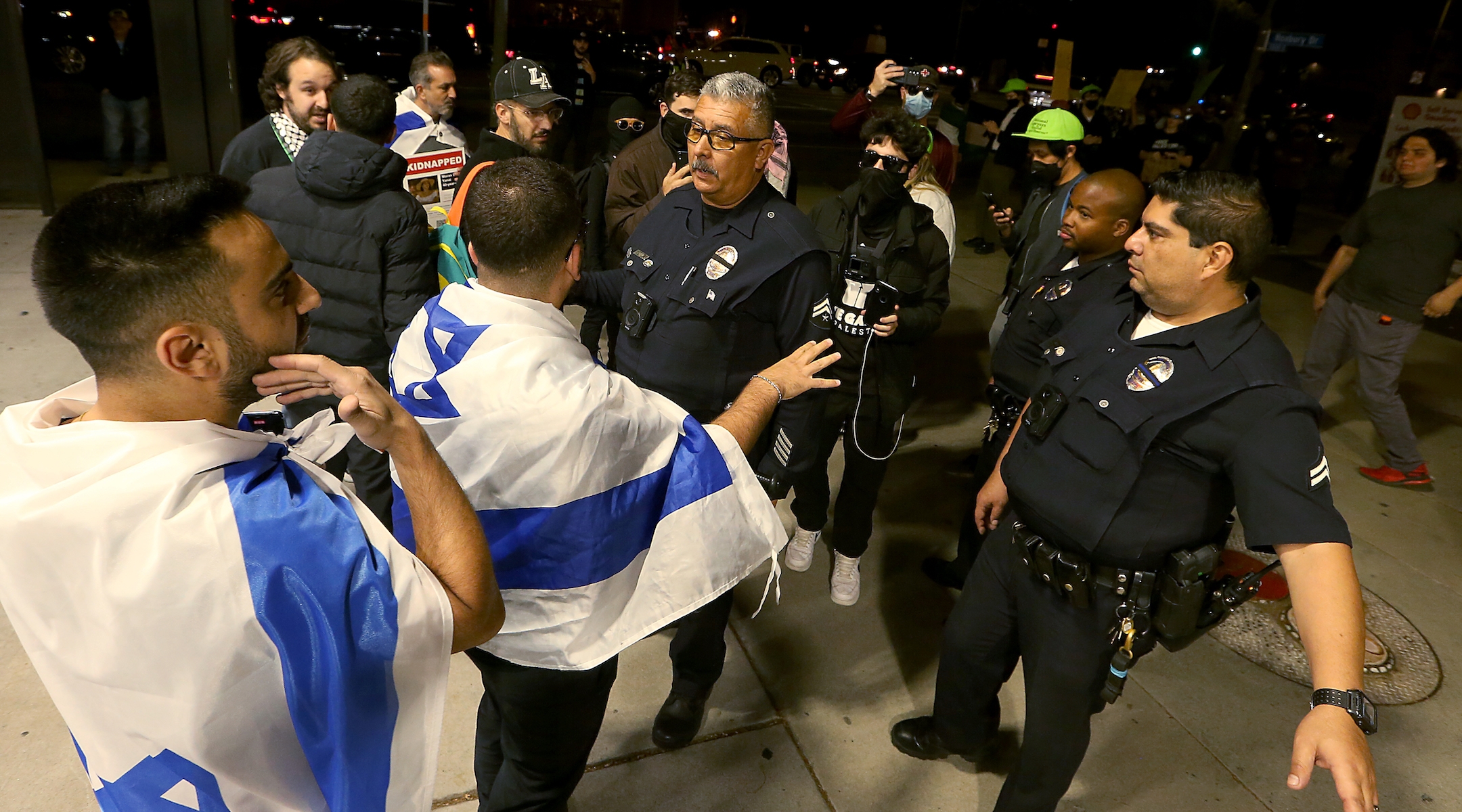 (JTA) – Fistfights broke out Wednesday night between outside a Holocaust museum in Los Angeles that was screening footage of Hamas' Oct. 7 massacre of Israelis after pro-Palestinian protesters demonstrated against what they said was a "Gal Gadot military propaganda video."
Several people were reportedly pepper-sprayed and detained by police following the Museum of Tolerance screening of "Bearing Witness," a 45-minute compilation of footage largely from cameras carried by Hamas terrorists when they attacked Israeli civilians on Oct. 7. About 1,400 Israelis died in the attack and about 250 were taken hostage in Gaza, which Israel has invaded with a stated goal of demolishing Hamas.
An LAPD helicopter reportedly circulated overhead and ordered protesters to disperse. In footage of the confrontations circulating online, pro-Israel protesters sexually harassed a Jewish woman who demonstrated with pro-Palestinian protesters and accused her of being "Arab."
The clash came days after a Jewish man in Los Angeles died after an altercation with a pro-Palestinian protester at a rally, the first known incident of a death in the United States related to protests around Israel. Police said they had identified a suspect but had not yet made any arrests in that case.
Los Angeles Mayor Karen Bass denounced the violence. "We cannot allow current worldwide tension to devolve into this unacceptable violence in our city," she tweeted late Thursday. "This is a time of immense pain and distress for thousands of Angelenos. We must stand together."
The film being shown, whose title is frequently used in Holocaust discourse, was first compiled by the Israel Defense Forces and screened for foreign journalists covering the ongoing Israel-Hamas war and siege of Gaza. The IDF said it undertook the step to prove that the Hamas atrocities had actually happened amid a rising tide of denial.
Critics of Israel's war in Gaza say the film is being used to justify ongoing bombings there that some of them say is causing a "genocide" there. The Hamas-run Gaza Health Ministry says more than 10,000 people have been killed; it does not differentiate between civilians and Hamas fighters. Israeli officials have said the number killed could be around 20,000 but said the vast majority were terrorists.
The film has since made its way to the United States with the backing of some Jewish and Israeli entertainment industry leaders, including Gadot, whose reported involvement in Wednesday's screening had been seized on by pro-Palestinian protesters online.
Dubbing the screening a "Gal Gadot military propaganda video" and a "Zionist trap," some left-wing social media users encouraged non-Jewish protesters to stay away from the protest to avoid being labeled as antisemitic. A screening in New York earlier in the week passed without incident.
Gadot was not present at the Museum of Tolerance screening for around 200 industry professionals, though her husband, Israeli film producer Jaron Varsano, was. The screening was invitation-only, with industry reports deeming it the town's hottest ticket, and its location was obscured from public view out of security concerns.
"You have a film that is being shown at a time when people are calling for a ceasefire," one protester told the Los Angeles Times. "The screening is only for a few privileged people and it doesn't lead to conversation."
According to the Hollywood Reporter, several other notable Jewish and Israeli industry executives were present at the screening, including "Golda" director Guy Nattiv (who also helped organize it); "Pulp Fiction" producer Lawrence Bender; and Mattel CEO Ynon Kreiz, who shepherded this year's smash-hit "Barbie" movie.
Melissa Zukerman, a Hollywood publicist, identified herself as the main organizer at the screening and thanked a former IDF spokesperson for helping it come together. Gilad Erdan, Israel's ambassador to the United Nations, also spoke, as did Rabbi Marvin Hier, longtime head of the Simon Wiesenthal Center, which oversees the museum.
—
The post Brawls erupt outside LA Museum of Tolerance screening of Hamas atrocities footage appeared first on Jewish Telegraphic Agency.
'Beauty Queen of Jerusalem' star Swell Ariel Or: 'My soul is sad'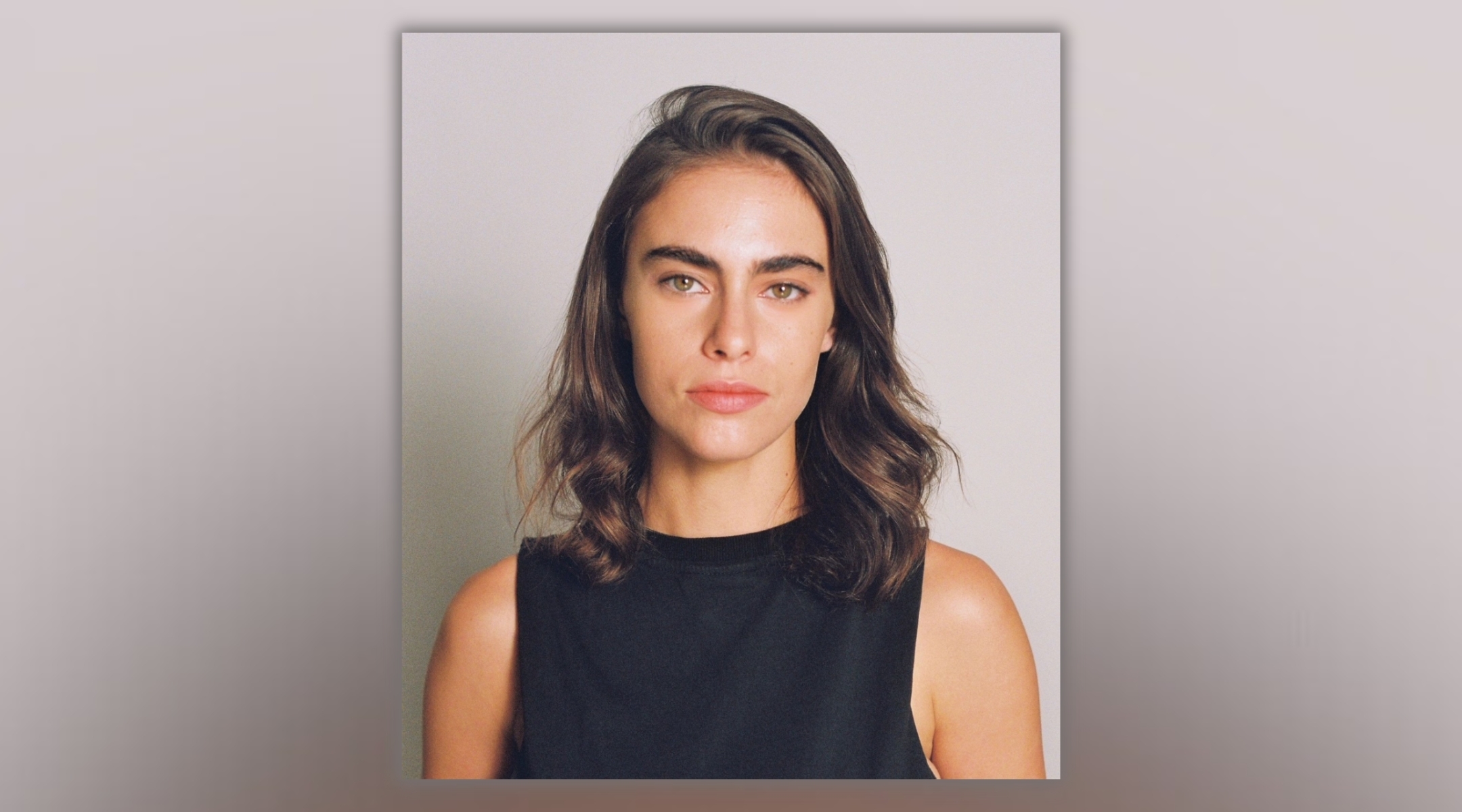 (JTA) — In the month since Hamas' attacks on Israel, Swell Ariel Or, star of the Israeli hit series "The Beauty Queen of Jerusalem," has been promoting her new film. But she admits she's not OK right now.
The title of her film is "Kissufim," named after a real kibbutz near the Gaza Strip. In real life, eight people were murdered at Kibbutz Kissufim on Oct. 7, when Hamas terrorists stormed into southern Israel.
Or, 24, had moved to the United States just two weeks before Oct. 7. "Beauty Queen" — which debuted in 2021 in Israel before heading to Netflix in 2022 — was her first true TV role.
Now the rising star is dealing with the traumatic aftermath of the attacks from afar, away from friends and family. She was previously a witness of a 2016 shooting on Dizengoff Street in Tel Aviv and has since been living through post-traumatic stress disorder and panic attacks. 
"I don't even want to think about the people who survived right now that got the most terrible news about their loved ones who are going to deal with the trauma of this and the echo of this for a long time," she said.
"Kissufim" tells the story of a group of Israeli soldiers volunteering on the kibbutz in the 1970s.
(The film also stars Israeli actor Erez Oved, who in June, was the subject of a scandal for pretending to be an out gay haredi Orthodox man.)
Or spoke to the Jewish Telegraphic Agency about her state of mind and how she's raising money for Israeli reservists.
This interview has been condensed and lightly edited for clarity.
JTA: How are you doing?
Swell Ariel Or: That's become the most complicated question to answer. Physically, I'm okay. Which is a good thing. My soul is sad, like, sadness that I wasn't aware exists in this world. And at the same, full of fire to fight. What happened on Oct. 7, it's my nightmares. And literally my nightmares for years, this is how it looks like. And I just couldn't believe it's real. 
What's it been like going through this experience abroad, away from Israel?
In Israel, you're in a cocoon of support. And I never felt how the world sees this kind of thing, or sees us. But that was just the beginning, because I realized I'm more valuable here. I have a voice and I have to use it in the international arena of explaining to people what we're dealing with. It opened the Pandora's box of me understanding how the world sees us. Because, for me, Israeli people are the most honest people in the world. Sometimes too honest for a room. There are people here who are denying Oct. 7. They say it never happened. Or if it did happen, then we deserve it because of 75 years of occupation. 
I think it's really important to focus on the fact that our war right now is not against the Palestinians. It's against Hamas, a terrorist organization. People don't understand it in their brains, and it's crazy to me.
How have you been staying involved while in the United States?
A lot of my friends just got out of the army in the last few years. And due to COVID, they couldn't travel. It's a very Israeli cultural thing to do your big trip after the army. So I talked to them, and I realized that they had to pay for their flight back. Neither the government, nor the consul, took care of it, especially in the first few days of the war. And most of them didn't want to wait for the government or the consul to have a solution. They just booked the flights as fast as they could. 
Some of them were in small villages in India or Argentina, so far away from home, it took them two to three days to come back to Israel. And it was very expensive. And I realized it's something that fell between the cracks, and so I found my piece of the puzzle to help people that really need it right now. So with my good friend, Leslie Schapira, we opened the Israel Reservists Fund. And our goal is to reimburse them for the tickets they already paid for. We have soldiers from all over the world, and the need is very high for it. And it's tough, but our philosophy is to do whatever we can to bring their morale up because they left the safety of abroad and came back and dropped everything to protect us. And if we can take care of one little thing for them, we will do it. 
Your new film, "Kissufim," which recently premiered at the Orlando Film Festival, takes place near the Gaza Strip. What has it been like promoting the film right now?
The film is the story about the relationship between the kibbutzim near the Gaza Strip and the Gaza people in the 70s after the Yom Kippur War. And sadly, it's never been more relevant than now, because it's a mirror to what's happening exactly right now: it's people who want peace and freedom, and it's been taken away from them by terrorists. And the film is very accessible, like films and cinema can do, very magically. I don't know how films do it, but it's like a superpower. 
We came to the premiere with hostages shirts on us. And we had police with us too, to make sure that we were safe. And honestly, we were really scared, but a tiny drop of hope: we won the best foreign film.
It was really touching to see that, especially now, there is room for hearing and seeing through the very important platform of films and art and storytelling, what's going on right now in Israel.
How are your friends and family in Israel doing?
A lot of my friends are in the army right now, so every notification of another soldier died, I'm getting a heart attack until I read. And not that it makes it any easier to read the name of someone that you don't personally know — it breaks your heart exactly at the same level. And my family is in Tel Aviv and they're physically fine. But, you know, it's been a month of terrible news and rockets and terror and antisemitism, and I don't think that any of us are okay.
—
The post 'Beauty Queen of Jerusalem' star Swell Ariel Or: 'My soul is sad' appeared first on Jewish Telegraphic Agency.