Jewish students at NYU raise $22,000 for Israel in 24 hours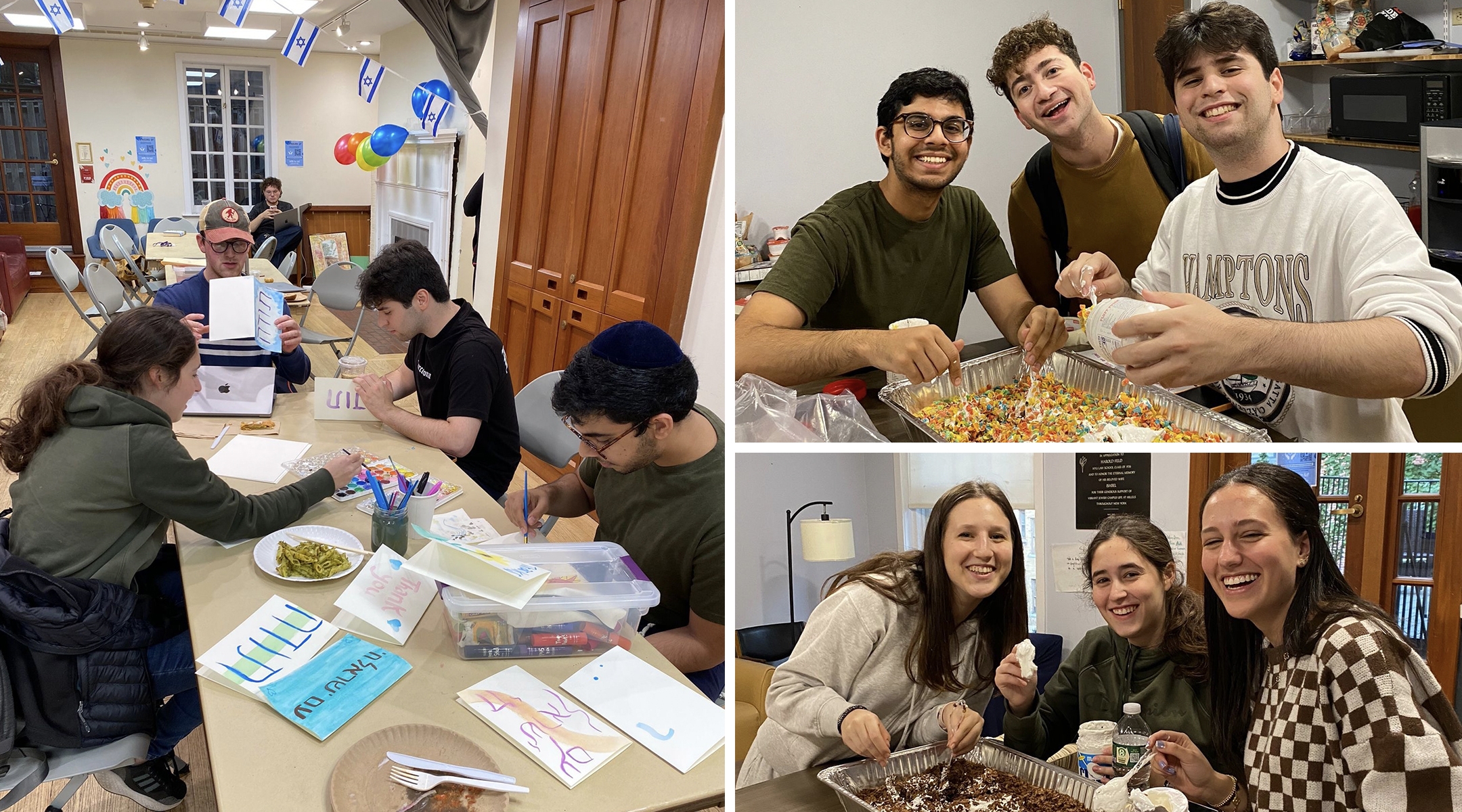 (New York Jewish Week) — Like so many Jews across the country, Ruthie Yudelson was celebrating Shabbat and the holiday of Shemini Atzeret when the news began to trickle in about terrorist attacks in Israel on Oct. 7. 
A junior at New York University, Yudelson, 21, was with her peers at New York University's Bronfman Center for Jewish Life, which houses the school's Hillel, when the news broke. Immediately, people were trying to piece together the little bits of information they could from friends and family in Israel, she recalled. 
By the afternoon, Yudelson had organized a group of students to say Tehillim, or psalms, which Jews recite on behalf of the sick and in times of danger. "I expected it to be some five or six people," Yudelson said. To her surprise, 25 students showed up to sing, talk and be together. 
That small crowd on Saturday afternoon, Yudelson said, was the first hint of the potential organizing power of her campus community, something that the Jewish students demonstrated again just over a week later. For exactly one day beginning at midnight on Sunday, Yudelson and a group of fellow Jewish NYU students came together for "24 hours of service" to raise money for Israel via UJA-New York's Israel Emergency Fund, which disseminated some $22 million in grants to Israeli nonprofits as of Monday. 
At the end of the fundraiser, at midnight on Monday, the initiative, which has involved some 40 students, raised $22,000 from donors Yudelson described as a mix of "friends, family, local businesses and nonprofit philanthropies."  
"We see in the students' eyes a ton of anger, fear, sadness and angst. Nobody's able to sleep or eat or go to class," said sophomore Benji Meppen, a co-organizer of the event. "We wanted to capitalize on that and say let's take that nervous energy and put it towards something good. Let's be in the building, let's be in community, Let's be together and raise money while doing something meaningful."
Yudelson and a team of fellow undergrads — Meppin, Jake Bengelsdorf, Adina Levin and Zoe Kimmelman — began organizing the fundraiser last Tuesday, pitching potential donors on a 24-hour event where students would work on a variety of volunteer projects at the Bronfman Center — including writing cards for Israeli soldiers, staffing a support hotline for students affected by the war and knitting baby clothes for attack victims. They also committed to studying Torah and saying Tehillim in memory of the victims. While the students engaged in that activism, donors would sponsor their efforts and send money to Israel.
"What we're aiming to do is to bring people together, not just around concepts of solidarity but around practical, actionable good," Yudelson told the New York Jewish Week Monday as the fundraiser reached its midpoint. "The idea is that we can make cards for displaced children, we can bake rice krispie treats for soldiers' families and we can write letters to individuals grieving terror attacks — and that people will be inspired by these actions in a way that compels them to donate actual effective amounts of money."

Throughout Sunday night and Monday, "there's been a lot of energy, and it's been really great to see," Meppin said. "Personally, I find every moment that I'm not doing something, I sit on my couch or sit on my bed and look at the news or I read WhatsApp that I don't want to read. I become incredibly angry and sad just as everybody else is. It's been great to stay in the building and do something meaningful."
Yudelson, a environmental sociology major, holds a variety of leadership positions within the Bronfman Center, including at the Israel Journal, an online publication at the school "dedicated to clearing up the conversation around Israel," as well as in the school's Orthodox and Conservative Jewish student groups. She also works as a service engagement intern at the center, organizing community service programs throughout the year. Meppin, a film major, is on the student executive board of NYU Hillel and is the co-president of the Israel Journal.
Following the attacks, Yudelson — a Teaneck, New Jersey native who also has Israeli citizenship — said that she immediately began to think about how the Bronfman Center could become a space where students can express feelings, gather information and come together in a particularly fraught time. "The first way that this uncertainty and fear was metabolized for me was communally," she said. 
"I have a lot of cousins who are fighting in Gaza. I have friends from high school, people that I grew up with who are in a tank right now," Meppin, who is from Los Angeles, said. "For me, to be a 19-year-old in film school, I feel rather meaningless. We hope that this event will help relieve people of some of those feelings while still raising money for UJA."
NYU has been one of a handful of campuses across the country that has drawn scrutiny in the wake of Hamas' attack, largely after the president of the law school's Student Bar Association wrote a letter in the school's newsletter stating, among other things, that "​​Israel bears full responsibility for this tremendous loss of life."
But Yudelson says the Bronfman Center fundraiser hasn't yet faced the same kind of pushback.The wider NYU community has been supportive, she said. 
Yudelson surmised that the reason for the lack of criticism is that the fundraiser is focused on humanitarian aid, or because it is not "the most political" as far campus actions go, although she did stress that "all the aid that we are collecting is going to Israel." She also said she wasn't sure how much the larger undergraduate campus population was aware that the fundraiser was happening.
"It's been wonderful to be a part of," Yudelson said. "Right now it is a very weird time in our current cultural moment and it's hard to be hopeful, but being a part of this fundraiser, I've been mostly hopeful and excited."
For college students — who tend to have low bank account balances — "it's hard to imagine ourselves as having any sort of effective or important piece in the larger geopolitical struggles happening right now," she said. 
But that does not mean that they should not try, said Meppin. "As Jewish college students in New York City, we can choose to take an active role in this conflict and ensure the future Jewish people," he said. "I'm very happy that we are currently doing that as we speak."
—
The post Jewish students at NYU raise $22,000 for Israel in 24 hours appeared first on Jewish Telegraphic Agency.
Protester Sets Self on Fire Outside Israeli Consulate in Atlanta
i24 News – A protester was in critical condition on Friday after setting themself on fire outside the Israeli consulate in Atlanta, Georgia, U.S. authorities said. A security guard who tried to intervene was also wounded.
A Palestinian flag found at the scene was part of the protest, Atlanta Police Chief Darin Schierbaum said at a news conference. He added that investigators did not believe there was any connection to terrorism and none of the consular staff was ever in danger.
JUST IN: A pro-Palestine protester is in critical condition after they set themselves on fire in "political protest" outside of the Israeli Consulate office in Atlanta.
The protester was reportedly draped in a Palestine flag.
The protester has severe burns and unfortunately, a… pic.twitter.com/B8nUQAj2nU
— Collin Rugg (@CollinRugg) December 1, 2023
"We do not see any threat here," he said. "We believe it was an act of extreme political protest that occurred." Everyone inside the consulate building was said to be safe.
Anat Sultan-Dadon, Consul General of Israel to the southeastern U.S., said: "We are saddened to learn of the self-immolation at the entrance to the office building. It is tragic to see the hate and incitement toward Israel expressed in such a horrific way."
"The sanctity of life is our highest value. Our prayers are with the security officer who was injured while trying to prevent this tragic act. We are grateful to the city of Atlanta's law enforcement and first responders for all they do to ensure safety."
The post Protester Sets Self on Fire Outside Israeli Consulate in Atlanta first appeared on Algemeiner.com.
Released Israeli Hostages Call for Captives to Be Freed
Israeli hostages released in the past week by Hamas in Gaza called on Saturday for the immediate release of fellow captives left behind, a day after a temporary truce that had allowed scores to come home broke down.
Tens of thousands gathered at a rally in Tel Aviv outside Israel's defense headquarters, where they cheered Yelena Trupanov, 50, standing on a stage just two days after being freed.
"I came to thank you because without you I wouldn't be here. Now we must bring back my (son) Sasha, and everyone. Now."
Similar pleas from other released hostages were shown on video.
A seven-day truce, during which Hamas had released more than 100 hostages, collapsed on Friday after Hamas breached the ceasefire.
Israel said on Saturday it had recalled a Mossad intelligence agency team from Qatar, host of indirect negotiations with Hamas, accusing the Palestinian faction of reneging on a deal that would have freed all children and women held hostage.
More than 240 people – Israelis and foreign nationals – were abducted to Gaza on Oct 7. by Hamas terrorists who burst through the border with Israel and killed 1,200 people.
The post Released Israeli Hostages Call for Captives to Be Freed first appeared on Algemeiner.com.
IDF Foils Stabbing Attack Near Nablus in West Bank, Eliminates Terrorist
i24 News – The Israel Defense Forces (IDF) reported thwarting a stabbing attack on Saturday afternoon against reserve Battalion 7037 at the X junction near Nablus in the West Bank.
According to the IDF spokesperson, the event unfolded when the forces at the roadblock became suspicious of an individual approaching the barricade.
During the questioning process, the suspect suddenly drew a knife and advanced towards the IDF personnel.
ניסיון פיגוע דקירה אירע לפני זמן קצר לעבר כוח צה"ל במילואים מגדוד 7037 שפעל בחסם בצומת האיקס סמוך לעיר שכם שבמרחב חטיבת שומרון.
הכוח חשד במחבל שהגיע לחסם והחל לתחקר אותו, המחבל שלף סכין והחל להתקדם לעבר הכוח.
הלוחמים חתרו למגע והגיבו בירי לעבר המחבל שחוסל. אין נפגעים לכוחותינו. pic.twitter.com/mEaJs58hpE
— דובר צה״ל דניאל הגרי – Daniel Hagari (@IDFSpokesperson) December 2, 2023
The soldiers, faced with the threat, engaged in contact procedures and ultimately responded by opening fire on the assailant. The spokesperson confirmed that the attacker was neutralized due to the IDF's action.
It was also noted that there were no casualties among the IDF forces involved in the incident. According to the spokesperson, the situation at the X junction has stabilized, and IDF continues to maintain vigilance in the area to prevent further attacks.
The post IDF Foils Stabbing Attack Near Nablus in West Bank, Eliminates Terrorist first appeared on Algemeiner.com.