Jewish students barricade in Cooper Union library as protesters chant 'Free Palestine,' on day of protest across NYC campuses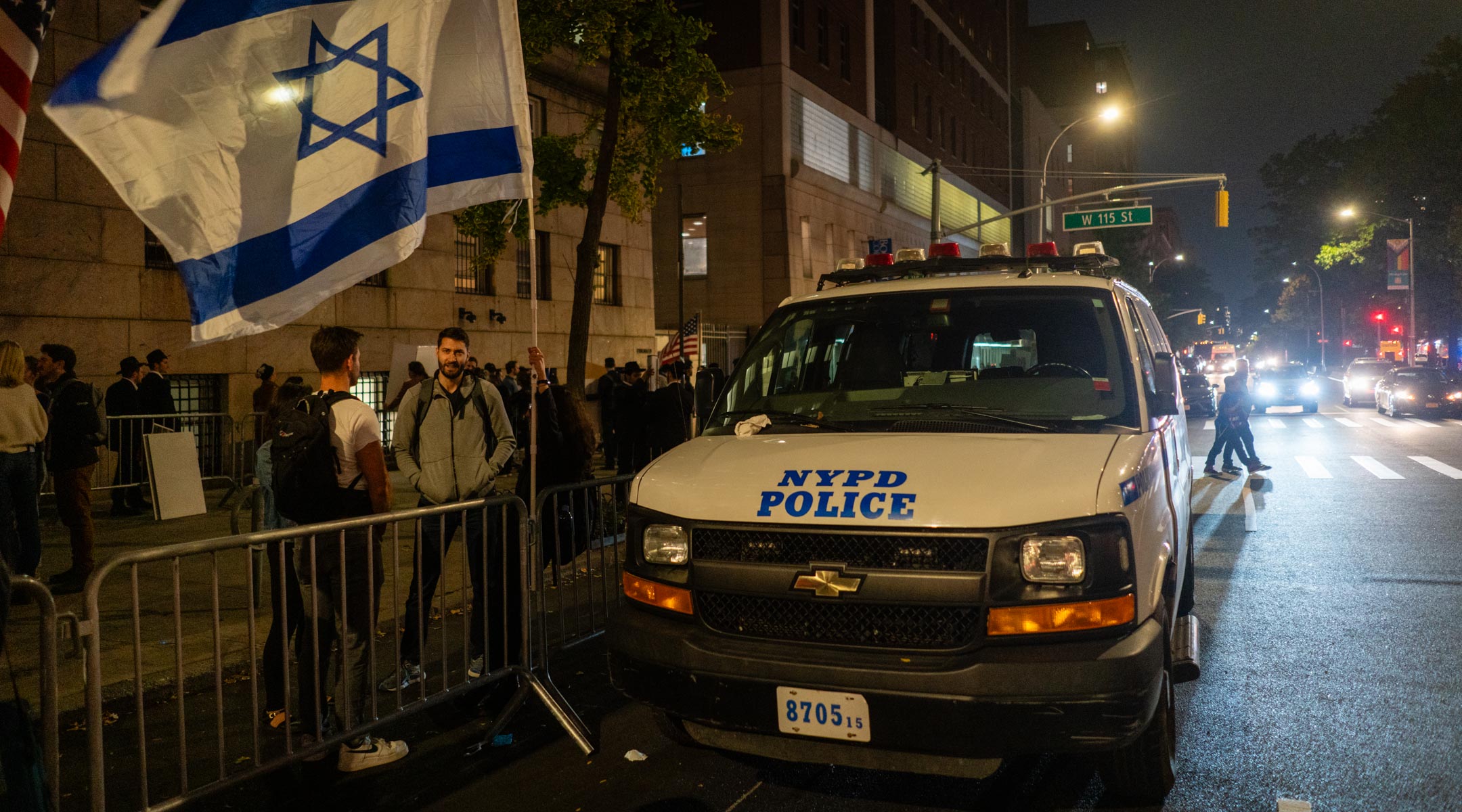 (New York Jewish Week) — Jewish students at a New York City college were locked in their school's library for 20 minutes as pro-Palestinian demonstrators pounded on the doors and shouted slogans. 
The incident on Wednesday night at Cooper Union, a private college in downtown Manhattan, occurred after pro-Palestinian and pro-Israel students held dueling rallies. It came on a day when, at a New York University protest nearby, a protester waved a sign showing a Star of David in a trash can. Meanwhile, further uptown at Columbia, supporters of Israel rallied and decried that school's administration.
Footage from the incident at Cooper Union showed a group of Jewish students in the library, while protesters outside pounded on the building's doors and windows, chanting "Free Palestine," waving signs advocating a boycott of Israel and calling for a ceasefire in Israel's war against Hamas in Gaza. Building staff had made the decision to lock the doors.
The NYPD has been in touch with the school and present on its campus, and told the New York Jewish Week that there was no property damage, nor criminal reports or injuries during the incident. But Jewish students who spoke to CBS said they felt threatened. 
"It was tense, people were nervous," said one student who appeared in footage of the incident and spoke to CBS but did not give her name. "They were specifically acting very aggressive in those spaces where outwardly Jewish students were sitting."
CBS reported that the pro-Palestinian protesters released a statement saying, "Our protest was not targeting any individual student or faculty but the institution itself." The statement also disavowed antisemitism. 
In a statement to the New York Jewish Week, Cooper Union said, "The library was closed for approximately 20 minutes late this afternoon while student protestors moved through our building. Some students who were previously in the library remained there during this time."
Jewish leaders as well as city and state officials have condemned the incident. The regional director for the Anti-Defamation League, Scott Richman, said he had spoken with Cooper Union students and was "shocked" by their account of the incident. ADL CEO Jonathan Greenblatt said, "This intimidation of students is appalling," and demanded that the college keep Jewish students safe. The school has not issued any public statements. 
The American Jewish Committee, New York Governor Kathy Hochul and Manhattan Borough President Mark Levine also expressed alarm over the incident. Levine said the NYPD had been involved and were reviewing security footage of the incident for more information.
Student groups in New York and nationwide, meanwhile, staged a walkout in support of the Palestinians on Wednesday.
A pro-Palestinian rally in Washington Square Park, near NYU's campus, featured a demonstrator with an antisemitic sign reading, "Please keep the world clean," and a figure placing a Star of David in a trash bin. Video from the event showed dozens of demonstrators chanting "globalize the intifada."
Police and Jewish security groups have reported a spike in antisemitic incidents since the start of the war in the New York region and around the country. Recent incidents in New York, where Jews are targeted by hate crimes far more than any other group, have ranged from physical assaults to racist graffiti and harassment.
Columbia and other Ivy League colleges have been rocked by controversy since the start of the war between Israel and Hamas, as pro-Palestinian student organizations came out in support of the terror group's Oct. 7 attack. After Israel began its counteroffensive against Hamas, protests against the Jewish state intensified, including in recent days.
At Columbia on Wednesday, hundreds students and supporters lined Broadway outside the school's gates, waving Israeli flags and holding images of Hamas hostages in a display of support for Jewish students and criticism of the administration due to its perceived inaction in the face of threats to Jews.
The demonstrators at the rally chanted "end Jew hatred" and "free Gaza from Hamas," as a passing truck with an electronic billboard displayed images of the captives held in Gaza and other students streamed by.
Students chanted "shame on you," in a message directed at the university's leadership, which some demonstrators said had allowed a hostile atmosphere for Jews as student groups applauded the Hamas attack and barred "Zionists" from an on campus event.
"The university is not doing anything, not condemning any of the terror acts that happened," said an Israeli Columbia student, Noa Gorecki.
"It's just disappointing that this kind of university chooses to behave like that and we're doing everything we can," she said, adding that Jewish students felt "unsafe, scared, angry."
The rally was organized by the local advocacy group End Jew Hatred to "empower" Jewish students due to inaction from administrators, said Gerard Filitti, an activist with the organization who is not a student.
"It's very difficult for Jewish students to feel safe, let alone to be heard," Filitti said. "The administration can't be equivocal."
Filitti, a senior counsel with the nonprofit Lawfare project, a group that takes legal action on behalf of pro-Israel students, said he expected litigation against universities due to their conduct since the Oct. 7 attack on Israel by Hamas, which killed and wounded thousands. Pro-Palestinian and pro-Israel rallies have spread across campuses in the wake of the attack, and a range of student groups and faculty members have praised the attack.
"College campuses are not keeping Jewish students or faculty safe and they're obligated to do so," he said. "They're allowing an environment that's hostile to the point that they can't enjoy the same benefits as any other student, and that's not legal."
Some parents came to the rally to support their Jewish children at Columbia, after the students reported feeling unsafe. Other participants were not affiliated with the university, but came to show support.
"There's little we can do here while our family and our friends are fighting in Israel so we want to try to do our part," said Will Lerer, a Yeshiva University student.
On Oct. 9, before Israel's military response had caused significant damage, Columbia's Students for Justice in Palestine said it "stands in full solidarity with Palestinian resistance" and called the Hamas attack "an unprecedented historic moment for the Palestinians."
A 19-year-old attacked an Israeli student with a stick outside Columbia's main library in the wake of the attack, resulting in hate crimes charges. 
Columbia student branches of Students for Justice in Palestine and the anti-Zionist Jewish Voice for Peace announced a walkout on Wednesday as part of a national student protest against "the siege and genocide in Gaza." The student groups demanded the university divest from Israel and for students to "stand against the university's support for a genocidal and settler-colonial regime."
Columbia postponed an annual fundraising drive that was scheduled for Wednesday, saying it was "not the appropriate time" for the event. Several prominent donors have pulled funds from other Ivy League schools, including Harvard and the University of Pennsylvania, in recent weeks due to alleged antisemitism and the university administrations' response to the war.
On Oct. 12, three Columbia administrators released a statement on the conflict, condemning antisemitism and Islamophobia and saying, "We reject and will not tolerate hate speech, violence, or the threat or any acts of violence in our community."
Last week, university president Minouche Shafik called for civility on campus and condemned online harassment, saying some students had been victimized by doxing. The statements did not condemn Hamas.
Jews and supporters of Israel on campus have called for Shafik to do more. An Israeli professor, Shai Davidai, made a viral speech last week directed at parents, saying, "I want you to know we cannot protect your children from pro-terror student organizations."
"None of the presidents of universities all around the country are willing to take a stand. This is what cowards do and I'll name it now, President Minouche Shafik of Columbia University, you are a coward," he said.
—
The post Jewish students barricade in Cooper Union library as protesters chant 'Free Palestine,' on day of protest across NYC campuses appeared first on Jewish Telegraphic Agency.
Jewish actors Bebe Neuwirth and Steven Skybell to join 'Cabaret' revival on Broadway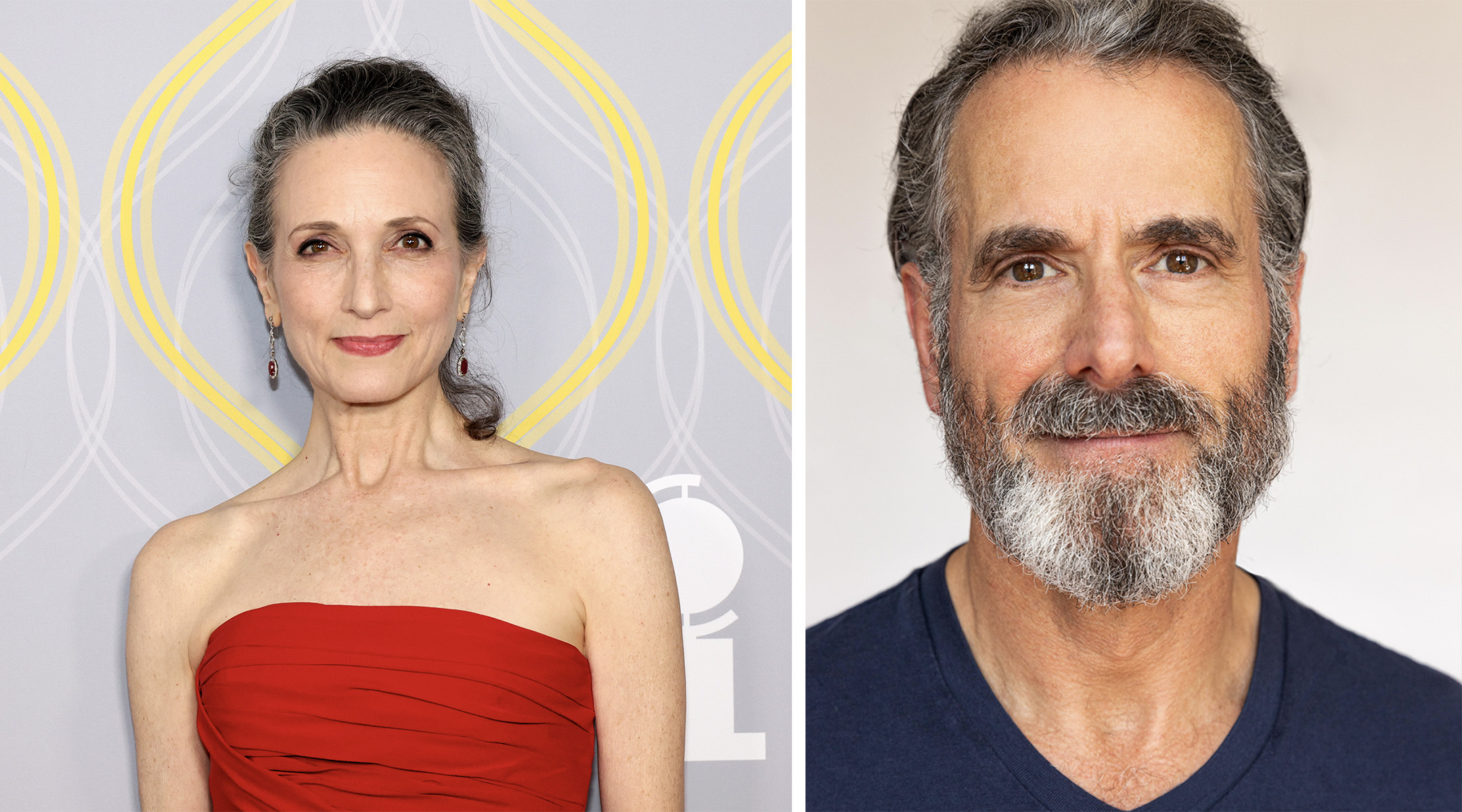 (New York Jewish Week) – The forthcoming Broadway revival of the iconic musical "Cabaret" has added two Jewish actors to its star-studded cast.
Steven Skybell will join the highly anticipated production as Herr Schultz, a Jewish fruit vendor who courts a younger German woman in 1929 and 1930. Bebe Neuwirth will play that character, boardinghouse owner Fräulein Schneider.
Skybell and Neuwirth, whose casting was announced on Thursday morning, will join previously announced cast members Eddie Redmayne, who will play the Master of Ceremonies, Gayle Rankin as Sally Bowles and Ato Blankson-Wood as Clifford Bradshaw. Previews for the revival, which is titled "Cabaret at the Kit Kat Club," are set to begin April 1, 2024, at the August Wilson Theater on West 52nd Street. 
Both Skybell and Neuwirth are known for Jewish roles. Skybell may be best known for playing Tevye in "Fiddler on the Roof in Yiddish" as well as Lazar Wolf in the 2016 Broadway revival of "Fiddler on the Roof." Neuwirth, meanwhile, is famous for her role as Lilith Sternin, the highly educated, on-again, off-again romantic partner of Frasier Crane in the sitcoms "Cheers" and "Frasier." 
Skybell and Neuwirth last performed together in 2012 for an Off-Broadway production of "A Midsummer Night's Dream."
"In these times of increased antisemitism, I am proud and privileged to play the Jewish role of 'Herr Schultz' in 'Cabaret,'" Skybell, who stars in "Amid Falling Walls," a musical from the National Yiddish Theater Folksbiene that opens in New York on Nov. 20, told Deadline. "It's important to tell stories like 'Cabaret,' which is, of course, massively entertaining, but also sheds a light on this moment in history, when fascism and intolerance nearly overcame the Jewish people and the world at large."
The original production of "Cabaret," about the hedonistic antics at a Berlin nightclub during the Nazis' rise to power, opened in 1966 at Broadway's Broadhurst Theatre, with music and lyrics created by Jewish duo John Kander and Fred Ebb. The show won eight Tony Awards in 1967, including Best Musical, Best Original Score, Best Direction of a Musical and Best Performance by a Featured Actor in a Musical for Joel Grey, who originated the role of the Master of Ceremonies — decades later, Grey would direct Skybell in the Yiddish version of "Fiddler."
The revival, "Cabaret at the Kit Kat Club," is based on a West End production which has been playing in London since 2021. The new production emphasizes a Jewish subplot — the love story between Herr Schultz in Fräulein Schneider — which was nominally present in many productions of the stage musical and entirely absent from the 1972 film. The London Jewish Chronicle called the relationship between the Jewish fruit seller and the non-Jewish boarding house owner "the emotional heart of the story, and its moral core" in a 2022 review of the show.
The 2024 Broadway production will be directed by Rebecca Frecknall, who also directed the West End version.
—
The post Jewish actors Bebe Neuwirth and Steven Skybell to join 'Cabaret' revival on Broadway appeared first on Jewish Telegraphic Agency.
An LA charter school housed at a synagogue taught 1st-graders about 'the genocide of Palestine'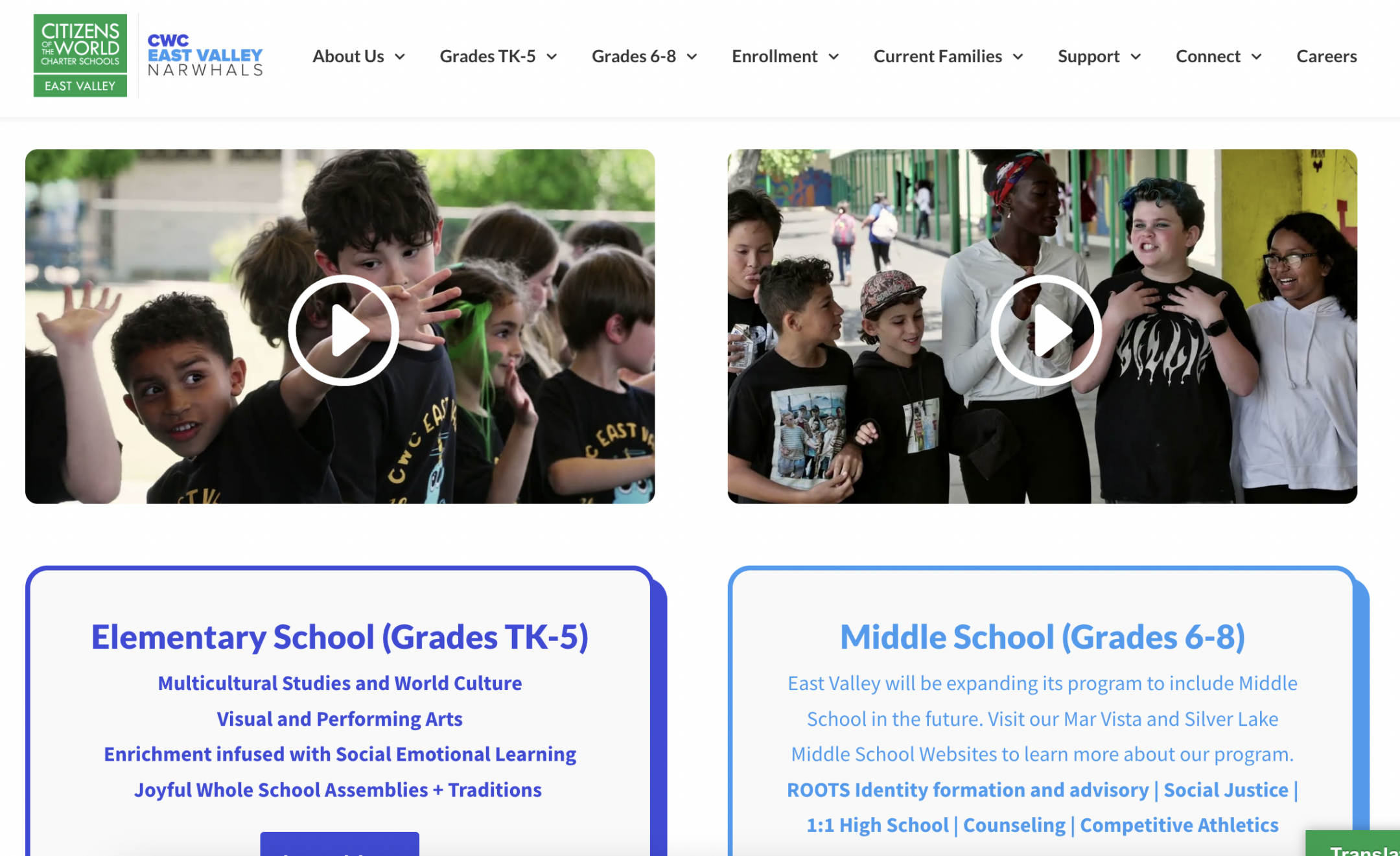 (JTA) – A Los Angeles charter school and the synagogue that rents it space are in turmoil after two first-grade teachers at the school held lessons about "the genocide of Palestine."
One of the teachers also complained on social media about Israeli flags on the campus of the synagogue, Adat Ari El in North Hollywood.
The incidents have raised concern among parents at both the charter school, named Citizens of the World-East Valley, and the Conservative synagogue, which operates a preschool on the same campus. The school says it has commissioned a third-party investigation and the synagogue says it has gotten assurances from the school about "swift measures to address the situation, including the removal of the involved teachers."
Neither institution responded to the Jewish Telegraphic Agency's requests for comment. 
"Many of you have rightfully expressed concern about the situation at the CWC," Adat Ari El's senior rabbi, Brian Schuldenfrei, told synagogue members by email on Thursday. "I will be issuing a public statement … during a press conference tomorrow making our position clear."
The saga comes amid widespread tensions following the Oct. 7 attack on Israel by Hamas, and Israel's ensuing war on the Palestinian terror group in Gaza. Critics of Israel, as well as its supporters, have marched in major cities around the world. Pro-Palestinian groups have held protests and sit-ins in a range of public spaces and issued statements calling for a ceasefire. In Los Angeles this week, a Jewish man died after a confrontation with a pro-Palestinian protester at a rally, and a brawl broke out surrounding a local screening of footage from Hamas' massacre of Israeli civilians. 
The situation at Citizens of the World-East Valley reveals that debate over the war is cropping up not only in college quads, corporate boardrooms and the halls of Congress, but even in classes of the country's youngest students. The controversy at the charter school began when first-grade teachers taught about the conflict in their classrooms, then documented their lessons in social media posts and emails. 
"I did a lesson on the genocide in Palestine today w my first graders who give me hell 90% of every day but were really into this convo and series of activities," one teacher, who used the class's math period for the lesson, wrote on Instagram in a private post that JTA reviewed.
The teacher added, "I started by telling them that we weren't gonna do math at the usual time bc sometimes there are big things in the world that need our attention and we need to interrupt our usual routines to make space to learn and talk about what's happening." 
A photo of a worksheet titled "What do humans need to live?" showed students writing their own response, with their first names clearly visible.
"I asked them what they already knew about what's happening (they knew a lot and had questions) and I drew a little map of the occupied territories of Palestine," another post from the same teacher says. "Then they organically started coming up w ideas for what could happen (my fav was a kid who was like "what if they just give the land back to Palestine and find somewhere else to live?")" The teacher ended the post with a heart emoji.
These posts were amplified on the social network X Thursday by Dave Rubin, a conservative Jewish TV pundit with more than 1 million followers who called them "absolutely insane."
On social media, the teacher also expressed disgust with several Israeli flags the synagogue had placed around the campus after Oct. 7, when Hamas killed 1,400 Israelis and took more than 200 people hostage. The teacher posted a photo of the campus and accompanied it with a vomit emoji.
Another first-grade teacher sent an email to parents explaining the thinking behind her class's recent lesson on "what's been happening in Gaza and Israel."  She said she had held the lesson "because I want kids to know the importance of using their voices to stand up for people and non-human beings anytime they are being mistreated," according to an email reviewed by JTA.
"I teach as though anyone from any oppressed group could be in our community because everyone deserves to feel safe," the teacher continued, adding, "I always frame it in an age-appropriate way and through a lens of equity and being a kind and loving human."
Similar to the first teacher, the second described a lesson that began with "what all humans need to live joyful, safe lives," which led the teacher to tell her students "that a lot of people aren't safe and aren't having those needs met right now." The students also read a children's book entitled "Sitti's Bird: A Gaza Story," published last year by the Palestinian author and artist Malak Mattar and set during the 2014 war between Israel and Hamas in Gaza. She also described asking her students what they already knew about the region, due to her desire to have the lessons be "child-led."
"They knew quite a bit collectively," the teacher said. "I made sure to only teach facts and to be honest about things I didn't know." She concluded, "The kids were very engaged in our lesson and we will be continuing these discussions in class. I am honored to have the opportunity to learn from and with your kids and their brilliant young minds."
Attempts by JTA to contact the two teachers through a variety of pathways were unsuccessful. 
According to the California Department of Education, the charter school, which is publicly funded and privately operated, enrolls around 300 students from prekindergarten to second grade. More than 50% of its student body is white, with another 23% Hispanic or Latino. The charter school enrolls some Jewish children whose families belong to the synagogue.
Some of those parents raised the issue with synagogue leaders after some of their children came home from school upset about Israel's actions in Gaza, according to a parent from the synagogue preschool who spoke on the condition of anonymity. Parents were also concerned about the teacher posting a picture of the campus online, said the preschool parent, who expressed newfound security concerns about sharing space with the charter school. 
"Even if it's not a violent attack, even if it's just verbal, I don't want my preschooler to even hear anything negative about Jews," the parent said.
In a Nov. 7 email to congregants, Schuldenfrei and the synagogue's executive director, Eric Nicastro, wrote that they had "taken action" with the charter school's administration "and they have assured us that they are actively investigating and taking swift measures to address the situation, including the removal of the involved teachers."
The synagogue leaders also said they had alerted their security team to the teacher who had posted an image of their campus on social media.
"We want to make it clear that we will not tolerate antisemitism in any form, anywhere, and certainly not within our own community," Nicastro and Schuldenfrei wrote, adding, "Together, we can ensure that Adat Ari El remains a place of love, respect, and understanding."
The charter school principal, Hye-Won Gehring, sent her own email to parents on Nov. 7 that was co-signed by Melissa Kaplan, the executive director of the charter network, which operates five schools around Los Angeles. This location serves students through second grade.
"Recently, we were made aware of concerns circulating among parent groups that teacher(s) have been discussing issues related to Israel and Gaza with students and have been posting content on social media that has raised concerns for many in our community," the administrators wrote.
They said they had set aside many of their responsibilities to tackle the turmoil at the school and announced their intention to "partner with a third-party investigator" to scrutinize the situation, including potentially by interviewing students with parental consent. 
Calling the situation "challenging" and noting that it has caused "pain and distress," they concluded, "We are confident that we can move forward and come out stronger as a diverse community of CWC families and students."
The unusual space-sharing arrangement between the synagogue and the charter school began in 2021, when the new outpost of an existing charter network began renting space the synagogue had previously used for its own elementary school, which closed that year. Adat Ari El's early childhood center is separated from the charter school by a fence.
"Adat Ari El is a Jewish congregation but all CWC activities on campus will be secular, consistent with our philosophy and model," the school announced on social media at the time, saying about its arrangement, "We could not imagine a better place to start CWC East Valley."
—
The post An LA charter school housed at a synagogue taught 1st-graders about 'the genocide of Palestine' appeared first on Jewish Telegraphic Agency.
Ryan Lavarnway played with Team Israel one week before Oct. 7. Now he's speaking out to support Jews.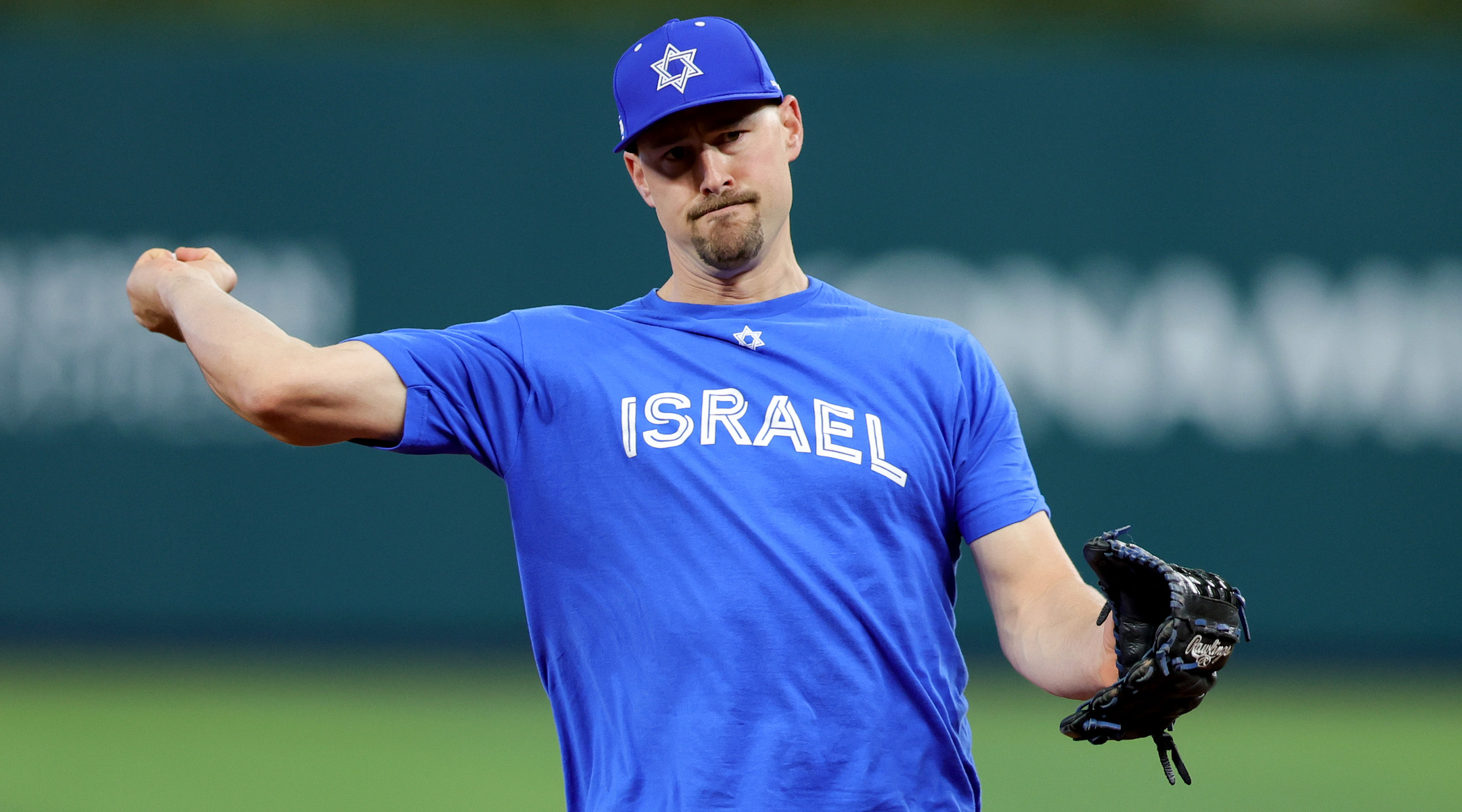 (JTA) — On Sept. 30, Ryan Lavarnway and Team Israel took the field in the Czech Republic to battle the host country for fifth place at the 2023 European Baseball Championship. Israel lost 5-1 and finished sixth in the biennial tournament.
One week later, some of Lavarnway's teammates were hastily called into active duty by the Israel Defense Forces in the wake of Hamas' surprise attack on Oct. 7 that killed and injured thousands.
"It's crazy to see people that I was playing a game with, doing the thing I love with, then be activated and on the frontlines of this conflict," Lavarnway told the Jewish Telegraphic Agency in a phone interview.
Lavarnway, 36, was a journeyman catcher in the MLB, playing for eight different teams over 10 years. He played for Israel in the 2017 World Baseball Classic qualifier and tournament, the 2020 Summer Olympics and the 2023 WBC. He obtained Israeli citizenship prior to the Olympics and recently wrote a children's book about his experience.
Though Lavarnway officially retired from the MLB earlier this year, he was named captain of Team Israel ahead of the European tournament, which Israel is scheduled to host in 2025. He said he is undecided about playing for Israel in the future.
But even as his on-field presence is up in the air, Lavarnway has become a go-to speaker at pro-Israel events on college campuses and for Jewish organizations around the country.
Lavarnway will appear at two upcoming Israel solidarity events with the Jewish National Fund-USA, an organization that advocates for American support for Israel. The group has also helped support Israel's burgeoning baseball program, including by funding a portion of the team's Olympics expenses and by helping build new baseball fields in Israel. Lavarnway will speak at JNF's Global Conference for Israel in Denver at the end of November and at another event in Chicago in December.
According to a JNF spokesperson, the two events will "serve as an opportunity for supporters of Israel to unite as a community during Israel's darkest days, while also learning about the organization's emergency aid efforts providing housing, food, clothing, and more to thousands of displaced and traumatized families."
"Anything that I can do to help people feel like they're not alone and to give them an excuse to to distract themselves or free themselves from drowning in it even for a short while, I feel like that is a positive role I can play without trying to know what the right answer or the right thing to say is," Lavarnway said.
Lavarnway grew up with a Jewish mother and Catholic father and said that he got closer to his Jewish faith in high school. But he told JTA he "didn't feel a huge connection to my Judaism, to any religion, to the community at all" until playing for Team Israel — an experience that many of the team's American Jewish players went through.
He said he has lost sleep over the war in Israel and is especially disheartened by the rise of antisemitism and misleading information that has circulated online since the violence began.
"The biggest thing that our Israeli native counterparts keep asking is to help spread the truth, because there's so much misinformation out there," Lavarnway said. "So many people are hearing things that stem from propaganda from the terrorist group, that we just want people to understand what's really happening."
Instead of getting involved in debates over Israel's military response or other political issues, Lavarnway said his main focus is on supporting Jews.
"Being the captain of the Team Israel national team puts me in a position where I feel a responsibility to stand up and speak out," he said. "As a baseball player, I don't know the right answer. I don't know the right thing to say. I don't know that there is a right thing to say, and I don't know that there is an answer, but what I've taken my role and my responsibility to do is just try to help people in the community not feel isolated and alone, and try to spread hope and positivity where I can."
Lavarnway said athletes have a critical role to play in supporting fans during difficult times — and he commended some of his fellow Jewish baseball players for recent acts of solidarity, like a video he was part of from a large group of Jewish baseball players calling on fans to stand up for Israel.
"I think athletes have the unique ability to be visible in a strictly positive and supportive way," he said. "We're not politicians, we're not members of the military. People are not looking for us or to us for the right answer. If anything, they're looking to us for representation and for role models. And that is what Alex Bregman did. That is what Ian Kinsler did. That is what Kevin Youkilis is doing. It's helping people feel like they're not alone, and that there's hope."
Last week, Lavarnway participated in a video put together by Hillel International and a number of other Jewish organizations, with the goal of sending support to Jewish college students amid a spike in antisemitism on campuses. (Lavarnway speaks around the 43:30 mark.)
"I think that we need community more than ever right now," Lavarnway told JTA. "I got many messages through my social media channels from college students that just said, 'Thank you for helping me not feel like I'm alone.'"
Plenty of non-Jewish athletes have spoken out, too, including NBA stars LeBron James and Kyle Kuzma, the latter being a teammate of the league's lone Israeli, Deni Avdija. Lavarnway said those messages of support go a long way.
"I think the Jewish community has taken a lot of pride for a very long time in supporting other cultures, other ethnicities, other oppressed minorities," he said. "And right now, Jewish people need that support back. So when other people that are not Jewish offer that support or reach out a hand in a time where it feels like there's not a lot of people doing that, it speaks volumes."
The former big leaguer is no stranger to the role sports can play in the face of tragedy. Lavarnway was a key member of the 2013 Boston Red Sox that won the World Series just months after the Boston Marathon bombing, which killed three and injured hundreds.
"What I learned after the Boston bombings and playing for that 2013 Boston Red Sox team that embodied 'Boston Strong,' was by playing a game and by doing what we had always done and what we loved, we gave people a sense of normalcy for three hours," Lavarnway said. "Unfortunately Team Israel is not playing baseball right now to offer that solution, but when I speak in public, or I speak at conventions or gatherings, my hope is to give people 45 minutes where we don't have to feel like we're drowning in this right now."
—
The post Ryan Lavarnway played with Team Israel one week before Oct. 7. Now he's speaking out to support Jews. appeared first on Jewish Telegraphic Agency.