LA-area man charged with involuntary manslaughter in death of pro-Israel protester Paul Kessler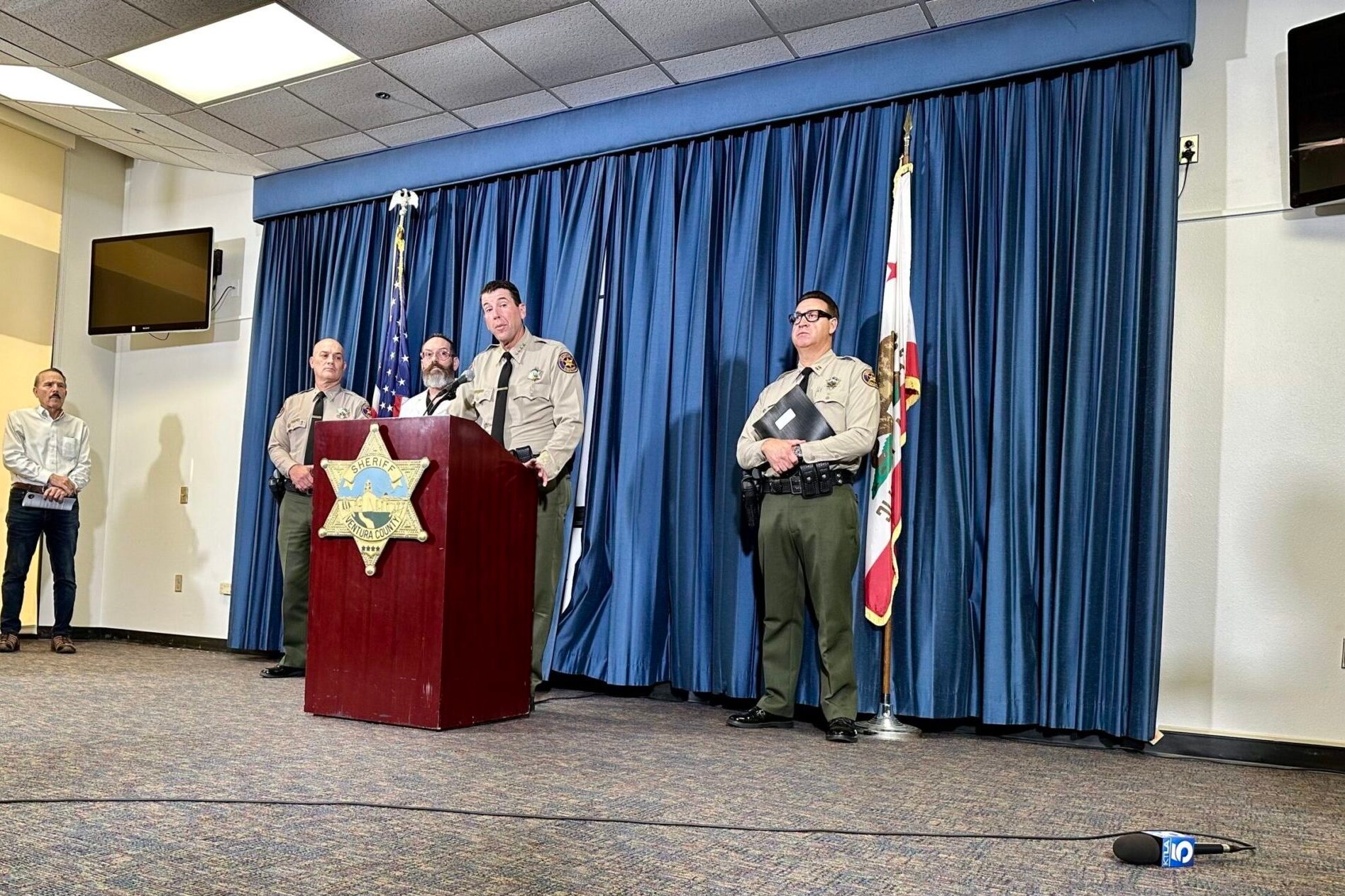 (JTA) — The Ventura County sheriff's office has arrested a man in connection with the death of Paul Kessler, a 69-year-old Jewish pro-Israel activist who died after a confrontation during a demonstration in a Los Angeles suburb.
Loay Abdelfattah Alnaji, 50, of Moorpark, was charged with involuntary manslaughter and his bail was set at $1 million. A spokesman for the sheriff's office declined to share any further information — including about the possibility that the case was being investigated as a hate crime. Involuntary manslaughter is usually applied in cases where authorities believe that a killing was unintentional.
Alnaji had been identified, though not by name, as the main suspect in the investigation at a press conference held by the sheriff's office on Nov. 7. Ventura County Sheriff James Fryhoff had said the suspect had been briefly detained while investigators executed a search warrant on his home. Fryhoff said Alnaji had been cooperative with deputies.
Social media watchdogs and news organizations had identified Alnaji as the likely suspect using photographs from the scene. Alnaji has worked as a professor of computer science at local colleges and had, according to news reports, posted pro-Palestinian content on social media.
Though an arrest has been made, the sheriff's office encouraged anyone with information about the criminal investigation to come forward, including those with footage of the protest where the altercation took place on Nov. 5.
Kessler's death had been ruled a homicide. The Ventura County chief medical examiner said during the Nov. 7 press conference that physicians who assessed Kessler, as well as an autopsy that was performed on him, observed an injury to his face that could have been caused by being struck with a megaphone — something the local Jewish federation said had occurred. But it was the blow to the back of Kessler's head, caused by his fall, that was fatal, said the examiner, Dr. Christopher Young.
Kessler's death was the first associated with a wave of demonstrations for and against Israel in the wake of Hamas' Oct. 7 attack on Israel. Scuffles have broken out at others.
"We are grateful for the swift work of the Ventura County Sheriff's Department in response to the tragic death of Mr. Paul Kessler," the Jewish Federation of Greater Los Angeles said in a statement. "This arrest shows that violence towards our Jewish community will not be tolerated. We will continue to monitor the case to help ensure justice is served. Our heartfelt condolences continue to be with the family of Paul Kessler and may his memory forever be a blessing."
In the immediate aftermath of Kessler's death, the local Jewish community had gathered at the intersection where the fatal altercation occurred to lay out flowers, light candles and hear from local leaders and witnesses of the incident.
—
The post LA-area man charged with involuntary manslaughter in death of pro-Israel protester Paul Kessler appeared first on Jewish Telegraphic Agency.
Actress Susan Sarandon Bashes Israel's Military Campaign Against Hamas, Shares False Info About Gaza War
Academy Award-winning American actress Susan Sarandon has become one of Hollywood's most outspoken critics of Israel during its war with the Hamas terror group, repeatedly posting on social media against Israel's military operations in Gaza and often promoting false information.
In recent days, Sarandon has been especially active in her anti-Israel online postings and even attended a "Free Palestine" rally last week in New York City, where she told the crowd that Israel was allegedly committing war crimes in Gaza.
On Thursday, the Thelma & Louise star shared a video on X/Twitter in which a Norwegian doctor talked about Israel's alleged "systematic man-made slaughtering of patients" at Al Shifa, the Gaza Strip's largest hospital. The doctor also described an "unprecedented attack on [a] civilian society occupied by one of the most brutal and ruthless armies in the world," a clear reference to the Jewish state and the Israel Defense Forces (IDF). The physician, who worked in Al Shifa, also accused Israel of racism.
The IDF said on Wednesday that at the same hospital, they found a command center, weapons, and combat gear belonging to Hamas terrorists. The Israeli military shared footage from inside the hospital — showing military equipment found even behind MRI machines — and also said that the "beating heart" of Hamas' operations was headquartered in tunnels beneath Al Shifa, putting at risk the lives of civilians inside the hospital in violation of international law. The US confirmed the assertion about Hamas' command center being located under the hospital with its own intelligence.
On Tuesday, Sarandon reposted a message in support of a plan by Rep. Ilhan Omar (D-MN) to introduce a bill that would block a $320 million package of US weapons for Israel. She also shared a video of a US Army veteran accusing Israel of war crimes in the Gaza Strip.
The Stepmom actress previously shared on X information about how to boycott brands that have ties to Israel; posted the accusation that Israel "lied about 40 beheaded babies to justify a genocide"; and reposted a video of the chairman of the Jewish Network for Palestine saying, "It's not Jews vs. Muslims, it's the oppressors vs the oppressed and it started in 1948 when Israel was founded on violence and theft."
Sarandon's posts against Israel during its war against Hamas — such as accusing the Jewish state of apartheid and committing a "Gaza Holocaust" — go as far back as Oct. 8, just one day after Hamas terrorists infiltrated southern Israel, killed over 1,200 people, mostly civilians, and kidnapped more than 240 others. Instead of posting to condemn the Hamas atrocities, Sarandon instead posted messages on X that called Gaza an "open-air prison" and shared the hashtag "GazaGenocide." The actress did not mention that Israel withdrew all its soldiers and civilian settlers from Gaza in 2005.
Sarandon attended a pro-Palestinian rally on Nov. 9 in New York City's Bryant Park where thousands of protesters held banners that read "Free Palestine," "End all US aid to apartheid Israel," and "Resistance against occupation is a human right." Other signs held by protesters said "From the river to the sea, Palestine will be free," — a slogan widely interpreted as a call for the destruction of Israel, which is located between the Jordan River and the Mediterranean Sea, so it can be replaced with "Palestine."
Addressing the crowd at the rally, Sarandon accused Israel of committing a war crime for what she called the "slaughter" of children in the Gaza Strip and claimed that "war crimes are being delivered every single day." She also compared the Hamas massacre against civilians in Israel on Oct. 7 to the plight of the Palestinians.
"So many people don't understand the context in which this Oct. 7 assault happened," she said. "They don't understand the history of what has been happening to the Palestinian people for 75 years … it's time that Palestine be free."
Sarandon was also among the dozens of celebrities who signed a letter sent to US President Joe Biden last month, urging him to press for a ceasefire to the fighting between Israel and Hamas in Gaza.
The post Actress Susan Sarandon Bashes Israel's Military Campaign Against Hamas, Shares False Info About Gaza War first appeared on Algemeiner.com.
This Washington Post Writer Defames Israel Online and In Print
Since October 7, when Hamas terrorists brutally invaded Israel and slaughtered hundreds of innocent Israeli civilians, Washington Post columnist Karen Attiah has dedicated both her weekly newsletter and much of her social media to discussing Israel, the Palestinians, and the Jewish state's ongoing war against the Hamas terror organization.
However, despite being an award-winning journalist, Attiah's published pieces and social media posts are chockful of misleading statements, baseless opinions, and a skewed analysis that serve only to construct a narrative that is solely bent on tarnishing the Jewish state.
In particular, the three key ways by which Karen Attiah develops her toxic narrative is through the implicit justification of Hamas' attack, the manipulation of language, and the twisting of facts and history.
"If Israel proceeds to make good on its threats to turn Gaza into flattened pavement, it's all the more clear that 'never again' does not apply to Arab or Muslim lives," Karen Attiah writes. https://t.co/SFu0RtCU0l
— Washington Post Opinions (@PostOpinions) October 14, 2023
Karren Attiah's Reaction to October 7
In her first Washington Post newsletter following the October 7 massacres, Karen Attiah referred to Hamas' attack as "horrific," "unprecedented," and a "nightmare." On Twitter, she reposted an update on the number of Israeli deaths with the comment "My god."
However, in light of her robust activity on social media in the days following October 7, it appears that the above is merely a lip service condemnation while her deeper feelings about Hamas' invasion are much more sinister and alarming.
As one analyst put it, Attiah's reaction to October 7 "fell somewhere between dismissive and giddy."
Viewing Hamas' brutal assault as an expression of decolonization, Attiah reportedly reposted a now-deleted tweet that exulted in the attack: "What did y'all think decolonization meant? vibes? papers? essays? Losers."
Similarly, Attiah also reposted a tweet that declared "Settlers are not the victims here and never will be."
On October 8, in response to a tweet that downplayed the value of "armed struggle," Attiah tweeted, "There are a lot of people going off of vibes and feel-good platitudes about decolonization and resistance, not actual historical knowledge and research about the global south."
That same day, she also tweeted that "We are forced to see state violence as justified + moral, while violence by non-state actors isn't. This is changing."
There are a lot of people going off of vibes and feel-good platitudes about decolonization and resistance, not actual historical knowledge and research about the global south. https://t.co/KkdqbW85UY
— Karen Attiah (@KarenAttiah) October 8, 2023
Even more than two weeks later, when a large extent of Hamas' atrocities had been made public, Karen Attiah felt it necessary to repost a tweet by Marc Lamont Hill that read, "So many university academics who insist upon doing performative, virtue signaling 'land acknowledgements' at every public event are eerily silent as real liberation struggles are happening. Guess decolonization really is a metaphor for some folk…"
In her first newsletter following the Hamas attack, Attiah decried the fact that "People using the terms 'decolonization' and 'liberation' in describing Palestinians' struggle for human rights have had their remarks taken out of context and have been accused of championing Hamas's brand of terrorism."
While she might believe there is some distinction to be made, it appears from her social media history, that Karen Attiah's reaction to Hamas' terrorism is at best ambivalent and at worse supportive.
From "Ethnic Cleansing" to "Never Again": Misuse of Language
One of the ways in which Karen Attiah frames her anti-Israel narrative is through the use (and abuse) of evocative language in describing Israel's military response to Hamas' brutality.
Throughout her newsletters, Attiah refers to the IDF's defensive military action as "atrocities," "collective punishment," "genocidal," and the "ethnic cleansing of Palestinians."
She also recently tweeted that it was "not a war against Hamas. This is Israel waging a colonial-style, punitive massacre against Palestinians."
This is not a war against Hamas.
This is Israel waging a colonial-style, punitive massacre against Palestinians.
— Karen Attiah (@KarenAttiah) November 11, 2023
In addition to her use of direct language, Karen Attiah also uses insinuations to negatively associate Israel with some of the darkest events in modern history.
In one newsletter, Attiah wrote that "The last time millions of people were targeted and trapped based on their identity, the world said 'never again.'"
By invoking the terminology "never again," Attiah is drawing a direct and baseless comparison between Israel's military struggle against the Hamas terror group and Nazi Germany's attempt to destroy European Jewry during the Holocaust.
In a later newsletter, Attiah implicitly compares Israel to the French in Algeria. Here, too, the comparison is absurd, as France was a colonial power ruling over the native population while Israel is the embodiment of an indigenous population's return to sovereignty in their ancestral homeland.
The Nazis trapped millions of Jews & transported them to their deaths.
Israel is helping Palestinians escape while rooting out Hamas evil that's ACTUALLY perpetrating atrocities based on identity.
How dare @washingtonpost allow @KarenAttiah's antisemitism to infect its pages. https://t.co/biLeEPboRT pic.twitter.com/IBZ7F3kJ1d
— HonestReporting (@HonestReporting) October 14, 2023
A third way that Karen Attiah misuses language to further her anti-Israel narrative is by questioning the use of certain terminology.
For example, in one newsletter, she questioned the use of the term "human shields" when describing Hamas' cynical use of Gazan civilians as cover for its terrorist activities.
To her mind, the term
means any Palestinian is a possible vector for violence, an unwitting Trojan horse for terrorism. You know the thing about shields and armor? Shields are allowed to be penetrated and broken, so long as the enemy is vanquished. Is this how we should be talking about people, human beings?
This quote reveals a lot about Karen Attiah's mindset: If Israel is unable to fight Hamas due to the latter's use of humans shields (a viewpoint not based in international law), then any Israeli response is to be condemned. Ultimately, this rewards Hamas' violation of human rights while punishing Israel for its defense of its citizenry.
Misuse of Facts & History
One of the most concerning issues with Karen Attiah's analysis is her reliance on misleading statements and skewed facts to support her troubling narrative.
Several examples of Karen Attiah's loose grip on the facts include:
1) In one piece, Attiah claims that "the angry discourse in response to the Oct. 7 attack has been undeniably anti-Arab and Islamophobic in nature, and utterly dehumanizing."
This statement completely ignores the rise in antisemitism following the October 7 massacre and Israel's response. Only four days after the publication of Attiah's piece, the ADL noted an almost 400% increase in antisemitic incidents since October 7.
2) In another piece, Karen Attiah claims that "Black writers and civil rights leaders have a long history of seeing the Israeli-Palestinian conflict through the lens of the Black struggle for freedom and resistance to violent imperialism." She then lists such leaders as Malcolm X, Muhammad Ali, and Huey Newton.
However, to make her case, Attiah purposefully ignores the history of Black and civil rights leaders supporting Israel and Zionism, including Martin Luther King, Jr., Bayard Rustin, and John Lewis.
3) Attiah claims that in 2018, Marc Lamont Hill "was removed as a commentator from CNN after expressing solidarities with Palestinians." This minimizes what Hill actually did, which was call for a "free Palestine from the river to the sea," which many interpret to mean the dismantling of the Jewish state.
4) In her latest piece, Karen Attiah claims that the Israel-Palestine issue is "a fundamentally British colonial project." Throughout the piece, she attempts to portray Israel as being the creation of British imperialism by citing the Balfour Declaration, a few pronouncements by Winston Churchill, and the 1922 British Mandate.
However, in order to present this overly simplistic picture, Attiah has to ignore the fact that Britain severely limited Jewish immigration in 1939, it abstained from the UN partition vote in 1947, it battled Zionist militias fighting for independence in the late 1940s, it did not recognize Israel until 1950, and the British-trained forces in Jordan and Egypt were part of the invasion of Israel in 1948.
Karen Attiah appears to hold a rigid worldview, which focuses on observing reality through the lenses of race and decolonization. However, by viewing the world this way, Attiah is forced to disregard certain facts that do not fit neatly into an ideological box.
This not only leaves her analysis lacking in credibility but also deprives her readers at The Washington Post of the proper nuanced and intelligent analysis that they deserve.
The author is a contributor to HonestReporting, a Jerusalem-based media watchdog with a focus on antisemitism and anti-Israel bias — where a version of this article
first appeared.
The post This Washington Post Writer Defames Israel Online and In Print first appeared on Algemeiner.com.
Film Festival Backtracks on Condemnation of Anti-Israel 'From the River to the Sea' Slogan After Directors Withdraw From Event
Organizers of the 2023 International Documentary Film Festival (IDFA) currently taking place in Amsterdam have walked back their criticism of a rallying cry widely known as a call for the destruction of Israel after a number of pro-Palestinian directors withdrew their participation in the film festival.
The IDFA's Artistic Director Orwa Nyrabia told The Hollywood Reporter on Tuesday that "around 10" directors have pulled their films from the festival's lineup. The Palestine Film Institute (PFI) announced on Sunday that it too has withdrawn from all activities at the IDFA film market. The PFI additionally organized a protest outside the main IDFA headquarters on Monday to demand an immediate ceasefire in the Gaza Strip, amid the ongoing Israel-Hamas war, and to criticize the IDFA.
In response, Nyrabia said, "We respect the choices and the decisions of all filmmakers, whether that is to speak their minds on stage or online or to withdraw their films. All forms of peaceful protest, including criticism of our work, we honor and respect."
The IDFA is the world's largest documentary film festival. At its opening night on Nov. 8, pro-Palestinian protesters rushed on stage and held a banner that read, "From the river to the sea, Palestine will be free." The slogan has been widely interpreted as a call for Israel, which is located between the Jordan River and the Mediterranean Sea, to be eradicated and replaced by "Palestine." It has also been used to defend the deadly Hamas terrorist attacks against Israel that took place on Oct. 7.
Last week, the US House of Representatives voted to censure Palestinian-American Rep. Rashida Tlaib (D-MI) for her use of the slogan. A resolution passed by 22 Democrats and most Republicans called the slogan "a genocidal call to violence to destroy the state of Israel and its people to replace it with a Palestinian state."
A day after the incident at the film festival's opening night, 16 prominent members of the Israeli film community — including the chair of the Israeli Film Academy, chairwoman of the Israeli Documentary Forum, and chairman of the Israeli Producers Union — wrote a letter to the IDFA. They asked the festival and its director to "clearly and resoundingly distance themselves, reject and denounce these calls for violence and withdraw any platform from those who knowingly incite for the annihilation of Israel, instigating violence and giving rise to antisemitic sentiments against Jews everywhere."
IDFA organizers afterwards condemned the slogan in a statement released on Nov. 10.
"That slogan does not represent us, and we do not endorse it in any way. We are truly sorry that it was hurtful to many," the statement read in part. "We understand that the slogan was hurtful, and sincerely apologize for how this happened. There are many ways that people use or read this slogan, and that various sides use it in opposing ways, all of which we do not agree with, and we believe that this slogan should not be used in any way and by anybody anymore."
Nyrabia added that the slogan is "a triggering statement and an offensive declaration for many, regardless of who carries it. It does not represent IDFA, and was and will not be endorsed." The Syrian-born filmmaker also denied allegations that he was applauding the banner that featured the slogan on opening night, saying that he did not see the words on the sign until afterwards and "clapped to welcome freedom of speech, and not to welcome the slogan."
In a separate statement released on Nov. 10, the film festival called for an immediate ceasefire between Israel and Hamas in the Gaza Strip.
After the release of the statement slamming the "river to the sea" slogan, a number of pro-Palestinian producers and the PFI announced their withdrawal from the film festival. PFI additionally accused the IDFA of engaging in "institutional violence and censorship." It said that by condemning the actions of the anti-Israel protesters at the festival's opening night, the IDFA was responsible for the "vilification of Palestinian voices."
The IDFA responded to the backlash in its most recent statement published on Nov. 12, when it repeated its call for an immediate ceasefire in Gaza, accused Israel of "occupation," and clarified its stance regarding the slogan, appearing to somewhat justify its usage.
"Many filmmakers, Palestinians, Israelis, and others, whose work featured at IDFA over the years, showed the world how occupation is the core of this tragedy, and that ending the occupation and respecting all human lives as equal and sacred, are the essential steps," the statement read.
The festival then said it recognizes that the controversial slogan "is at the heart of the on-going discussion is used by various parties in different ways and is perceived by various people in various manners."
"We are not ignoring, undermining, nor criminalizing any of these positions, and we fully respect and acknowledge the pain that is going around and the extreme urgency of these discussions while war is still on, and innocent civilians are still dying," the statement added. "Our aim is to make sure everybody feels welcome and safe to express themselves and to listen openly to others, even when in disagreement. Our hope is that everybody feels entitled to use this platform, seriously and responsibly, lovingly and sincerely."
Iranian filmmaker Maryam Tafakory is among the directors to withdraw from the IDFA after it criticized the anti-Israel slogan. She pulled her film Mast-del from the film festival's lineup and said in an Instagram post that she is "heartbroken, betrayed, and outraged by the damaging slander" of the "from the river to the sea" phrase. In the same social media post, she accused Israel of being an "apartheid state," of "ethnic cleansing," and of committing an "ongoing genocide" agains Palestinians.
The International Documentary Film Festival is taking place Nov. 8-19. On Wednesday, it awarded top prizes to a film about a "stateless Palestinian child" living in a refugee camp in Beirut, titled Son of the Streets, and another film titled Coexistence, My Ass! about the Israeli-Palestinian conflict, but with a comedic twist.
In a statement about awarding Son of the Streets at the IDFA Forum Awards, jurors Zdeněk Blaha and Nada Riyadh explained "with our decision, we would like to support not only a specific aspiring talent but also a cause," in a clear reference to supporting the Palestinians. "If there was one project that needs support at this moment the most, it is this one. We would like to recognize the struggle of a nation forced to live as ghosts caught between the walls. Without home, without identity, without land."
The post Film Festival Backtracks on Condemnation of Anti-Israel 'From the River to the Sea' Slogan After Directors Withdraw From Event first appeared on Algemeiner.com.