Mike Pence drops out of presidential race, appeals to Republicans not to elect an 'unmoored' populist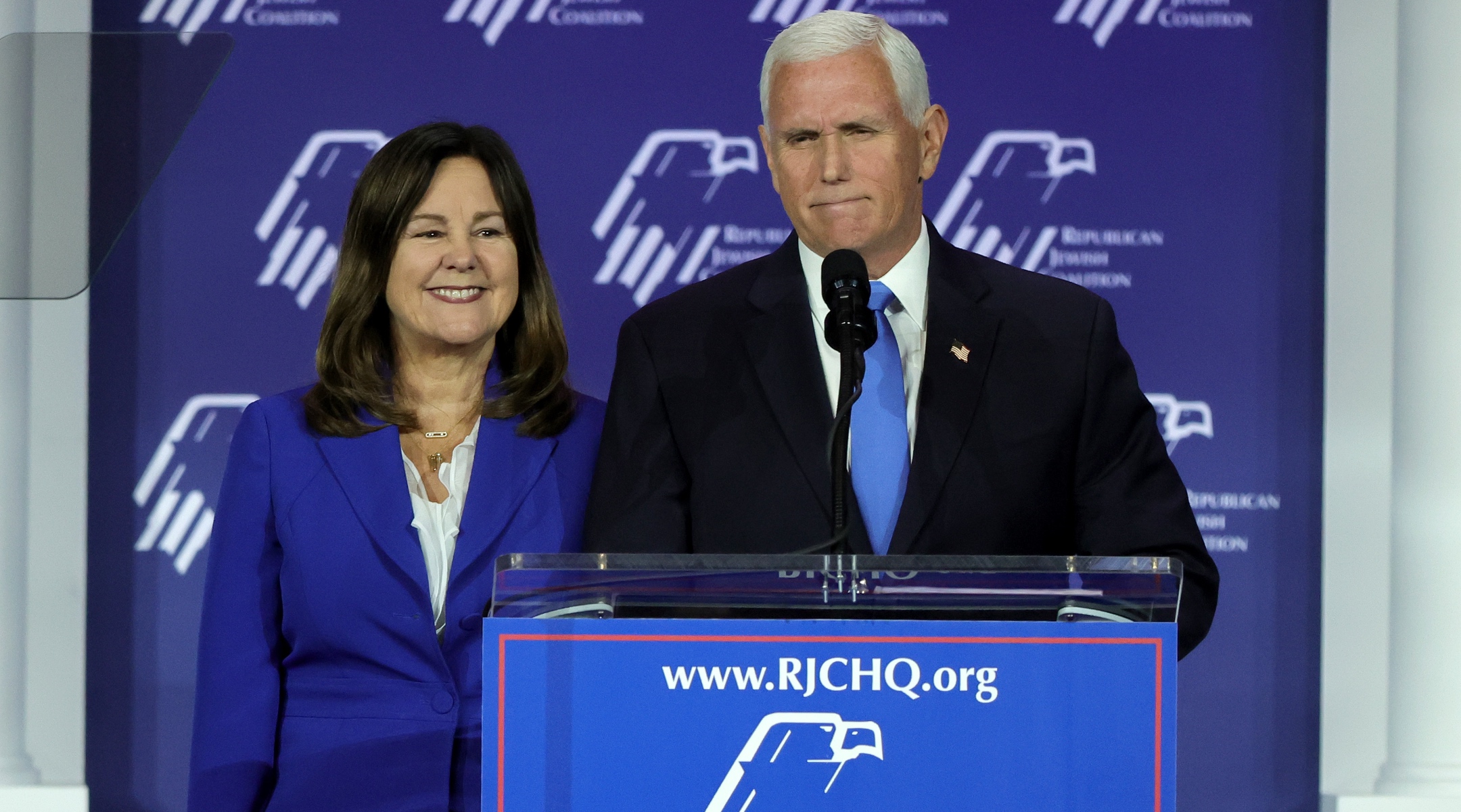 LAS VEGAS (JTA) — Mike Pence chose a Jewish gathering to announce his exit from the presidential race, with a veiled warning that his onetime boss, Donald Trump, posed a threat to a robust American foreign policy that he said was vital to Israel's interests.
Pence, the former vice president, elicited gasps and cries of "We love you!" when he addressed a presidential forum at the annual Republican Jewish Coalition conference in Las Vegas.
"I came here to say it's become clear to me this is not my time," Pence said.
Pence could not bring himself to mention the name of Trump, who is scheduled to speak later Saturday and who is far and away the favorite to win the nomination, even when he was reviewing the record of what he called the most "pro-Israel administration" in American history.
But, after delivering the expected exhortation in this partisan forum  to remove President Joe Biden, Pence made clear that he did not want Trump to retake the office, framing his concerns in the context of Israel's war with Hamas.
"Will Republicans continue to be the party of the traditional conservatives that has defined our movement of the past 40 years or will our party follow the siren song of populism unmoored to conservative principles?" Pence said.
"A new populist movement in the Republican Party says that America should retreat from her leadership position, turn inward and focus solely on domestic concerns," he said. "Let me say from my heart, anyone who says that America cannot solve our problems at home and be the leader of the free world., there's a pretty small view of the greatest nation that we have. We must and we will do both for the sake of America Israel and the world."
Trump has not said yet how his calls to reduce the American footprint overseas would affect assistance to Israel. He has distanced himself from some of the most robust pro-Israel figures ing his term, including Nikki Haley, the former U.N. ambassador, Mike Pompeo, the former Secretary of State, as well as Pence.
Trump's most profound falling-out with Pence was on Jan. 6, 2021, when Pence rebuffed Trump's exhortations to throw the election to Trump during the congressional review of electoral votes, something Pence was not empowered to do. Trump's urgings spurred a violent insurrection, with some rioters seeking Pence's assassination,.
Another candidate, Vivek Ramaswamy, has explicitly called for cutting funding to Israel.
Trump's slogan since 2016, when he and Pence won the election, has been "America First," a phrase that has echoes in an antisemitic movement of the 1930s and 1940s led by Charles Lindbergh.
In his current campaign, Trump has favored retreat from the international scene and has mocked Israel's leadership for how it handled Hamas' deadly Oct. 7 invasion. He has called the Hezbollah terrorist movement, which is engaging with Israel from the north, "smart."
—
The post Mike Pence drops out of presidential race, appeals to Republicans not to elect an 'unmoored' populist appeared first on Jewish Telegraphic Agency.
Israel, Hezbollah Trade Fire Across Israel-Lebanon Border for Third Day
Israeli forces and Hezbollah terrorists traded fire across the Israel-Lebanon border on Sunday for the third consecutive day and Israel said several of its soldiers were hurt, following the collapse of a truce between it and Hamas terrorists in Gaza.
The Israeli military said its soldiers were "lightly injured" when an anti-tank missile fired from Lebanon hit a vehicle in the Beit Hillel area of northern Israel.
Israeli forces fired artillery in return, the military's statement read.
Iran-backed Hezbollah said it had targeted a number of Israeli positions with what it called "appropriate weapons".
Following the eruption of the Hamas-Israel war on Oct. 7, Hezbollah mounted near-daily rocket attacks on Israeli positions at the frontier while Israel launched air and artillery strikes in south Lebanon. But the border was largely calm during a week-long truce in Gaza that collapsed on Friday.
It has been the worst fighting since the 2006 war between Israel and Hezbollah, a Hamas ally.
Just over 100 people in Lebanon have been reported killed during the hostilities, 83 of them Hezbollah fighters. Tens of thousands of people have fled both sides of the border.
The post Israel, Hezbollah Trade Fire Across Israel-Lebanon Border for Third Day first appeared on Algemeiner.com.
Israeli Medical Experts Declare Some Gaza Hostages Dead in Absentia
Even as it tries to recover hostages through indirect talks with Hamas and army operations in the Gaza Strip, Israel has been declaring some of the missing as dead in captivity, a measure designed to grant anxious relatives a measure of closure.
A three-person medical committee has been poring over videos from the Oct. 7 rampage by Hamas-led Palestinian gunmen in southern Israel for signs of lethal injuries among those abducted, and cross-referencing with the testimony of hostages freed during a week-long Gaza truce that ended on Friday.
That can suffice to determine that a hostage has died, even if no doctor has formally pronounced this over his or her body, said Hagar Mizrahi, a Health Ministry official who heads the panel created in response to a crisis now in its third month.
"Designation of death is never an easy matter, and certainly not in the situation embroiling us," she told Israel's Kan radio. Her committee, she said, addresses "the desire of the families of loved ones abducted to Gaza to know as much as possible".
Of some 240 people kidnapped, 108 were freed by Hamas in return for the release by Israel of scores of Palestinian detainees as well as boosted humanitarian aid shipments to Gaza.
Since the truce expired, Israeli authorities have declared six civilians and an army colonel dead in captivity.
This has not been confirmed by Hamas. It has previously said dozens of hostages were killed in Israeli airstrikes, has threatened to execute hostages itself and suggested that some hostages were in the hands of other armed Palestinian factions.
Hostages have been kept incommunicado despite Israel's calls on the Red Cross to arrange visits and verify their well-being.
Mizrahi said she and her fellow panelists – a forensic pathologist and a physical trauma clinician – have been watching clips shot by the Hamas attackers themselves, cellphone video by Palestinian spectators and CCTV footage of the hostage-taking "again and again, frame by frame".
That has allowed them to map out life-threatening wounds and spot any cessation of breathing or other essential reflexes.
Additional considerations have been hostages' rough handling by captors, the reduced chances of them getting adequate medical care in Gaza and accounts of deaths by former fellow hostages.
RELIGIOUS EXPERTISE
The panel has been consulting with a religious expert, she said, given Jewish laws that prevent a widow from remarrying unless her bereavement is formally recognized by authorities.
"We assemble the overall picture," Mizrahi said, adding that every determination of death has to be unanimously agreed upon.
The risk of getting it wrong was laid bare in the case of Emily Hand, who went missing on Oct. 7 and whose father Tom was initially informed "unofficially" that she had been killed. The girl had in fact been taken hostage and was freed in the truce.
Being denied a burial may pose a psychological barrier for grieving kin, however.
Last week, the Israeli military – which has rabbinical and intelligence units scouring Gaza battlefields for information about the fate of lost soldiers, as well as remains of hostages — declared dead Shaked Gal, a conscript missing since Oct 7.
His mother Sigalit said in a Facebook post addressed to the 19-year-old that she would not observe the traditional Jewish mourning period for him "until your body is returned".
Mizrahi said her panel had yet to encounter a family that refused to accept its determination, but was prepared for that:
"We are here to provide the professional side. We do not, God forbid, debate or confront the families regarding their decision, and we accept their choices with understanding."
The military has recovered the bodies of one captive soldier and two civilian hostages, and freed one soldier in a rescue operation.
The post Israeli Medical Experts Declare Some Gaza Hostages Dead in Absentia first appeared on Algemeiner.com.
Israel Says It Uncovered 800 Shafts to Hamas Tunnels Below Gaza
Israeli forces have found 800 shafts leading to Hamas' vast subterranean network of tunnels and bunkers since a Gaza ground operation began on Oct 27, and have destroyed more than half of them, the military said on Sunday.
The Palestinian Islamist group said before the now eight-week-old war in the Gaza Strip that it had hundreds of kilometers of tunnels – a network comparable in size to the New York subway system – to protect and serve as operational bases.
That has made them prime targets for Israeli air strikes with penetrating munitions and army engineers using mapping robots and exploding gel that can be poured into the passages.
"The tunnel shafts were located in civilian areas, many of which were near or inside civilian buildings and structures, such as schools, kindergartens, mosques and playgrounds," the military said in a statement on Sunday.
The statement, summarizing anti-tunnel operations so far, followed near-daily accounts to the media by troops who said they uncovered access shafts in civilian sites.
The war's civilian toll has increasingly worried world powers. Washington urged Israel to use caution on Saturday.
Of some 800 shafts discovered, the military said, 500 had been destroyed using a variety of operational methods, including by "detonation and by sealing off." It added that "many miles" of main tunnel routes had also been destroyed.
The post Israel Says It Uncovered 800 Shafts to Hamas Tunnels Below Gaza first appeared on Algemeiner.com.