NBA Star Kyrie Irving Wears Palestinian Keffiyeh in Post-Game Press Conference
Professional basketball player Kyrie Irving, who plays guard for the NBA's Dallas Mavericks, appeared at his team's post-game press conference on Saturday wearing a black and white keffiyeh, a traditional headscarf worn by Palestinians that has become known as a symbol of solidarity with the Palestinian resistance against Israel.
The Australian-American NBA player, who also has Native American roots, did not address the headwear as he spoke to reporters after his team's 132-125 loss to the Milwaukee Bucks. He also posted a photo on Instagram over the weekend of himself wearing the headscarf as he walked around the Martin Luther King Jr. memorial in Washington, DC, and accepted a Palestinian flag as a gift from a basketball fan at Saturday's game.
Irving's decision to wear a keffiyeh garnered significant attention on social media. Pro-Israel supporters lambasted the decision as "disgusting," accusing him of antisemitism and calling him a "POS Jew hater." Pro-Palestinian supporters, meanwhile, applauded him for wearing the keffiyeh "in solidarity with the Palestinians" amid the ongoing war between Israel and Hamas, the Palestinian terrorist group that rules the Gaza Strip.
This weekend was not the first time that Irving embroiled himself in a controversy involving accusations of antisemitism.
In October 2022, while playing for the Brooklyn Nets, Irving tweeted a link to a film that promoted antisemitic disinformation, including conspiracy theories and Holocaust denial. The Brooklyn Nets suspended him for five games when he did not immediately apologize — and even defended himself — for sharing the movie and failing to "disavow antisemitism when given a clear opportunity to do so."
The NBA star later apologized on Instagram for sharing details about a film that "contained some false antisemitic statements, narratives, and language that were untrue and offensive to the Jewish Race/Religion." He said he opposed all forms of hatred and would donate $500,000 toward organizations that combat hate. It was then reported in February that he deleted the Instagram apology.
Since Hamas' Oct. 7 terrorist attacks in Israel, Irving has shared pro-Palestinian messages on social media. The athlete — who likes to go by his Native American name "Hélà" online — has more than once reposted tweets about genocide and "crimes of the empire," seemingly referring to Israel, by an account on X/Twitter called "End All Colonialism, Free Palestine." He also shared messages about the US funding Israel's alleged "genocidal massacre" in the Gaza Strip.
On Oct. 11, he seemed to comment on the Israel-Hamas conflict in his own words.
"Where are all you tough talking Media Heads that get on TV and social platforms to condemn people who stand by the oppressed??" he wrote on X. "Crimes are being committed against humanity and most of you are silent. Cat got your tongue? Or you're afraid of actually standing for something real."
After the Hamas atrocities on Oct. 7, the NBA said in a statement that it and the National Basketball Players Association "mourn the horrific loss of life in Israel and condemn these acts of terrorism. We stand with the people of Israel and pray for peace for the entire region."
The post NBA Star Kyrie Irving Wears Palestinian Keffiyeh in Post-Game Press Conference first appeared on Algemeiner.com.
Hamas Leaders Make Billions While Killing Israelis and Impoverishing Palestinians
The ironies of "social justice" leftists supporting Hamas — a group of self-proclaimed genocidal jihadists — are indeed endless.
"Colonizer!" is one of the leftists' favorite words to shout at those they're told to hate, including Israel. The fact that Arab countries have historically been big colonizers — and that the main intent of Hamas is global colonization in the form of a caliphate — are merely inconvenient truths.
Then there's the fact that followers of Sharia law have a well-documented history of throwing gay people off of rooftops, "honor killing" women who don't obey the hyper-patriarchal codes, and enslaving and persecuting minorities. Indeed, one could argue that the only two things truly shared by some leftists and jihadists is a fondness for dead babies and unthinking conformity.
But perhaps the most humorous cognitive dissonance is that these neo-Marxists are willing to be jailed for supporting billionaires who rule over an impoverished group of people. It's Jihadi Marxism: empower the rich, pampered and privileged, while their people starve and are used as human shields. Stalin would certainly have approved.
Hamas' three top leaders alone are worth a stunning $11 billion, enjoying a life of luxury in the sanctuary of Qatar. Hamas runs an "office" in Qatar's capital, Doha, and leaders Ismail Haniyeh, Mousa Abu Marzook, and Khaled Mashal maintain an opulent lifestyle that Western jet-setters would envy.
Qatar provides Hamas with between $120 million and $480 million per year, according to the Foundation for the Defense of Democracies (FDD). "These funds benefit Hamas leaders directly through payroll and kickback schemes and indirectly through social services and government operations that help Hamas maintain political control over Gaza," according to its October report.
Iran is believed to provide Hamas leaders with a $100 million expense account. Hamas earns an estimated $450 million annually from Gaza's black market trade. Hamas leadership controls an investment portfolio at close to $1 billion, with assets in Sudan, Turkey, Saudi Arabia, the United Arab Emirates, and Egypt.
Hamas also took in nearly $400 million in the last two years from the United Nations, which does not recognize Hamas as a terrorist organization. The United Nations Relief and Works Agency (UNRWA) has provided Hamas with $380 million since 2021, according to the FDD. Much of that cash came from the Biden administration, which has provided $1 billion to UNRWA since 2021.
Hamas leader Haniyeh, a father of 13, is worth more than $4 billion. His son Maaz Haniyeh is known as "the father of real estate" in Gaza for his collection of villas and buildings. He lives a playboy lifestyle in Turkey.
Marzook, 72, is estimated to be worth $3 billion. And Mashal, 67, who issued a global threat against Jews after the October 7 atrocities, is worth more than $4 billion.
Lebanese newspaper Al-Majlah reported in 2021 that Mashal and his deputy, Mousa Abu Marzouk, used international aid funds to build a valuable collection of real estate holdings in Egypt, Qatar, and the Persian Gulf, while Marzouk controls ten large companies that deal in finance.
The presence of Hamas leaders in Qatar has long been justified by the emirate as part of its support for turning the terror group into "a responsible governing power," according to the FDD. But Qatar is also one of the most important military bases for the US in the Middle East.
In the wake of October 7, US Representative Andy Ogles (R-TN) is sponsoring a bill that would strip Qatar of its status as a key US ally unless it kicks out the Hamas leadership. "As Hamas terrorists continue to wreak havoc on the lives of innocent Israeli civilians, the United States must ensure there is no ally supporting them. Sadly, the State of Qatar is still funding and supporting Hamas as its leadership enjoys political refuge in Doha," said Ogles.
Qatar is also home to the Al Jazeera news channel, which the FDD alleges "spreads anti-Semitism, anti-Americanism, and incitement to violence throughout the Arab world."
No doubt Arab funding for academia (already at $8 billion) will soon focus on the creation of a new course: Jihadi Marxism. Of course, self-declared Marxists have a proven track record of resorting to mass repression and genocide. But for so many leftists today, facts, history, truth, are all so annoying. Better to just repeat what's trending and focus on getting the best jihadi selfies.
Karen Lehrman Bloch is editor-in-chief of White Rose Magazine. A version of this article was originally published by The Jewish Journal.
The post Hamas Leaders Make Billions While Killing Israelis and Impoverishing Palestinians first appeared on Algemeiner.com.
For Jewish teens in Asia, first BBYO convention in Singapore offers a rare sense of community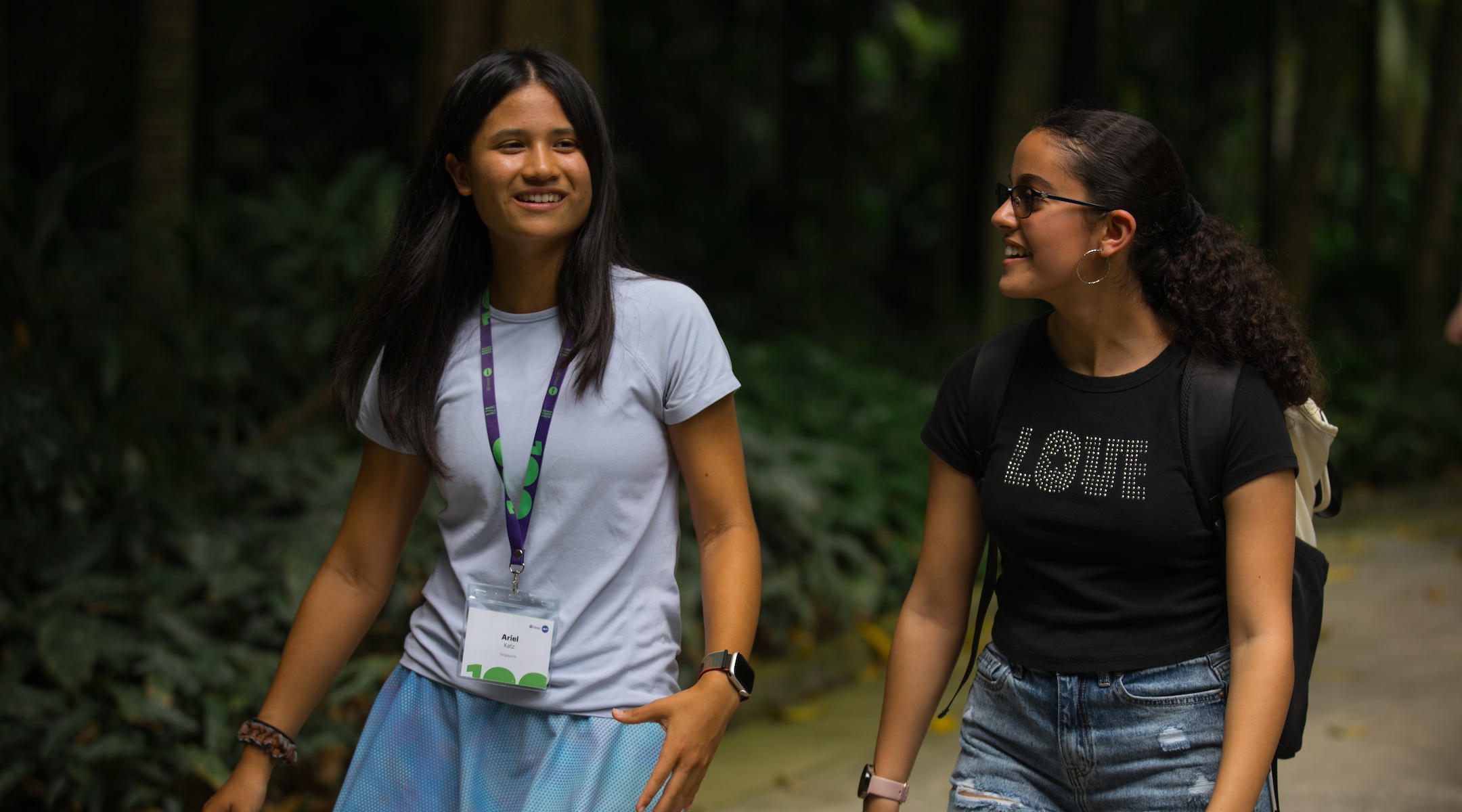 TAIPEI (JTA) — For a few years eight decades ago, Shanghai was home to an outpost of what would become BBYO, the global Jewish youth movement.
At the time, the Chinese city was a refuge for Jews fleeing Europe. Fifteen German Jewish teens created an Aleph Zadik Aleph chapter in June 1941, but when they left Asia after the war, the youth movement ended, too.
Now, the network of small but significant Jewish communities scattered across Asia has resurrected BBYO's presence on the continent. About 40 teens attended the group's conference in Singapore last week.
Over four days, they explored the city with their peers while learning how to launch their own BBYO chapters, host events and foster a sustainable community among Jewish teens in their own cities.
The event drew teens and lay leaders from Singapore, Taipei, Tokyo, Beijing, Shanghai and Hong Kong who otherwise would rarely have the opportunity to interact with one another and whose home communities have too few teens to mount much in the way of their own programming.
"The communities are small and they don't get a lot of the experiences available in the U.S.," said Ryan Ladd, BBYO's senior manager of digital strategy, who is based in Washington, D.C. "So this is an opportunity to level the playing field to make sure they have these Jewish experiences."
Asia can be a lonely place to grow up as a Jewish teen. Most are "third-culture kids," meaning that they are being raised in a culture that is not their parents', and while many come from diverse or international backgrounds, they're often the only Jews in their classrooms or schools.
The best part of the weekend for Emma Brownstein, a 13-year-old member of the Tokyo Jewish Community, was getting the opportunity to connect with other Jews from across Asia. She goes to an international school in Tokyo, where she knows a few other Jews, but being immersed in a large group her age was "really a new experience for me."
Participants explored some of Singapore's most famous sites like the Jewel Changi Airport and the Gardens by the Bay while participating in team-building exercises, community building workshops and discussions about their Asian Jewish identities. During a "Taste of Asia" oneg on Friday night, delegations shared some of their cities' trademark snacks.
"I think the trip really highlighted the importance of friendships and branching out and going out of your comfort zone to socialize with other people," Brownstein told JTA. "This was definitely a once-in-a-lifetime thing, especially in Asia, where there's not many other Jews."
The convention's programming reflected an explicit goal of forming and strengthening local BBYO chapters in Asian cities. Workshops on leadership, understanding one's own community and dreaming up activities that would engage fellow teens at home all aimed to ensure that the convention would not be a one-off event.
It was a vision that leaders of AZA — which became BBYO in 1944 when B'nai Brith, then the fraternity's partner, launched a girls division — first outlined back in 1941. "You have seen displayed before you more than the mere installation of a set of new officers – You have seen more than the mere unfurling of the Aleph Zadik Aleph banner in the Far East," an officer wrote in article in "The Shofar," BBYO's newspaper, at the time about the Shanghai chapter. "You have actually been present at the setting up of a new and vital milestone in the history of Far Eastern Jewry."
That milestone period came to a close at the end of World War II, when most Jewish refugees in Shanghai departed for America, Israel, Australia and other countries. BBYO again had no presence in Asia until 2017, when a chapter opened again in Shanghai. Other chapters opened in Singapore and Tokyo in 2021. Now ones are anticipated in Hong Kong, Taipei, and Beijing following the convention.
Rabbi Martha Bergadine, the education and programming coordinator for the United Jewish Congregation of Hong Kong — a progressive community of about 130 families, with about 20 total teens — says the six teens who attended the convention this weekend are already working to plan their first activity.
"It seems that the Jewish communities of Asia are at a point of becoming more established and more rooted," Bergadine said. "And I think in that sort of evolution, programmatic offerings get richer … this is going to be a key part of going forward, to provide these opportunities to the teens."
—
The post For Jewish teens in Asia, first BBYO convention in Singapore offers a rare sense of community appeared first on Jewish Telegraphic Agency.
IDF Provides Sneak Peek Into Operational Activity of Specialized Intelligence Unit
i24 News — The Israel Defense Forces (IDF) on Monday afternoon revealed some of the operational activity of its Unit 504, within the Military Intelligence Directorate (AMAN), since the war with Hamas erupted on Oct. 7.
Unit 504 troops started fighting together with ad-hoc battalions that were the first responders to the Hamas surprise attack, during which the terrorist organization infiltrated Israel by land, sea, and air. The IDF troops were also active in helping civilians evacuate the area.
The military intelligence unit were active in gathering the findings of the attack, and the ensuing massacres carried out by Hamas terrorists, while in the field, which led to a new facility being opened in the southern area to conduct investigations in real time.
The investigations included interrogations of 300 terrorists, from all the terrorist organizations in the Gaza Strip, who provided locations of underground terror tunnels, headquarters, and ammunition depots, as well as exposing Hamas' methods of operation, and assimilation efforts within the civilian population.
"We received thousands of phone calls from collaborators, on orders of magnitude never before seen in the unit. It is evident that the residents of the Gaza Strip are not satisfied with the barbaric conduct of Hamas, the ordinary citizen understands that Hamas is bringing a disaster on the residents of Gaza that will be difficult for them to recover from," a senior official in Unit 504 was quoted in the IDF statement.
The statement explained the unit's four main goals as providing support for the ground operation, intelligence gathering to incriminate targets, leading the evacuation effort, and ensuring the civilian population in Gaza evacuate southward.
The unit operated a variety of tools, in an effort to evacuate the civilian population from the northern Gaza Strip, described as over 30,000 phone calls made in a short time, over 10 million text messages, over nine million recorded messages, as well as scattering about four million flyers and leaflets from the air and land calling on the population to evacuate.
"Each and every investigation leads to the incrimination of new locations and the human intelligence that emerges from the Gaza Strip and the interrogations of the captives in collaboration with the Shin Bet, is an inseparable layer of the complete intelligence picture. The information that emerges in the interrogations of the captives is very valuable," the official concluded about the efforts that led to over 300 new terrorist incriminations in Gaza and the elimination of over 100 targets.
The post IDF Provides Sneak Peek Into Operational Activity of Specialized Intelligence Unit first appeared on Algemeiner.com.